Sips of Recently Tasted California Pinot Noir

Belden Barns
The estate vineyard, located at 1,000 feet elevation on the northwestern shoulder of Sonoma Mountain, was originally planted to Cabernet Sauvignon in 1973, but the site, located proved too cool for consistent success with this variety. The vineyard founder, Dave Steiner, coaxed by noted winemaker Rod Berglund, planted a block of the vineyard to Pinot Noir in the early 1990s. Present owners, Nate and Lauren Belden acquired the site in 2005 and redeveloped the vineyard, named Steiner Vineyard after Dave Steiner. Only 1.5-acre stand of Pinot Noir clone 667 planted in 1998 could be saved. Soils are ancient volcanic in type. Vineyard manager is Chris Bowland and winemaker is Justin Harmon. Visit www.beldenbarns.com.
2013 Belden Barns Estate Sonoma Mountain Pinot Noir
14.5% alc., pH 3.80, TA 0.52, 325 cases, $38. Aged 16 months in 100% French oak barrels, 42% new. · Medium reddish purple hue in the glass. The nose lacks fruit expression, with oak-driven espresso the overwhelming scent. The luscious black cherry and black raspberry core of fruit is buried in oak and overwhelmed by flavors of coffee and dark chocolate, but does rise up on the lengthy finish. When tasted the following day from a previously opened and re-corked bottle, the wine still smelled and tasted of coffee. This wine will appeal to those who prefer lavishly-oaked Pinot Noir. Score: 87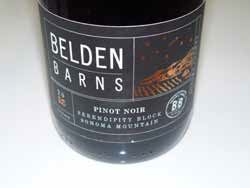 2013 Belden Barns Serendipity Block Sonoma Mountain Pinot Noir
13.5% alc., pH 3.66, TA 0.57, 71 cases, $48. Sourced from the best pocket of the Steiner Vineyard that was inter-planted with 9 Pinot Noir clones. 100% whole cluster. Aged 16 months in 100% neutral French oak barrels. · Moderate reddish purple color in the glass. A polished, light to mid weight style, with a mix of purple and black fruits framed by firm, but not terribly imposing tannins. Oak plays an insignificant role and the finish exhibits a generous burst of both sweet and citrus-imbued purple fruits. Score: 89
LUMEN
This winery is a joint effort of Will Henry and iconic Santa Barbara County winemaker Lane Tanner. Grapes are picked relatively early on the harvest calendar to create a livelier wine that is lower in alcohol. Lane Tanner was one of the first female winemakers in Central California. Will Henry is a widely published journalist and photographer and founder of the non profit organization Save The Waves Coalition. Will and Lane make the wines together in Santa Maria. Visit the website at www.lumenwines.com.

2013 LUMEN Santa Barbara County Pinot Noir
13.8% alc., 800 cases, $29. Sourced from several vineyards (mainly Sierra Madre Vineyard) and picked early for added vibrancy. Clones 77, 115 and Pommard 5. Harvest Brix 23.4º. 100% de-stemmed. Aged in 15% new and 85% neutral French/ Hungarian oak barrels. Unfined and unfiltered. · Moderately light reddish purple color in the glass. Bright aromas of Maraschino cherry and dried rose petal. Welcome attack of fresh black cherry fruit framed by complimentary oak. The tannins are nicely balanced, the fruit is lifted by tangy acidity, and the finish is uplifting and refreshing. This elegant wine is very well crafted. Score: 90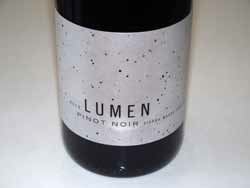 2013 LUMEN Sierra Madre Vineyard Santa Maria Valley Pinot Noir
13.9% alc., 99 cases, $49. A barrel selection. Harvest average Brix 23.7º. Clones 667 and Pommard 5. Aged in 84% neutral French oak and 16% new Hungarian oak. · Moderate reddish purple hue in the glass. The aromas of fresh boysenberry, plum, spice and toasty oak draw you into the glass. Beautifully balanced and polished on the palate, with flavors of black raspberry, boysenberry and plum with a slight earthy undertone. The oak seasoning is complimentary, the tannins are proportional and the wine's juicy acidity makes for refreshing drinking. The intensely aromatic spiced plum on the very long finish is especially impressive. This wine truly reflects Santa Maria Valley terroir and is the best Pinot Noir I have ever had from this vineyard. Score: 94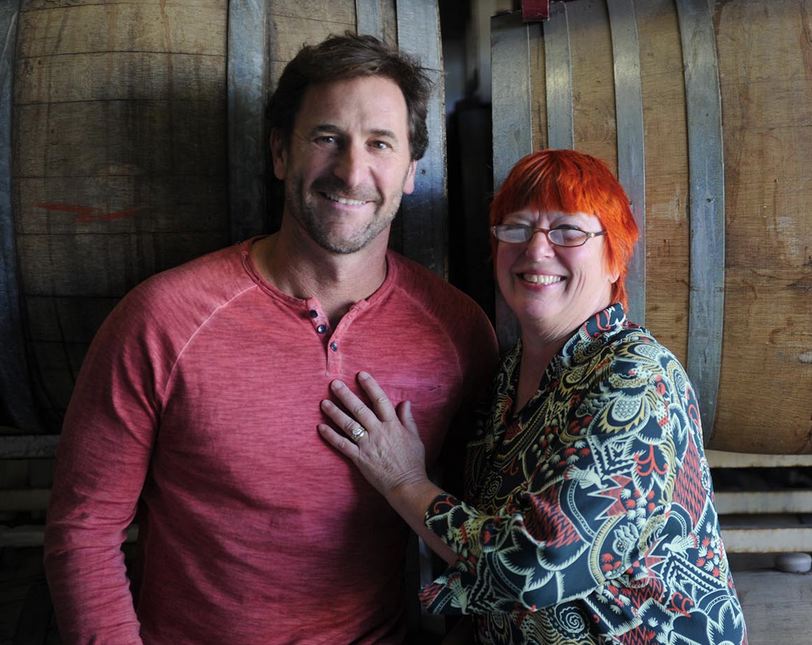 Woodenhead Vintners
Veteran winemaker Nicolai Stez, who work at the side of Burt Williams for many years, sent me these 2012 Pinot Noirs. The 2012 Buena Tierra Vineyard bottling scored 98 points and was awarded Best California Pinot Noir and Best of Region at the 2015 California State Fair. Visit www.woodenheadwine.com.
2012 Woodenhead Kent Berry Vineyard Santa Cruz Mountains Pinot Noir
14.1% alc., $N/A. · Moderately light crimson color in the glass. The nose leads with aromas of red cherry, strawberry and oak spice. Light to mid weight flavors of red cherry, blueberry and pomegranate are propelled by bright acidity and framed by fine grain tannins. Easy to drink but with a bit of alcoholic heat on the finish. Score: 88
2012 Woodenhead Russian River Valley Pinot Noir
13.7% alc., 538 cases, $45. Unfined and unfiltered. · Moderate light crimson color in the glass. Gorgeous nose with extravagant aromas of crush Bing cherries. Quintessential Russian River Valley flavor profile with mid weight tastes of Bing cherry, cola and spice. On the elegant side in this vintage, with good vibrancy, balanced soft tannins and complimentary oak in the background. Ready now, but impeccable balance predicts a long life ahead. Score: 91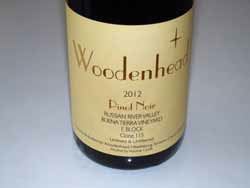 2012 Woodenhead Buena Tierra Vineyard E Block Clone 115 Russian River Valley Pinot Noir
13.6% alc., 149 cases, $75 (2 bottle limit). · Moderately dark reddish purple hue in the glass. Complex aromatic profile with scents of black cherry, black raspberry, clove, cardamom, and toasty oak jumping from the glass. Delicious mid weight core of black cherry, raspberry, vanilla, and Moroccan spice goodness. Impressive polish and harmony with a satiny mouthfeel and a very long finish that returns waves of luscious oak-infused fruit flavor. Still pumping out aromatic and flavor highlights the following day from a previously opened and re-corked bottle. Score: 93
Still More