Scott Paul Wines
Proprietor/winemaker Scott Paul Wright had a thirty-year career in marketing and promotion for the radio and record industries He became the Managing Director of Domaine Drouhin, where he worked for several years before starting his own winery in Carlton, Scott Paul Wines. The tasting room is housed in a restored circa-1915 creamery (photo left), and the winery building across the street has been completely and tastefully retrofitted inside a former grainary. (photo right).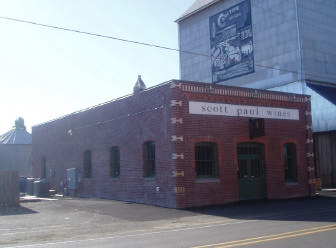 Scott Paul Wines is a boutique winery dedicated to producing ultra-premium Oregon Pinot Noir. The co-winemaker, Kelley Fox, previously worked at Eyrie Vineyards, Hamacher Wines and Torri Mor. Scott's wife, Martha, who operated her own business managing celebrity chefs, is the Brand Manager for Scott Paul. Kelly Karr, who worked in sales at Chehalem Winery for nearly a decade, is the Director of Sales and Marketing.
Last year, Scott Paul Wines started a new Burgundy import division under the name, Scott Paul Selections. Three of the producers from the portfolio attended this year's International Pinot Noir Celebration: Romain Taupenot of Domaine Taupenot-Merme, Aleth Girardin of Domaine Aleth Girardin, and Thierry Violot of Domaine Thierry Violot-Guillemard. The timing for Scott is fortuitous, because the 2005 vintage of Burgundy is as Allen Meadows says, "The best top-to-bottom vintage of young Burgundy I have ever tasted, period, full-stop!"
Scott has had a life-long passion for Burgundy. His tasting room is quite unique and the only one I know of in the United States that gives the visitor the opportunity to taste both New World and Old World Pinot Noir side by side. Scott's wines are crafted in the Burgundian tradition with low-yields in the vineyard, hands off vinification in the winery with no pumps, no inoculation, no enzymes, no additives, no fining and no filtering (what exactly does Kelley and Scott do all day?), and small amounts of new French oak (20% at most). He follows the dictum that "Pinot Noir makes itself," and his wines are a pure expression of Pinot Noir. Each vintage, there are three cuvées sourced from several of Oregon's finest vineyards including Maresh, Momtazi, Shea, Ribbon Ridge and Stoller. Production is about 3,000 cases a year.
Scott does not craft single vineyard Pinot Noirs (there is always an exception, see Audrey below) because "If we had vineyards that were reliably and demonstrably different and special in the New World, I fully believe the wines from those vineyards should be bottled and labeled separately. However, I think that we're too early in the game to be making those calls yet. It's rare to have a vineyard with vines over 30-years-old around here. Future generations will surely know which plots are indeed our Grand Cru vineyards, but we've truly only just begun."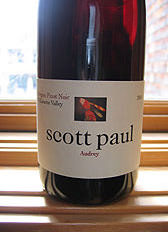 2005 Scott Paul Cuvée Martha Pirrie Willamette Valley Pinot Noir
13.5% alc., 469 cases, $24, screw cap. From Shea, Stoller and Ribbon Ridge Vineyards. Named after Daughter Martha Pirrie Wright. · This Pinot reminds me of a ballet dancer - light on its feet with plenty of grace. Lovely nose of cherries, sandalwood and spice. Flavors of ripe cherries, vanilla, herbs and leather lead to a clean finish buttressed by lively acidity. A little oak peeks out on the nose but is totally immersed in the flavors. You would be happy, happy with this one which is not at all tiring to drink. Boo, hoo, sold out (you may still find it in retail stores).
2005 Scott Paul Le Paulée Willamette Valley Pinot Noir
13.5% alc., 945 cases, $40, screw cap. 40 barrels are selected from three vineyards for this blend. · Terrific potpourri of bright cherry, spice, cola and oak among the aromas. The flavors follow in step with the aromatics. Very sexy satin texture. Still a little shy on the palate, this wine needs a little cellaring to fully blossom.
2005 Scott Paul Audrey Willamette Valley Pinot Noir
13.5% alc., 130 cases, $55. This represents a selection of a few favorite barrels of the vintage. Audrey is named after the cinematic icon Ms. Hepburn who personified grace and elegance. This is a unique wine in that all of the fruit came from Maresh Vineyard. This vineyard was planted in 1970 (making it the fourth oldest planting in Oregon), and is Wädenswil clone on own-rooted, non-irrigated vines. · I tasted this wine briefly at the IPNC Salmon Bake so I don't have extensive notes. I remember that I was bowled over by the powerful and intoxicating aromatics. I found plenty to like as I sampled the wine and this is definitely the most striking, complex and age worthy Pinot Noir in the Scott Paul lineup.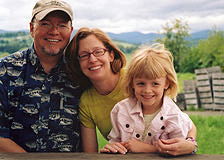 Scott Paul Wines
are sold in the tasting room which is open from 11- 4, Wednesdays through Sundays. Read Scott's philosophy on Pinot Noir and the story of the rabbit logo on the website at
www.scottpaul.com
. 503-227-2107. Scott, Martha, and "Pirrie" pictured right.