Small Sips of Recently Tasted Pinot Noir
It's the dog days of summer and brutally hot and humid. I am reaching for an ice cold craft beer these days and leaving the Pinot Noir in the cellar. Most all the reviewed wines that follow were sampled before the recent heat set in.
Bernardus Winery, Carmel Valley, California
Pali Wine Co., Lompoc, California
The 2013 Pinot Noirs are highly endowed with well-ripened, but not surmaturité fruit, and resulting high alcohol levels. The wines are appealing for their upfront fruitiness, but at these high alcohol levels, the wines all taste relatively similar. It is a difficult balancing act to harmonize the fruit load, high alcohol, considerable new oak, robust fruit tannins, and lower acidity, but success was achieved in some of the wines.
Panthea Winery & Vineyard, Philo, Anderson Valley, California
Panthea is located in Philo, in the "deep end" of the Anderson Valley. The meticulously farmed estate vineyard is steeply planted to California heritage clone Pommard and a small amount of Dijon clones in shallow and rocky soil creating low yields. Owner and vintner Kelly Boss has a background in farming who developed his winemaking skills through classes at University of California at Davis and Sonoma State University. His hand's-on training came working with Dan Sokolow of Raye's Hill Vineyard & Winery. This is a true family affair with no front office or year-round staff. The wines are sold through a mailing list. Visit www.pantheawine.com.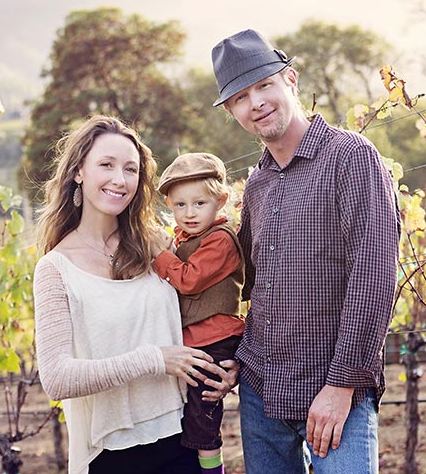 Stemmler, Sonoma, California
The following reviewed wines are scheduled to be released in the fall. There are some changes in the wines from previous vintages. The Carneros Estate Vineyard Pinot Noir continues to be sourced from the Donum Ranch, but has been re-named "Lawler Vineyard," after the road leading to the ranch, to emphasize that it comes from a single vineyard. In 2013, a Winside Vineyard Pinot Noir is offered from the Estate vineyard previously known as Nugent Vineyard in the Russian River Valley. The Carneros Pinot Noir is sourced from multiple vineyards throughout Carneros, and is offered mainly to on-premise accounts.
There are 3 new wines in 2013: (1) the Sonoma Coast Pinot Noir that is a blend of Russian River Valley and Carneros ranches and offered at a value-driven price point; (2) Ferguson Cuttings, which is sourced from vines on the Donum Ranch grafted to cuttings from the Ferguson Vineyard; (30) Laura, a reserve wine from Winside Vineyard.
2 wines were produced from the Angel Camp Vineyard in Anderson Valley: (1) Anderson Valley Pinot Noir and (2) "Whole Cluster" Anderson Valley Pinot Noir.
The 2013 vintage offered a smaller crop than in 2012 with smaller berries and thicker skins. The result is concentrated wines with notable tannins, but the tannins are ripe and not hard or edgy. All wines have been aged over a year in bottle before release. There is an impressive consistency here in quality and nearly all of these offerings would be highly enjoyable at the dinner table.
Visit www.robertstemmlerwinery.com.
More
Donnelly Creek Vineyard
Mary Elke, who owns and farms Donnelly Creek Vineyard, told me that she grows two clones that she doesn!t think anyone else in Anderson Valley has planted. In 1990, she started Donnelly Creek Vineyard on a site of abandoned pear and apple orchards. She obtained a planting lend from American AgCredit after securing a long-term contract with Mumm Napa for the grapes which would begin production in year four. As a result, initially she was looking for Pinot Noir and Chardonnay clones that were known to be higher yielding and suitable for sparkling wine.
Mary and her spouse had been growing grapes since 1978 in what is now known as the Coombsville AVA of Napa Valley. In their vineyard, they had 4 acres of "Elliott" Pinot Noir clone for still wine that they sold to Mondavi Winery. They were told that this clone was the old "Beringer clone" from the 1960s. The Elkes called it "Elliott" because they got the budwood from a vineyard on Big Ranch Road in Napa owned by the Elliott family. They took budwood from their Napa vineyard to Anderson Valley and field-budded about 6 acres.
The second clone is the "Stang" clone, most likely UCD 104 Pinot Noir clone. This originated from budwood taken from an Alexander Valley vineyard owned by Mr. Stang. m
By 1995, the Elkes were experimenting with small lots of these two clones for still wine under the Elke label. Since site trumps clone, they found that while they had selected the clones for sparkling wine, when grown in Anderson Valley they produced beautiful still wines. Then in 1998, the Elkes added some Pommard 5 to their Pinot Noir that they had planted in 1995.
The Elliott clone usually ripens early, is slightly lighter in color, and has great cedar spice notes. The Stang clone provides structure to the wine and notes of blueberry and raspberry. FEL, Saintsbury and Elke have all used the Stang clone in their Donnelly vineyard designate wines. Elke Donnelly Vineyard Pinot Noir is 25% Elliott, 25% Stang and 50% Pommard 5.