Pinot Briefs —Newsletter 10.17

Many Events on the Fall Horizon
Wine & Spirits Top 100 Tasting Event: Tuesday, October 20, 6:30 p.m.-8:30 p.m., city View at METREON, San Francisco. Tickets on sale September 20 @ www.wineandspiritsmagazine.com/top100.


Fort Ross-Seaview Harvest Festival: October 17, Fort Ross State Historic Park, Jenner. Food trucks, music, tasting of wines from members of Fort Ross-Seaview Winegrowers Association. Optional Grand Lunch prepared by local chefs. Details and tickets @ www.fortross.org.

Pinot on the River: October 25, Healdsburg. 100 wineries, artisan food vendors, outdoors at the city's central Healdsburg Plaza. $75 in advance. Visit www.pinotfestival.com.

6th Annual Russian River Valley "Single Vineyard Night": More than 30 of Russian River Valley's wineries will gather for two tasting events in November celebrating vineyard designate wines. The first evening is November 4 at the Golden Gate Club at the Presidio in San Francisco and the second is in Sacramento at Tsakopoulos Library Galleria on November 12. For a list of participating wineries and tickets, visit the Russian River Valley Winegrowers (RRVW) website at www.rrvw.org.

Big Sur Food & Wine Festival: November 5-7, details forthcoming. Website is www.bigsurfoodandwine.org.

Harvest on the Coast: November 6-8. Grand Tasting and Wine Auction, "Crafted on the Coast" Winemaker Dinner, and "Slider Sunday" at local wineries. Save $20 on tickets when book your stay in Avila Beach.

17th Annual Wine & Food Affair: November 7-8, 11:00 a.m.- 4:00 p.m. each day. A weekend of wine and food pairing at over 100 wineries. $70 for the weekend. Tickets on sale now @ www.wineroad.com.

¡Salud! The Oregon Pinot Noir Auction. Some of Oregon's foremost wineries debut the 2014 vintage and offer their ¡Salud! Cuvées - collectible Pinot Noirs crafted exclusively for the auction. Cuvée Tasting and Big Board Auction Friday, November 13, at Ponzi Vineyards, and Dinner and Auction Gala Saturday, November 14, at The Allison Inn & Spa. Tickets are now available at www.saludauction.org.

Pinot Days Southern California: November 14, Skirball Cultural Center, Los Angeles. Winemaker events at restaurants and wine venues around town preceding the Grand Festival. Trade Tasting 12:00 p.m.- 2:00 p.m., Public tasting 2:00 p.m. - 5:00 p.m., VIP Tasting 12:00 p.m. - 5:00 p.m.. Tickets available @ www.pinotdays.com.

September is California Wine Month. There are many other events scheduled. For a complete listing by region of all the activities go to www.discovercaliforniawines.com.

Many New Books for Fall Reading
The Essence of Wine: Celebrating the Delights of the Palate, Alder Yarrow and Leigh Beisch

An Unlikely Vineyard: The Education of a Farmer and Her Quest for Terroir, Deidre Heekin

The Wine Bible 2nd Edition, Karen MacNeil

The History of Wine in 100 Bottles: From Bacchus to Bordeaux and Beyond, Oz Clarke

Oz Clarke: Grapes & Wines: A Comprehensive Guide to Varieties and Flavours, Oz Clark and Margaret Rand

Wine: Everything You Need to Know About Wine from Beginner to Expert, James Waldorf

Wine in Words: Notes for Better Drinking, Lettie Teague

Shadows in the Vineyard: The True Story of the Plot to Poison the World's Greatest Wine, Maximillan Potter

The Drinkers Guide to Healthy Living, Gerald Facciani. A sober assessment of the benefits and dangers of drinking.

American Wine: A Coming-of-Age Story,Tom Acitelli

Wine Folly: The Essential Guide to Wine, Madeline Puckette and Justin Hammack. From the creators of WineFolly.com, this is a unique infographic wine book. Highly recommended.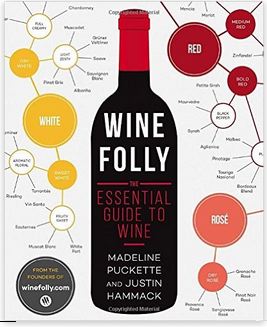 Long Meadow Ranch Buys Corby Vineyard Napa-based Long Meadow Ranch has bought 145 acres in Anderson Valley owned by the Corby family that includes 69 acres of vineyards. The wines from this property will be crafted by Stephane Vivier, who comes for HDV in Carneros where he was the winemaker for more than 10 years.
Oeno™ Vaults This wine cellaring company is located in Sonoma County and is a unique off site facility. The company will pick up your wine from any area winery in a refrigerated truck and take it to the wine storage facility. Your inventory is available online or through a mobile app. The wines are stored in an armed, climate controlled private vault with 24 hour surveillance and climate monitoring. Wines can be shipped at your convenience from your vault throughout the United States on demand. For more information, visit www.oenovaults.com.
Gallo Acquires Talbott Vineyards in Monterey E. & J. Gallo has acquired Talbott Vineyards, one of California's largest estate grown wine producers. The winery was founded in 1982 by Rob Talbott and specializes in Pinot Noir and Chardonnay. The purchase will include the Sleepy Hollow Vineyard.
IPOB Announces 2016 New Winery Members There are five new members of In Pursuit of Balance, including Mignanelli Winery, Poe Wines, Presqu'ile Winery, Small Vines Wines and Thomas Fogarty Winery. Membership in IPOB is determined by a committee of wine professionals based upon a blind tasting. Membership is valid for two years and every two years each winery must resubmit to continue their membership. IPOB 2016 event schedule coming soon. Visit www.inpursuitofbalance.com.
Wine Magically Appears Free! View video: http://www.flixxy.com/americas-got-talent-winner-matfranco- returns-with-new-magic-trick.htm.
Krug Champagne for the Holidays Krug is offering the Krug Sharing Set, a special gift box for the Champagne lover. Each customizable dark cherry box includes two specially designed "Joseph" crystal glasses by Riedel, named after the House's visionary founder, along with a bottle of Krug Grande Cuvée. The Krug Sharing Set will be available nationally in November for $220. The unique story behind each individual bottle can be discovered by entering the Krug ID, a six digit number on the back label on the Krug app or Krug.com.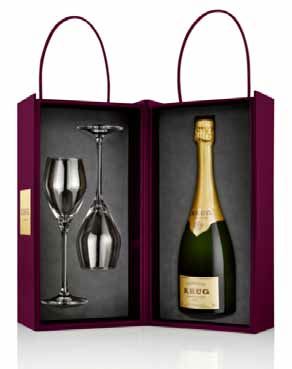 BigMouth Inc. Novelty Wine Products The Ultimate Wine Bottle Glass holds a full bottle of wine and The World's Largest Wine Glass holds up to three bottles of wine. A musical corkscrew plays the song "O'Sol Mio" while opening up your favorite wine. Tipsy Wine Glasses are made with slightly bent stems so they appear to lean. BigMouth Inc. products are fun gifts that are available in nationwide retailers including Walmart, Target and online at Amazon.com. The catalog is online at www.bigmouthinc.com/CATALOG-VIEW.
Open Your Wallet and say, "Pinot" I looked at the average retail price of all the California Pinot Noir from all major Pinot Noir producing regions I had reviewed since 2008 in the PinotFile: 2008 $48, 2009 $47, 2010 $49, 2011 $50, 2012 $50. Remember, these are primarily ultrapremium Pinot Noirs. Although this shows only a modest increase in average price over the 5-year period of $2-$3, a more dramatic increase is evident when regions are studied individually: