Anam Cara Cellars
I had the opportunity to meet and work with Sheila Nicholas at this year's IPNC. Nick and Sheila Nicholas have a 30-acre vineyard planted in 2000 and 2001 located on the southeast slopes of the Chehalem Mountains, just north of the town of Newberg. Lying between 450 and 650 feet in elevation, the welldrained soils are primarily Jory series. Five blocks of Pinot Noir are planted to Pommard, 114, 115, 667 and 777 clones. Originally the property was an overgrown walnut, plum and hazelnut orchard with a neglected Christmas tree forest and included a quaint farmhouse dating from 1902 and several wooden outhouses. Farming is sustainable with emphasis on organic and biodynamic practices.
The words Anam Cara are Celtic for "friend of my soul" and symbolize the journey the Nicholas's have taken to make their wine and the relationship they have with the vineyard. The label depicts the vineyard and the entwined vines logo (not pictured) symbolizes the owners relationship with their land, and with each new friend who shares their wine.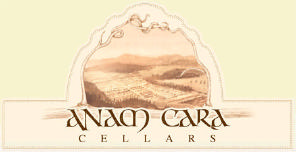 The wines have soft tannins and an elegant minerality very typical of this vineyard. The Pinot Noirs sport blackberry, wild plum and red roses. I was able to taste two of the three Pinot Noirs offered and came away quite impressed. I placed an order right after the IPNC.
2005 Anam Cara Cellars Nicholas Estate Chehalem Mountains Willamette Valley Pinot Noir
13.7% alc., 678 cases, $30. This is a blend of all five blocks of the estate vineyard. · I tasted the wine briefly at an alfresco luncheon at IPNC and this made the hairs stand up on the back of my neck. It was soft and elegant, but packed with charming red and black Pinot fruits. Most striking was the peacock tail finish which I rarely encounter.
2005 Anam Cara Cellars Nicholas Estate Reserve Chehalem Mountains Pinot Noir
13.7% alc., 213 cases, $42. This was the wine chosen by IPNC to be poured at the event. It represents fruit from specific rows which are cropped to insure low tonnage and maximal flavor concentration. · This Pinot Noir has more power and structure than the bottling above and will need a few years in the cellar to flesh out. That said, it is completely fine now, with charming notes of black fruits, earth, cocoa, and spice.
2005 Anam Cara Cellars Heather's Vineyard Chehalem Mountains Willamette Valley Pinot Noir
13.7% alc., 75 cases, $60. This wine came from three barrels originating from a single block of Dijon clone 114 vines that were remarkable for their softness and complexity. The decision was to bottle them separately as blending in with the Estate and Reserve would overwhelm the charm. A special wine for sure, it takes its inspiration from daughter heather Nicholas, and as Sheila notes, "is continuously evolving, deeply expressive, and full of surprises." Not tasted.
Anam Cara wines can be purchased by phone, 503-537-9150 or by e-mail inquiry at info@anamcaracellars.com. Limited Edition Wine Club members receive twice yearly mailings of six bottles of limited production Anam Cara Cellars estate wines including Pinot Noir, Riesling, and Gewürztraminer. The website is www.anamcaracellars.com.