New Book Releases
Wine Folly: The Essential Guide to Wine
Madeline Puckette & Justin Hammack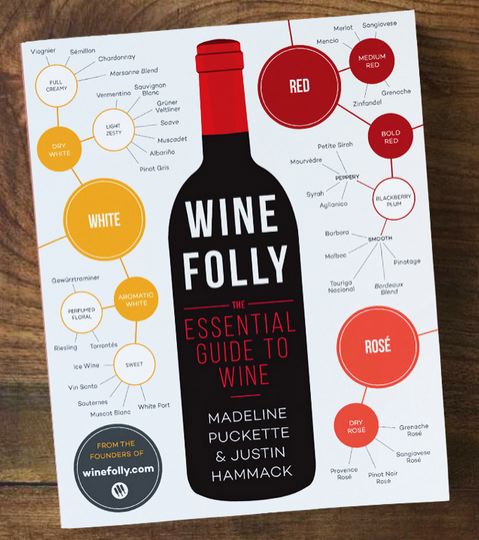 Those wine enthusiasts who follow the award-winning educational website, www.winefolly.com, will find this book highly enjoyable, for it brings together some of the information provided on that website in one, handy reference book. Although this practical book will appeal most to novices since it simplifies the often confusing and daunting complexities of wine, the book can be a valuable reference source for experienced wine drinkers.
The information is presented through easy to understand graphics and includes original and easy to visualize colorful and detailed maps of wine regions unlike any available in other wine reference books. Sections include: "An over view of wine fundamentals," "Profiles of most popular varietals as well as those under the radar," "Guide to pairing food and wine," "A regional section with wine maps," and "Advice on finding undervalued wines and wine regions."
Madeline Puckette is well qualified to compose this book as she is a certified sommelier with the Court of Master Sommeliers and has a background in graphic design.
Paperback, 230 pages, 2015, full color, $25.
Oregon Wine Pioneers
Cila Warncke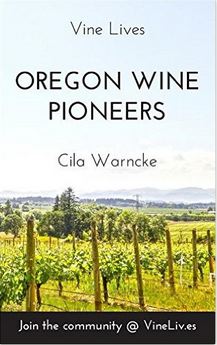 As readers know, I have a special interest in the history of Pinot Noir and its pioneers in both California and Oregon. I was excited to find that this book offered fifteen highly readable personal accounts of the history of some of Oregon's most notable viticulturists and wineries. Although I consider myself informed about many of the Oregon Pinot Noir pioneers, I added to my knowledge in reading the chapters on Adelsheim, Elk Cove, A to Z Wineworks, Ponzi, Ghost Hill Cellars, Illahe, and others. Along with considerable personal insight on the people behind the wineries, valuable information is offered on Oregon's climate, geology and ethos.
This is not an extensive wine guide per se, although maps and directions to the wineries are included, as well as restaurant and activity guides for major wine regions in Oregon. There are no technical wine discussions and no emphasis on comparative quality of wines from each winery. A few short wine reviews are included but are not particularly of value. The book's value is the inspirational life stories of those profiled in the four to five pages devoted to each winery. It is a great read with a glass of Oregon Pinot Noir in hand.
The author, Oregon native Cila Warncke, is a writer, journalist, photographer and wine enthusiast who has been published widely both in print and online.
Paperback, 231 pages, 2015, full color, $20. Also ebook available.
Wine Trails: Plan 52 Perfect Weekends in Wine Country
Lonely Planet Travel Media Company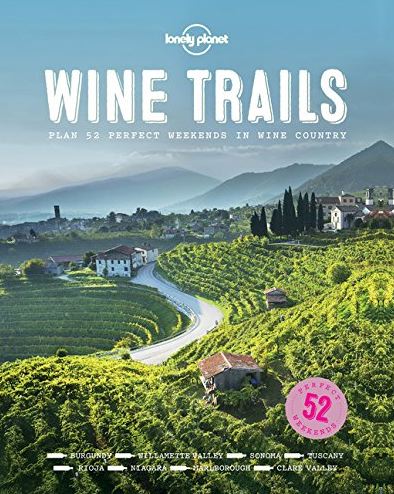 This book offers tasting tours through 327 wineries in 20 countries including well known wine regions. The weekend-long itineraries of special interest to Pinot Noir enthusiasts include sections on the Mornington Peninsula in Australia, Central Otago and Marlborough in New Zealand, Burgundy in France, Alto Adigo in Italy, and the Central Coast, Santa Barbara, Sonoma and the Willamette Valley of the United States.
For Sonoma County, for example, 8 wineries are suggested visits (Cline Cellars, Ravenswood, Littorai, Wind Gap Wines, Paradise Ridge, Copain, Banshee, and Francis Ford Coppola), along with two recommended places to stay (H2 and Vintners Inn), two recommended places to eat (Scopa and Fremont Diner) and one celebratory event to attend (Sonoma County Harvest Fair). This rudimentary information only hints at the potential options in the region which offers many more excellent choices for winery visits, lodging, dining and events.
The itineraries include short descriptions of the wineries, a number of photos, and very basic maps which could not be used practically for navigation. I believe there are many better sources of wine regions travel information online. This book tries to cover the world and would have been better served to have a series of books concentrating on one country.
Hardcover, 320 pages, 2015, full color, $24.99.
The Wine Bible
Karen MacNeil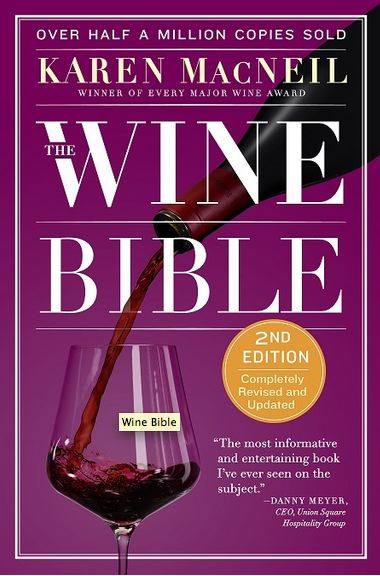 This is a highly publicized and promoted book now published in its second edition in a completely revised and updated format. MacNeil, a Napa Valley resident, is the only U.S. winner of every major wine award in the English language. You can check out her national tour dates for this book from October 7 through December 9, 2015, on her website at www.karenmacneil.com. Praise for the book has come from many respected sources including the New York Times, Sunset Magazine, Wine & Spirits, and USA Today.
Any book that attempts to cover the encyclopedic subject of wine faces a daunting challenge. I have never found such books particularly appealing personally, since in-depth information on subjects is lacking: a little bit of everything, but not comprehensive coverage of any one subject. Thirty pages on Burgundy and fourteen pages on Oregon barely scratches the surface. In addition, because of the rapidly changing world of wine and the time required to compose a comprehensive book, such a guide can become quickly outdated. That said, this book is more credible and readable than any other comprehensive reference book on wine I have reviewed.
If you need one book as a reference source to answer your questions about wine, this reliable and accurate guide would be invaluable. If you like entertaining general books on wine that can be held in your hands, and read and enjoyed in short stints from cover to cover, the Wine Bible is a good choice.
Paperback, nearly 1,000 pages, black and white, 2015, $24.95.

One of my readers, Blake Brown, recently recommended the book, La Tour d'Argent: Nothing is More Serious than Pleasure, by Claude Terrail. This informative and engaging book would appeal to restaurateurs, gourmands, and francophiles. It captures the history of the restaurant from 1562 onward and includes many stores of guests, gala affairs, and inside restaurant information. Hardcover, $25.
Sean Christopher Weir has published a memoir about working a harvest crush in the book, The Mad Crush: A Memoir of Mythical Vines and Mad Winemaking. Weir details his 1995 crush experience at Saucilito Canyon with Bill Greenough, harvesting old vine Zinfandel. The difficult, yet rewarding work, is described in an entertaining, lively and vivid manner. The only question is, why did it take so many years to write this memoir? Paperback and e-book, $11.95.