Benovia Celebrates Tenth Anniversary with Exceptional Offerings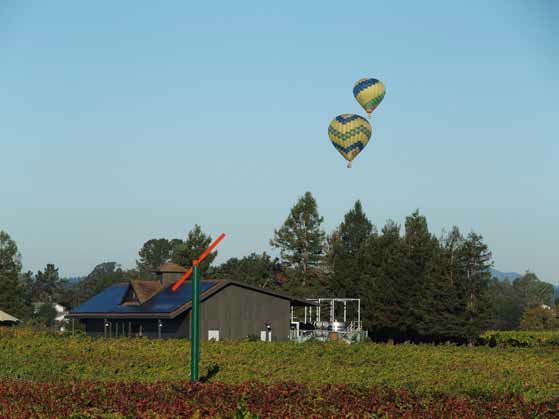 I have followed the emergence of Benovia Winery in Santa Rosa since its origins and I have tasted every wine from this winery over the past eight years beginning with the first commercially released wines from the 2005 vintage. Winemaker and viticulturist extraordinaire, Michael Sullivan, had to make do initially with an aged winery and equipment and primarily purchased grapes. The limited amount of estate vineyard sources needed considerable revitalization. Undaunted, he continued to adapt and reshape his winemaking and viticultural goals. Today, Benovia Winery has a modern new winemaking facility dedicated to Pinot Noir and is transitioning to all estate grown wines. The Pinot Noirs and Chardonnays from the 2012 vintage were stunning examples of persistence and dedication, and the equally stellar 2013 wines celebrate the winery's tenth anniversary and remarkable advances achieved over a relatively short span of time.
The idea for Benovia Winery was first launched in 2002 when Joe Anderson and his spouse Mary Dewane, former CEO's in the healthcare industry, bought the Cohn Vineyard located in the far western reaches of the Russian River Valley. The property included a home which allowed Joe and Mary, who lived in Arizona, to spend time in Sonoma County and pursue their winery aspirations.
In 2005, they bought an 18-acre ranch located in the Laguna de Santa Rosa subregion of the Russian River Valley from Cecil DeLoach. The modest Hartman Road Vineyards and Winery property (where Merry Edwards made wine at one time under the Merry Vintners label) included a dated winery and 13.5 acres of Pinot Noir.
The name, Benovia, was chosen as a merger of the first names of Mary Dewane's father, Ben, with Joe Anderson's father, Novian. The property's vineyard was named Martaella for the mothers, Martha (Joe's), and Eleanor (Mary's). Winemaker Michael Sullivan, who had made many brilliant Pinot Noirs at Hartford Family Winery, joined as a partner to lead the winemaking, vineyard development and management of the winery. At the beginning Michael stated his goals: "I joined Benovia to make wines that transcend varietal correctness. I want to create bottlings that meld the grape, climate and topography into something unique and special." Humbled by the challenge, Michael noted, "What I love about winemaking is that perfection is unattainable."
The owners committed significant financial resources to achieve their goal of making extraordinary wines. The old vine Pinot Noir and Zinfandel vineyard known as the Cohn Vineyard (18 planted acres located just outside the Russian River Valley AVA so designated Sonoma County AVA), soon underwent revitalization including a commitment to organic farming. Originally planted in 1970, the Cohn fruit had been sourced by Kosta Browne and Williams Selyem for exceptional Pinot Noir bottlings. The dry-farmed Pinot Noir at Cohn Vineyard is planted to a massale selection, most likely Martini and Pommard clones. For extensive reading on this vineyard visit www.princeofpinot.com/article/1689/.
A 40-acre horse ranch parcel adjacent the winery belonging to the Erbs family was acquired increasing the Benovia Winery property to 58 acres. The original 13.5 acre estate vineyard adjacent the winery was expanded to 41.87 acres after the Erbs property acquisition and was named Martaella Vineyard. The new plantings included 9 clones and heirloom selections of Pinot Noir, and 4 clones of Chardonnay including a suitcase selection from Montrachet Vineyard in Burgundy, established in a very high density configuration of between 2200 and 2722 vines per acre. A map of Martaella Vineyard and its three parcels is below.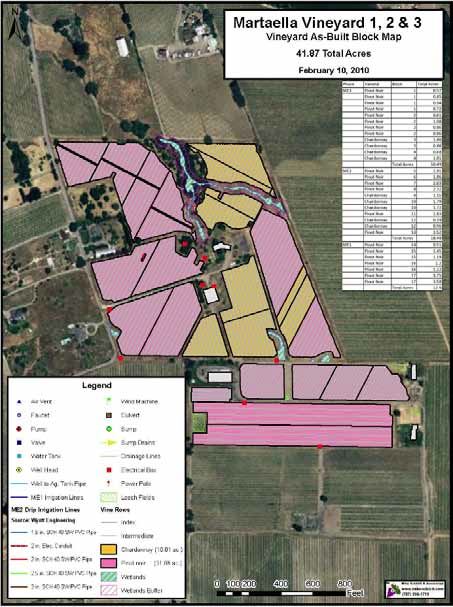 A 16-acre site near Freestone known as Tilton Hill Vineyard, was acquired, and 12 acres of Pinot Noir vines developed. Tilton Hill is the coldest estate vineyard located just a few miles from the Pacific Ocean. Vines were planted here at very high density in 2009 using Dijon selections of Pinot Noir on a very low vigor 420A rootstock. Benovia Winery now has 71 acres of Pinot Noir, Chardonnay and Zinfandel vines in three distinctive locations across the Russian River Valley AVA, the Sonoma Coast AVA, and the Sonoma County AVA. The three estate vineyards can be located on the map below.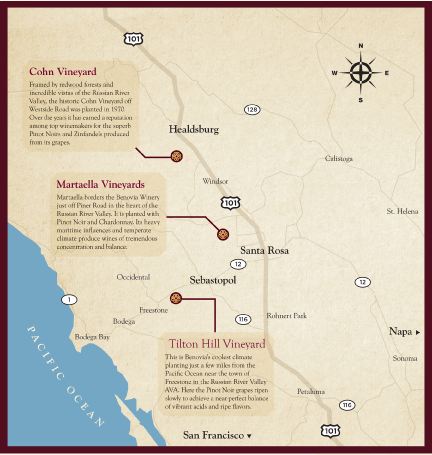 An old ranch house on the property was converted into a tasting room, a horse barn became the new red wine winery (photo below), and the original winery was transitioned to white wine production (photo above with balloons overhead).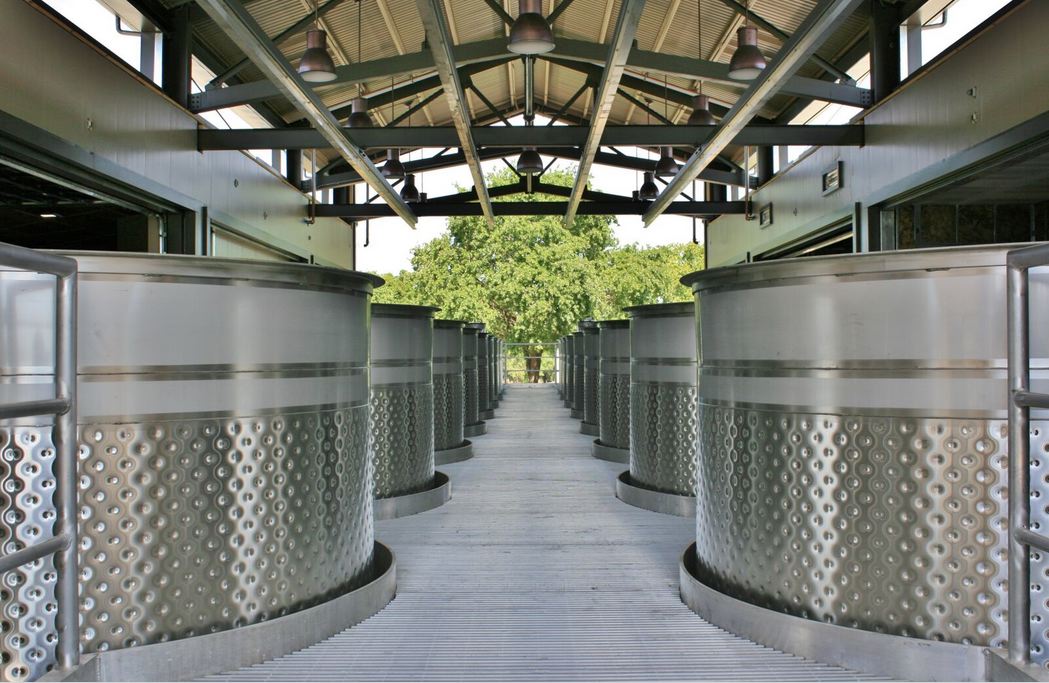 I recently tasted through the lineup of Benovia Winery wines from the 2013 vintage. The Pinot Noirs were particularly charming in this vintage, offering a more forward elegance than the boisterous 2012 Pinot Noirs. They are all superbly balanced. The 2013 vintage was not too hot and not too cold with an abundance of sunshine and temperatures that rarely spiked above 90º F. Ripening was uniform and almost perfect weather at harvest produced grapes with ideal ripeness and balance. All Benovia Pinot Noirs are also available in magnum format.
Pinot Noir winemaking is as follows. The grapes are gently de-stemmed after hand sorting. A small amount of whole cluster was included in the ferments in the following 2013 Pinot Noirs: La Pommeraie 12%, Martaella 22%, and Tilton Hill 5%. After a cold soak of 5 to 8 days, indigenous yeast completes primary fermentation. The must is moved to French oak barrels and inoculated for malolactic fermentation with weekly lees stirring. The wines are typically aged 14 to 16 months in roughly one-third new French oak barrels.
Seated, detailed tastings are available by appointment only daily from 10:00 a.m. to 3:30 p.m. (a charge of $20 per person is waived with the purchase of one or more bottles of Benovia wine). Phone 707-921-1040 or visit the website at www.benoviawinery.com. The entry to the tasting room and hospitality center is pictured below.