Pinot Briefs —Newsletter 10.20
BARVIVO Corkscrew Two brothers from Denmark launched their brand, BARVIVO, a few months ago. One of their products is a Classic Handmade Wine Opener. This is a masculine waiter's style corkscrew made from heavy-duty 420 stainless steel with a classy rosewood handle and a double hinged fulcrum. I personally tried out the wine opener and can highly recommend. Right now it is available at a steal: $12.94 on www.amazon.com (list price $24.95). A perfect holiday gift for wine enthusiasts. Includes a lifetime warranty. Disclaimer: I have no financial interest in this product.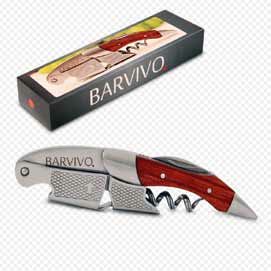 News from Santa Lucia Highlands Wine Spectator has again ranked the SLH as California's most consistently excellent appellation for Pinot Noir. For seven vintages in a row, SLH has scored a vintage rating of at least 90 points. Every two years, the Santa Lucia Highlands Wine Artisans have a trade and press tasting at Fort Mason in San Francisco. Forty SLH brands will be pouring on Tuesday, February 23, 2016, at Fort Mason's newly remodeled Gallery 308. Also, a trade tasting will be held on March 21, 2016, in Carmel.
2016 International Chardonnay Symposium The 2016 event will be held Thursday through Saturday on May 12-14, 2016 at Greengate Ranch & Vineyard in San Luis Obispo. The line up includes a grand tasting, educational seminars and panel sessions, winemaker dinners. Many Central Coast wineries will also offer special promotions and events to complete the experience. Early bird tickets available until January 30, 2016: VIP $75, General Admission $50 at www.TheChardonnaySymposium.com. The International Chardonnay Symposium is sponsored by The Tasting Panel Magazine, The SOMM Journal, Pismo Beach Conference & Visitors Bureau, Avila Beach Tourism Alliance and the California Highway 1 Discovery Route.
Anderson Valley Winegrowers Association Announces 2016 Festivals The 11th Annual International Alsace Varietals Festival will be held on February 19-20, 2016, and the 19th Annual Anderson Valley Pinot Noir Festival will be May 20-22, 2016. Other events include the Anderson Valley Barrel Tasting Weekend July 23-24, 2016, and the Winesong! Anderson Valley Pinot Noir Celebration September 9-10, 2016. The Alsace Festival technical session on Saturday morning will include a talk by John Winthrop Haeger whose book, Riesling Rediscovered, will be released March 2016. Additional information about all these events can be found at the Anderson Valley Winegrowers Association website at www.avwines.com. Remember, lodging in the Anderson Valley is limited so make your arrangements early.
Big Table Farm Wines Now in Magnum Format For fans of Big Table Farm wines, magnums are now available on the website at www.bigtablefarm.com. Honestly, wine tastes better from magnums, and their celebratory nature creates excitement at any meal over the holidays.