Pinot Noir's Love-Hate Relationship With Oak
"Rarely have I come across a wine where I wanted more oak"
Molly Battenhouse, Wine & Spirits

French oak barrels are a critical part of successful Pinot Noir vinification because Pinot Noir loves oak. It is a match made in heaven that gives Pinot Noir structural tannins, contributes texture, adds flavor and builds depth. It even contributes polyphenols that give wine its potential health benefits.
That said, the marriage of Pinot Noir and oak is a delicate and contentious relationship. Oak aging is as likely to bring a Pinot Noir down than to elevate it. It is an interaction that challenges the winemaker's touch.
Oak's role as a seasoning for wine is similar to the role salt plays as a seasoning for food. A seasoning is defined as a substance used to add flavor to food primarily for the savor that it imparts. Chefs know that salt enhances food flavors, yet they don't want food to taste salty. Similarly, winemakers ideally employ oak seasoning to elevate Pinot Noir without imposing the taste of oak in the wine. Dr. Anita Oberhoster, UC Davis enologist, said, "New oak is like garlic or chili in cooking; if you use too much of it you will kill the flavor."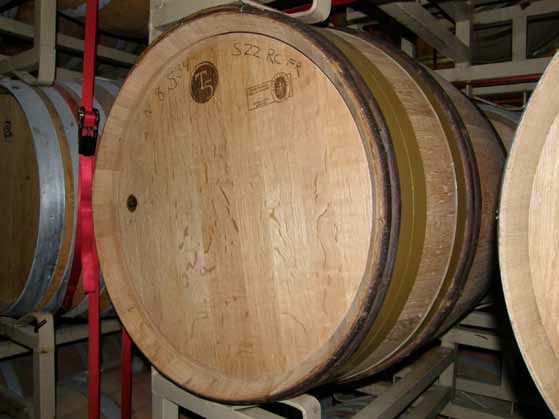 Pinot Noirs that display significant oak aromas and flavors are out of balance and will remain that way. Noted Littorai winemaker Ted Lemon told me, "In my general experience, if a wine tastes too oaky when young then it probably will when it is older. It has to be an incredibly powerful wine to reabsorb that oak. If the wine can take plenty of new oak, and the winemaker has used the right amount, then you probably won't notice much oak anyway."
Oak should strike a harmonious chord and not be used to rescue a poor wine. Quoting Dr. Oberhoster again, "You cannot turn an ordinary wine into an expensive wine by just exposing it to oak."
Barrel aging Pinot Noir in French oak barrels adds literally hundreds of aromatic and flavor compounds to the wine. The most commonly observed are lactones (coconut, spice and herbaceousness), vanillin (vanilla), guaiacol (char-like smoky aroma and spice), eugenol (clove, nutmeg and cinnamon), furfural (butterscotch, caramel and almond), ellagitannins (astringent taste), and sotolone (maple syrup, caramel, toasted nuts and soy sauce). The combination of more than one of these can produce very complex aroma and flavor perceptions including ash, mushroom, leather, dill, mown hay, grass, tobacco, cedar, sawdust, pine, tar, resin, bourbon, cotton candy, molasses, honey, toffee, marshmallow, butter, popcorn, baked bread, cookie dough, peanut butter, graham cracker, coffee, mocha, barbecue, charcoal, bacon, sweet smoke, burnt sugar, licorice and anise.
I find that oak, particularly new oak, can be overbearing in Pinot Noir, and as a result, oak is the first or most prominent aromatic or flavor feature met with when tasting a Pinot Noir wine. Because aggressive oak is not a desirable quality in premium Pinot Noir, I downgrade the wine, but some reviewers do not. Everyone's tolerance for oak varies and this accounts for the disparity among reviewers' attitudes toward oak enhancement of Pinot Noir.
In a recent issue of the Wine Spectator, I came across these reviews of California Pinot Noir. The wines were highly rated, but the heavy oak overlay described in these wines was a turnoff for me. The 2013 Ferren Silver Eagle Vineyard Sonoma Coast Pinot Noir (94) was described as follows, "Presents a graceful mix of smoky, toasty oak, with touches of charcoal and vanilla bean, wrapped around a tight mix of raspberry, black cherry and wild berry." The 2012 Olet'te English Hill Vineyard Sonoma Coast Pinot Noir (92) review noted, "Features a strong charry oak presence that dominates for now, yet the intense core of black cherry, wild berry and raspberry fruit rises to the occasion."
There are pinotphiles who relish lavishly oaked Pinot Noir but I am not one of them. I do not want to think of "oak" when tasting Pinot Noir. You have been forewarned, but I will try to describe the oak treatment of wines in an unbiased tenor so the reader can decide if the wine is to their taste.