Sips of Recently Tasted Chardonnay

People ask me why I review Chardonnay when I am so devoted to Pinot Noir. There are three reasons: (1) Many Pinot Noir producers also bottle Chardonnay - the two go hand in hand as they do in Burgundy, (2) I like to drink Chardonnay, and (3) My spouse, Patti, adores Chardonnay.
Rhys Vineyards Chardonnay
Rhys Vineyards is known for their Pinot Noir and rightfully so, but I have found their Chardonnays particularly appealing over the years. I have believed for some time that the potential for Chardonnay in the Santa Cruz Mountains exceeds that of all other wine regions of California except maybe the Sonoma Coast.
Chardonnay plantings at Rhys Vineyards have increased steadily since a single acre was planted at Alpine Vineyard in 2000. Currently, there are 2.75 acres at Alpine Vineyard and 4 acres at Horseshoe Vineyard, both in the Santa Cruz Mountains, and 8 acres at Bearwallow Vineyard in the Anderson Valley. The Chardonnay vines have been planted in some of the best soils and enjoy some of the best exposures found at each site. The vines are tightly spaced with low vigor rootstock onto which they have grafted a massale (field mixture) of four heritage selections of Chardonnay (including Wente, Hyde and Mt. Eden). The tight spacing forces the vines to fully explore the soil profile and the 18!-24! of rocky topsoil over Monterey Shale forces the vine to concentrate its efforts on very small berries, while the mixture of Chardonnay selections contributes to an orchestration of expression.
The Chardonnays are gently whole cluster pressed, the must is settled overnight, and the barrels filled by gravity the following morning. The wine is fermented and aged in French oak barrels, 20%-25% new where it is left undisturbed without batonnage in a temperature-controlled white barrel room, completing a native yeast fermentation that can sometimes take an entire year.
According to a recent Rhys Vineyards! newsletter, 2015 is Alpine Vineyard!s 15th birthday and clearly the vineyard "has been going from strength to strength as the vines have aged." The mature vines have better balance and more resilience to extreme weather. The vines are essentially dry farmed now even in the extreme drought conditions of recent vintages.
Sometimes while tasting wine, I come across a wine that is clearly better than even many other superb wines. This was the case when I tasted the 2013 Rhys Vineyards Alpine Vineyard Chardonnay. The wine was so striking and emotive, I felt challenged to give the wine a proper description.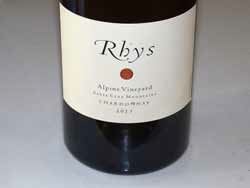 2013 Rhys Vineyards Alpine Vineyard Chardonnay
13.5% alc., $69. · Light golden yellow color in the glass. Gorgeous and intoxicating aromas of lemon, pineapple, yellow peach and crushed chalk. Equally sensational on the palate with a perfect marriage of luscious lemon cake, pineapple and pear flavors with uplifting acidity. A hint of complimentary nutty, vanillin oak adds to the appeal of this laser focused wine. The finish is incredibly long and refreshingly racy. I was so taken by this wine, that I stopped tasting other wines on this day and had a generous glass with lunch. A delicious, edgy wine without rival. (BTW, I did not see the glowing reviews of this wine by other notable wine critics before tasting this wine) Score: 99
2012 small + tall Clos Pepe Vineyard "Liquid Joy" Sta. Rita Hills Chardonnay
$30. Dijon 76 and Wente clones. Pressed to neutral French oak barrels and stainless steel barrels and cool fermented with native yeast. Aged 16 months on the lees. Oak and stainless steel lots blended before bottling. Whole cluster pressed to barrel, native and proprietary yeast fermentation (50/50), 100% malolactic fermentation, aged sur lie for 17 months in French oak barrels. Bottled unfined and unfiltered. 13.5% alc., $. · Light golden yellow color in the glass with a slight haze. The aromatic profile was unusual and hard to describe but included aromas of lemongrass and nutty granola. Flavors of lemon cake, apple, marzipan and toast are framed by a vibrant acidity. An unpretentious, every day style. Score: 87
2012 and 2013 Scherrer Helfer Vineyard Russian River Valley Chardonnay See feature on Scherrer Winery in this issue for these two reviews.