Cardwell Hill Cellars
It's a small world. Close neighbors of mine, Dan and Nancy Chapel own a vineyard and winery in Philomath, Benton County, in the Willamette Valley just west of the town of Corvallis. Dan was a very successful engineer at Fluor Corportion and found winegrowing to be a challenging outlet for his creative juices after he retired. He purchased an overgrown vineyard in a picturesque location in Southern Oregon and transformed the property into a magnificent wine estate featuring a stately home with barrel storage underneath (Dan likes to say that he and Nancy "literally sleep on our wine."), a modern 7,600 square-foot gravity-flow winery (photo, below right), and a tasting room fronting the winery.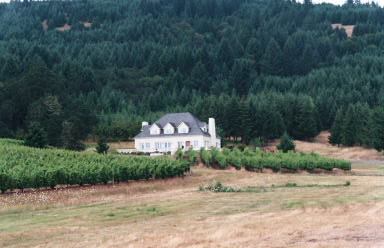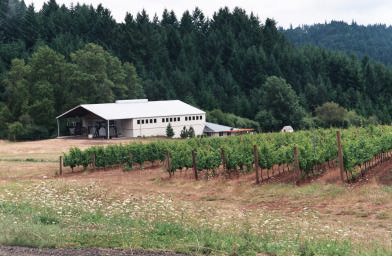 There are 38 acres of estate vineyards, primarily Pinot Noir with a few acres of Pinot Gris. The original existing Monet Vineyard was planted in 1984 to the Wädenswil clone. To that vineyard, Dan added Pommard, 115 and 777 clones. In 2003, Dan purchased additional acreage, christened the Degas Vineyard (photo on page 17), and planted it to Wädenswil and 115 clones of Pinot Noir and to Pinot Gris. A total of 50,000 vines have been added to the estate in the last 4 years. Established vines are dry farmed as the subterranean moisture provides just the right amount of water during the warm summer months. Vineyard management is under the direction of consultant Norbert Feibig, who has been farming grapes in Oregon for over 25 years and heads the viticulture program at Van Duzer.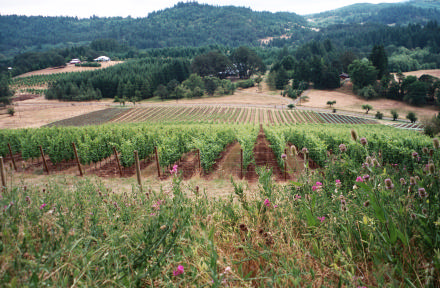 The Chapels (photo, below) were fortunate to enlist the winemaking expertise of Jim Kakacek, who crafts marvelous Pinot Noirs at Van Duzer Vineyards. Winemaking at Cardwell Hill is traditional with fermentation in 2.5 ton open-top stainless steel tanks, cold soaks, manual punch-downs, both free run and press wines flow via gravity to the barrel room, and the wines are aged approximately 10 months in a combination of 25% new, 50% one- and two-year-old, and 25% neutral barrels.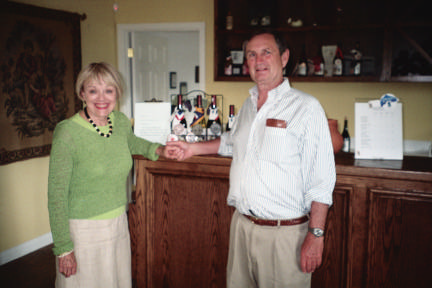 I visited Cardwell Hill Cellars after this year's IPNC. Dan was kind enough to allow me to taste through several of the Pinot Noirs he has produced since 2004.
Cardwell Hill Cellars tasting room is open from early May through Thanksgiving weekend Tuesday through Sunday, from 12-6. The Chapels split their time between Southern California and Oregon, so call ahead to see if they are at the winery (541-929-WINE). Tasting and tours are available year-round by appointment. There are picnic tables on the property with spectacular views of Mary's Peak and the coastal range of mountains. The wines are sold on the website, www.cardwellhillwine.com, and through retail channels. The prices are quite sensible.