Sips of Recently Tasted Oregon Pinot Noir
Airlie Winery, Willamette Valley
One of Oregon's lesser known growers and producers of wine since 1986 that I believe is making, along with Evesham Wood, the best reasonably priced Pinot Noirs in the Williamette Valley. The winery is located in Monmouth, Oregon, just south of Dallas, and operates a tasting room that is open Thursday-Monday from March until November (December through February by appointment). The wines are also sold online through the winery's website at www.airliewinery.com.
Winemaker Elizabeth Clark ended up in Oregon purely through chance when she hitched a ride to visit a cousin living in Portland. She quickly fell in love with Oregon and the winemaking community and never left. She spent five years in training at one of the pioneering wineries in the Willamette Valley before being hired as winemaker at Airlie Winery in 2005.
Grapes are sourced from the 32-acre Estate Dunn Forest Vineyard planted in 1983 and 1991 to Pinot Noir, Pinot Gris, Chardonnay, Marchal Foch, Gewürztraminer, Riesling and Müller Thurgau, and BeckenRidge Vineyard planted in 1978. Vineyards are Certified Sustainable by L.I.V.E and Salmon Safe.

2012 Airlie Willamette Valley Oregon Pinot Noir
12.5% alc., pH 3.42, TA 0.71, 663 cases, $25. Dunn Forest (58%) and BeckenRidge (42%) vineyards. Harvest Brix 22.1º. Pommard, 115, 667 and 777 clones. 100% dep--stemmed, 4-day cold soak, inoculated yeast fermentation, inoculated for malolactic fermentation and aged 10 months in French oak barrels, 5% new. Bottled unfined and unfiltered. Gold at the Oregon Wine Awards in 2015. · Moderately dark reddish purple color in the glass. Very savory nose featuring aromas of forest floor, pine needle, and spice with a hint of dark fruits. A fruit grenade with copious layers of purple and black fruits with an underpinning of pine sap and spice. The firm tannins are well matched to the prodigious fruit sap. A lot going on in this wine, but it is the savory vibe I like most. Score: 92

2012 Airlie Vintner's Blend Willamette Valley Oregon Pinot Noir
12.5% alc., pH 3.31, TA 0.75, 150 cases, $35. Dunn Forest (50%) and BeckenRidge (50%) vineyards. Harvest Brix 22.0º. Pommard clone. 100% de-stemmed, high percentage of whole berry fermentation. 4- day cold soak, cultured yeast fermentations, inoculated for malolactic fermentation and aged 22 months in French oak barrels, 33% new. Six selected reserve barrels were racked to neutral barrels for an additional year of aging. Bottled unfined and unfiltered. Only produced when vintages warrant. · Moderately dark reddish purple color in the glass. Enticing aromas of dark berries, black cherry milkshake and forest floor. Gorgeous array of dark red and black stone and berry fruits. Amazing depth of fruit but with well-matched tannins and a satisfying thread of acidity in the background. A huge wine by Oregon standards, yet crafted in harmony, finishing with a lip smacking, fruit jubilee. A bodacious wine built for the long haul, yet thoroughly enjoyable now. Score: 95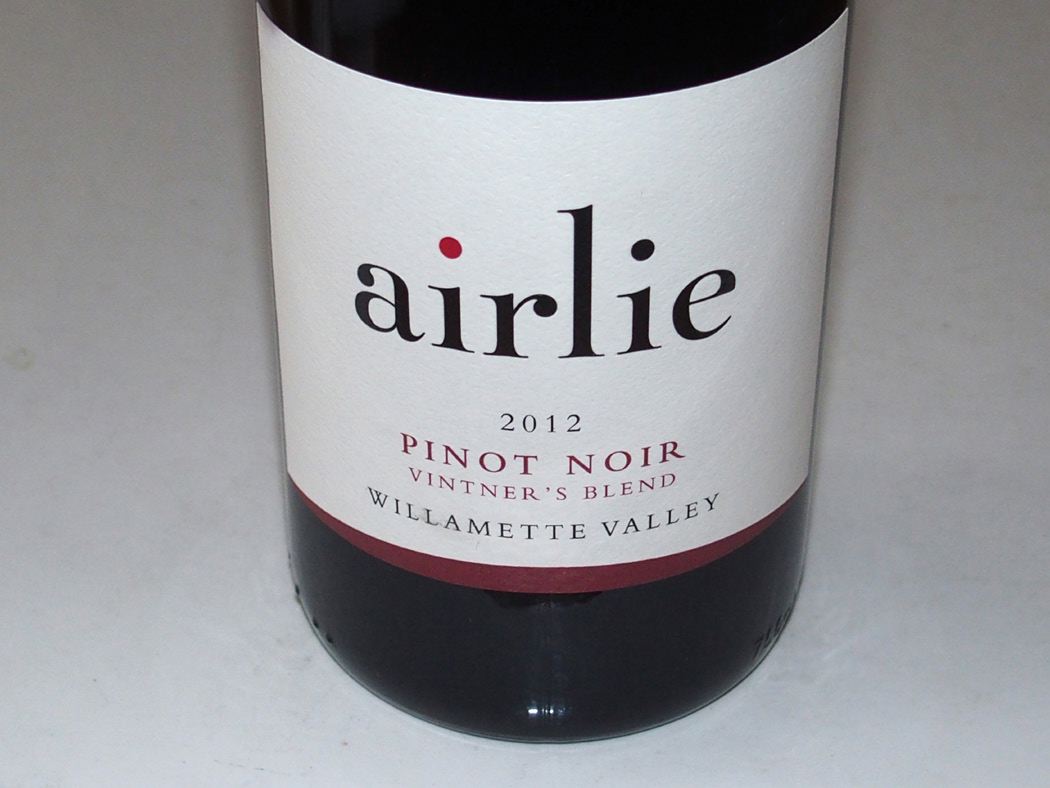 Evesham Wood Vineyards & Winery, Eola-Amity Hills
Owner and winemaker Erin Nuccio continues to craft some of Oregon's most treasured connoisseur's wines that still remain modestly priced. The Pinot Noir wines offer the most bang for the buck of most any other Oregon winery. The 13-acre estate vineyard, Le Puits Sec ("The Dry Well") is dry farmed and certified organic is the focus of the winery, with some grapes sourced from like-minded growers. The wines feature fermentations a house starter induced fermentation, aging in primarily used French oak barrels, racking by hand, and no filtration. Delicacy and finesse are the hallmarks of the wines offered here. The iconic winery is open for tours and tastings by appointment. The new tasting room is open beginning January 22, 2016, from Friday through Sunday. Join the mailing list to hear about new releases, wine dinners and other events. I buy these wines every year. Visit the newly update website at www.eveshamwood.com. A Willamette Valley Pinot Noir ($21), Eola-Amity Hills Pinot Noir ($26), Ilahe Vineyard Pinot Noir ($30), and Mahonia Vineyard Pinot Noir ($36) are also offered in the 2013 vintage. Erin also crafts the Haden Fig wines which are quite good and sold on the website.

2013 Evesham Wood La Grive Bleue Eola-Amity Hills Oregon Pinot Noir
13.0% alc., 150 cases, $28. This wine pays homage to the Western Bluebird, the preservation of whose habitat was a prime motivation to farm the vineyard organically. Sourced from a 2-acre block on the estate vineyard. · Moderately light reddish purple color in the glass. Lovely aromas of cherry, blueberry, woodfern and Asian 5 spice. Light to mid weight attack of vivacious cherry fruit, persisting through an intense maraschino cherry fueled and slightly tart finish of good length. Bright and juicy, with supple tannins and the faintest oak in the background. Score: 90
2013 Evesham Wood Le Puits Sec Eola-Amity Hills Oregon Pinot Noir
13.0% alc., 525 cases, $40. · Moderately light reddish purple hue in the glass. The nose offers an appealing mix of red berry fruits and woodsy flora notes. A little more concentration and intensity on the intact than the La Grive Blanc, with an eloquent display of red raspberry and red cherry fruits. The balance is spot on, and the juicy cut of acidity lifts the fruit to enjoyable heights. The amazing finish lasts at least 30 seconds. Score: 92

2013 Evesham Wood Cuvée J Eola-Amity Hills Oregon Pinot Noir
13.0% alc., 149 cases, $50. · Moderate reddish purple color in the glass. Intoxicating aromas of black cherry, exotic spices, earthy flora and rose petal. The wine fills the mouth with pleasure, offering generous layers of black cherry fruit enhanced with notes of cardamom, thyme, vanilla and oak. Somewhat firm, but balanced tannins add needed structure for the sappy fruit. The finish has memorable length and generosity. A very age worthy wine of uncommon excellence. Score: 94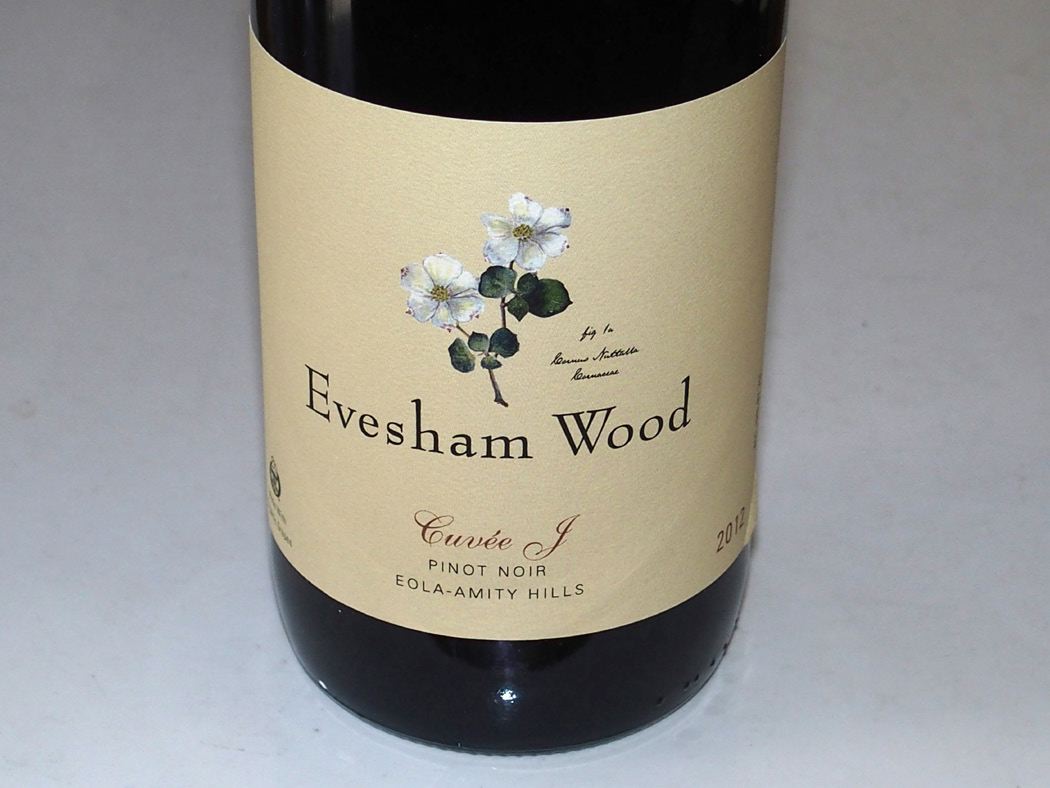 2013 Evesham Wood Temperance Hill Vineyard Eola-Amity Hills Oregon Pinot Noir
13.0% alc., 145 cases, $36. Made from organic grapes grown on non-irrigated vines. · Moderately light reddish purple color in the glass. Complex nose leading off with both savory and fruity aromas of cherry, rose petal, underbrush, tobacco and dry grass. Earthy red cherry and berry fruits form the backbone of this middleweight wine that adds peppery spice to the mix. Nicely balanced tannins add needed structure to the ebullient fruit which shows up on the lingering finish. Score: 92
Keeler Estate, Tualatin, Oregon
Keeler Estate Vineyard is located in the Eola-Amity Hills AVA in the Willamette Valley. Craig and Gabriele Keeler found an abandoned property in Amity, Oregon, in 1989 and the following year they moved to their 200- acre property. Today, the estate has a thriving biodynamic vineyard planted to Pinot Noir (667, 777, 115, 943, Pommard 4 and 5, and Wädenswil), Chardonnay (55, 75, 76 and 95), Pinot Gris (04 and 52) and Riesling (49). The winemaker is Darcy Pendergrass, formerly of Amity Winery. A tasting room is located at 5100 SE Rice Lane in Amity (open Thursday-Sunday, but check for winter hours). Visit www.keelerestatevineyard.com.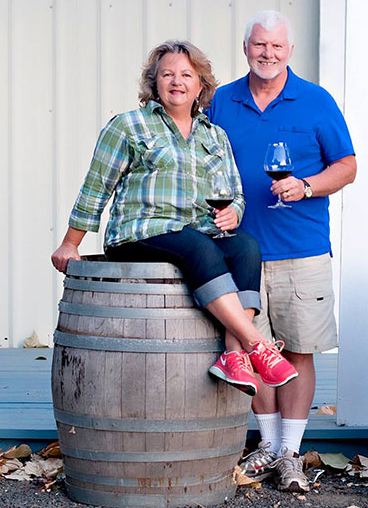 2013 Keeler Estate Vineyard Reserve Eola-Amity Hills Oregon Pinot Noir
13.5% alc., pH 3.60, TA 0.54, 55 cases, $48. Released June 2015. Made from organically grown grapes. 60% Pommard, 40% 115. Aged 10 months in French oak barrels, 40% new. · Moderately light reddish purple color in the glass. Deep aromas of cherry, strawberry, spice, rose petal and smoke. Light to mid weight core of juicy strawberry and cherry fruits with a dusting of oak. Silky on the palate, with fine grain tannins, and noteworthy length on the finish. Score: 90
2014 Keeler Estate Vineyard Eola-Amity Hills Oregon Pinot Noir
14.3% alc., pH 3.73, TA 0.64, 143 cases, $38. Not yet released. Made from Keeler Estate Vineyard organically grown grapes. 45.25% Wädenswil, 36.5% Pommard, 18.25% 115. 100% de-stemmed, aged 9 months in French oak barrels, 73% neutral and 27% new. · Moderate reddish purple color in the glass. Aromas of wild berries, mulch, earth and a hint of pungent volatile acidity. Ripely fruited, with flavors of black grape, boysenberry and dark chocolate. Well proportioned tannins and a modestly intense, sweet berry finish. Score: 87
2014 Keeler Estate Vineyard Reserve Eola-Amity Hills Oregon Pinot Noir
14.3% alc., pH 3.74, TA 0.59, 196 cases, $48. Released to wine club members, not released to public yet. Made from organically grown grapes. 67.75% Pommard, 35.75% 115, 2.5% Wädenswil. 100% de-stemmed, aged 9 months in French oak barrels, 40% new. · Moderate reddish purple color in the glass. The fruit pushes the ripeness envelope, but never finds over ripeness. Aromas of dark berry preserves lead to a rich and luscious assortment of purple and black fruits that saturate the palate in waves. The wine becomes more expressive over time in the glass, offering a sterling balance between fruit fatness and structured tannins, finishing with an explosion of sweet boysenberry goodness. Enjoyable now, but this wine will benefit from another few years in the cellar. Score: 91
More
2013 Gran Moraine Winery Yamhill-Carlton Oregon Pinot Noir
13.9% alc., pH 3.62, TA 0.55, 3,700 cases, $45. The first Gran Moraine vintage that winemaker Eugenia Keegan has produced vine-to-bottle. She has experience working with Pinot Noir and Chardonnay in the Russian River Valley, Napa-Carneros, Burgundy and now Oregon's Willamette Valley. This 198-acre vineyard was planted in 2005 to several Dijon clones and consists of over 80 blocks. Aged 10 months in 41% new French oak barrels. · Moderate reddish purple color in the glass. Robust aromas of black cherry, cardamom spice and sweet oak. Lovely core of black cherry and black raspberry fruits overlain with oak-driven accents of black tea, char and tobacco, and framed by gently firm tannins. The finish is attenuated. When tasted the following day from a previously opened and re-corked bottle, drying oak still dominated the aromas and flavors. Time will integrate some of the oak overlay but this will always be a well-oaked wine. Score: 88
2014 Privé Vineyard Joie de Vivre Chehalem Mountains Oregon Pinot Noir
13.8% alc., 132 bottles, $90 (available only on futures to mailing list). The first few gallons of press load from le nord and le sud are gathered to be blended and aged in 50% new French oak barrels for 12 months. Lovingly offered in an etched, hand painted, numbered and signed bottle. · Moderately light cherry red color in the glass. Soaring aromas of cherry, resin, spice and nutty oak lead to an elegantly styled wine that is both demure but powerfully flavored. Cherry and red berry fruits are featured with a savory oak note in the background. Both cherry fruit and savory nuances mingle on the memorable finish. This wine should reward further cellaring, but hard to keep your hands off it now. Score: 92