Sips of Recently Tasted Chardonnay

2012 Airlie Willamette Valley Estate Bottled Oregon Chardonnay
13.5% alc., pH 3.60, TA 0.55, 308 cases, $18. Dunn Forest Vineyard. Harvest Brix 22.2º. Dijon clones. Whole cluster pressed, inoculated with thirteen yeasts, one per barrel, and barrel fermented in mostly neutral oak (7% new American oak), 100% malolactic fermentation, aged 10 months on the lees in barrel. · Moderate golden yellow color and clear in the glass. Very appealing perfume of lemon oil, mango and yellow apple sauce. An impeccably balanced wine with good richness of yellow citrus, lemongrass, honey, apple butter and caramel flavors. Utterly charming and easy to like, with welcome tension on the finish. Score: 92
2013 Albatross Ridge Estate Carmel Valley Chardonnay
12.5% alc., pH 3.24, 410 cases, $55. Sourced from four distinct blocks on the estate vineyard. Cones 96 and 15. Harvest Brix 20.5º-21.5º. Whole cluster pressed, barrel fermented with native yeasts on the lees with no stirring or racking, 100% native malolactic fermentation, aged 11 months in 100% French oak barrels, 25% new. · Moderate golden yellow color and clear in the glass. Welcoming aromas of canned peach, lemon zest, vanilla creme and subtle toast. A discretely concentrated offering featuring bright flavors of lemon, pineapple and peach with complimentary nutty oak and a subtle salinity. Engaging acidity provides vivaciousness. Score: 91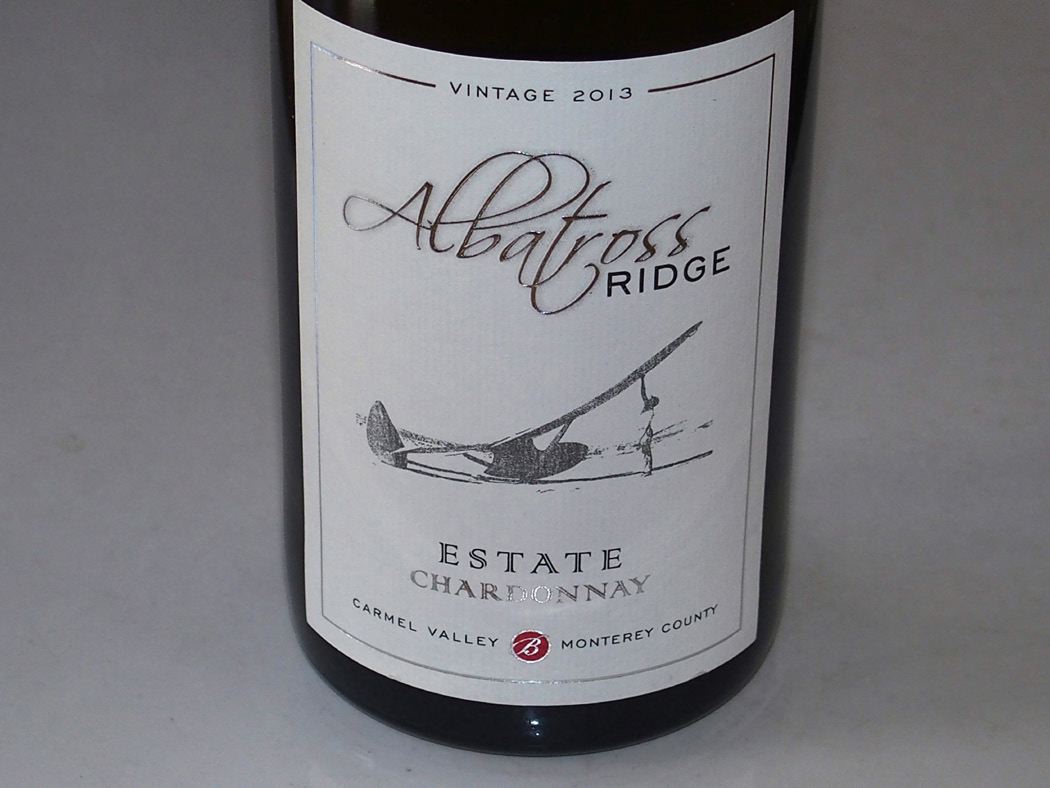 2013 Anaba Dutton Ranch Russian River Valley Chardonnay
14.0% alc., pH 3.51, TA 0.62, 206 cases, $36. Sourced from Mills Station Vineyard and Shop Block, both Dutton Ranch properties in the Green Valley of Russian River Valley. Harvest Brix 23.6º. Wente clone. Whole cluster pressed, 100% barrel fermented, 100% malolactic fermentation, aged 9 months on lees in French oak barrels, 35% new. · Moderately light golden yellow color and clear in the glass. Pleasant aromas of lemon oil, lemongrass, pineapple and caramel lead to a bright and crisp style of citrus driven wine that is almost crunchy. A hint of banana and brioche is a donation from oak. Fruit and acidity work in harmony in this enjoyable offering. Dutton Ranch fruit always delivers the goods. Score: 90

2013 Anaba J McK Estate Vineyard Carneros Chardonnay
14.1% alc., pH 3.55, TA 0.60, 213 cases, $34. An estate vineyard that is sustainably farmed. The vineyard name is derived from proprietor John Sweazey's children, John and McKenna. Harvest Brix 23.8º. Wente clone. Whole cluster pressed, 100% barrel fermented, 100% malolactic fermentation, aged 9 months on lees in French oak barrels, 35% new. · Moderately light golden yellow color and clear in the glass. A little more fruit and oak mix than the Dutton Ranch wine that is easy to like. Aromas of lemon curd, pear and toasty brioche lead to a richly flavored core of poached pear, peach and burnt caramel flavors. Pleasingly viscous in the mouth, with a soft, satiny finish. Score: 90

2013 Byington Wrights Station Vineyard Santa Cruz Mountains Chardonnay
14.5% alc., pH 3.54, TA 0.52, $30. Harvest Brix 24.5º. Aged in 30% new French oak and 70% neutral oak. · Moderately light golden yellow color and clear in the glass. Aromas of lemon curd, yellow apple, and nutty oak come to the fore over time in the glass. The displays an intricate marriage of fruit and oak, with flavors of lemon and yellow peach combined with blonde caramel and toasty brioche. Beautifully balanced with a dancing cut of acidity fueling the refreshing finish. Score: 90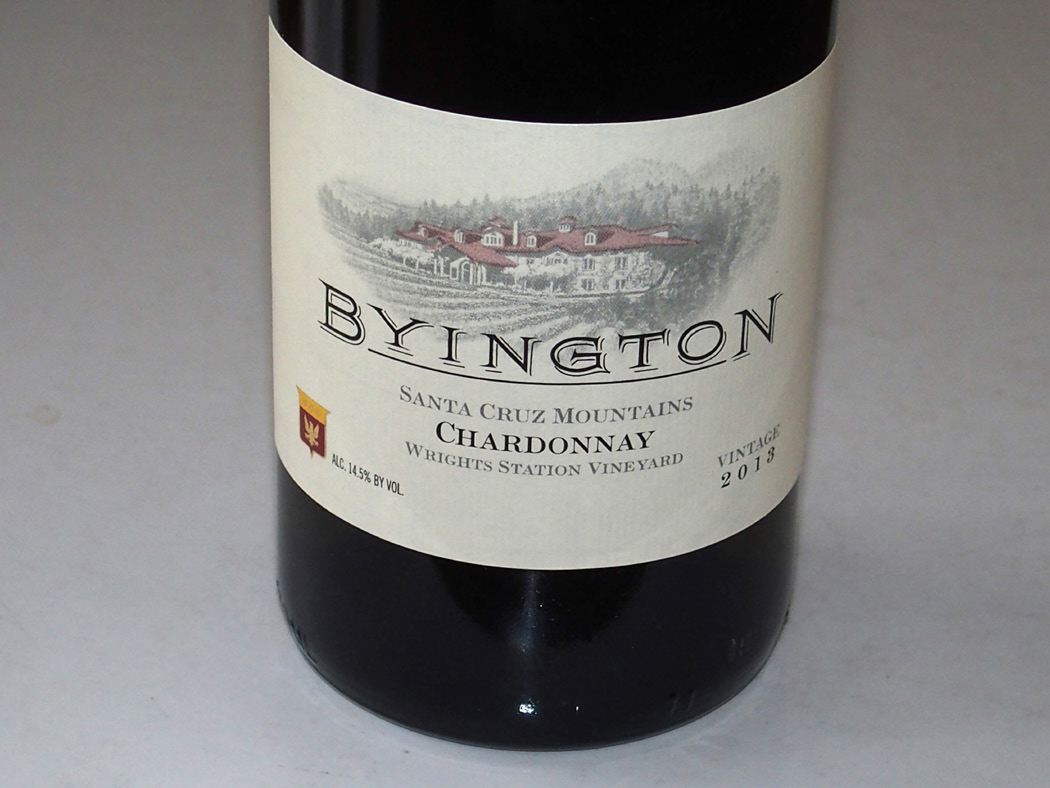 Skin Fermented Chardonnay

Most Chardonnays are made by pressing the grapes before fermentation to separate the juice from the skins, seeds and stems. The skin fermented Chardonnay is made like a red wine, fermented with skins and seeds, taking advantage of the aromatics and all these solids have to offer.
The inspiration for this wine came when the winery!s winemaker and GM were dining out in Manhattan and were looking for something out of the ordinary to enjoy with dinner. They chose a bottle of skin fermented white wine, commonly known as "orange wine. The wine was intriguing with its extraordinary aromatics and richness. Excited by the wine, the winemaker and GM decided to try their hand at this style of wine with the 2013 vintage.
Grapes for the Gary Farrell Skin Fermented Chardonnay were harvested at 22.5º Brix, de-stemmed, and transferred to four mini, neutral oak fermentation tanks. The grapes sat at room temperature for a few days until native fermentation spontaneously began. The grape skins were then pushed to the top and the cap was punched down three times per day for seven days until fermentation was complete. The wine was left to age in the mini oak but split into two lots: half left for 30 days with the skins and seeds, and the other half for 60 days. The 30-day skin contact wine was floral and aromatically driven, while the 60-day skin contact wine was more structurally driven. The finished wine is a blend of both lots.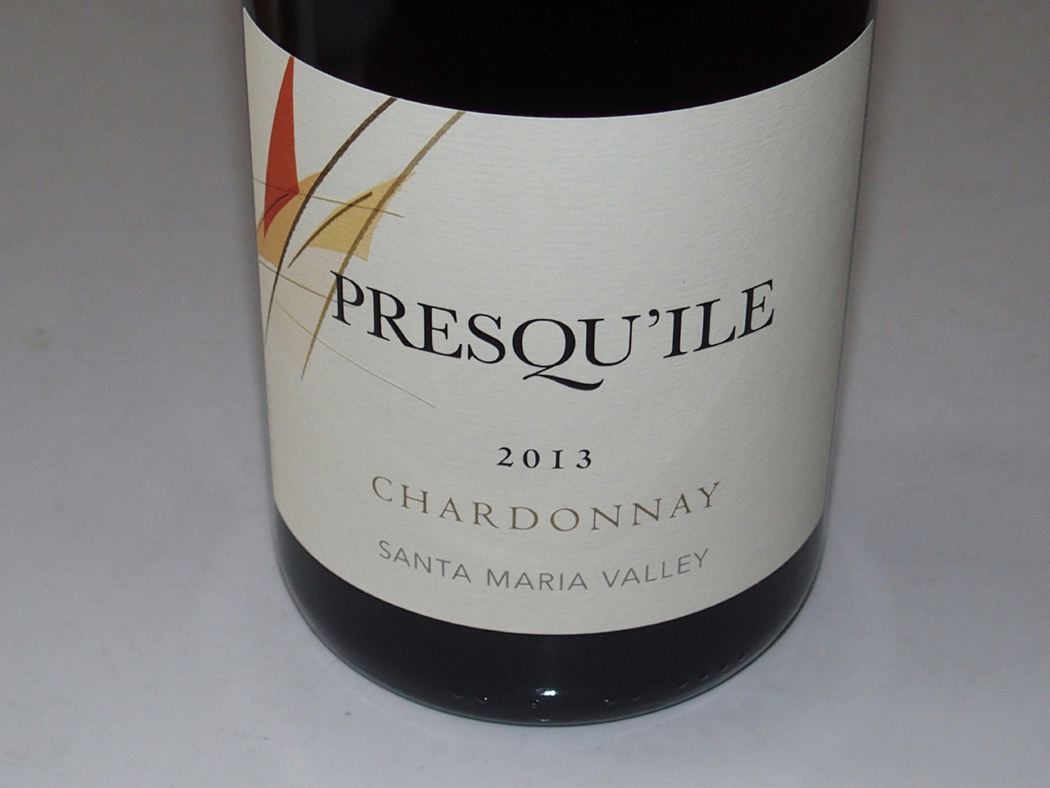 2013 Presqu'ile Presqu'ile Vineyard Santa Maria Valley Chardonnay
13.33% alc., pH 3.42, TA 0.61, 657 cases, $45. Clones 4, 95, 124. Aged 18 months in French oak barrels, 32% new. Unfined and unfiltered. A barrel selection intended to represent the essence of the vineyard. · Moderately light golden color and clear in the glass. The nose leads with scents of lemon, pear skin and seashore. Flavors of citrus and peach are balanced with a steely minerality which I liked. Very enjoyable, with well integrated oak, saliva inducing acidity and some finishing citrus-driven ebullience. Score: 92
2013 Three Sticks Durell Vineyard Sonoma Valley Chardonnay
14.5% alc., pH 3.51, TA 0.64, 713 cases, $50. Fruit is sourced from two blocks: Old Wente 1 and Rocky Flat (Dijon 76). 100% malolactic fermentation in barrel. Aged 15 months in 100% French oak barrels, 50% new. · Moderate golden yellow color and clear in the glass. Many discoverable nuances in this wine that leads with aromas of poached pear, cut apple, kiwi, warm toffee, roasted nuts and buttery brioche. Discreetly rich flavors of lemon curd, yellow peach syrup, caramel apple and honey lead the way. The wine lacks a bit of acidic verve, but otherwise fulfills its mission. Score: 91
And...

2014 Briceland Vineyards Spirit Canyon Vineyard Mendocino County Arneis
13.4% alc., 81 cases, $18. · Light golden yellow color and clear in the glass. Welcoming aromas of lemon, pineapple and apple lead to a tasty melange of apple, pear and citrus fruit flavors complimented by a note of buttery brioche and backed by bright acidity. Easy to like on its own or will match perfectly with seafood. Score: 90