Revisiting New Zealand Pinot Noir on the Occasion of Spectacular 2013 Vintage
The New Zealand wine industry is thriving in a relatively small country that depends on exports for its survival. According the 2015 New Zealand Winegrowers Annual Report, the value of New Zealand wine exports grew 7% in 2015 to reach a new record of $1.42 billion. Three markets, Australia, UK and USA each account for around one quarter of exports (the USA is the largest export market by value) with significant future growth potential evident in North American and China. New Zealand wine is exported to more than 90 countries. Exports of Pinot Noir nearly doubled from 2008 to 2015.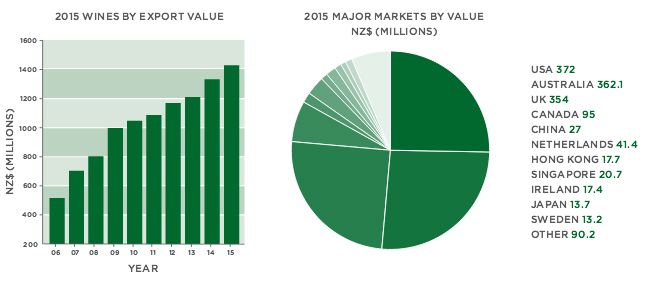 New Zealand is still renowned for Sauvignon Blanc which accounts for the vast majority of the country's wine production, but Pinot Noir, and even Chardonnay, is attracting the most attention from wine connoisseurs. As Nick Stock, Australia Gourmet Traveller Wine, pointed out in April 2015, "The attention given to New Zealand Pinot Noir is well above what's deserved in terms of the amount made, but factor in their quality across a range of styles and it's easy to justify the hype." Refer to chart below for percentage of production by varietal.
From 2006 to 2015, the number of New Zealand wineries has increased from 530 to 673 and the number of growers from 87 to 762. Total producing vineyard area in 2015 was 88,609 acres. Pinot Noir acreage has increased from 10,039 acres in 2006 to 13,748 acres in 2015 (nearly equal to the 14,027 acres of Pinot Noir in the Willamette Valley.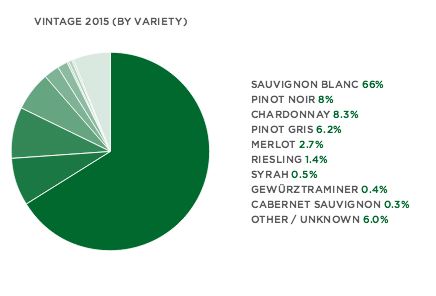 Although New Zealand Pinot Noir exports are increasing, only a small amount of the top end wines reach fine wine retail stores in the U.S.. Periodically, I like to assemble a representative sample of wines available here to see the quality and styles of New Zealand Pinot Noir. I have found that a range of wines are produced much like the variety of Pinot Noir evident stateside, ranging from elegant, classic Pinot Noirs, to more earthy, mineral-driven styles, to sappy, highly extracted examples. It is impossible to talk about a specific New Zealand style, especially since the Pinot Noirs from the three largest Pinot Noir growing regions, Martinborough in the North Island, and Marlborough and Central Otago in the South Island, produce wines that are quite different in character.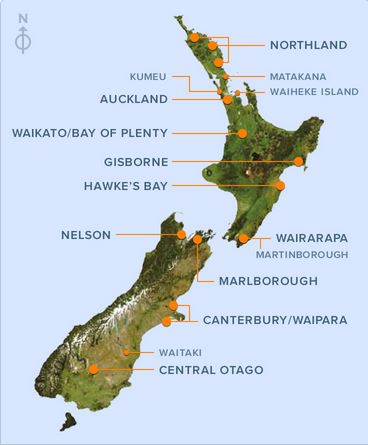 Prices for many of the better bottlings of New Zealand Pinot Noir are modest compared to similar stateside wines. There is also a vast quantity of value-priced labels that are fine, but no better than the value-priced labels from California and Oregon.
The commonly planted New Zealand Pinot Noir clones are similar to those in wide use stateside (Pommard- UCD 5, Martini - UCD 13, and Dijon 113, 114, 115, 375, 667 and 777) except for the Abel clone (also known as the Ati Rangi clone) that is allegedly a suitcase selection from Domaine de la Conti smuggled into New Zealand in the 1970s and unique to New Zealand. AM 10/5 (also known as Anton Meyer and origin is Wädenswil, Switzerland) and AM 2/10 (also a Wädenswil clone), were the first premium Pinot Noir clones imported into New Zealand in the 1980s.
Winemaking, at least for most of the wines reviewed here, is very similar to that employed in California and Oregon. The grapes are mostly de-stemmed, with variable but usually low amounts of whole cluster. There is a cold soak, followed by indigenous yeast fermentation in small vats, and a post fermentation extended maceration. Aging can vary from 10 to 18 months, usually in 30% or less new French oak barrels. The wines are usually unfiltered. The Kiwis are leaders in screwcaps, and the majority of wines are closed with a screwcap.
Early 2016 is a suitable time to look at examples of New Zealand Pinot Noir because the 2013 vintage wines are in our retail marketplace now. 2013 was an exceptional vintage in New Zealand and has been hailed as "vintage of a lifetime," vintage to remember," and "one of the best vintages in recent memory." 2013 was a near perfect growing season in New Zealand leading to a record crop that exceeded the 2012 vintage by 28%, with the 2013 Pinot Noir crop 36% larger. 2014 turned out to be an even bigger crop for New Zealand (30% higher).
Wine Spectator and Wine Enthusiast review and score some New Zealand Pinot Noir, as do James Suckling and Jancis Robinson, but the most comprehensive coverage is by wine critics specializing in New Zealand such as Bob Campbell, MW - www.bobcampbell.nz, Raymond Chan - www.raymondchanwinereviews.co.nz, Geoff Kelly - www.geoffkellywinereviews.co.nz, and Sam Kim - www.wineorbit.co.nz. It is interesting that an article just appeared on January 20, 2016, at www.nzherald.co.nz, "Paid-for wine reviews draw flak." The latest code of ethics of the Wine Writers of New Zealand strongly discouraged the practice of paid-for wine reviews, emphasizing that any minor conflicts "had to be fully disclosed to all interested parties." University of Otago associate professor in marketing Lisa McNeill said, "It is naive for people to think the practice of paid reviews wasn't common across all industries." She encouraged wine writers to avoid engaging in accepting payment from a wine company to review its product. None of the wine writers mentioned here were implicated.
I picked out wines to review that were well regarded by New Zealand wine critics and available for sale in the USA. There are many stunning wines here and some that combine excellence with value. I believe you will find these Pinot Noirs are more akin to California brethren in style than Old World, offering plenty of extraction and ripe phenolics, yet ABV levels that are generally lower than California Pinot Noirs. I found that a number of wines when tasted two to three days after opening, had lost vibrancy and charm, seemingly bogged down by the fruit load. The tannins had melded, but the wines lacked acidity. If you look at the acidity levels of the wines reviewed (where available), they are not particularly high. With a few exceptions, I think these are showy wines for early drinking, but not long term cellar candidates. They are like noted female actors at the Oscars: primped and primed for television, but when seen two days later at Starbucks, seem rather ordinary.
Look for these wines at retailers such as K&L Wine Merchants in California, Saratoga Wine Exchange in New York and other sources listed on www.wine-searcher.com.
Escarpment
As legend would have it, Maori navigator Kupe abandoned three canoes at the site of Escarpment Winery after discovering the land now known as New Zealand. Escarpment rests on 60 acres of alluvial gravel in the Te Muna Valley near Martinborough. The soils are over 75,000 years old and are a nurturing matrix for grapevine roots. The estate!s four vineyards provide 70 percent of Escarpment!s grape supply.
Kupe Estate Vineyard is a high density planting of Abel clone with deep alluvial gravels and own rooted vines. Pahi comes from McCreanor Vineyard that was first planted by Jack McCreanor in 1986 and is among the oldest Pinot Noir vineyards in New Zealand. Both grafted and own rooted clone 10/5 vines. (This vineyard was sold after Jack McCreanor!s passing so the source of this bottling will change) Te Rehua contains multiple clones of Pinot Noir planted in 1990 by Geoff Bunny and now owned by Tim and Ruth Bartin (Barton Vineyard). Kiwa comes from Cleland Vineyard that was planted on the Martinborough Terrace alluvial gravels in 1989 by Graham and Gill Cleland and contains a blend of UCD Davis clones 5, 6 and 13.
The winery buildings are inauspicious, standing watch on the renowned Martinborough River Terraces and overlooking the river itself. The barrel room is tucked underground and enjoys ideal cellar temperatures below its grassy roof.
Escarpment was established in 1998 as a joint business venture between Robert & Mem Kirby (of Australia!s Village Roadshow and owners of Yabby Lake Winery in the Mornington Peninsula of Australia) and Larry and Sue McKenna.
Larry McKenna is an iconic New Zealand winemaker who was anointed "The Prince of Martinborough Pinot" by James Halliday, but his self-anointed title is "Larry McPinot." Larry was born and raised in Adelaide, South Australia. He graduated from Roseworthy Agricultural College in 1976, and has nearly three decades of winemaking experience. In 1986 he became CEO and winemaker at Martinborough Vineyard and put the winery on the world map as one of the preeminent New World Pinot Noir producers. Since 1999, Larry has been director and winemaker for Escarpment. Escarpment was a featured winery at the 2015 International Pinot Noir Festival (see photo below)
Besides the Escarpment bottling, the four wines in the Martinborough Insight Series (Kupe, Kiwa, Pahi and Te Rehaua), offer an insight into the terroir of Martinborough. They are particularly inspiring wines, in 2013, and will certainly age for 10 to 15 years with aplomb. A mid price point series of wines is offered under The Edge brand. The winery also offers a Rose, Chardonnay, Pinot Blanc, Pinot Gris and Riesling from Escarpment Vineyard.