Carlton Enjoys a Revitalization
Carlton, population about 1,500, is a town of .87 square miles located in Yamhill County in the middle of wine country. It is 36 miles south of Portland, and 6 miles north of McMinnville. When I visited Scott Paul Winery before the IPNC, Martha Wright told me about the changes going on in this small, but charming piece of Americana in Oregon. Because Carlton was located a few miles off of Highway 99W, the main thoroughfare through the Willamette Valley, it was historically spared residential and commercial development and is only now undergoing a slow, but promising revival.
One of the spearheads of the town renaissance is winemaker Ken Wright, who invested in Carlton some years ago and still makes wine there. Jay McDonald, who owns The Tasting Room in Carlton and produces Pinot Noir under the EIEIO label, has also been instrumental in the progress here. He opened his business in a former bank on Main Street in 1995.

Carlton has become a perfect place for visitors to the Willamette Valley to stay and explore the adjacent Oregon wine country. The town retains its old-time charm, with many businesses now housed in historical buildings that have been preserved. Other than McMinnville and Newburg, there really is no other centrally located town with lodging, restaurants and services that appeal to wine enthusiasts visiting the Willamette Valley.
Carlton was always a small farming town with a focus on the dairy and grain industries. Remnants remain such the towering grain silo next to the Scott Paul Tasting Room proclaiming "Where Farm, Industry and Town Unite for Pleasant Living."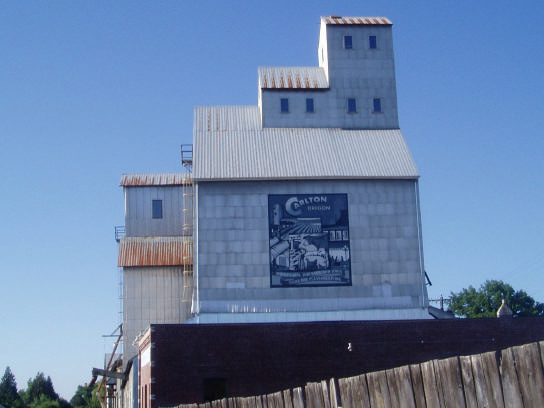 There are multiple wineries and tasting rooms in town including The Tasting Room (EIEIO), Scott Paul Wines, Soléna, Domaine Coteau, Carlo & Julian, Tyrus Evan (Ken Wright's second label housed in the old restored train depot pictured below), Ken Wright Cellars (not open to public), Rockblock Cellars (not open to public). Laurent Montalieu and wife Danielle of Soléna Cellars are moving out of their space on Pine Street and are building their own tasting room on Main Street (see sign below). The Horse Radish Wine and Cheese Bar is a popular addition to town and features live music.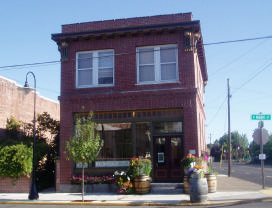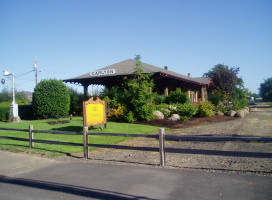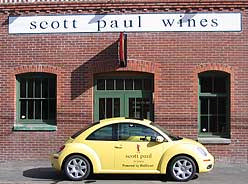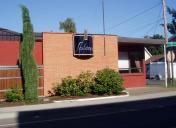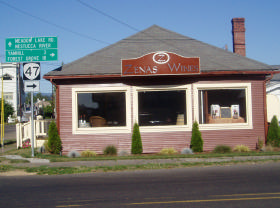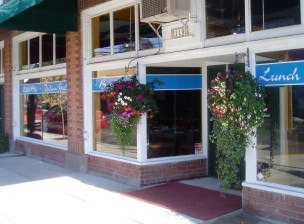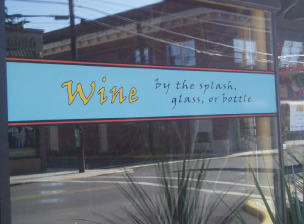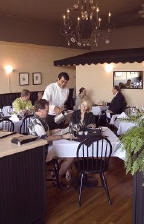 The Cielo Blue Restaurant opened on Main Street in late July, specializing in Italian food and serves breakfast, lunch and dinner. Gilbert Henry and his wife Susan Barksdale opened Cuvée a couple of years ago on Main Street. He was previously the chef at Winterbourne Restaurant in Portland. A native of Alsace, Henry cooks French country cuisine at Cuvée. Susan has had a French antiques store, but it is soon to be converted into a lounge and cocktail bar adjacent to the restaurant. The rumor is that the chef formerly with Roux in Portland is looking at Carlton for a potential restaurant. The Filling Station Deli just added a nice deck seating area with umbrellas and plants. The Main Street Deli is more of a convenience store. There are rumors of a bakery going in behind the Main Street Deli. The old theater space is rented to Utopia Wines and next door is a space that was once a hotel and maybe a bordello - several people have looked at remodeling it into a hotel.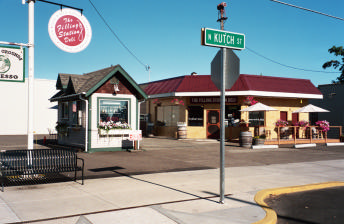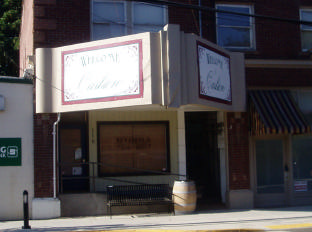 Just outside of downtown Carlton is the Carlton Winemaker's Studio on Highway 47. It houses 10 or so small producers and a tasting room It is Oregon's first "green" winery (LEED certified) and first multiwinery facility. The boutique wineries housed here include the owners of Carlton Winemaker's Studio, Hamacher Wines (Hamacher Family) and Lazy River Vineyard (Lumpkin Family), Andrew Rich Vintner, Boedecker Cellars, Bryce Vineyard, Domaine Meriwether, Domino IV Wines, J Daan Wine Cellars, Resonance Vineyard, Ribbon Ridge Vineyard, and Wahle Vineyards and Cellars. The tasting room is open daily from 11-5. Carlton Winemaker's Studio sponsors a Wednesday night dinner series held at different vineyards and wineries in the area. A three-course meal is served to small groups at three seatings and attendees can purchase wine to accompany dinner. 503-852-6100.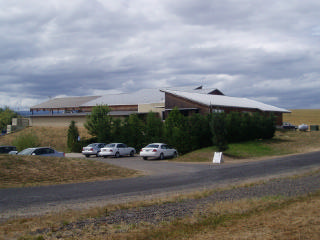 Other wineries in Carlton, but not in the town proper, include Cuneo (now Cana's Feast), Anne Amie Vineyards, Belle Pente, Carlton Cellars (Road's End ), Laurel Ridge Winery, and Lemelson Vineyards. Soter Vineyards and Stag Hollow are in neighboring Yamhill.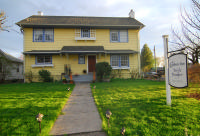 There are a number of excellent lodging choices in Carlton. There are two B&Bs in town - The Carlton Inn (photo, right) and the R.R, Thompson House. The Carlton Inn has 4 guest rooms with baths and tasteful period furnishings ($125-$175). The hosts are Edward and Heidi Yates. The R.R. Thompson House was opened in 2007 after the owners, Mike and Roselyn, refurbished the historic federal style home. It has 3 rooms and 2 suites, all with private baths. Built in 1936, it retains many of the original appointments ($140-$245).
Just outside of town are three other B&B options - Abbey Road Farm, Brookside Inn on Abbey Road, and Lobenhaus. I am told that Abbey Road Farm is REALLY nice. A working farm on 82 acres tucked into rolling hillsides dotted with vineyards, the silo suites are decorated in contemporary country furnishings with king beds and Jacuzzi tubs ($175-$195). The hosts are John and Judi Stuart and their dog Fuzz. Brookside Inn has 9 suites with private baths divided into a Main House and a Carriage House. New owners Bruce and Susan Bandstra took over this 22-acre property in May and have been busy redecorating the rooms ($185-$325). I have stayed at the Lobenhaus B&B and Vineyard and it is quite comfortable with contemporary country decor, a neighboring vineyard, and friendly hosts, Joe and Shari Lobenstein It is situated on 27 acres and there is plenty of room to wander. 6 guest rooms with private baths ($145-$165). In nearby Yamhill, there is the Hideaway Hill B&B and Yamhill Vineyards B&B.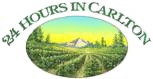 The town of Carlton is now encouraging travelers to discover Carlton by offering the experience, "24 Hours in Carlton." The itinerary is quite exciting and includes a unique five-course dinner at Cana's Feast Winery, a night in one of three Carlton B&Bs, a private tasting at three of the leading wineries in Carlton, and an afternoon picnic lunch at either Carlton Hills Vineyard or Abbey Road Farm.
Carlton's annual Walk in the Park was held recently at Wennerberg Park on August 4-5. This event benefits local charities and features a weekend of artists, musicians, wineries, and local restaurants celebrating Carlton's lifestyle This year 23 wineries participated and a beer garden was plenty busy.
Carlton Wineries, Restaurants, Lodging
Wineries (TR = Tasting Room, BA = By Appointment)
Anne Amie 6580 NE Mineral Springs Rd, 503-864-2991, www.anneamie.com. TR.
Belle Pente 12470 NE Rowland Rd, 503-852-9580, www.bellepente.com. BA.
Carlton Cellars PO Box 974, 503-474-8986, www.carltoncellars.com. BA.
Carlton Winemaker's Studio 801 N Scott St, 503-852-6100, www.winemakersstudio.com. TR.
Carlo & Julian 1000 E Main St, 503-852-7432. BA.
Cuneo Cellars/Cana's Feast 750 Lincoln St @ Highway 47, 503-852-0002, www.cuneocellars.com. TR
Domaine Coteau 258 Kutch St, 503-697-7319, www.domainecoteau.com. TR.
Ken Wright Cellars 236 N. Kutch St, 503-852-7070, www.kenwrightcellars.com.
Laurel Ridge Winery 13301 NE Kuehne Road, 503-852-7050. TR.
Lemelson Vineyards 12020 NE Stag Hollow Road, 503-852-6619, www.lemelsonvineyards.com. BA.
Scott Paul Wines 128 S Pine St, 503-274-4700, www.scottpaul.com. TR.
Soléna Cellars Tasting room 213 Pine Street, 503-852-0082, www.solenacellars.com. TR.
Tyrus Evan 120 N Pine St (at The Depot), 503-852-7070, www.northwestwine.com. TR.
Note: Nearly every Oregon winery is open to the Public Thanksgiving and Memorial Day weekends. On other days, call ahead for tasting room hours.
Restaurants & Tasting Bars
Cielo Blue Main St., Closed Monday, B L & D.
Cuvée 214 W Main St, 866-421-1347, Wednesday-Sunday, www.cuveedining.com.
Horse Radish Cheese & Wine Bar 211 W Main St., 503-852-6656, www.thehorseradish.com.
The Carlton Depot 120 N Pine St, 503-852-7010, Thurs-Mon 11-5, Tyrus Evan, Soléna wines and more.
The Filling Station Deli 305 W, Main St, 503-832-6687, Open daily May-Nov, Tues-Sun Dec-April 11-6 www.fillingstationdeli.com.
The Tasting Room in Carlton Corner of Main and Pine, 503-8526733, Thurs-Mon 11-5 or by appt.
Lodging
Abbey Road Farm B&B 10501 NE Abbey Road, 503-852-6278, www.abbeyroadfarm.com.
Brookside Inn on Abbey Road B&B 8243 NE Abbey Road, 503-852-4433, www.brooksideinn.com.
The Carlton Inn B&B 648 W Main St, 503-852-7506, www.thecarltoninn.com.
Lobenhaus B&B & Vineyard 6975 NE Abbey Road, 503-864-9173, www.lobenhaus.com.
R.R. Thompson House B&B 517 N Kutch St, 503-852-6236, www.rrthompsonhouse.com.