Pinot Briefs —Newsletter 10.25
Castello di Amorosa acquires Pillow Rd. Vineyard This 9-acre Pinot Noir (clones Pommard 4, 777, Swan and Calera) and Chardonnay vineyard is located in Sonoma county's Green Valley of Russian River Valley just west of the town of Sebastopol. Former proprietors Pat and Anne Stotesbery created Ladera Vineyards on Howell Mountain in Napa Valley and offered Pinot Noir and Chardonnay under the Pillow Rd. Vineyard label. Dario Sattui, the owner of Castello di Amorosa, also recently bought Burt Williams' Morning Dew Ranch Pinot Noir Vineyard in Anderson Valley.
IPNC 2016: Pinot Noir in the Antipodes This year's 30th Annual International Pinot Noir Celebration, July 29-31, 2016, will feature a Master Class in Australian Pinot Noir. The Masters of Ceremonies James Halliday will join presenters Michael Hill Smith and Tom Carson for Master Class: Australia. World-class Pinot Noir can be found within the vast island of Australia and I have written and reviewed the wines on occasion in the PinotFile. I have also traveled to the Mornington Peninsula in Victoria and can vouch for the high quality of the Pinot Noir produced there. James Halladay staked his claim in the Yarra Valley back in 1985 where he founded the now legendary Coldstream Hills. Michael Hill Smith found a niche for Pinot Noir at Tolpuddle Vineyard in the Coal River Valley in southeastern Tasmania. Tom Carson crafts his Pinot Noir in Tuerong, located in the northern reach of the Mornington Peninsula. Enjoy an extensive tasting of Australia's best Pinot Noirs, most of which seldom reach the United States (the Aussies like to keep it for themselves). For information and tickets, visit www.ipnc.org.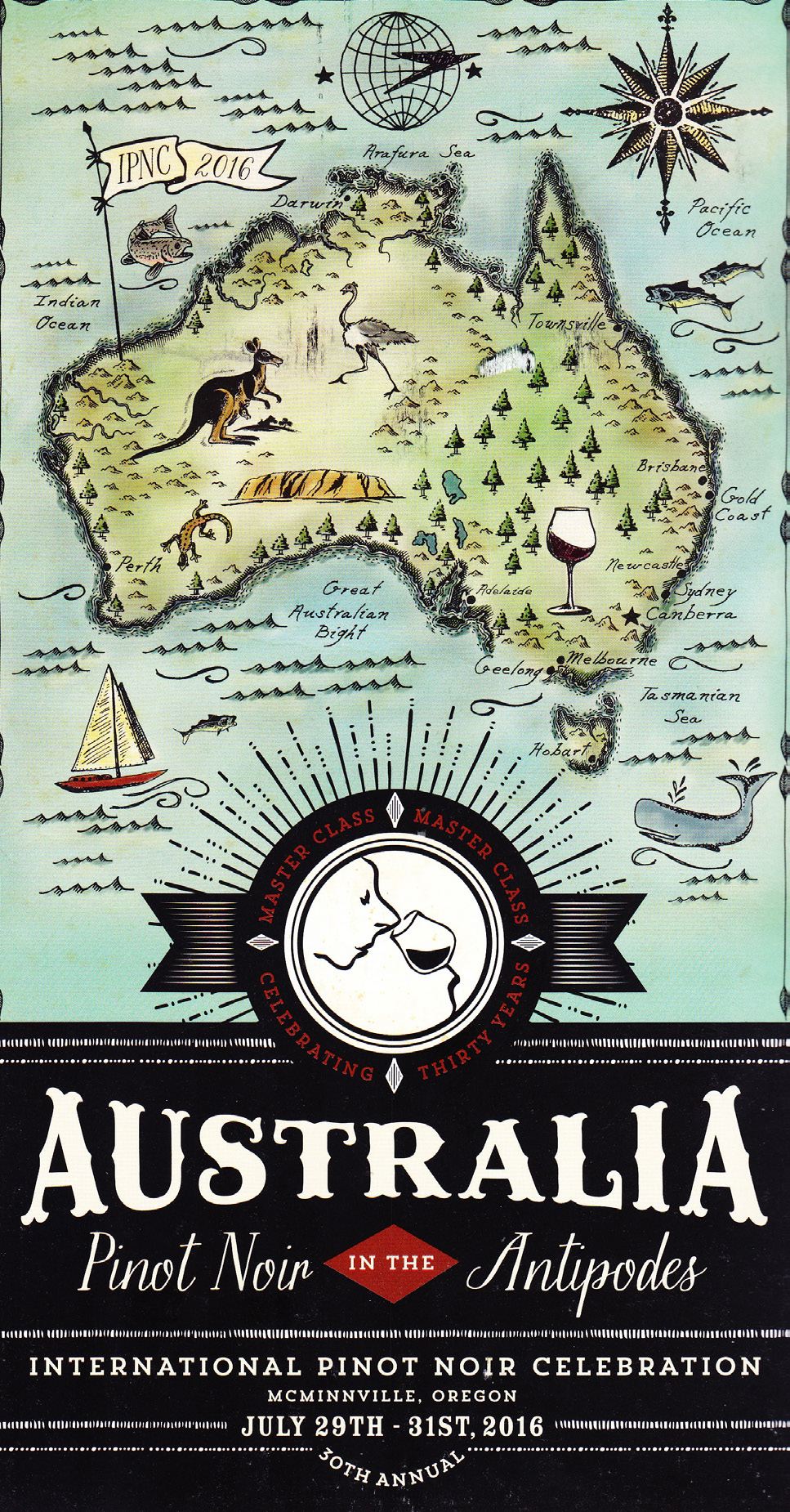 Experts Decide if Organic Wine Taste Better An article published in the Journal of the American Association of Wine Economists (No. 190, "Does Organic Wine Taste Better? An Analysis of Experts' Ratings"). The authors note that little consensus exists whether eco-certified products are better than their conventional counterparts. This paper used data from three leading wine rating publications to assess quality for 74,148 wines produced in California between 1998 and 2009. The results indicated that eco-certification is associated with a statistically significant increase in wine quality rating.
Ship Compliant 2016 Direct-to-Consumer Wine Shipping Report Napa wineries reached an all-time high shipping record in 2015 with over $1 billion worth of wine shipped directly to consumers. Consumers continued to favor Oregon wine, with its shipments surging by 14.6% in 2015. Massachusetts consumers ordered $27.5 million worth of wine in the first year of legal direct-to-consumer shipping. Since 2010, the value of the direct-to-consumer industry has grown by 66%. Very small wineries (1,000 to 4,999 cases, which includes a large number of Pinot Noir producers) is composed of 40% of all US wineries and in 2015, these wineries overtook medium sized wineries for second place ranking of dollar value of wine shipped with a 13.3% growth. 2015 total sales were $445 million. Pinot Noir decreased from 22% growth in volume to 2% growth in volume from 2014 to 2015.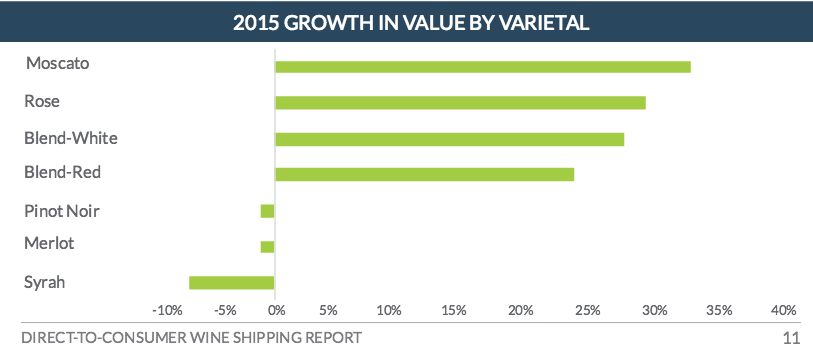 U.S. Winery Growth Continues Wine Business Monthly and Wines Vines Analytics reported that the United States now has 8,702 wineries, up 415 fro, 8,287 last year, a 5 percent increase. 7,061 are bonded and 1,641 are virtual wineries. California leads with 4,054 wineries, Washington is second with 671, Oregon third with 439, and New York fourth with 339.
2016 World of Pinot Noir The 16th Annual World of Pinot Noir has announced dinners and chefs for the two day event as well as discounted lodging at the host Bacara Resort. Visit www.worldofpinotnoir.com.
Sip McMinnville Wine & Food Classic The 23rd Annual McMinnville Wine & Food Classic will be held March 11-13, 2016, inside the Evergreen Space Museum. Purchase wine by taste, glass, bottle or case. Participants include many small wineries featured in the PinotFile: Cardwell Hill Cellars, Hillcrest Vineyards, J Wrigley Vineyards, Left Coast Cellars, Potter's Vineyards, Seufert Winery, Willamette Valley Vineyards. Watch some of area's best chefs in the Northwest demonstrate their skills. For tickets, visit www.sipclassic.org.
2016 San Francisco Chronicle Wine Competition The competition received a record 7,162 entries, the highest number to date. 65 judges chose the best wines. The Red Sweepstakes Winners were 2013 Runquist Nostro Vino Vineyard Amador County Zinfandel and 2013 Sonnet Wine Cellars Tondre's Grapefield Santa Lucia Highlands Pinot Noir. Best of Class winners by price category for Pinot Noir: 2014 Navarro Anderson Valley Pinot Noir ($19.50), 2013 SIMI Winery California Pinot Noir ($23.99), 2014 Seven of Hearts Willamette Valley Pinot Noir ($24), 2013 Balletto Vineyards Russian River Valley Pinot Noir ($29), 2014 Enjoy Premiere Vineyard Santa Barbara Pinot Noir ($35), 2012 Bonneau Sangiacomo Vineyard Sonoma Coast Pinot Noir ($37.99), 2013 Sonnet Tondre's Grapefield Santa Lucia Highlands Pinot Noir ($40), 2014 Trattoria Grappolo Santa Barbara Pinot Noir ($45), 2013 Pellegrini Toboni Oakwild Ranch Russian River Valley Pinot Noir ($50), and 2012 Hyde Hyde Vineyard Carneros Pinot Noir ($65) tie with 2014 Westwood Estate Pommard Clone Sonoma Valley Pinot Noir ($54). I haven't formally reviewed the Sonnet Tondre's Grapefield Pinot Noir since the 2010 vintage, but I loved it then so no surprise that the 2013 vintage won a Sweepstakes and Best of Class Award.
Fifth Annual Oregon Chardonnay Celebration 48 Oregon Chardonnay producers will be featured on February 27, 2016, at the Allison Inn & Spa in Newberg, Oregon. Chardonnay has quietly grown to be highly popular in Oregon and the quality of the wines have gained worldwide recognition. The International Pinot Noir Celebration is now guiding this event. This year's seminar will have Elaine Brown directing a focused tasting of five winemakers' interpretation of 2014 Durant Vineyard Chardonnay. On the day before, The Cuvée Stroll will be held also at the Allison Inn & Spa. This unique tasting event will feature a bounty of Oregon wineries, artisan food makers and beverage purveyors, and will benefit the ¡Salud! Foundation. For tickets to the Chardonnay event, visit www.picatic.com/oregon/chardonnay ($150 for seminar and tasting, $75 for tasting). For The Cuvée Stroll, RSVP to info@theallison.com ($25).

New Generic Top-Level Domaine Website Endings The newest website endings, .WINE and .VIN gYLDs are now available to the public for general registration through Donuts Inc., the largest registry for new "not-com" domain names. During the active two month sunrise period more than 1,300 brand owners and trademark holders registered .WINE and .VIN domains. Not-coms provide a more descriptive and creative means for domain owners to brand their business, products and services. Donuts is making available a wide variety of .WINE and .VIN domains such as Boutique.VIN, Sommelier.WINE, WhereToBuy.Wine and USA.WINE. For more information, visit www.donuts.domains.
Scientists Detail Pinot Noir Grape Aroma Profile as It Ripens A report in the Journal of Agricultural and Food Chemistry ("Quantitation of Thioprolines in Grape Wine by Isotope Dilution-Liquid Chromatography-Tandem Mass Spectrometry") may give an option beyond Brix and acidity in determining quality of grapes at harvest time. Michael C. Qian and Fang Yuan wanted to develop a way to determine maturity based on aroma. The researchers identified 49 main odor compounds in young and ripe Pinot Noir grapes from two consecutive years, 2012 and 2013, using gas chromatography mass spectrometry. Four odor compounds (thioprolines) were consistently found in mature grapes. Unfortunately, the full article is only available to subscribers.
PinotFile is a Great Resource The PinotFile website is unique and innovative among all wine review websites for many features that I believe are underutilized. It is probably the largest general Pinot Noir database on the planet. Let me point out some of the features:
(1) Almost 2500 wineries (primarily North American) are profiled in the Winery Directory. The list is continuously being updated and new wineries added almost daily. Winery search can be conducted by appellation or region or by name.
(2) The Vineyard Directory includes detailed profiles of 1554 California and Oregon Pinot Noir vineyards. This listing is far from complete, but is an ongoing project.
(3) Wine reviews may be searched by newsletter, winery, appellation or vineyard. Say, you like Pinot Noir from Bien Nacido Vineyard. You can search for all reviews of wines made from this vineyard. Also, "Notable" Pinot Noir and Chardonnay reviews can be searched (wines with highest scores or recommendations).
(4) Wineries can link any article or review to their own website by following instructions on each winery's profile in the Winery Directory.
(5) A full listing of Pinot Noir festivals is available.
(6) The Travel Directory (Pinot Trail Travel) includes recommended wineries to visit, lodging, restaurants, activities, etc for each of California and Oregon's major Pinot Noir winegrowing regions. This entry is continually being updated.
(7) A listing and link to Grape Radio podcasts I have participated in and recordings at events I have attended over the years since 2006.