Big Basin Vineyards: Whole Cluster Goodness Pinot Noir
The Santa Cruz Mountains is the birthplace of Pinot Noir in North America, yet this enigmatic winegrowing region remains under appreciated by many Pinot Noir cognoscenti. Matt Kramer has called it "California's alltime most underrated wine district." One of the reasons is evident when driving through the hilly landscape in search for wineries to visit. Unlike every other major winegrowing region in California, wineries and vineyards are not visible from the major thoroughfares and are tucked into nooks and crannies among heavily forested woods or perched on hilltops accessible only by lengthy and precariously narrow and zigzagged roads. Wineries are scattered among 480,000 acres of the appellation, signage directing visitors to wineries is nonexistent and GPS assistance is lacking in many areas.
The challenges of growing wine grapes in the mountainous terrain with its harsh climate are numerous. The vineyard sites are remote, steep and rugged, land is expensive, irrigation water is limited, and pests such as birds, deer and gophers are ever present. Skilled labor is hard to find, top soil is poor and limited in many sites, and yields are typically low. On top of this, the antagonistic and bureaucratic populace make life difficult for wineries. Despite these obstacles, a hardy brotherhood of dedicated and passionate vintners empowered with mountain spirit have persisted.
One winery among the 62 members of the Santa Cruz Mountains Winegrowers Association (SCMWA) that stands out is Big Basin Vineyards. Iconic wineries of the Santa Cruz Mountains such as Mount Eden Vineyards, Rhys Vineyards, Thomas Fogarty Winery and Windy Oaks Estate Vineyards and Winery have built their much-deserved reputation, but Big Basin Vineyards has ascended over the past 18 years to join this upper echelon of mountain Pinot Noir royalty.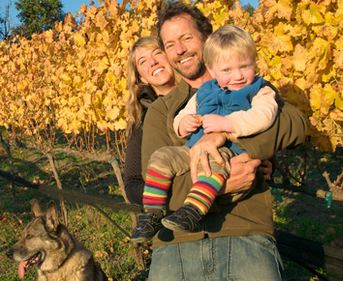 Founded by winemaker and winegrower Bradley Brown, his sister Wendy Brown and Samantha Shakti-Brown in 1998, Big Basin Vineyards is located on a historic site in Boulder Creek next to Big Basin Redwoods State Park in the western reaches of the Santa Cruz Mountains AVA. French immigrants had begun to farm wine grapes here 100 years ago and continued until 1965 when the property was sold to a timber company. The site now includes an organically certified Rattlesnake Rock Vineyard (planted in 2000 to Syrah and Grenache), Old Corral Block (planted in 2006 to Alban selection of Syrah), Homestead Block (planted in 2007 to Grenache, Syrah and Rousanne Alban field selections) and a winery (completed in 2003). On the second floor above the winery, a yogi studio, Shakti Yoga Shala, is Samantha's domain. Over 90% of the estate property has been preserved in its natural state.
I met Bradley on a number of occasions through the years and sampled a number of his well-crafted Pinot Noirs, but it was at the 2015 World of Pinot Noir event where he poured his 2012 vintage Pinot Noirs that I fully recognized his accomplished winemaking. Bradley grew up in a wine family, where his father was a home winemaker and his brother was a Francophile and wine lover. After moving to California after college, he became immersed in the wine business and developed his winemaking skills.
Since the first vintage of Big Basin Vineyards wines in 2002, Bradley has grown his portfolio of wines to include five different single-vineyard Pinot Noirs along with a lineup of Rhone varietals. He has made it his mission to seek out the very best vineyard sites for Pinot Noir in the Santa Cruz Mountains and Monterey County, and in conjunction, has refined his winemaking, using more whole clusters in fermentation and less new oak barrel elevage.
As readers know, I am partial to Pinot Noir made with whole cluster fermentation. Bradley is one of the cadre of California winemakers who uses significant whole cluster and whole berry inclusion in their ferments and this is largely responsible for my attraction to the wines. I asked Bradley how he chooses the percentage of whole cluster to include with each of his wines. He told me the following.
"There are a number of factors that influence what percentage of whole cluster I might choose to use. Generally, with the vineyards I work with being very close to the ocean and cool, I see very good stem lignification. Therefore, we can use up to 100% whole cluster without introducing astringent and green tannins into the wines. Sometimes in their youth, the wines will show some stem-induced qualities, but these always age out after a year or two in bottle. In the 2013 vintage, I was still feeling out just how far I could go with some of the vineyards, so I did some ferments 100% whole cluster and some with less, with the resulting wines ending up with less than 100%. In 2014, virtually every Pinot Noir ferment was 100% whole cluster with awesome results. In 2015, I backed off on some vineyards due to excessive shatter (and hence less fruit and more stem). Other factors that might influence percentage of whole cluster are earwig prevalence and excessive shot berries."
Bradley finds whole cluster ferments engaging because "whole cluster changes the fermentation kinetics to slow things down and adds greater potential for intra-berry fermentation. The benefits are more beautiful aromatics and a layer of dense tannin that lends weight and structure to the wines."
Bradley is on the Board of Directors of the SCMWA and is a member of the 32 select wineries chosen to represent Pursuit of Balance.
The Big Basin estate and winery in Boulder Creek is open Passport Days sponsored by SCMWA and by special arrangement (refer to website for details). A Saratoga Tasting Room is located at 14598 Big Basin Way in Saratoga (not open to Passports on Passport Days) and is open to walk-ins Thursday-Monday. A majority of the wine is sold through a mailing list and three different wine club levels that offer club exclusives, priority allocations, special pricing, discounted or included shipping and special pricing or complimentary tickets to events. The winery's informative and picturesque website is www.bigbasinvineyards.com.
Big Basin Vineyards is a member winery of the Saratoga Wine Trail and a visit to Big Basin can easily be combined with a visit to nearby historic wineries such as Cinnabar Winery, Ridge Vineyards, Savannah Chanelle Vineyards and The Mountain Winery. Visit www.saratogawinetrail.com.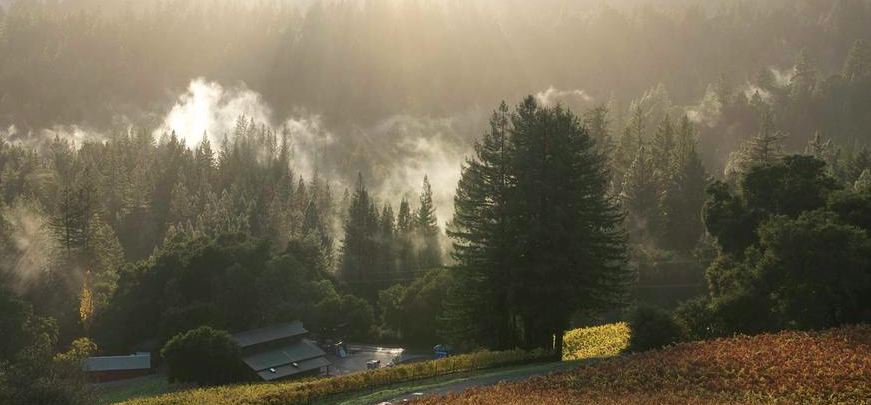 Marketing the Santa Cruz Mountains region has never been a strong suite of the winegrowing bureaucracy. For years, the Santa Cruz Mountains Winegrowers Association (SCMWA) held an annual 2-day Pinot Paradise event that was enthusiastically received by locals, but not a significant draw to those outside the region. In addition, the membership of SCMWA did not include all the region's wineries, some of which were very prominent, and they did not participate in Pinot Paradise for various reasons. Pinot Paradise has been replaced by the Silicon Valley Wine Auction, a more glamorous affair held at Levi's® Stadium Levi's 501 Club. This event, to be held this year on April 16, includes a Saturday grand tasting featuring about 35 participating Santa Cruz Mountains wineries, a magnum and rare bottle silent auction, and a wine pairing dinner featuring unique wines from notable vintners of the Santa Cruz Mountains. This is the only opportunity to taste Santa Cruz Mountains Pinot Noir from multiple vintners at one venue. For further details and tickets, visit www.scmwa.com.
Passport Celebration Days to the Santa Cruz Mountains has been offered four times a year since 1993. Members of SCMWA welcome consumers to 50+ wineries throughout the Santa Cruz Mountains on the third Saturday of January, April, July and November. Access to many wineries that are not normally open to the public is included.