Hibou Pinot Noir: Extraordinary Discovery
Occasionally an amazing wine shows up at my wine locker without fanfare and unadorned by promotional material. I received an email in January from winemaker Jason Driscoll asking me to taste a Pinot Noir brand he started in 2014 with a friend. The wine is named Hibou ("ee-boo"), which means owl in French, a name that is reflects the presence of beautiful owls in the North Coast which are "hidden gems" according to Jason, akin to the Riddle Vineyard, a hidden gem of a source for Pinot Noir wine grapes he uses to make his singular bottling.
Riddle Vineyard is located on Stoetz Lane in Sebastopol and is farmed meticulously by owner Jim Riddle. Jason sources Pinot Noir clones 115 and Pommard from this vineyard which is cane pruned and low yielding ( 3 tons per acre in 2014, less than 2 tons per acre in 2015). The vineyard is situated a few miles inland from the coast so it benefits from warm daylight hours tempered by evening cooling breezes. Soils are Goldridge and Franciscan shale. Jason drew a map of the vineyard last year: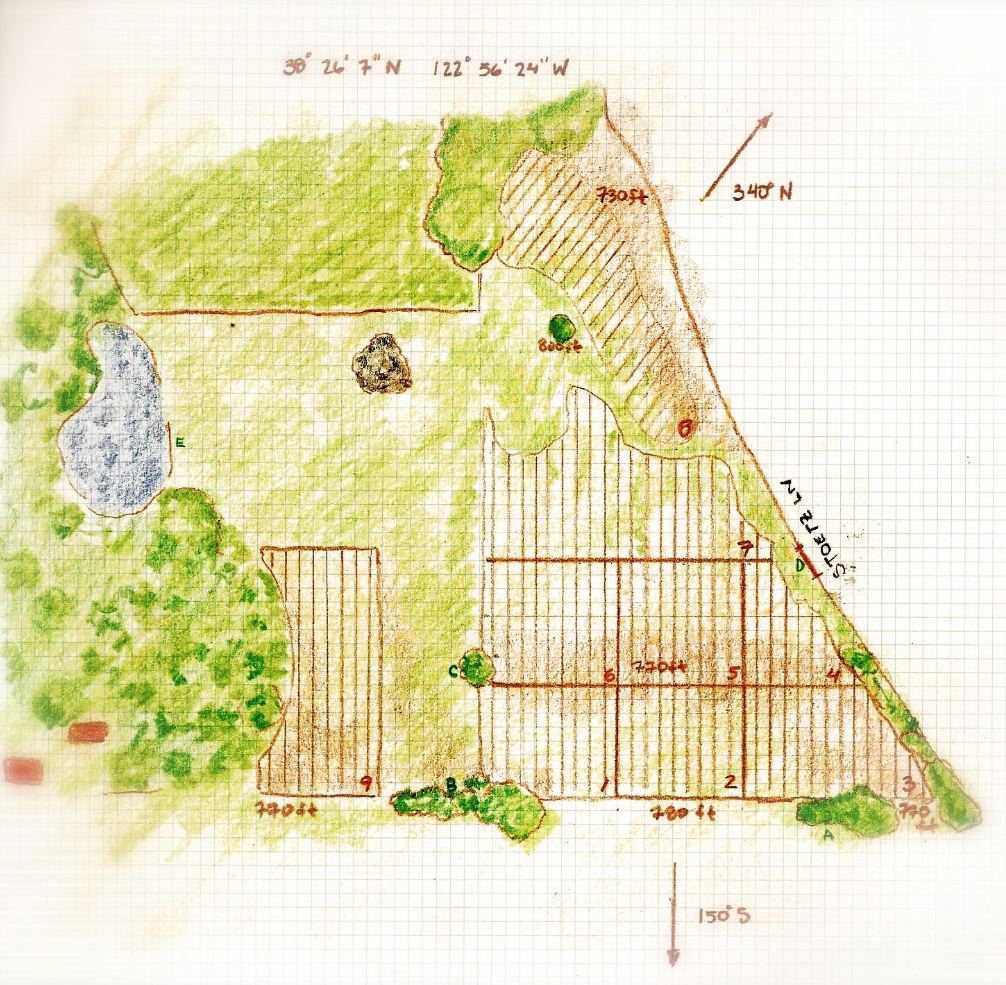 Jason's background is interesting. He always planned to become a chef, and after graduating from Pepperdine University, he immediately applied to the Culinary Institute of America (CIA). Between graduation and enrollment in the CIA, he worked a harvest in Washington and cooked at a French restaurant on Pike Street named Campagne. When he moved to the Napa Valley to attend the CIA, he was offered the opportunity to work and stage at some special restaurants that enriched his knowledge of wine and food. After graduation from the CIA, he went to work as a cellar hand at Hunnicutt Winery, a custom crush facility in St. Helena. He told me, "I found the transformation of these clusters of grapes into something so complex more intriguing than creating a plate in a kitchen. I was quickly won over and fell in love with Pinot Noir fermentations."
Jason started collecting Pinot Noir wines and studying Pinot Noir producers. After leaving Hunnicutt, he worked at DeSante Wines as an assistant winemaker. While at DeSante Wines, he launched Hibou with Robert Quick, his friend from culinary school (who was foolish enough to help in funding the project as Jason says). Riddle Vineyard was the first contracted vineyard for Hibou, but the pair are looking for more sources to add to their winemaking program in the future.
I was tasting the 2014 Hibou Riddle Vineyard Russian River Valley Pinot Noir one day with several other California Pinot Noirs. It was the last wine in the flight, and I was stunned to say the least when I tasted it. The wine clearly stood out among the others.

2014 Hibou Riddle Vineyard Russian River Valley Pinot Noir
14.2% alc., pH 3.68, TA 0.60, 144 cases, $58. Released October 1, 2015. Harvest Brix 24.8º. 50% 115 and 50% Pommard. The Pommard block was fermented with 100% whole clusters so the final blend is 50% whole cluster. Aged 10 months in French oak barrels, 50% new Remond. Unfined and unfiltered. · Moderate reddish purple color in the glass. Lovely perfume of fresh black cherries, spice, underbrush and a sweet floral intricacy. The perfectly ripened Bing cherry core is flat-out delicious, accented with a bit of spice, cola, dark chocolate and a trace of umami for good measure. Enviable composure and uncommon drink ability, with matched tannins and acidity, judicious use of oak, and a long, cherry-infused finish. This is one of a few exceptional Pinot Noirs that illicit emotion to the point that your excitement fuels a need to tell someone about it. I told my spouse who tasted the wine and absolutely loved it, and together we finished the wine quickly later in the day with dinner. Sublime. Score: 96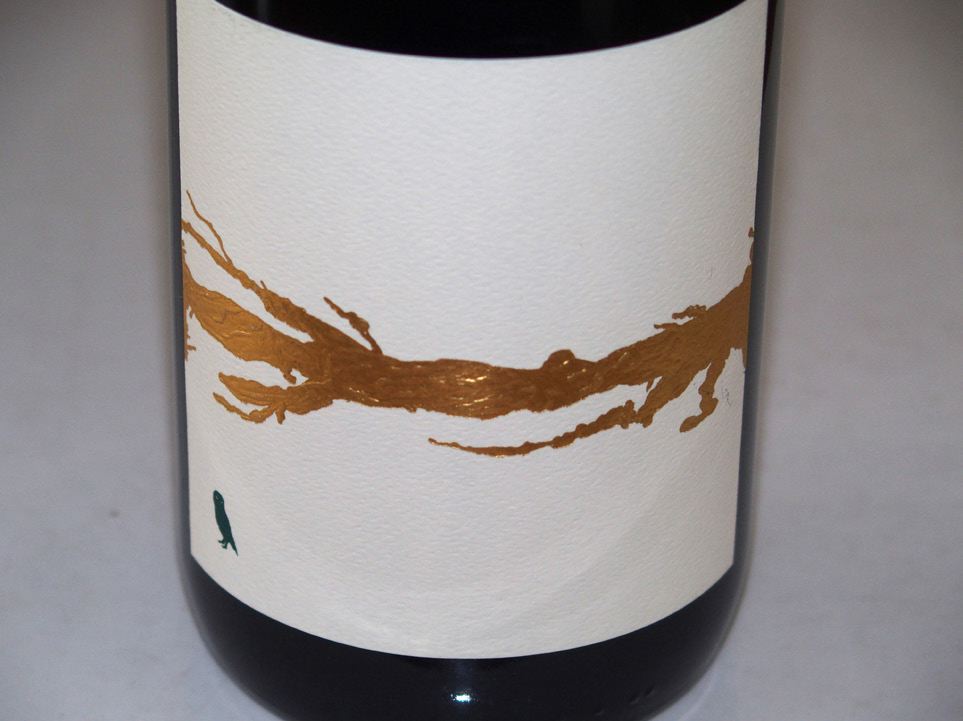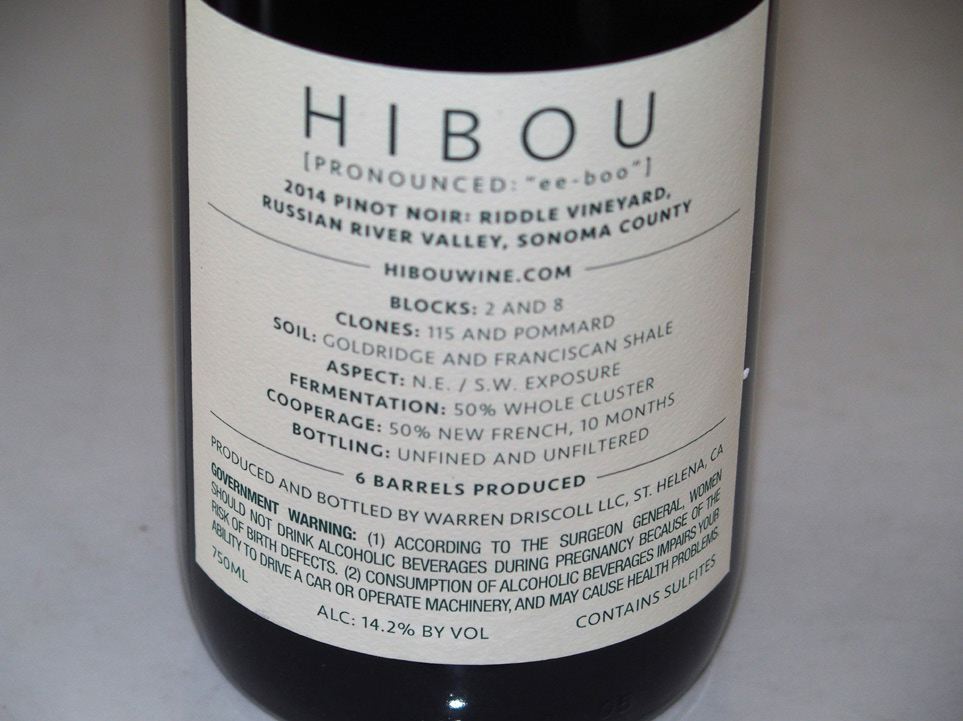 Visit the winery website at www.hibouwine.com to join the mailing list and buy your allocation of the wine. I understand your reluctance to throw $58 at an unknown wine, but in this case I think you will be happily rewarded.