Neighborhood Vineyards: Growing Pinot Noir in Urban San Francisco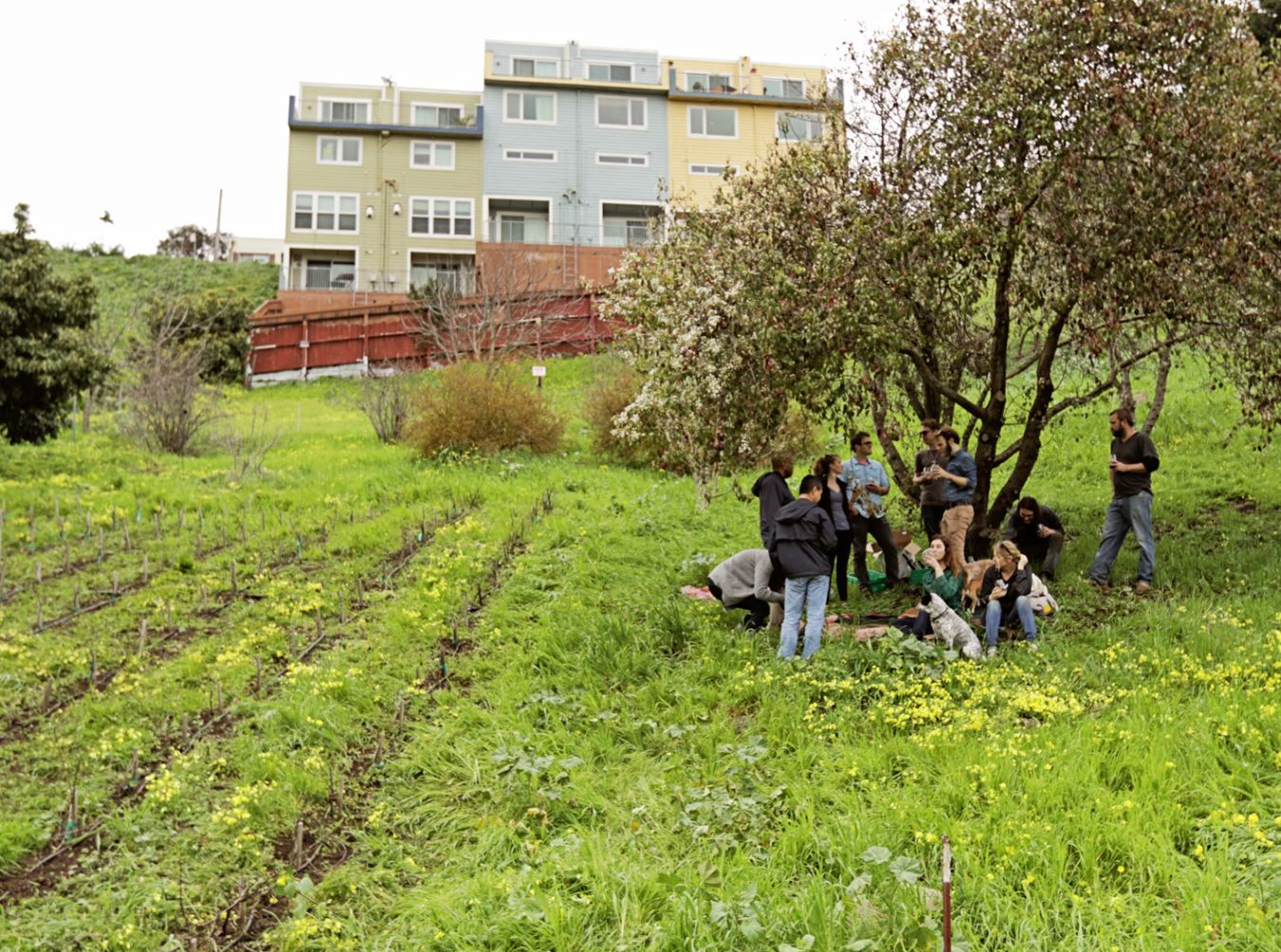 Photo By: Christine Baker/California Uncorked Photography @ www.uncorkedphoto.com
Neighborhood Vineyards is a novel urban community farm project started by Elly Hartshorn that began with the planting of a Pinot Noir vineyard in June 2013 at 700 Alemany Boulevard in downtown San Francisco. Although the website touts this as "America's first urban vineyard," I would think this is America's first urban community vineyard, for I know of at least one other instance of an urban vineyard that preceded it. Stephen and Catherine Pepe, who later founded Clos Pepe Vineyard in the Sta. Rita Hills of Santa Barbara County, planted a private urban vineyard (Pinot Noir and Sauvignon Blanc) in Long Beach, California, and had their first harvest in 1991, the first in the history of Long Beach. I bring that up, not to diminish the accomplishments of Elly, but only to point out another example of an attempt to establish a domestic vineyard in an urban environment.
Elly grew until age 10 years on her family's 50-acre vineyard planted to Cabernet Sauvignon and Sauvignon Blanc in Lake County, California. She watched the Fetzers, Mondavis and Jess Jackson walk the vineyard with her father. Later, she attended Cal Poly at San Luis Obispo where her initial aspirations to be a mechanical engineer were superseded by a viticulture and enology minor and a job at Laetitia Vineyard & Winery out of college.
Laetitia sells the majority of the fruit they farm and she was introduced to a host of young winemakers who were buying fruit. One of them was Russell From of Herman Story Winery. He asked her if she could help him write a newsletter for his mailing list customers, and Elly agreed if he would let her write the piece with uncensored humor rather than a polite and refined piece that Laetitia might publish. The newsletter became viral and she soon had a graphic design and marketing firm on her hands called Proof Wine Marketing. Along with business partner Josh McFadden, they created Sans Liege, Folkway and Field Recordings winery names, ideas, and labels as well as a handful of labels for Trader Joe's wines. Other clients included Native9, Alta Maria, Tantara and J. Wilkes. Elly sold her shares in Proof Wine Marketing in 2009 and moved to France. Her design and marketing skills are on full display on the Neighborhood Vineyards website.
Elly was living in France in 2010 and while employed at small vineyards and creameries, she discovered the hidden urban vineyard of Clos Montmartre. The Montmartre area had been one of several church-owned vineyards in Paris during the 18th and 19th Centuries, but increasing urbanization led to their disappearance. In the early 1930s, a group of local artists obtained a grant from the government to renew Clos Montmartre. The first harvest was 1934, and the grape-picking ceremony at this urban vineyard has been repeated every year since, except during World II. Clos Montmarte is the last active vineyard inside Paris and contains 1,900 vines and 28 grape varieties including Pinot Noir.
Upon returning to California in the spring of 2012, Elly was actively planning to develop a project in San Francisco similar to Clos Montmartre. She gathered a team of viticulturists, winemakers and community friends to establish a 0.5-acre vineyard planted to Pinot Noir clone "828," called "Alemany Farms," in the Bernal Heights area. 230 vines were planted on rootstock 110r initially and there are now 349 Pinot Noir vines. The first harvest will be 2016. Since I have researched and written extensively about clone "828" (a suitcase selection brought from Burgundy to Oregon by Gary Andrus - the actual USD certified Dijon clone 828 has only recently been released for sale through nurseries), so I was curious why she chose this Pinot Noir cultivar among all others to plant in San Francisco. Here is her entertaining story in her words.
"When I was reading the journals of California's early European settlers, they asked themselves the same questions that I did for variety and clonal selections in San Francisco. What wine region is this land similar to? What are consumers' expectations? What can we build a reputation for? (see relevant pages below published in 1880 and found by Elly at library during her research)."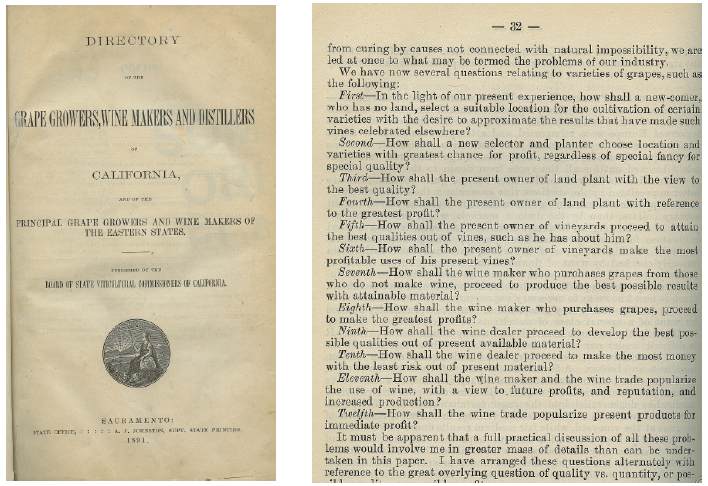 "I initially stayed away from Pinot Noir because I thought that wine drinkers had preconceived notions of what Pinot Noir should taste like and in San Francisco's cold and potentially unripening climate, I might disappoint them when the fruit was more akin to Spätburgunder. I was instead leaning towards a German-Austrian hybrid like Zweigelt. I figured few people were familiar with the grape and we could set the bar for a flavor profile, and I could geek out with fellow wine people on an obscure grape. When I recounted this idea to two friends and colleagues who help me with the project, Andrew Jones of Sunridge Grapevine Nursery & Field Recordings Winery, and Lino Bozzano of Laetitia and Folkway Wine Company, I recall Lino saying, "Elly, you are planting the first urban vineyard in San Francisco which is now America's most expensive city, you are farming it by hand without the use of machinery, without pesticides, and without a fence. Why the hell would you want to make your life any harder? Let's plant Pinot Noir. We know something about it.
"With the hype of being so difficult and fussy, some might laugh at Pinot Noir being the practical choice. Practicality aside, this vineyard project isn't a trendy whim, but rather a serious endeavor. I want to make the best wine possible from the site, and I think Pinot Noir will grow well here. From a winemaking perspective, I will need other wine for topping off the San Francisco barrel and I have more access to Pinot Noir than Zeigelt at this point."
"Our next step was clonal selection. While the vineyard is on a slope and the soil has decent drainage, we were concerned with the soil retaining too much water and the threat of mildew. We hoped that 828's vigor would offset the water retention. The clone is also more rot resistant than other clones and the droit (upright) growing attitude allows for better air flow to fight mildew pressures. So far, the vines seem to be establishing themselves rather well and mildew has been minimal."
Elly realized that the San Francisco vineyard would never yield a great deal of wine and she did not want the wine to become coveted and expensive. The whole point of the urban community vineyard project was that it would be approachable and educational, and not elitist. With this in mind, she produces a host of wines from other regions to get the project in the hands of many people. These wines range in price from $18 to $30. She works with old Central Coast winemaking friends such as Andrew Jones, Lino Bozzano, Jeff Fink and Christian Roguenant to produce these wines. Each wine is dedicated to tell a story about California viticulture. Neighborhood Vineyards wines are sold on the website at www.neighborhoodvineyards.org.
Involvement in the vineyard project is encouraged. Vine sponsorships are available for $200. Subscribers can also participate in work days at the vineyard. The exact location of the vineyard is indicated below.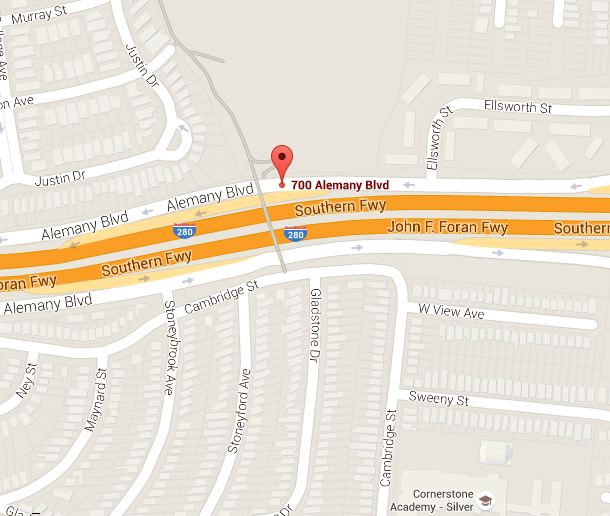 Elly also currently owns a wine storage and delivery business called Sidekick Delivery. The company serves the warehousing and delivery needs of small and mid-sized craft beer and wine projects in California. Visit www.sidekickdelivery.com.