Pey-Marin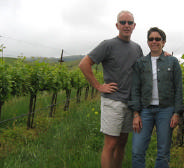 Jonathan and Susan Pey are winegrowers and residents of Marin County who have a shared passion for wine. Jonathan has had a career in the ultra-premium wine industry at Domaine Louis Jadot, Penfolds, and Robert Mondavi Vineyards. Susan is a wine buyer for a large prestigious restaurant group in the Bay Area. Together they launched their own line of wines in 1999 and today produce Pinot Noir and Riesling under the Pey-Marin label, Merlot and Vin Gris under the Mount Tamalpais label, a Cabernet Sauvignon from Oakville in Napa Valley labeled Textbook and a Paso Robles Syrah called Spicerack. Their umbrella company is Scenic Root Winegrowers.
To be honest, growing Pinot Noir in Marin County is not for the faint at heart. The few vineyards hold much potential when the weather cooperates, but small, even minuscule yields, are often the rule. Jonathan calls the yields "stupid - pick a low number!" The soils are decomposed marine sediment and drain beautifully. Located only 8 miles inland from the Pacific Ocean, the region is quite cool and the resulting growing season is extended in length. Typically, the Pinot Noir clusters and berries are tiny, with a high skin to juice ratio.
I have enjoyed several vintages of Pey-Marin Trois Filles Pinot Noir (named after Pey's three daughters). Jonathan leases and farms part of three vineyards in Marin County: Pey-Marin block (Pommard, Swan and 115) at Corda Vineyard, a block at Stubbs Vineyard (115), and a block at Kendric Vineyard (Pommard, 667, 777). The three sites are quite diverse with differing slopes, orientation, clones, rootstocks, age, location, and harvest dates. Pey-Marin and Stubbs are organically farmed, Kendric is (very) sustainably farmed. Pey-Marin is 17 years old, Stubbs is 10, and Kendric 8.
I asked Jonathan about his winemaking regimen. Fruit is hand-harvested and hand-sorted at the winery. The grapes are completely destemmed and crushed, but the crusher element is removed from the destemmer to get a lot of whole berries for some carbonic fermentation. Usually, the grapes are harvested at 24.5° to 25.5° maximum Brix. The grapes are chilled and punched down by hand twice a day for four days during fermentation and then let go to "do their own thing - kind of like Burgundy." Natural fermentation starts on its own to add some nice funk, but Jonathan always adds cultured yeast to make certain fermentation finishes full. At 5-8° Brix he presses off to allow a modest barrel ferment to happen in new French oak barrels (Jonathan learned this from his friend Peter Gago at Penfolds who does it for his better lots for a wine called Grange). No racking or fining, but lots of battonage in barrel for about 14 months. Barrels are about 35% new, all top coopers. He adds a small touch (3-5%) of vintage 2006 juice to give it a nice fruit lift just before bottling. The wine is gently filtered with a very modern cross-flow filter. He ages it in bottles 6 months before release.
Pey-Marin wines can be purchased on the website at www.marinwines.com. The other varietals, particularly The Shell Mound Riesling are worthy of attention. Sign up for the mailing list to receive advance notice of releases. 415-455-WINE. No tours or tasting.