A Pair of Enduring Pinot Noir Festivals Arouse Pinotphiles
Anderson Valley Pinot Noir Festival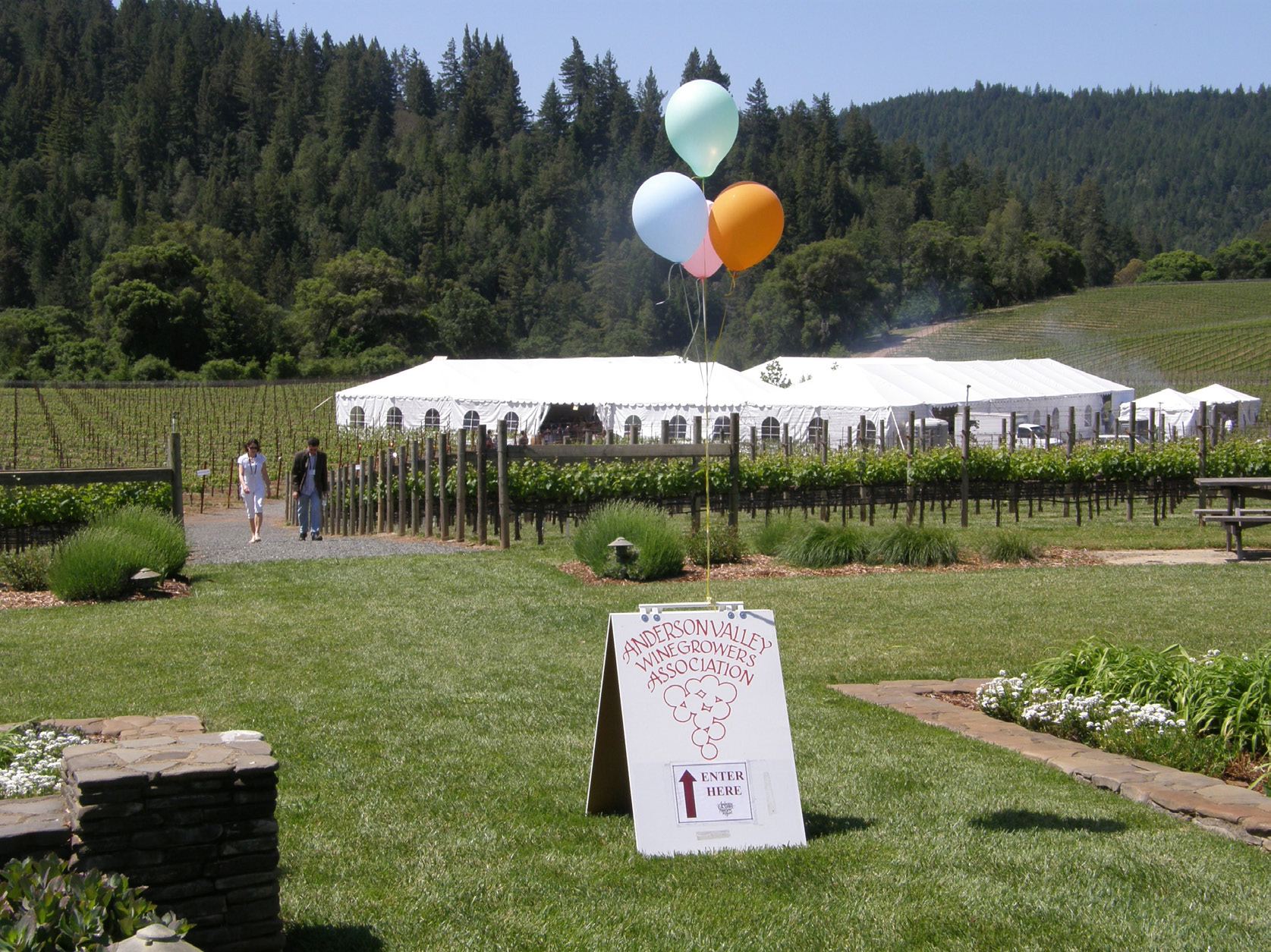 The 19th Annual Anderson Valley Pinot Noir Festival will be held May 20-22, 2016, in Anderson Valley. The event was first formalized into a festival in 1997, and has increased in popularity over the ensuing years in step with the rise in quality of Anderson Valley Pinot Noir. The event, sponsored by the Anderson Valley Winegrowers Association, is always sold out. I love this festival for its country flavor and the hospitality of the friendly hosting wineries. A few days in this bucolic valley with its picturesque vineyards, moss-covered oaks, old apple-drying barns, split-rail fences and welcome tranquility is guaranteed to invigorate your spirits.
The Anderson Valley appellation was founded in 1983, and is located in northwestern Mendocino County, along Highway 128. As the crow flies, the valley is about 10 miles from the Pacific Ocean and about 15 miles long, opening to the Pacific Ocean by the Navarro River. At 38 degrees latitude, the climate is mostly Winkler Region 1. There are 30 bonded wineries and 32 tasting rooms. As of 2015, there were 91 vineyards owned by 71 farmers, with a total planting of 2,502 acres (99 fallow acres excluded). There are 1,736 acres of Pinot Noir, 539 acres of Chardonnay and small amounts of Gewurztraminer, Merlot, Pinot Gris and Riesling. The Anderson Valley Winegrowers Association has 55 member wineries (both in and outside Anderson Valley) and 48 member growers. About 50 wineries will be pouring Pinot Noir in all its forms at the Festival's Grand Tasting.
The 2016 Anderson Valley Pinot Noir Festival schedule of events:
Friday, May 20: Technical Conference including lunch at Mendocino County Fairgrounds, 9:30 a.m. to 5:00 p.m..
Friday evening, May 20: Casual BBQ at Pennyroyal Farm, 5:30 p.m. to 8:30 p.m.. Outdoors, bring a jacket!
Saturday, May 21: Grand Tasting in the tent at Goldeneye Winery, 11:00 a.m. to 3:00 p.m.. Arrive early for more time with winemakers.
Sunday, May 22: Visit Winery Open Houses. An opportunity to visit some wineries that are usually not open and revisit other favorites.
Accommodations in the Anderson Valley are very limited (check the PinotFile Travel Directory). Other options are in the town of Mendocino, a 45 minute twisting drive through the redwoods, Cloverdale, a 60 minute drive along Highway 128, or Healdsburg, an 80 minute drive north on Highways 101 and 128. For more information and tickets, visit www.avwinescom. Each year there is a commemorative poster at the event created by nearby Cloverdale artist Gerald Reis and available for purchase.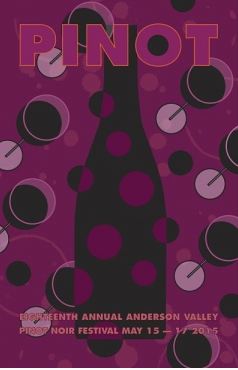 International Pinot Noir Celebration

The granddaddy of all Pinot Noir festivals, the International Pinot Noir Celebration (IPNC), will hold its 30th annual event July 29-31, 2016. Master of Ceremonies James Halliday is welcoming pinotphiles and winemakers from all corners of the globe to three days of unforgettable meals, seminars, vineyard tours, and joie de vivre among fellow lovers of Pinot Noir. IPNC is the ultimate Pinot Noir Bacchanal. Although IPNC is held on a college campus (Linfield College in McMinnville), there are no early morning classes and no tests.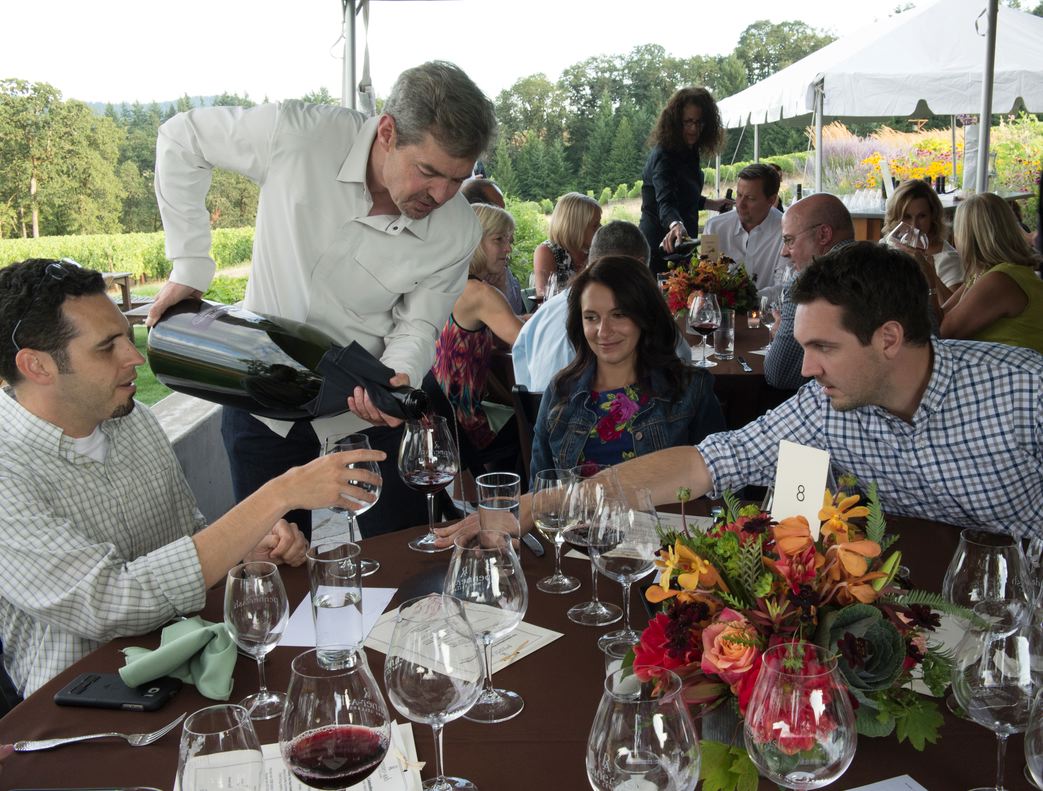 IPNC has hosted well over 200 winemakers from France, and many from Australia, New Zealand, Italy, Germany, Switzerland, Austria, Canada and South Africa, along with hundreds of Oregon and California Pinot Noir winemakers. The emphasis is always on quality (wineries are accepted to participate based on merit) and stylistic diversity, with many new winery faces appearing each year. There is no judging of wines for the event as this is a pure celebration of Pinot Noir.
This year's more than 70 winery participants were just announced:
Oregon: Alexana Estate Vineyards & Winery, Anam Cara Cellars, Archery Summit, Ayres Vineyard, Bergstrom Wines, BrickHouse Wine Company, Brittan Vineyards, Chehalem, Colene Clemens, Cristom Vineyards, Domaine Drouhin Roserock, Domaine Serene Vineyards & Winery, Elk Cove Vineyards, Foris Vineyards Winery, Harper Voit, J. Christopher Wines, J.K. Carriere, Johan Vineyards, La Crema Winery, Lange Estate Winery, Lazy River Vineyrd, Owen Roe, Panther Creek Cellars, R. Stuart & Co., Rex Hill, Shea Wine Cellars, Sineann, Sokol Blosser, Solena Estate, St. Innocent Winery, Tendril Wine Cellars, Trisaetum, Walter Scott Wines, Winderlea Vineyard & Winery, Witness Tree Vineyard.

California: Au Bon Climat, Benovia, Cuvaison, Dutton-Goldfield Winery, Failla, Flowers Vineyards & Winery, Freeman Vineyard & Winery, Lutum, Masút Vineyard & Winery, Peay Vineyards, Phillips Hill Winery, Sandhi Wines, Small Vines Wines, Spell Estate, Thomas Fogarty.

North America: Blue Mountain (British Columbia), Wyncroft Marland (Michigan), Ankida Ridge (Virginia), Syncline Winery (Washington).

Southern Hemisphere: Bodega Chacra (Argentina), Bindi Wines (Australia), Coldstream Hills (Australia), Craggy Range (New Zealand), Dawson James (Tasmania), Mac Forbes Winery (Australia), Peregrine (New Zealand), Stonier Wines (Australia), Tolpuddle Vineyard (Tasmania), Yabby Lake (Australia).

Europe: Maison Ambrose (Burgundy), Champagne Henri Giraud (Champagne), Domaine Charles Audoin (Burgundy), Domaine Huguenot (Burgundy), Domaine Fougeray de Beauclair (Burgundy), Domaine Henri Gouges (Burgundy), Domaine Marc Roy (Burgundy) (Alexandrine Roy pictured below at a previous IPNC), Domaine Du Marquis D'Angerville (Burgundy), Philippe Pacalet (Burgundy, Domaine Vacheron Vignerons (Sancerre), Weingut Burg Ranevsburg and Weingut Heitlinger (Germany).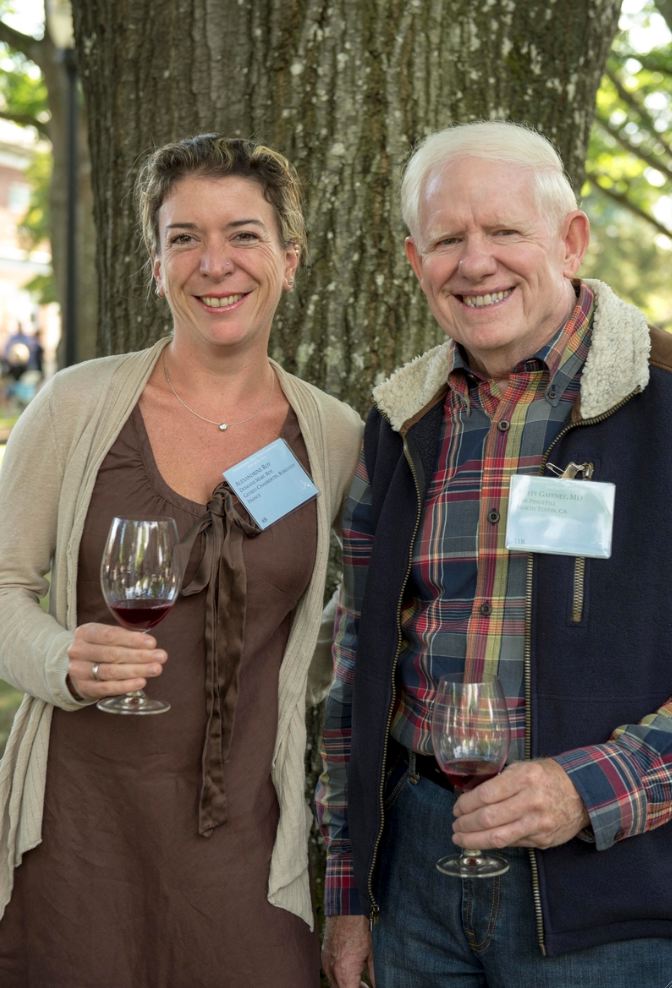 Tickets for the full weekend ($1,195) are now 80% sold out. Act promptly if you want to attend! The Full Weekend Ticket includes 2 Grand Outdoor Tasting, numerous seminars, Friday Night Grand Dinner, Saturday Night Salmon Bake, a Vineyard Tour & Winery lunch, University of Pinot courses, small format tastings, Friday and Saturday Breakfast on the Patio, and Sunday Sparkling Brunch Finale. Sunday afternoon Passport to Pinot Tasting tickets ($125) are sold separately. All wines served at Passport have been served during the Full Weekend. Visit www.ipnc.org.
This year more than 60 chefs from the Northwest region will cook for IPNC guests over the weekend. Although Pinot Noir is the star at IPNC, the food deserves equal billing.