Return to Paris: Bacigalupi Family Celebrates 40th Anniversary of Judgment of Paris
The day after the Sonoma County Barrel Auction, the Bacigalupi Family hosted a forum titled, "Return to Paris," honoring the legacy of Bacigalupi Vineyards and their important role in the winning 1973 Chateau Montelena Chardonnay at the 1976 Judgment of Paris.
The forum was moderated by internationally renowned sommelier, wine educator and journalist, Christopher Sawyer. Other forum members included Rod Berglund, owner and winemaker at Joseph Swan Vineyards, David Breitstein, founder of retail wine and spirits enterprise Duke of Bourbon in Canoga Park, California, Frederick Ammons, winemaker at Rudd Wines, and Rusty Gaffney, MD, "Prince of Pinot."
Rod was the founding winemaker of La Crema Viñera (the predecessor to La Crema) and made his first Russian River Valley Pinot Noir in 1979. In 1987 he joined Joe Swan to help him finish that year's harvest and in 1988 took over the winemaking at Joseph Swan Vineyards. David Breitstein established his retail store in 1967 and received many industry accolades. In 2009, the Culinary Institute of America, Greystone, unveiled "A History of California Wine: The David and Judy Bernstein Collection," the first major educational exhibit in the United States to document the rich history of California wines as told through rare bottles. Frederick Ammons is the sixth American to complete the Diplôme National d'Enologue from the prestigious Faculté d'Enologie, in Bordeaux. After nine years as the first winemaker with the Harlan team at The Napa Valley Reserve, he joined Rudd Oakville Estate in 2013. Rudd has made wines from the original Chardonnay plantings at Bacigalupi Vineyards for 16 years.
The setting for the intimate event was the Bacigalupi's equipment barn. Forum members spoke from the bed of a truck in true wine country style.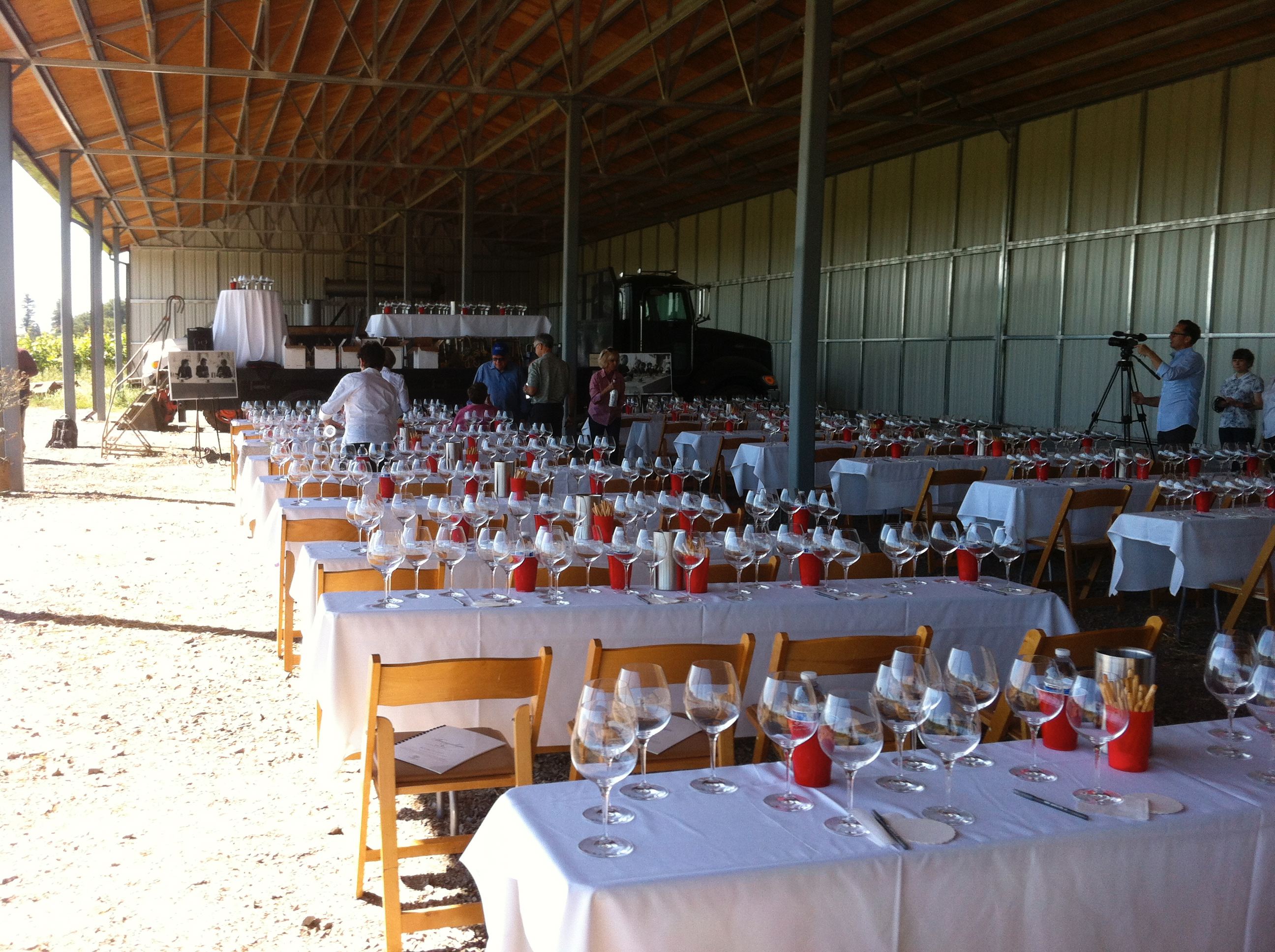 The first photo below that was displayed at the event shows a rare photo by Bella Spurrier from the Judgment of Paris tasting along with the original weight tag of Bacigalupi Vineyards "Pinot Chardonnay" from Chateau Montelena. The second poster is George Tabor's comments about the Judgment of Paris.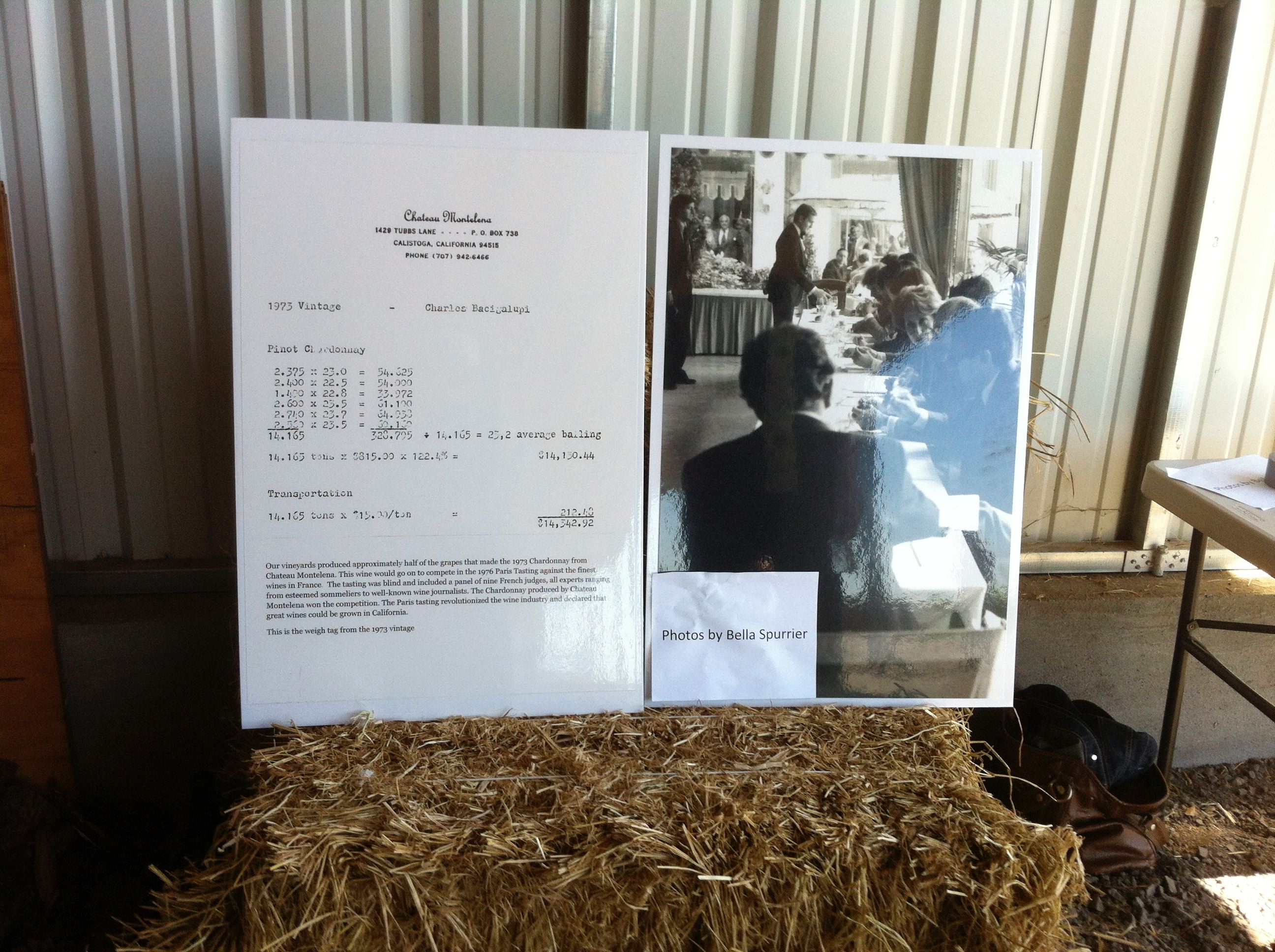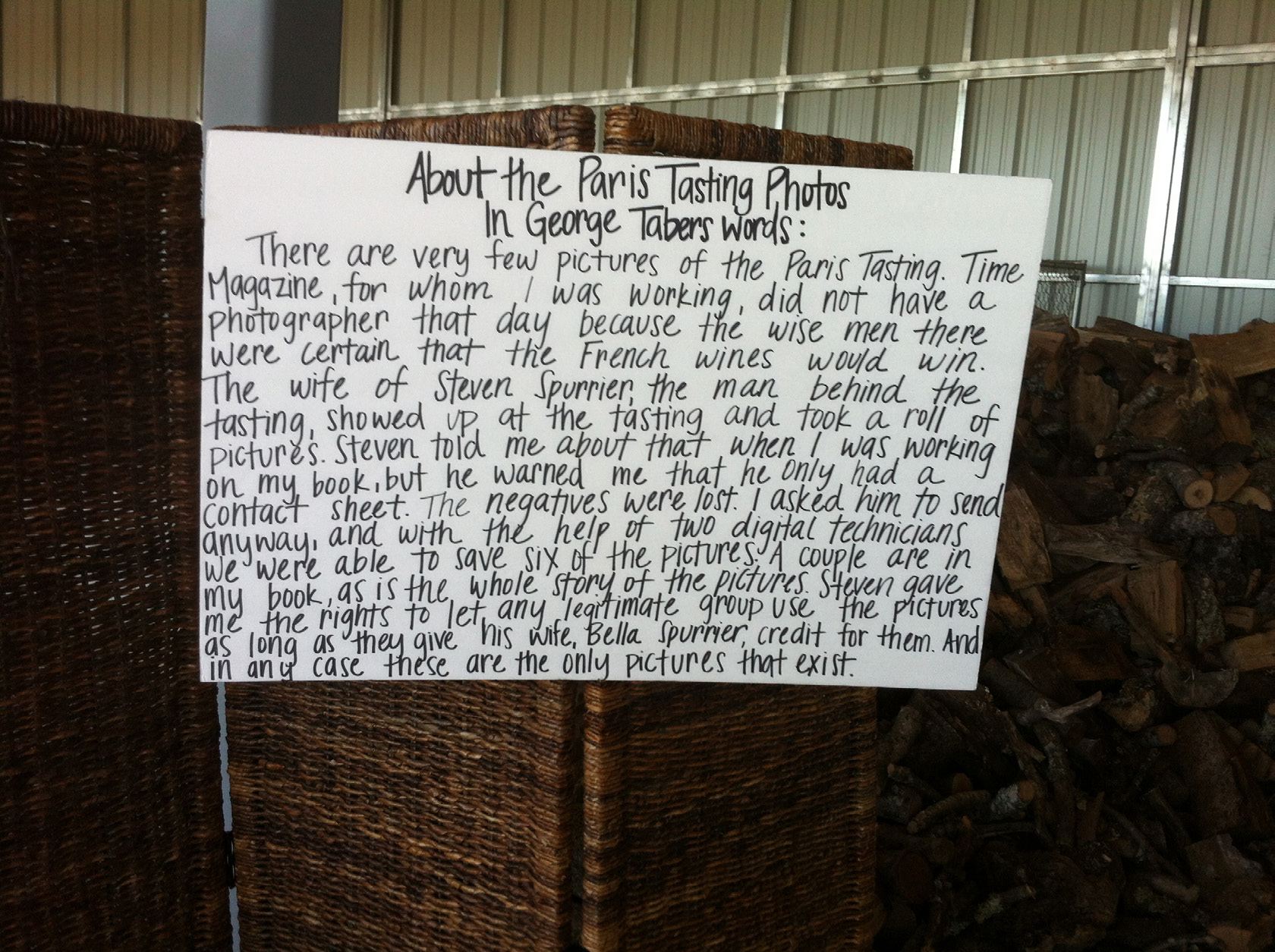 Return to Paris Tasting

During the event, forum members and attendees blind tasted six Chardonnays from both France and California as a simulation of the original Judgment of Paris tasting. The wines included the following: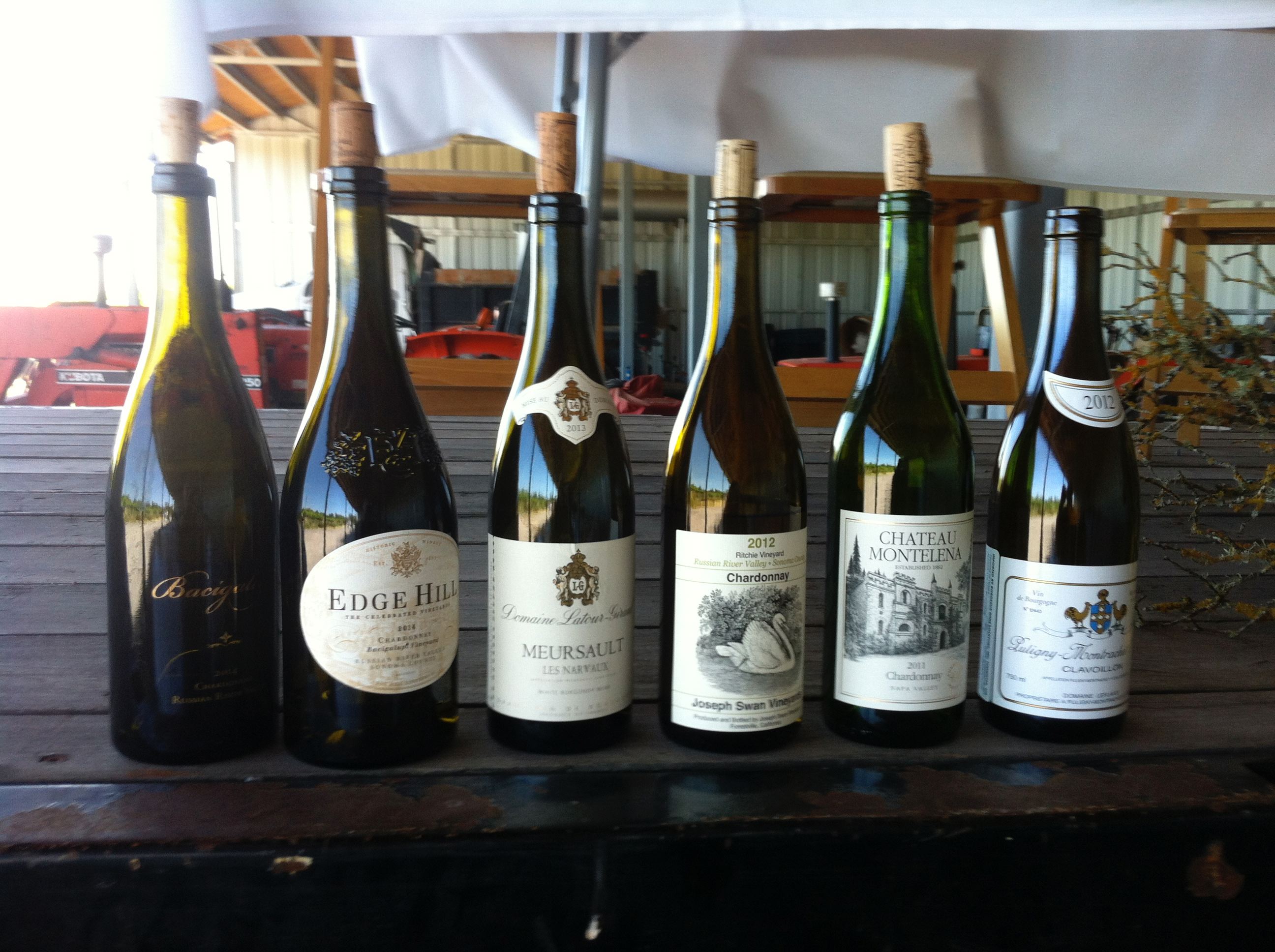 2014 Bacigalupi Vineyards Russian River Valley Chardonnay 14.2% alc.. Aromas of baked apple and buttery brioche lead to a creamy palate of pear and apple flavors and fine balancing acidity. I correctly guessed this wine as from California.
2014 Edge Hill Bacigalupi Vineyards Russian River Valley Chardonnay 14.0% alc.. Sourced from the original Chardonnay old Wente plantings dating to 1964. Welcome restraint in this wine propelled by aromas of citrus, butterscotch and caramel, and flavors of lemon, Granny Smith apple. Soft but not creamy on the palate with a steely finish. I incorrectly guessed this to be a French white Burgundy.
2013 Domaine Latour-Girard Les Narvaux Mersault 13.0% alc.. Aromas of lemony herbs with leaner flavors of apple and pear. Smooth but not creamy mouthfeel. I correctly guessed this to be French white Burgundy.
2012 Joseph Swan Ritchie Vineyard Russian River Valley Chardonnay 14.3% alc.. Oak-dominated aromas of caramel, butterscotch, and toast. Slightly tropical fruit flavors with added citrus notes. Slightly creamy and lower in acidity. I correctly guessed this to be a California Chardonnay.
2011 Chateau Montelena 40th Anniversary Release Napa Valley Chardonnay 13.8% alc.. Riper fruit aromas and butterscotch lead to a somewhat lean palate of apple and pear flavors with a crisp, soprano finish. I incorrectly guessed this to be a French white Burgundy.
2012 Domaine Laflaive Clavoillon Puligny Montrachet 1er 13.0% alc.. My favorite nose with a pleasing fusion of citrus, toast and flinty aromas. A complete wine with apple-driven flavors, juicy acidity and a very long finish. I correctly identified this as a French white Burgundy.
Although results were not tabulated the sixty people in attendance were split as to their favorites with most votes going to Chardonnays from Bacigalupi Vineyards and Joseph Swan Vineyards. Chateau Montelena was not the winner of this tasting! The forum members preferred the Laflaive Chardonnay.
Historical Revelations

Parked next to the equipment barn at Bacigalupi Vineyards is the original Volkswagon pickup truck that Helen Bacigalupi drove to deliver the Chardonnay grapes to Chateau Montelena in 1973. Helen Bacigalupi recounts that she drove the grapes over the Mayacamas Mountains herself. She said that the engine struggled to handle the weight of the grapes so she would floor it at the bottom of the hill and pray that the pickup made it to the top. She estimates that she made 15 trips to deliver the Chardonnay grapes (although the Chateau Montelena weight tag shows six separate weight lots). The grapes sold for $815 per ton.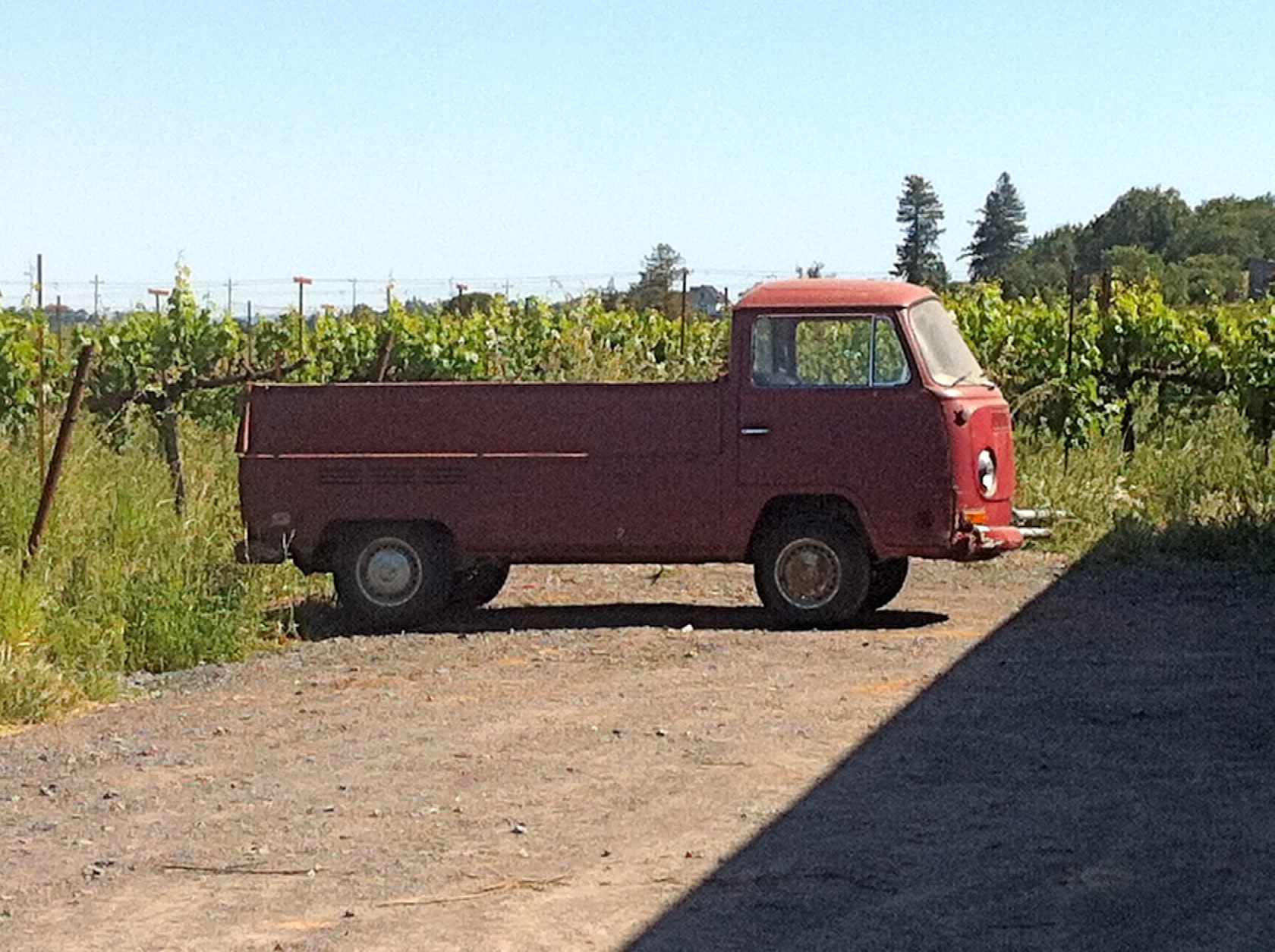 I have detailed the Bacigalupi's story and their contribution to the winning Chateau Montelena Chardonnay in several features in the PinotFile. Refer to www.princeofpinot.com/article/1690/. One item that needs to be emphasized for historical accuracy is the source of the Chardonnay grapes that went into that winning wine. Mike Grgich made 1,800 cases of the 1973 Chateau Montelena Chardonnay, crafted from 40 tons of grapes from the Russian River Valley, Alexander Valley and Napa Valley. 14 tons were from the Bacigalupi Vineyard in the Russian River Valley, about 20 tons were from grower Henry Dick in Alexander Valley, and the remaining 5 tons were from Napa Valley growers Lee Paschich and John Hanna. The label attributed the grape source to "Napa and Alexander Valley" in an attempt to downgrade the contribution of Napa's rival, Sonoma County. Chateau Montelena never sourced Chardonnay grapes from Sonoma County after the 1973 vintage.
The Bacigalupi Chardonnay plantings were sourced from Karl Wente in Livermore and undoubtedly the Alexander Valley Chardonnay vines as well, either directly from Wente or the Robert Young Vineyard that was planted in Alexander Valley with budwood from the Wente Livermore vineyard in the 1960s.
The 1973 Chateau Montelena Chardonnay was included in a 2014 Smithsonian exhibition, "101 Objects that Made America," along side Abraham Lincoln's hat, Alexander Graham Bell's telephone, and Neil Armstrong's space suit. New York Times reporter George M. Taber chronicled the 1976 Judgment of Paris in this book, "Judgment of Paris: California vs France and the Historic 1976 Paris Tasting that Revolutionized Wine."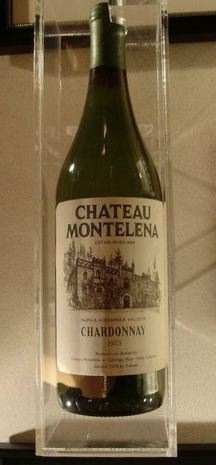 My Presentation
Return to Paris Through the Eyes, Mind and Palate of a Wine Critic
Talking Points:
(1) Historical Perspective: fortuitous planting of the right Chardonnay clone (Old Wente) at Goddard Ranch at the right site at the right time.
(2) Clonal Perspective: different aroma and flavor profiles from Chardonnay clones Old Wente, Wente and offspring such as Rued.
(3) Stylistic Perspective: in the current Chardonnay camp there are three groups. Russian River Valley Middle Reach Chardonnay fits best in the fruity, 100% barrel fermented, full or nearly full malolactic fermented style.
(4) Regional Perspective: in a review of my tasting notes over the past few years of Russian River Valley Chardonnays, excluding Grass Valley and Sebastopol Hills, there are recurrent themes in the wines and why I like the wines.

Historical Perspective
In 1976, at the time of the Judgment of Paris tasting, won by 1973 Chateau Montelena Chardonnay over some of France's most prestigious Chardonnays, I was just beginning my medical practice, had little expendable income, and although I enjoyed wine, I bought little.
Looking back, Chardonnay just wasn't that popular in the United States at that time, and certainly not in 1964 when Helen and Charles Bacigalupi planted their Chardonnay in the Russian River Valley. Much of California's existing Chardonnay vines were destroyed during Prohibition because the delicate fruit did not withstand shipment to home winemakers in the East Coast. By 1960, it was estimated that only about 230 acres of Chardonnay existed in California, mainly in Livermore and Napa, with 70 acres of those owned by the Wente family in Livermore.
When looking back from a historical perspective, I realize the plantings of Chardonnay at Goddard Ranch by Helen and Charles Bacigalupi in 1964 represented a fortuitous confluence of the proper clone, the proper site, and the right time. The Bacigalupi's had white grapes planted at Goddard Ranch, but they brought little income, so they decided to pull those vines out and replant. Fortunately, they consulted with Paul Heck, a partner in Korbel Champagne Cellars at the time, and Bob Sisson, the University of California at Davis farm advisor for Sonoma County, and planted Pinot Noir and Chardonnay. This was despite the thinking of many Russian River Valley locals who considered it folly to plant grapes like Pinot Noir and Chardonnay that nobody wanted.
Karl L. Wente supplied the Bacigalupi's with a Wente selection of Chardonnay from his Livermore plantings and 6 acres were planted on St. George rootstock in 1964, and field budded the following year. A 4-acre block of these original plantings, known as the "Paris Tasting Block," is still thriving and the grapes are sold exclusively to Rudd Winery in Oakville where the Chardonnay is bottled under the Edge Hill Estate label.
During the 1960s there were other growers experimenting further with Chardonnay in California. In 1968, there were nearly 1,000 bearing acres, but it wasn't until the 1970s that Chardonnay plantings took off. By the end of the 1970s, more than 7,000 acres of bearing and non-bearing Chardonnay vines dotted the California landscape in all climate regions according to Professor Amerine a faculty member of the University of California at Davis. The Chardonnays of the time, such as those from iconic producers such as Stony Hill and Hanzell, were leaner, age worthy and Chablis-styled, and Chardonnay sales lagged other varieties. Even the 1973 Chateau Montelena Chardonnay entered in the 1976 Judgment of Paris was easily confused for a French white Burgundy at the tasting.
By 1988, however, more popular styles of California Chardonnay evolved, Chardonnay was found to be very adaptable to many soils and climates, and Chardonnay plantings reached a total of 45,000 acres, overtaking France's total Chardonnay acreage. Although Chardonnay thrives in cool Winkler Region 1 climates, it also excels in warmer areas such as the Middle Reach of the Russian River Valley where Goddard Ranch is located, and where the fruit ripens more fully, producing more highly flavored wines than in cooler zones.
Today, Chardonnay is America's favorite wine, accounting for 22 percent of all varietal wine sales. Sales are only 1.5 percent less than the combined dollar sales of Pinot Grigio, Sauvignon Blanc, White Zinfandel and Riesling. According to Nielsen, in the 52 weeks ending February 27, 2016, Chardonnay accounted for more than $2.5 billion in off-premise sales, equaling more than 30 million cases. About 110,000 acres of Chardonnay are now planted in the United States (an estimate according to Brad Alderson). California produces the most Chardonnay (89 percent).
When looking back from a historical perspective, I realize the plantings of Chardonnay at Goddard Ranch by the Bacigalupi's represented a fortuitous confluence of the proper clone, proper site and proper time.
Clonal Perspective

The term "Wente clone" is confusing and its history is convoluted. The term has been used both for an older selection with small clusters that typically contain a high percentage of shot berries or hens and chicks (millerandage), and for the more productive selections at Foundation Plant Services (FPS) that can be traced back to the Wente vineyard in Livermore, California.
Old Wente Clone: Non-certified budwood, non-heat treated. Small clusters with very small berries, shot berries, fairly thick skins, low yields, lemon character. The clone can be picked early in the Russian River Valley yet still have plenty of acidity along with richness, concentration and phenolic structure (according to winemaker Theresa Heredia). Many winemakers prefer Old Wente clone over Wente clones 04 and 05. Offshoots include Hyde, Sterling, Rued, Stony Hill and Robert Young selections. Photo below of millerandage in Chardonnay grapes: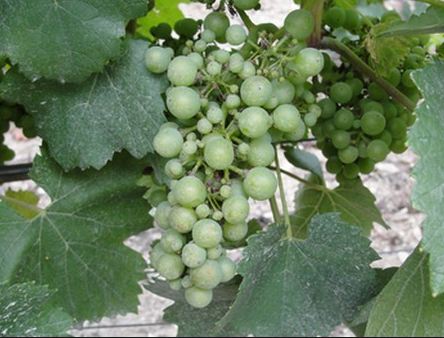 Wente FPS selections including FPS 04 and FPS 05: Certified at FPS by budwood from Martini plantings in Carneros at Stanly Lane Vineyard. Louis Martini, Jr., took budwood from Stony Hill Vineyard vines (Old Wente Chardonnay sourced from Wente vineyard with the permission of Herman Wente and first planted in 1948) for planting at Stanly Lane in 1951 or 1952. Dr. Olmo of University of California at Davis (UCD) took selections from Stanly Lane beginning in 1955 that would later become Chardonnay FPS selections including 04-08 and 14. The Wente clones 04 and 05 were registered in 1969. Earlier, 04 and 05 were combined at UCD in what was called clone 108 consisting of different mother vines that underwent heat treatment at the same time. This was called the Davis or Wente clone and distributed through the 1960s where it was planted extensively in the Napa Valley. Clones 04 and 05 were separated in 1969, first appeared on the FPS Registered list in 1973, and are now workhorses in California. Larger bunches, lower skin to juice ratio so less concentration and structure than Old Wente. Grapes still maintain acidity even in warmer years. High yields, good consistency, but less personality than Old Wente. The Wente clones 04 and 05 clusters do not exhibit hens and chicks tendency.
FPS Old Wente Clone FPS 72: Once known in California as FPS 02A or simply 2A, this plant material was donated to the FPS public collection by the Wente family from vineyard selections at a production block in the Arroyo Seco appellation. The plant material underwent heat treatment in 1961-1962, was numbered FPS 02 and planted in the new FPS vineyard. It was distributed widely to many growers in California but was removed from the list of registered vines in 1968 because of positive testing for leaf roll. It resembled the Old Wente clone with small berries and shot berries. About 1991, FPS 02A plant material returned to FPS, underwent shoot tip tissue culture treatment to eliminate leaf roll and other viruses, and reappeared on the FPS registered list in 2002 as Chardonnay FPS 72. This clone exhibits hens and chicks.
Many of the details outlined here are from an article on Chardonnay history and selections at FPS, appearing in the FPS Grape Program Newsletter (November 2007) written by Nancy L. Sweet: www.iv.ucdavis.edu/files/ 24489.pdf.
The Bacigalupi's had hit the clonal jackpot and planted Old Wente clone at an ideal site and at a time when Chardonnay was poised to become America's favorite white varietal.
Stylistic Perspective

The Wente family in Livermore bottled the first Chardonnay in California in 1933 and labeled it Pinot Chardonnay, a term originated by the French. As noted previously, the early Chardonnays were too lean for many American palates. It wasn't until the 1970s and thereafter that the familiar and popular "California style" of Chardonnay appeared: ripe, buttery and oakey, produced with riper grapes, acid-lowering malolactic fermentation, aging and lees stirring in oak barrels.
Today, there are basically three styles of Chardonnay:
1) Crisp, fresh and lean styles with little or no malolactic fermentation and little or no oak barrel treatment. These wines feature focused and pure flavors of citrus, green apple and acid-fueled "minerality."
2) "California style." 100% barrel fermented, 100% malolactic fermented styles that are rich, buttery and fruity. This style features flavors of toast, caramel, pineapple, brioche, and butter along with white stone and citrus fruit, and creamy textures.
3) In between types that combine barrel and stainless steel fermentation with varying amounts of malolactic fermentation.
In the 1980s, I developed a taste for Russian River Valley Pinot Noir and Chardonnay. I became fond of the "California style" Chardonnay that was wildly popular and was prevalent among Russian River Valley Chardonnays. I spent a small fortune on Kistler Russian River Valley Chardonnays because I really liked the wines and my wife adored them. It was a matter of keeping the home fires burning. I also found many other producers and styles to delight me.
From a current perspective, I still prefer this style of Chardonnay that is often criticized as too popular and food averse. Studies have shown that lovers of rich, oakey Chardonnay are mostly males and over 60-years-old so I fit right in.
Regional Perspective

The Middle Reach is the warmest of the sub regions of the Russian River Valley yet is still relatively cool. This sub region was made famous by the early plantings of Chardonnay and Pinot Noir by the Helen and Charles Bacigalupi and others.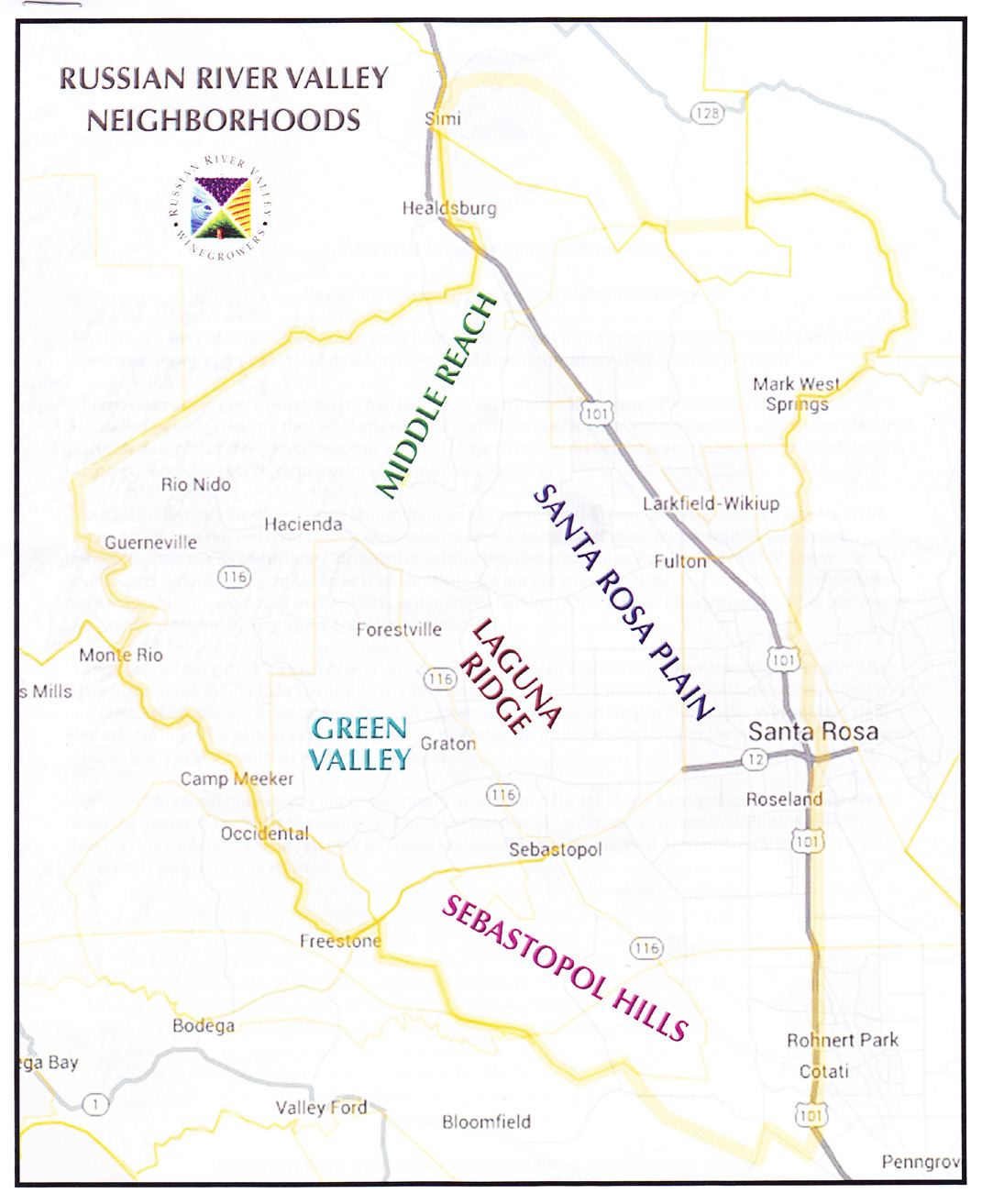 Typically, the Russian River Valley Chardonnays from warmer sub regions such as the Middle Reach have rich, riveting, even lush fruit flavors. The wines are often creamy in mouthfeel with a citrus-fueled and fruity finish. Acidity is rarely high since malolactic fermentation is often employed to de-acidifiy the wines, yet the best examples still have enough acidity to energize the wine.
The Middle Reach style is driven primarily by tradition and market demand. Many producers pick the fruit riper in the Middle Reach to achieve concentration and acidulation may be needed as a result. If a decision is made to pick earlier, better acidity is achieved and concentration can be built in the cellar by lees inclusion and stirring and barrel selection. When I looked back over the last few years at my reviews of Russian River Valley Chardonnays, excluding those from Green Valley and Sebastopol Hills, these were the recurring characteristics:
Nose: white stone fruits, lemon, yellow or baked apple, honeysuckle, buttery brioche, caramel, nut oil and vanilla pod
Palate: lemon curd, pear, grilled peach, poached or baked apple, apricot, pineapple and other tropical fruits, honey, crème brulée, caramel, roasted nuts, butterscotch, and oak-driven spice and toast.
It is important to remember that most of the nutty, buttery, toasty and smoke flavors are the result of malolactic fermentation with some contribution from oak. Lactic acid bacteria convert tart malic acid to softer lactic acid. The buttery notes in particular come from diacetyl that is a byproduct of malolactic fermentation.