Pinot Briefs —Newsletter 10.31
"Roll Out the Barrels" Celebration The summer launches in San Luis Obispo wine country with the 26th annual "Roll Out the Barrels" Celebration with a variety of events happening June 23-26 on California's Central Coast. The celebration is best known for its outdoor Barrels in the Plaza food and wine event on Thursday, June 23, on the grounds of Mission San Luis Obispo in downtown San Luis Obispo. The weekend unfolds with the Taste the Coast Collaborative Winemaker Dinner on Friday, June 24 at Claiborne & Churchill Winery. Finally, attendees embark on Adventures in SLO Wine Country on Friday, June 24 through Sunday, June 26 offering a chance to walk the vineyards, try barrel samples and enjoy tasting room open houses. Anyone booking a two-night stay in San Luis Obispo will receive a 20 percent discount on tickets to Barrels in the Plaza at www.slovacations.com/rotb. Complete event details and tickets are at www.slowine.com.
Wine and Fire 2016 The Sta. Rita Hills Winegrowers Alliance is holding their annual weekend Wine and Fire event August 5-6, 2016. The weekend kicks off Friday night with a KIck Off Barn Party at the beautiful Hilliard Bruce Winery barn. Winemakers will share library wines, large format bottles and small production bottlings. Array of Central Coast inspired foods will be available for noshing. Tours of the new Hilliard Bruce Winery will be offered during this event. The Saturday morning seminar is titled "Hwy 246 Vineyards B to Z" and will be held also at Hilliard Bruce Winery barn. A fire-grilled lunch follows the seminar.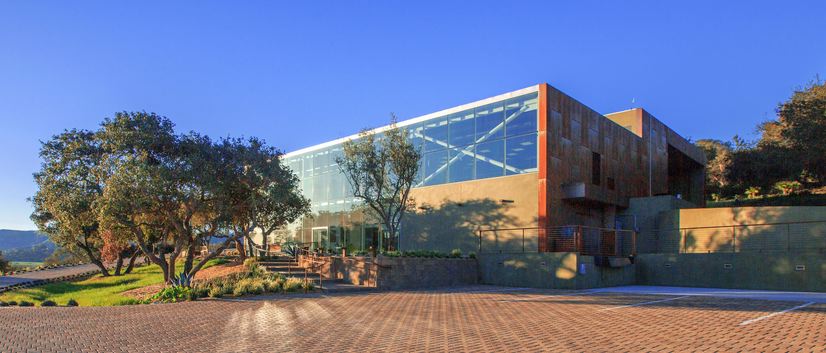 On Saturday evening, there is the Wine and Fire Grand Tasting at La Purisima Mission in Lompoc where forty plus wineries will be pouring and many local chefs and farmers will provide an amazing selection of local food favorites. For tickets and more information, visit https://www.eventbrite.com/e/2016-wine-and-firetickets- 25588566090. Early bird pricing is in effect.
In Pursuit of Balance will cease operations at end of 2016 In Pursuit of Balance (IPOB) co-founders Jasmine Hirsch and Rajat Parr have announced that their organization will end operations at the conclusion of 2016. IPOB was created to change the dialogue around the meaning and importance of balance in California wine and was formed as a nonprofit organization in 2011. 36 wineries, many of which are at the leading edge of California winemaking, are currently members, chosen by an IPOB panel after tasting submitted wines. The organization's score to include an international itinerary of tastings in San Francisco, Los Angeles, New York, London and Tokyo. The organization will conclude with a final IPOB tasting in San Francisco in early November 2016. IPOB 2016 Membership:
Au Bon Climat Winery
Big Basin Vineyards
Calera Wine Company
Ceritas
Chanin Wine Company
Cobb Wines
Copain Wines
Domaine de la Côte
Drew Family Cellars
Failla
Hanzell Vineyards
Hirsch Vineyards
Knez Winery
Kutch Wines
LaRue Wines
LIOCO
Liquid Farm
Littorai Wines
LUTUM Wines
Matthiasson Family Vineyards
Mignanelli Winery
Mindego Ridge
Mount Eden Vineyards
Native9 Wines
Ojai Vineyard
Poe Wines
Presqu'ile Winery
Red Car
Sandhi Wines
Small Vines Wines
Thomas Fogarty Winery
Twomey Cellars
Tyler Winery
Varner
Wenzlau Vineyard
Wind Gap Wines
Russian River Valley Experience & Somm Challenge On June 24, the Russian River Valley Winegrowers will host a Russian River Valley Somm challenge at Sonoma-Cutrer involving 3 somms, 5 chefs and 12 wines. The attendees will judge and decide which somm picked the best wine for each course. Noted Pinot Noir producers Benovia Winery, Bucher Wines, Davis Bynum, Dutton-Goldfield, J Vineyards & Winery, Matrix Winery and Trione Vineyards & Winery will participate. Tickets are $195 through http:// www.eventbrite.com/e/russian-river-valley-experience-weekend-somm-challenge-dinner-tickets-24855452327? ref=ebtn. The Russian River Experience will be held June 25-26. Shuttles will move attendees visiting five Russian River Valley neighborhoods where several wineries will gather at each hub to share wine and food. Tickets are $65 and shuttle is $25 at the same link.
Amorim First Cork Producer with Non-Detectable TCA Guarantee Amorim, the world's leading cork producer, has achieved a major technological breakthrough known as NDtech that allows them to become the world's first cork producer to produce and deliver natural cork stoppers to winemakers with a nondetectable TCA guarantee. Individual cork stoppers are screened on the production line to eliminate the risk of corks contaminated with TCA. Batch testing has been the rule until now, but the super-fast NDtech allows screening of individual corks with incredibly high precision.
Changes in Alcohol and Effects on Risk of Breast Cancer and Heart Disease A large well-done study from Denmark looked at 20,000 postmenopausal women. For the risk of breast cancer, the baseline alcohol consumption reported by the women showed that higher alcohol intake was associated with a greater risk of developing breast cancer during follow up, but a lower risk of developing coronary heart disease and for total mortality. For relating changes in alcohol intake in the 5 years between two alcohol intake assessments, those women who increased their reported alcohol intake showed an increased risk of subsequent breast cancer, while those who decreased their intake also had a tendency for greater breast cancer. With regard to coronary heart disease and mortality, the date were consistent with an increase in consumption lower risk, while there was a tendency for a decrease in consumption to increase risk. The authors concluded that alcohol intake is associated with increased risk of breast cancer and decreased risk of coronary heart disease.
Tending to Pinot Noir's Appetite The Amalie Robert Estate FLOG has an excellent discussion of vineyard soils and what needs to be done to grow world-class Pinot Noir. Visit www.amalierobert.blogspot.com and the April 30, 2016 entry.
Copain Wines Partners with Jackson Family Wines Proprietor and winemaker Wells Guthrie of Copain Wines announced that the winery has partnered with Jackson Family Wines. Guthrie began his career as a wine tasting coordinator at Wine Spectator magazine and quickly fell in love with the portfolio of northern Rhône wines from Kermit Lynch Wine Merchants. Following this inspiration, he worked for Maison Chapoutier in the Rhône region and this experience led him to found Copain Wines in 1999. He proceeded to hone into areas of Anderson Valley that he believed made the best wines and incorporated Pinot Noir as well into his portfolio.
Patz & Hall Sold to Ste. Michelle Wine Estates Sonoma's Patz & Hall, founded in 1988 as a producer of Sonoma County Pinot Noir and Chardonnay, hjas sold the inventory of wines and interest in the winemaking facility and the visitor center known as the Sonoma House. The four founding partners, including winemaker James Hall will remain with the winery to ensure continuity.
Greenwood Ridge Winery Sold to Wilson Artisan Wineries Greenwood Ridge Winery in Anderson Valley has sold its tasting room, brand and inventory to Wilson Artisan Wineries. Greenwood Ridge was started by Allan Green in 1980 and built a reputation for excellent small lot varietal wines. Wilson Artisan Wineries now consists of 10 wineries spread across the North Coast and owns more than 600 acres of vineyards.
Penner-Ash Wine Cellars Sold to Jackson Family Wines Lynn and Ron Penner-Ash have announced the sale of their winery in the Yamhill-Carlton District of Oregon's Willamette Valley to Jackson Family Wines. Lynn Penner-Ash will continue as winemaker and retain an interest in the brand. Jackson Family Wines will acquire essentially all of Penner-Ash Wine Cellars assets including the winery and 15 acres of estate vineyards. Jackson Family Wines have made significant acquisitions in Oregon and owned about 1,400 acres before the Penner-Ash purchase. Acquisitions include Gran Moraine Winery (formerly Solena Estate Winery) and Maple Grove Vineyard. Jackson Family Wines plans to build a wine production facility at the former site of Evergreen International Airlines corporate headquarters in McMinnville that was bought for $4.6 million.
Winemaker Chris Figgins Developing Oregon Project Noted winemaker of Leonetti Cellars in Washington bought 42 acres of land in the Chehalem Mountains to develop his Toil Oregon project. His first release was a 2012 Pinot Noir from Ridgecrest Vineyard in Ribbon Ridge and Schindler Vineyard in the Eola- Amity Hills vineyards.The plan is to make Toil Oregon an estate winery and wants to plant about 25 acres of Pinot Noir on his new property over the next five years. Toil Oregon wines are sold through a mailing list. Visit www.toiloregon.com.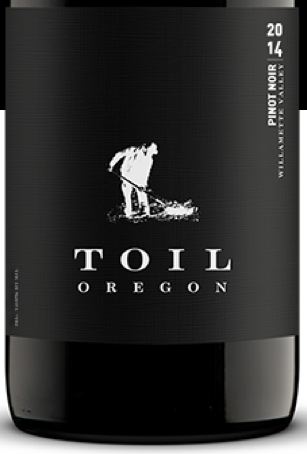 Winemaker Mike Etzel Releases First Wine from New Oregon Project Mike Etzel has been the co-owner and winemaker at Beaux Frères for 25 years and has now has launched a new project with partner Carey Critchlow. The inaugural Pinot Noir under the Sequitur label from the 2014 vintage was released at $100 a bottle. This new wine is blended from fifteen clones of Pinot Noir (including Coury, Calera, Mt. Eden, and Martin Ray selections) grown biodynamically on never-farmed soil (vineyard is pictured below) and is styled differently than Etzel's previous wines. The wine was produced from a 12-acre estate vineyard planted adjacent Beaux Frères Upper Terrace Vineyard in the Ribbon Ridge AVA. Fermentations are done in a variety of vessels with indigenous yeast and aging is done in a moderate use of new French oak barrels sourced from a wide range of tonnelliers. The wine is available now through www.oregonpinotnoir.com.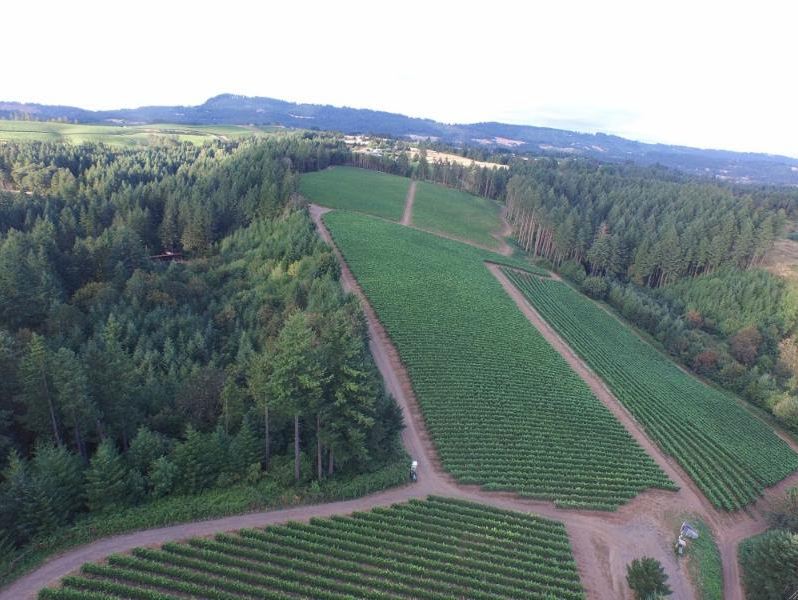 Inaugural Willamette: The Pinot Noir Barrel Auction Hosted by the Willamette Valley Wineries Association (WVWA), the Willamette: The Pinot Noir Auction was held in April 2016 and raised $476,000. 400 members of the wine trade were invited and bid on 2014 Pinot Noirs donated by 66 wineries in the Willamette Valley. Special lots included Adelsheim Vineyard's first single-block wine in its 40-year history from Quarter Mile Lane Vineyard planted in 1972 (winning bid $15,000) and 10 cases of Founder's Block Pinot Noir from Sokol Blosser Winery's Old Vineyard Block planted by the winery's founders in 1971. The money was raised to support marketing efforts of the WVWA and increase awareness of Oregon wine.
BACtrack Skyn™: Best Wearable Alcohol Biosensor The National Institute on Alcohol Abuse and Alcoholism (NIAAA) issued the Wearable Alcohol Biosensor Challenge in March of 2015. The goal was to create a device that would provide real-time alcohol blood level monitoring, but also had an inconspicuous design that would be appealing to the public. The winner was the BACtrack Skyn™. This is a low cost, wearable, alcohol monitoring device that sends transdermal alcohol content (TAC) results via Bluetooth to an iOS device. TAC results are then converted to an estimate of a user's historical BAC. Samples can be taken in real-time as frequently as every second and sent from the wrist device to a smartphone or even a cloud server. The device eliminates the need to take a breath alcohol test. Once synced with a smartphone or smartwatch, the phone could vibrate to notify you that your approaching 0.04% BAC or in the case of sobriety monitoring, a family member could receive a notification when a person's BAC has gone above 0.00% BAC. Visit www.bactrack.com/pages/bactrack-skyn-wearable-alcohol-monitor to join the waiting list and be notified when the BACtrack Skyn™ is available for pre-order.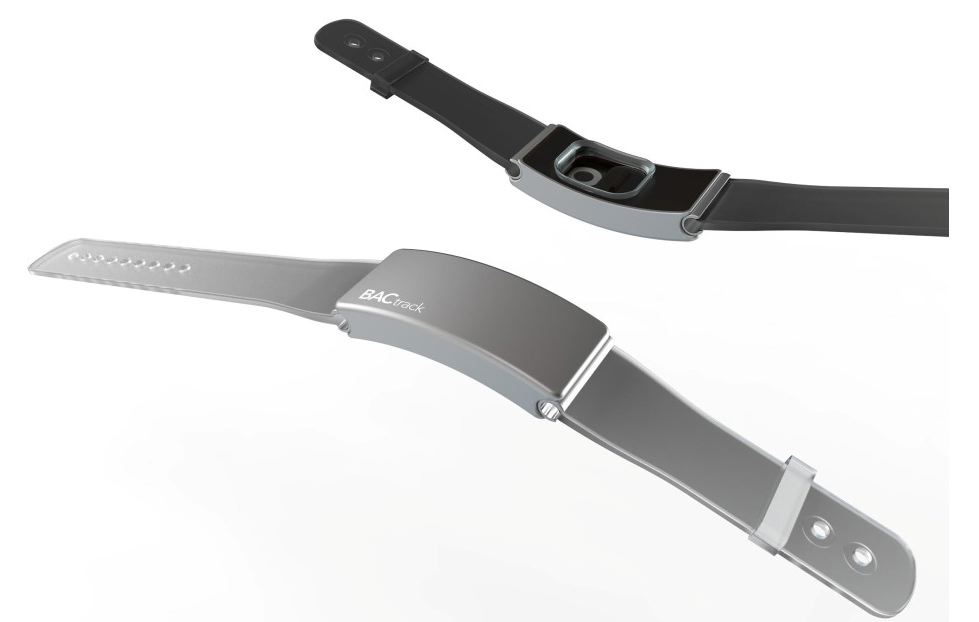 'Sideways' Play Gets Poor Reviews 'Sideways,' the play, opened last month at London's St. James Theater, but reviews in London newspapers have not been favorable, claiming the storyline was true to the original book but the performances did not recapture the essence of the story as well as the movie version. I saw the play in Santa Monica a couple of years ago and felt the same way. I don't think the play will be featured on Broadway.
Et Fille Opens Tasting Room After 13 years of being open only by appointment and holiday weekends, Et Fille, a Pinot Noir focused winery in the Willamette Valley, has opened a new tasting room that is open Wednesday through Sunday from 12:00 p.m. to 6:00 p.m.. More in-depth tastings are still available with Jessica or Howard by appointment. Special tasting events will also be held at the tasting room. The address is 718 E.1st Street in Newberg. 503-538-2900. Visit www.etfillewines.com.