Adelsheim Vineyard Breaking Ground Pinot Noir Celebrates 45 Years
David Adelsheim, along with spouse Ginny Adelsheim, founded Adelsheim in 1971. The first planting of Pinot Noir came a year later in the shadow of the Chehalem Mountains, and the first commercial vintage was offered in 1978. David has played a significant role, not only in the success of his winery, but in every facet of the Oregon wine industry. In 2012, he was given the Oregon industry's highest honor by the Oregon Wine Board, the Lifetime Achievement Award. Here is a list of some of his accomplishments:
•Vineyard manager, winemaker and director of sales, marketing and accounting at Adelsheim.
•Early experimental work on clones at Lycée Viticole in Beaune, France and at The Eyrie Vineyards.
•One of the instrumental figures in bringing the Dijon clones of Pinot and Chardonnay to Oregon.
•Work on Oregon wine labeling regulations.
•Assisted in the establishment of statewide and regional wine industry organizations such as the International Pinot Noir Celebration (founder and Burgundy ambassador), the Oregon Pinot Camp (co-founder and first president), and Willamette, the Pinot Noir Barrel Auction.
•Brought life to the Oregon Wine Board and served as first Chairperson and as an appointee by Oregon's Governor to the Board for eight years.
•Led the effort to establish the Chehalem Mountains as an AVA (accomplished in 2006),
To celebrate David's 45-year commitment to Oregon's Chehalem Mountains, Adelsheim Vineyard is releasing a special Pinot Noir from the Chehalem Mountains labeled "Breaking Ground" in July 2016. The name Breaking Ground reflects David's desire to both stay in the forefront and continuously raise the bar of his brand and the visibility of the Oregon's wine industry. The wine is made entirely from LIVE-certified Chehalem Mountains grown fruit from all three major soil types found on the Chehalem Mountains - marine sedimentary, volcanic basalt and windblown loess. The Breaking Ground Pinot Noir ($45) will be sold in retail outlets and restaurants in the United States and globally.
LIVE Certified Sustainable
LIVE was formed in 1995 by a small group of winegrowers from Oregon's Willamette Valley. In 1999, LIVE was incorporated as a 501(c)(3) not-for-profit organization to independently certify the sustainable practices of winegrowers and wineries in the Pacific Northwest. LIVE uses a comprehensive set of rigorously applied, science-based standards and procedures that ensure both wine grape farming (vineyards) and winemaking production (winery) are as sustainable and have as minimal an environmental affect as possible. LIVE certification is one of the most authoritative sustainability accreditations in the wine world, requiring LIVE members complete a series of reporting requirements each year on their vineyard and winery to confirm their compliance with LIVE standards.
LIVE Wines are independently certified to meet strict international standards for environmentally and socially responsible grape growing and winemaking in the Pacific Northwest. Currently, there are 316 vineyards (7,070 acres) and 41 wineries that are Live Certified Sustainable.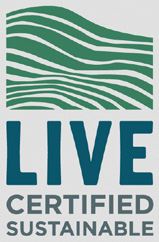 Logo for websites, farm and winery signs, not labels.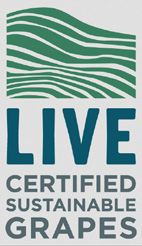 Logo for wines made from at least 97% fruit that meets vineyard certification requirements.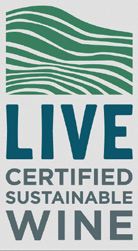 Logo for wines made in a LIVE-certified winery from at least 97% fruit that meets vineyard certification requirements.
Adelsheim was one of the first Oregon wineries, and the first winery in the Chehalem Mountains region. Today, the winery sustainably farms and manages eight estate vineyards on 183 estate acres in the Chehalem Mountains AVA, producing upwards of 40,000 cases of wine. The Adelsheim Estate vineyards are pictured below. All Adelsheim vineyards are LIVE certified, as are all the grapes purchased. The Adelsheim winery also meets LIVE certification standards. Therefore, all Adelsheim wines meet the high standard of being "Live Certified Sustainable."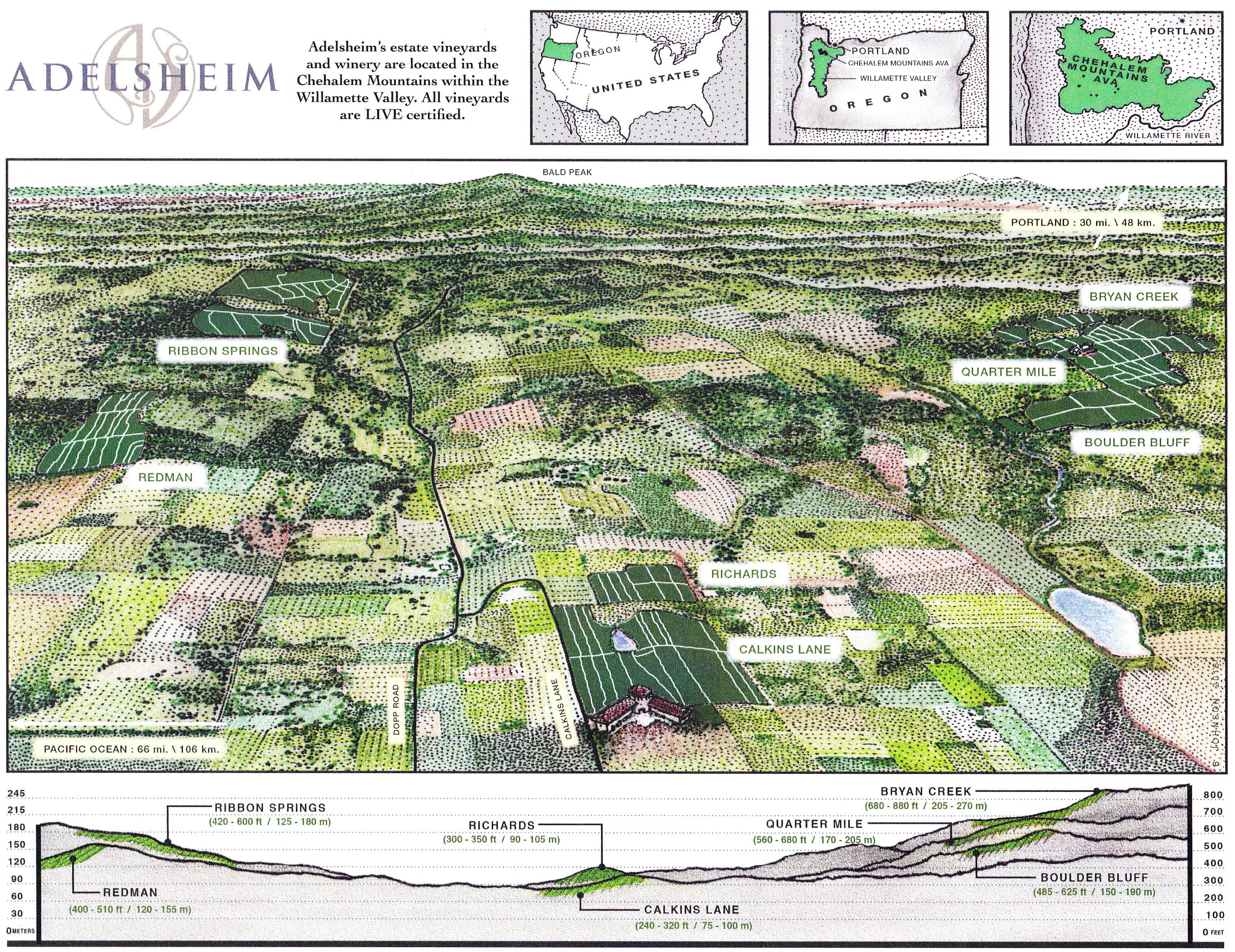 The winemaker at Adelsheim Vineyard since 2001 has been Dave Paige, a graduate of the University of California at Davis and the viticulturist and vineyard manager since 2006 has been Chad Vargas who holds BS and MS degrees in Crop Science and Plant Pathology. Adelsheim Vineyard is one of a few Oregon wineries open to the public 360 days a year. Visit the website at www.adelsheimvineyard.com.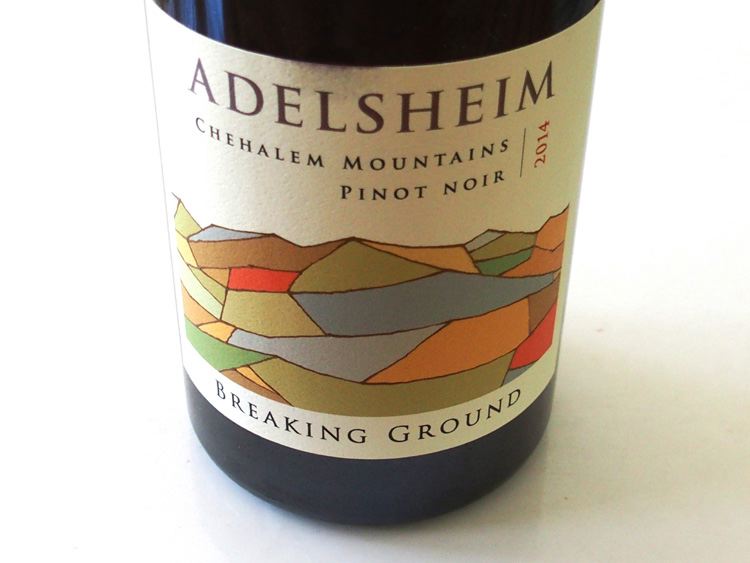 2014 Adelsheim Breaking Ground Chehalem Mountains Oregon Pinot Noir
13.5% alc., pH 3.55, 1,779 cases 750 ml, 22 cases of 6 1.5L bottles, $45. 88% estate fruit, 12% grower partners. Vineyards dry farmed and LIVE-certified. Aged 10 months in French oak barrels, 27% new. · Moderate reddish purple color in the glass. A pleasing combination of aromas greet the nose including black cherry, strawberry, earthy flora and nutty oak. Modest in weight with flavors of black cherry, blueberry and pomegranate. Beautifully balanced with soft, suede tannins, a good underlying cut of acidity, and the right touch of oak seasoning. A wine of great freshness, with noticeable intensity and length on the citrus accented, vivacious finish. A joyful ode to 45 years. Score: 92