Alloro Vineyard
Alloro Vineyard is a welcoming Mediterranean-inspired oasis in the Chehalem Mountains featuring an Italian farmhouse, a winery, culinary gardens, chestnut and olive trees, a herd of Hereford cattle, and heirloom sheep that graze the vineyard cover crops. The winery and vineyard are based on sustainable holistic agricultural practices and the intense passion for food of David Nemarnik, the CEO of Pacific Coast Fruit Company, and Alloro's founder and vineyard manager.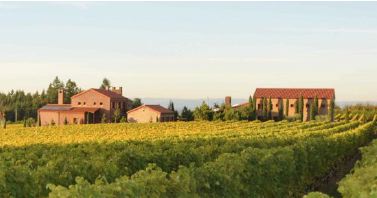 The name, Alloro, is Italian and Latin for "laurel," reflecting the winery's location on Laurel Ridge as well as the Laurelwood soils in which the vineyard is established. The name was chosen as well to reflect David's Italian heritage.
Founded in 1999, Alloro Vineyard is a 33-acre single-vineyard, fairly uniform site on 80 acres that has been dry farmed since 2001. It is planted to Pommard and Dijon clones of Pinot Noir and Dijon clones 76 and 96 of Chardonnay. The vineyard is L.I.V.E. certified sustainable and certified Salmon Safe. Because the vineyard is located in the western reaches of the Chehalem Mountains, the summer days linger, leading the wines to develop a more generous fruit profile compared to several other Willamette Valley producers.
The winery, designed by architect Larry Ferrar, and specifically constructed for vinifying Pinot Noir, has an underground cellar, and was completed in time for the inaugural 2003 harvest.
The winemaker is affable Tom Fitzpatrick, who holds a Master's Degree in Viticulture & Enology from University of California at Davis. His winemaking career includes stints in Burgundy with Domaine Hubert Lignier in Morey-St-Denis, a small estate winery in Washington State, Hunter's Wines in New Zealand, and Pine Ridge Winery and Napa Wine Company in Napa Valley. Finally settling in Oregon, he worked as the Associate Winemaker for Hamacher Wines before joining Alloro Vineyard in the spring of 2010. Tom also manages, farms and lives on his own vineyard, Élevée Vineyard, located in the Dundee Hills.
Annual production of estate-grown Pinot Noir and Chardonnay is 3,000 cases, including Estate, Justina and Riservata bottlings of Pinot Noir. About 50% of the vineyard production is sold to other premium Williamette Valley producers.
The Tasting Room at the winery is open year round Thursday through Monday from 11:00 a.m. to 5:00 p.m.. Private tours of the property can also be arranged through the Tasting Room manager, Nancy Clark at 503-625-1978. Alloro Vineyard was selected as a participant at the International Pinot Noir Celebration in 2010, 2012 and 2014. Visit www.allorovineyard.com.
I spent a delightful afternoon at Alloro Vineyard touring the bucolic property and leisurely sampling wine with Tom. We tasted the Estate, Justina and Riservata Pinot Noirs from the 2014 vintage and contrasted them with aged versions of the same wines from the 2010 vintage. As noted above, the because of the location of the vineyard, the Alloro Pinot Noirs are bold, ripe, and richly fruited expressions of Oregon Pinot Noir, yet they retain the charm and balance so desirable in Pinot Noir. The wines are also age worthy as shown by the 2010 vintage wines that were tasted (Tom's first vintage at Alloro Vineyard). I didn't score the wines as I was simply enjoying the experience. The 2014 Pinot Noirs will be reviewed formally in the future. The 2013 vintage Pinot Noirs and 2014 vintage Chardonnay were reviewed in the PinotFile in early July 2016: www.princeofpinot.com/ winery/714/.
2012 Élevée Winegrowers Élevée Vineyard Dundee Hills Oregon Pinot Noir
150 cases. From a 5-acre vineyard planted in 1998 in Jory soils owned and farmed by Tom Fitzpatrick. Native yeast fermentation, aged in 25% new French oak barrels. · Moderate cherry red color in the glass. Great Dundee Hills typicality in this wine with soaring aromas of red cherry and baking spices and mid weight flavors of cherry, cranberry accented by earth and iron mineral tastes. Juicy, even slightly tart, with nicely integration oak and some finishing power.
2014 Alloro Vineyard Estate Chehalem Mountains Oregon Pinot Noir
14.1% alc., 1400-1800 cases. This wine is meant to reflect the personality of the site. Aged in French oak barrels, 25%-30% new. · Moderate reddish purple color in the glass. Scents of cherry and spice lead off. The mid weight flavors of black cherry and black raspberry impact the mid palate and carry through the silky and modestly endowed finish. The tannins are folded in and the toasty oak in the background adds spicy seasoning and structure.
2014 Alloro Vineyard Riservata Chehalem Mountains Oregon Pinot Noir
14.2% alc.. Meant to be showier, a little broader and denser with more persistence. Aged in 35%-45% new French oak barrels. · Moderate reddish purple color in the glass. Deep aromas of black cherry and blackberry with a hint of sweet oak. Mid weight plus flavors of black cherry and blackberry are generous and expansive. Soft, smooth and broad in texture with more noticeable but not intrusive oak treatment, and well-integrated tannins. A step up from the Estate in concentration and finishing length.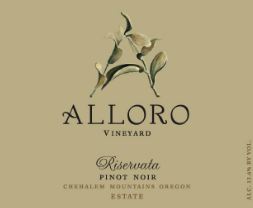 2014 Alloro Vineyard Justina Chehalem Mountains Oregon Pinot Noir
14.3% alc., 300 cases. This wine is even more showier, with the most weight and persistence and the most new oak treatment. It is meant to be aged. · Moderate reddish purple color in the glass. The nose is infused with brooding aromas of dark stone fruits and berries with a slight floral and spice accent. Slightly darker fruited in a full bodied, flamboyant style, with more toast overlay, and a very long and hedonistic finish.
The 2010 vintage offered a marked contrast to the warm 2014 vintage. 2010 was a much cooler year, with extended hang time and a significantly later harvest.
2010 Alloro Vineyard Estate Chehalem Mountains Oregon Pinot Noir
Moderate reddish purple color in the glass. Aromas of black cherry, spice, leather, tobacco leaf and raisin. Tertiary characters of tea, rose and tobacco leaf show up on the palate. The tannins have melded and the juicy, long finish satisfies. This wine has aged beautifully.
2010 Alloro Vineyard Justina Chehalem Mountains Oregon Pinot Noir
Moderate reddish purple color in the glass. Soaring aromas of cherry, spice and rose petal become intoxicating in the glass over time. A stunning wine with mid weight plus flavors of blackberry and black raspberry with a hint of tea leaf. More natural acidity and less fruit concentration than the 2014 vintage, but highly enjoyable in its own right. The age ability of this bottling is well demonstrated as this wine can easily shine for another 5-10 years.