Knudsen Vineyards
I have been following Knudsen Vineyards (pronounced Kuh-NUDE-sen) wines since the beginning in 2013, but had not visited the vineyard or met with Page Knudsen Cowles, who along with two of her three brothers, are carrying on the legacy of Cal Knudsen. The Knudsen Vineyards story and reviews of the winery's Pinot Noir and Chardonnay have been featured in past issues of the PinotFile: www.princeofpinot.com/article/1586/ and www.princeofpinot.com/article/1663/.
To summarize briefly, C. Calvert "Cal" Knudson was a Weyerhaeuser timber products executive with a dream of growing grapes and making wine. In 1971, he and his spouse Julia Lee bought a 200-acre walnut orchard in the Dundee Hills. He was convinced that the North Willamette Valley could produce still and sparkling wines of equal quality to the great wines of Burgundy and Champagne. When Cal planted 30 acres of vines in 1972, the vineyard became one of the largest in the Willamette Valley and by 1975, when nearly 60 acres had been established, it was among the largest vineyards in Oregon. In 1975, Cal and Oregon wine pioneer Dick Erath formed Knudsen-Erath Winery, becoming the first commercial winery in the Dundee Hills. Knudsen-Erath Winery produced Pinot Noir, Chardonnay, Riesling and sparkling wines and became one of the largest wineries in Oregon.
The Knudsen Erath partnership would dissolve amicably in 1987, so Cal invested in Argyle Winery and supplied Argyle Winery with grapes. Cal was a sparkling wine enthusiast and Argyle had begun to make Oregon's top lineup of sparkling wines under the direction of winemaker Rollin Soles. Knudsen Vineyards has remained a primary supplier of grapes to Argyle, which has grown to become one of the larger wineries in Oregon. Knudsen Vineyards has also supplied grapes to other renowned producers of still and sparkling wines in Oregon.
Cal passed away in 2009. Cal and Julia Lee's four adult children now own Knudsen Vineyards and have invested significantly in replanting and other enhancements to this historically significant vineyard. Knudsen Vineyard now consists of 130 planted acres of primarily Pinot Noir (73%) and Chardonnay (24%), with a mix of old vines and newer, high-density blocks planted to Dijon clones. They launched the Knudsen Vineyards winery with the release of 100 cases of Pinot Noir from the 2012 vintage. 100 cases of Chardonnay followed the next year.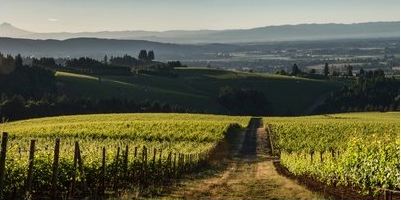 I met Page at the quaint cabin located at the top of Knudsen Vineyard. We took a driving tour of the vineyard and then tasted some Knudsen Vineyard wines at the cabin. She is a Yale graduate with an MBA from Harvard, and lives in Minneapolis, but manages the marketing and sales of the winery through frequent visits to Oregon. She meets regularly with her brothers to formulate business plans.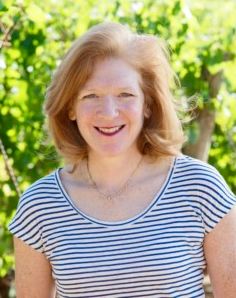 She explained that the Knudsen Vineyards Pinot Noir and Chardonnay are vinified at Argyle Winery by current winemaker Nate Klosterman, Soles' protégé. Production has been increased to a projected 1125 cases in 2016. The nearby Erath winery and tasting room is on Knudsen property and the lease expires in 2018. The old winery is no longer viable. Page said that there are plans to establish a tasting room at some point but it is uncertain if the Erath facility will be used.
The 2014 Knudsen Vineyards Dundee Hills Oregon Pinot Noir was released in August. Mailing list members get first crack at buying the Knudsen Vineyards wines. Visit www.knudsenvineyards.com. Tours of the vineyard and tasting is available by appointment.
2014 Knudsen Vineyards Dundee Hills Willamette Valley Pinot Noir
14.1% alc., pH 3.65, TA 0.52, 560 cases, $55, screwcap. Clones 667, 777 and 115 planted in 1994-2004 in Jory soil at 570 to 810 feet elevation. Aged 15 months in French oak barrels, 25% new. · Moderately light reddish purple color in the glass. A very gracious wine with vibrant aromas of cherry compote, Asian spice and a hint of graham. On the palate, there is impressive purity of dark cherry and blueberry fruit flavors with a savory thread in the background. The interplay of fruit and savory elements give the wine a special credence. The tannins are suave, the oak is deftly integrated, the thirst-quenching, lengthy finish is fueled with vivid, tangy cherry goodness. Score: 93