Amalie Robert Estate
This is one of the Willamette Valley's most distinguished wineries, but not one that is widely known except among the Pinot Noir cognoscenti. You won't hear its name mentioned in the same breath with the more renowned Oregon winery names such as Ponzi, Argyle, Domaine Drouhin and Cristom, yet it belongs in that echelon. After tasting several releases sent to me recently for review, I wish I had visited this winery when I was traveling along the Pinot trail in July.
I met proprietor Ernie Pink once at Pinot Days a few years ago and did a podcast that is still posted on Grape Radio: www.graperadio.com/archives/tag/pinot-days/. I left the podcast thinking, "This is a smart guy with a gleaming smile." Ernie and Dena Drews bought a 60-acre cherry orchard from a retiring farmer, located 15 miles south of Salem and just outside of Dallas, Oregon, in 1999, and converted it into a vineyard property. The couple had careers in the computer industry, and quickly learned about viticulture and winemaking through a local community college. Literally, viticulture and winemaking became their second careers. They may have been wine neophytes, but they knew what they were doing when they established their vineyard adjacent the famed Freedom Hill Vineyard.
The 34-acre dry-farmed vineyard was planted primarily to Pinot Noir, with lesser amounts of Pinot Meunier, Syrah, Chardonnay and Viognier. The first vintage in 2002 was sold to other notable Willamette Valley wineries including Cristom Vineyards, Elk Cove Vineyards and Panther Creek. By 2006, a multilevel, gravity-flow winery had been built and the first vintage under the Amalie Robert label was released. Only estate grown fruit has been used in Amalie Robert Estate wines. The wines are grown, fermented, blended and bottled at the estate.
The estate vineyard is dry farmed with proper soil moisture management to allow enough hang time to achieve full ripeness in every vintage. Very few leaves are pulled to allow for shading of clusters and prevent harsh tannins of overexposure of grapes.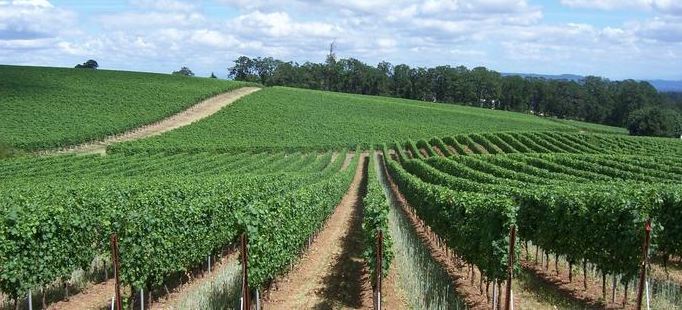 The name, Amalie Robert, is a combination of Dena's middle name Amalie ("AIM-a-lee") and Ernie's middle name Robert.
The Amalie Robert Pinot Noirs are close to heart because they are crafted with whole clusters, feral yeast and barrel and bottle aged as necessary for complexity and drink ability upon release. The wines are bottled unfined and unfiltered. The portfolio of Pinot Noirs includes seven different wines. In 2012, Ernie was in it to win it!
Ernie's blog, "The FLOG," at www.amalierobert.blogspot.com, follows each vintage year with insightful comments and is something I read regularly. Tours and tasting are available by appointment. Visit the website at www.amalierobert.com. On the website there are no technical descriptions of the wines, but the wine descriptions are informative and often humorous. One must search carefully to buy wines on the website: look for "Amalie Robert Direct - Buy Now" in the upper right corner. Wines dating back to the 2007 vintage are available on the website. Pinot Noir from the excellent 2012 vintage such as those reviewed here are currently hard to find, as Oregon wineries are now releasing the 2014 vintage.