Recently Tasted California Pinot Noir & Chardonnay
It is interesting to look at the change in taste for different California varietals over the past 20 years. At this year's Wine Industry Financial Symposium, David Freed presented two circle graphs showing the Gomberg Fredrickson Annual Review of California Varietal Volume in 1993 and 2013.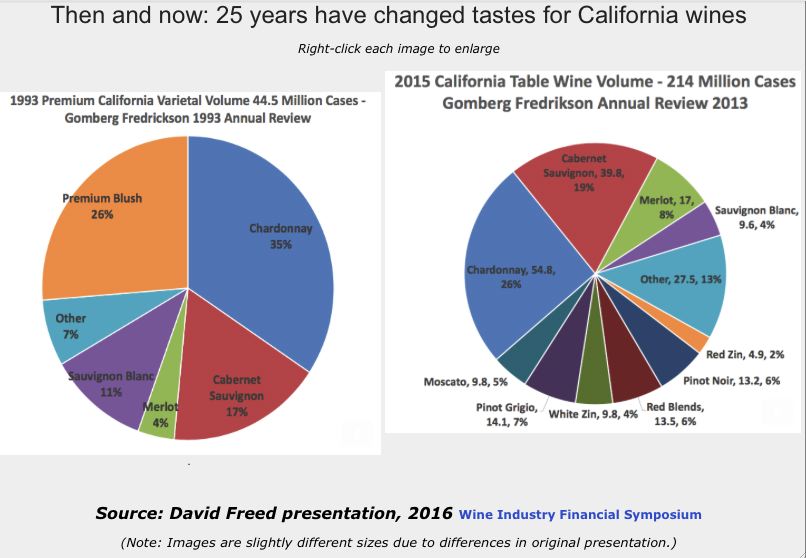 Pinot Noir was among the small "Other" category in 1993 but made up 6% of California Table Wine Volume (13.2 million cases) in 2013. Chardonnay, on the other hand, showed a 9% decrease in volume. The most striking change over the 20 years is the increase in volume of Premium Blush, Moscato and Pinot Grigio.
Benovia Winery, Santa Rosa
The 2014 Pinot Noirs were reviewed in June 2016 shortly after bottling (www.princeofpinot.com/winery/276/). The single-vineyard Pinot Noirs have recently been released and reviewed again here after 4 months in bottle. Vintage 2014 was the third consecutive drought year in Sonoma County, but the growing season was ideal with the resulting crop much larger than average. There was just enough rain in the spring to charge with soil with water, and cool summer weather allowed the vines to thrive, leading to the earliest harvest on record. Winemaker Mike Sullivan made fewer than 1,400 cases of single-vineyard Pinot Noirs, all produced from sustainably farmed estate vineyards. Mike told me that he thinks the 2014 wines' style falls intermediate between the bold richness of the 2012 vintage and the refined, more vibrant and less sappy vintage of 2013. I believe the wines need at least another year in bottle for most enjoyment. All tastings at Benovia are by appointment, available seven days a week, and are leisurely, seated tastings in Benovia's ranch house located at 3339 Hartman Road in Santa Rosa. Visit www.BenoviaWinery.com for more information on the wines reviewed here or to acquire.
Ernest Vineyards, Santa Rosa
A portrait of Ernest is displayed on the labels of the wines. Ernest was a role model for his grandson, Todd Gottula, who founded Ernest Vineyards with his wife Erin Brooks in 2012. Currently, Ernest Vineyards produces wine at Punchdown Cellars, but is building a modern production facility, called Grand Cru, located in northern Sonoma County, that will be a crush facility with space enough for Ernest and a number of like-minded small producers. Expected opening is summer 2017. Currently, Ernest Vineyards works with 17 different sites or 24 acres of land. The winery's goal is to offer value so the wines are something affordable for everyone to enjoy. The winemaker is Kent Humphrey (Eric Kent) and assistant winemaker is Hanna Chort. The wines are sold through a mailing list available at the impressive website, www.ernestvineyards.com.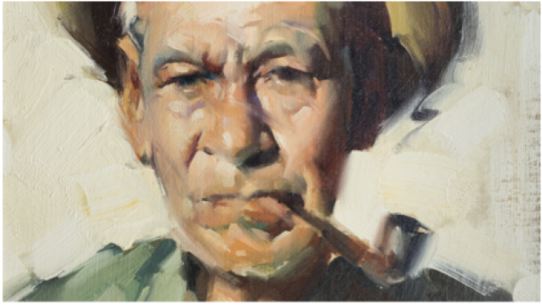 Gloria Ferrer Caves & Vineyards, Sonoma
Celebrating 30 years, Gloria Ferrer is better known for its excellent sparkling wines, but it also offers solid value-priced Pinot Noir and Chardonnay. Visit www.gloriaferrer.com.

2014 Gloria Ferrer Carneros Estate Chardonnay
14.1% alc., $25. Estate grown. Whole cluster pressed, barrel aged 9 months in French oak barrels. · Light golden yellow color in the glass. A very nicely composed wine, with pleasing aromas of apple and lemon oil, and flavors of citrus, apple and pastry cream. Slightly viscous in the mouth, yet crisp and juicy with no oak intrusion in a balanced style with charm. Score: 91
2013 Gloria Ferrer Carneros Estate Pinot Noir
13.5% alc., pH 3.72, TA 0.58, $27. 21st release for this wine. 100% de-stemmed, 2-day cold soak, aged 9 months in 96% French and 4% Hungarian oak barrels, 14% new. · Moderate reddish purple color in the glass. Earth-kissed aromas of black raspberry with a tag of toasty oak. Mid weight flavors of black cherry and black raspberry with a hint of dark chocolate and tobacco from barrel aging. Nicely balanced, with good structure and a modest finish. Score: 88
Loos Family Winery, San Francisco
A very small, urban boutique winery celebrating its tenth anniversary. Owner and winemaker Brad J. Loos is a member of the Guild of Sommeliers. Emphasis is on ecologically balanced vineyard sources, extended cold soak, native and cultured yeast fermentation, gentle bladder pressing, gravity flow wine transfer, premium French oak barrel aging, and minimal racking. Tasting is by appointment in San Francisco. The winery is also the home of Enological Innovations™, that includes several U.S. patents and patent applications relating to fermentation technology. Visit the website at www.loosfamilywinery.com.
2014 Loos Family Coastside Cuvée Santa Lucia Highlands Pinot Noir
14.3% alc., pH 3.69, TA 0.62, 300 hand-numbered bottles, $42. Primarily sourced from Doctor's Vineyard. Mainly Dijon 777 clone and Swan selection harvested at 26.5º Brix. Over 10% whole cluster, 4-day cold soak, 14-day primary fermentation using feral and selected proprietary yeasts. Aged 11 months in medium toast plus French oak barrels, 70% neutral and 30% new. Bottled unfined with nominal polish filter. · Moderate reddish purple color in the glass. Aromas of grape, Damsel plum, black raspberry and nutty oak. Mid weight flavors of black cherry and blueberry-pomegranate with a straw note in the background. The tannins are well matched, and the finish is particularly heady. The wine picks up fruit intensity over time in the glass, yet there is something about the flavor profile that puzzles me. Score: 89
2015 Loos Family La Cruz Vineyard Sonoma Coast Chardonnay
14.5% alc., pH 3.36, TA 0.848, 300 handnumbered bottles, $28. 98.5% Chardonnay, 1.5% Sauvignon Blanc. Wente 4 clone. Harvest Brix 23.2º. 10% whole cluster, 4-day cold soak, 14-day primary fermentation, aged 11 months in French oak barrels, 70% neutral and 30% new. Bottled unfined with nominal polish filter. · Moderate golden straw color in the glass. Inviting aromas of apple, pear, lemon curd and buttery brioche. A nice blend of fruit and oak attributes, with flavors of yellow apple, lemon, honey, pineapple, and blond caramel with a hint of toast in the background. Mildly creamy in texture with brisk acidity and some finishing purpose. Score: 90
Pellegrini Wine Company, Santa Rosa
Pellegrini Wine Company is best known for its estate Olivet Lane Vineyard Pinot Noir and Chardonnay, but the winery also produces appellation Pinot Noir and Chardonnay sourced from the winery's own and other Russian River Valley vineyards. Since Robert Pellegrini took over sole ownership of the winery in 2013, his focus has been on furthering the quality of Pellegrini wines and the provenance of the Olivet Lane Vineyard. He brought on winemaker Lynn Krausmann to participate in this focus. Lynn was previously a winemaker for Williams Selye, Esterlina Vineyards and Clos du Bois. The Olivet Lane Vineyard and Pellegrini appellation wines are produced on site at the estate winery on West Olivet Road that was designed specifically for small lot Pinot Noir and Chardonnay production by a former winemaker, Merry Edwards. The Pellegrini Russian River Valley Pinot Noir and Pellegrini Russian River Valley Chardonnay are available through the winery and website, and at wine retailers and fine restaurants in select markets nationally. Visit www.pellegrinisonoma.com.

2014 Pellegrini Russian River Valley Pinot Noir
14.2% alc., pH 3.64, TA 0.54, 727 cases, $35. · Nicely perfumed with hi-tone aromas of Bing cherry, black raspberry, blackberry and spice. The mid weight core of black cherry fruit pleases, as does the soothing mouthfeel. The oak overlay is a bit prominent and the finish is rather modest, but this is a solid wine that will please at the table. Score: 89

2015 Pellegrini Russian River Valley Unoaked Chardonnay
14.1% alc., pH 3.29, TA 0.74, 2,137 cases, $22. · Moderately light golden yellow color in the glass. Fresh aromas of cut apple, lychee and pear transition to flavors of apple, pear, grapefruit and nori on the palate. Very crisp and clean, with a slightly creamy mouthfeel. Score: 91
Ram's Gate Winery, Sonoma
This is a high level producer with a focus on Pinot Noir and Chardonnay from marquee vineyards in Sonoma County and Carneros and 28 acres of estate vines in Carneros. The inspired architecture and interior design of the winery make it a destination to savor along with the outstanding wines. Veteran winemaker Jeff Gaffner (Saxon Brown, Black Kite) crafts the wines. The wines are produced in limited quantities so the wines are rarely available on the winery's website. The best way to acquire the wines is to visit the winery or join the mailing list at www.ramsgatewinery.com. The Chardonnays reviewed here are barrel aged for 11 months in French oak barrels, ranging from one-third to two-thirds new.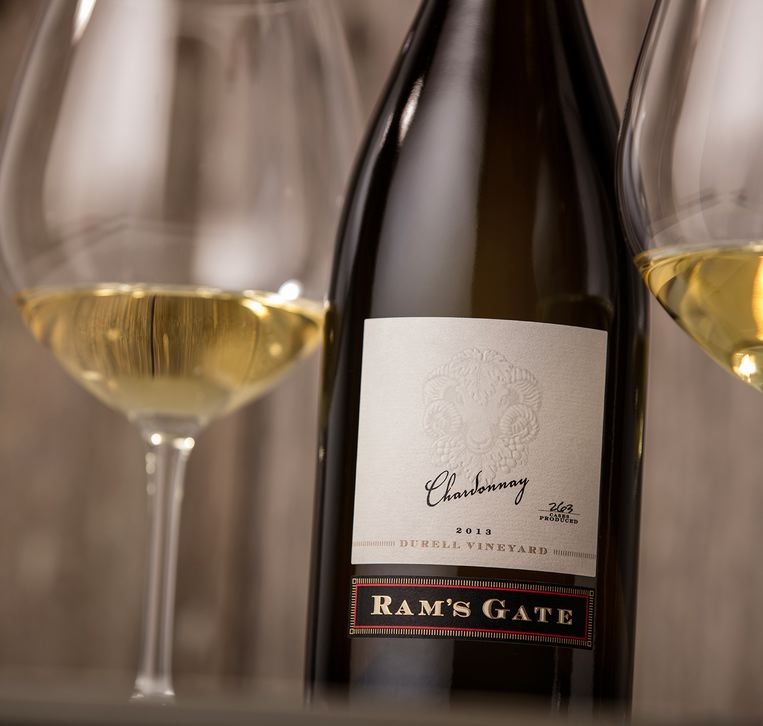 Ryan Cochrane Wines, San Francisco
Ryan crafts very small quantities of Pinot Noir and Chardonnay from Santa Barbara County. He selects grapes from the best vineyards he can source and makes wines that reflect the sites from which they originated. Ryan trained under noted winemaker Roger Nicolas of RN Estate in Paso Robles, where he is now the assistant winemaker. Ryan produced his inaugural Ryan Cochrane Pinot Noir in 2010. Tasting are not available, but these are truly hand crafted artisan wines made with passion available for sale on the winery website. Visit www.ryancochranewines.com.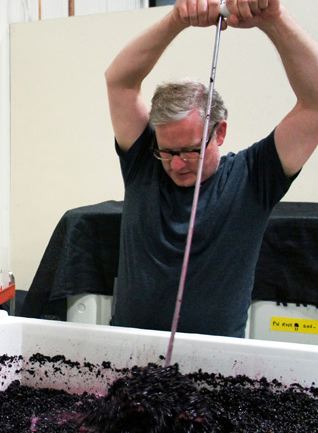 2014 Ryan Cochrane Solomon Hills Vineyard Santa Maria Valley Pinot Noir
13.3% alc., 270 cases, $43. 30% 115, 30% 667, 40% Pommard 5. 20% whole cluster. Feral yeast primary fermentation. Aged 10 months in French oak barrels, 20% new. Bottled unfined and unfiltered. · Moderate reddish purple hue in the glass. Both cherry and berry fruits and oak aromas blend on the nose. Elegantly styled, with mid weight flavors of cherry, strawberry, tobacco and dried herbs, even a tomato note. Oak plays a prominent role in this wine that has a pleasing cherry-fueled, dry finish. Score: 89
2014 Ryan Cochrane Fiddlestix Vineyard Sta. Rita Hills Pinot Noir
14.2% alc., 190 cases, $43. 60% 115, 20% 113, and 20% 667. 20% whole cluster. Aged 10 months in French oak barrels, 20% new. Bottled unfined and unfiltered. · Moderately light cherry red hue in the glass. Aromas of cherry, strawberry and sandalwood lead to a mid weight flavored wine featuring dark red cherry, cranberry, strawberry and raspberry fruits complimented by a hint of spice, The tannins are tame, the wine is nicely balanced, and the finish is pleasantly exuberant. Score: 92
2014 Ryan Cochrane Solomon Hills Vineyard Santa Maria Valley Chardonnay
13.3% alc., 70 cases, $34. Clone 4. Barrel fermented, 100% malolactic fermentation with lees stirring. Aged 10 months in French oak barrels, 33% new. · Moderately light golden yellow color in the glass. Aromatically pleasing with scents of yellow apple, yellow peach and brioche. Slightly creamy on the palate, with flavors of lemon, peach, honey, baking spices and toast. Highly flavorful, with a good acid spine, and a cleansing finish. Score: 92
Talisman Wine, Sonoma
Proprietors Scott and Marta Rich recently sent me all of their 2013 Pinot Noirs, some of which are very special, super limited, small production wines. Readers of the PinotFile know that I have been a long time fan of the Pinot Noirs produced by Talisman, not only for their individuality but also their age ability. Because of the inclusion of some whole clusters, extended post fermentation maceration, and lengthy aging in a relatively high proportion of new French oak, the wines benefit from cellaring. The high percentage of new oak and alcohol tends to mask the terroir when the wines are young. If opened upon release, they need decanting. A quaint tasting room is located in Glen Ellen and is open Thursday through Monday from 12:00 p.m. to 5:00 p.m.. A personal, comparative Pinot Noir tasting experience is offered. Visit www.talismanwine.com.