Recently Tasted Oregon Pinot Noir
There was a time, not long ago, when Oregon Pinot Noir offered tremendous quality at reasonable prices. Recently, however, the rapid increase in popularity of Oregon Pinot Noir has spurred producers to jack up prices and in some cases elevate prices to levels that can only be interpreted as greedy. Although research shows that consumers are trading up and premiumization is driving the market in people over the age of 55 (see chart below), there has to be a limit to that trend and consumers younger than 55 are not participating in premiumization. Fortunately, the producers whose wines are reviewed here have continued to offer their wines at affordable prices.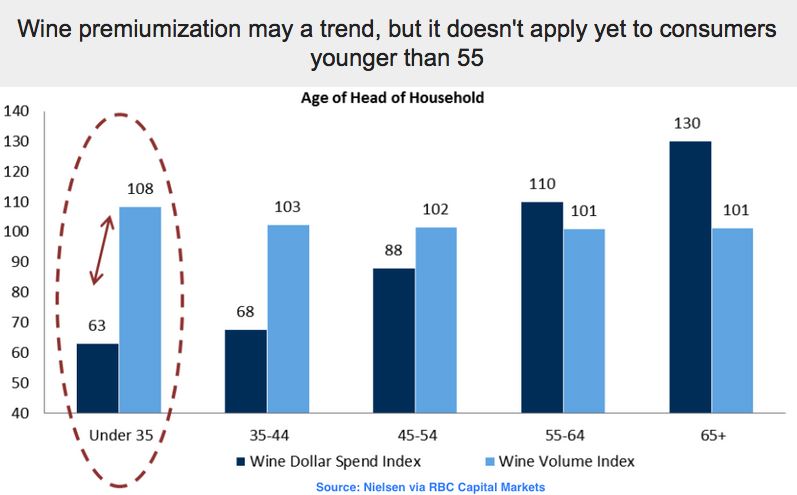 Anam Cara Cellars, Chehalem Mountains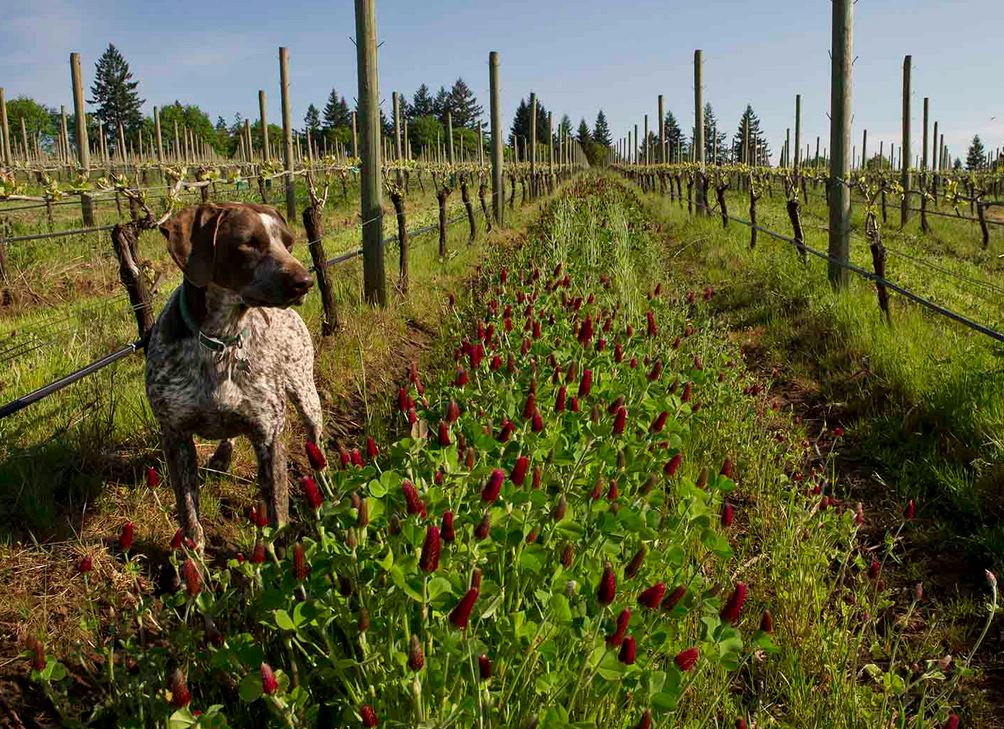 After fifteen years, proprietors Sheila and Nick Nicholas have downsized their operation, but still produce a very inviting range of limited production Pinot Noirs from the 36-acre Nicholas Vineyard. I have been a fan of the wines for many years, reflected in the many articles written about this winery in the PinotFile. The winery's tasting room is located in downtown Newberg (check website for hours). Tasting by appointment is available at the vineyard in Sherwood. Visit www.anamcaracellars.com.
Big Table Farm, Yamhill-Carlton
Big Table Farm has received considerable and well-deserved notoriety of late. The farm and winery founded by Clare Carver and Brian Marcy, Napa expatriates, was featured in a lengthy article in the October issue of Sunset Magazine. I have raved about the wines going back to their first releases from the 2006 vintage, have visited their farm twice and can say, "I knew them before they were famous." Winemaker Brian focuses primarily on Pinot Noir, Chardonnay and Pinot Gris, crafted from premium vineyards located up and down the Willamette Valley, several of which offer old plantings dating to the 1970s. In ten years time, production has increased from 150 cases to almost 4,000 cases annually. The wines are produced in a winery on the property. Brian prefers significant whole cluster and feral yeast fermentation, with punch downs by feet stomping and minimal S02 additions. Below are reviews of the 2014 and 2015 vintage wines from the 2016 fall release. The 2014 vintage wines are the first to be produced at the new winery. Tasting at the farm in Gaston is by appointment only. Visit www.bigtablefarm.com.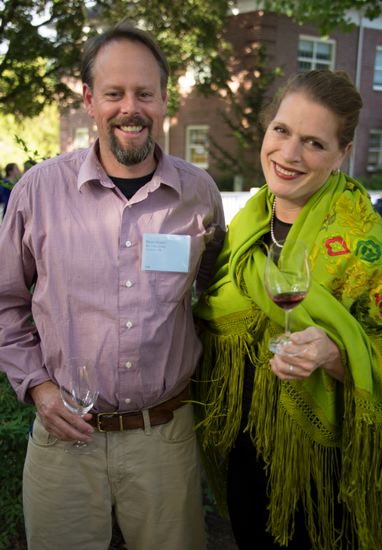 La Crema, Windsor, California
Jackson Family Wines has made large inroads into the Willamette Valley in the past few years, acquiring wineries (Gran Moraine formerly Solena Estate Winery, Penner-Ash, WillaKenzie Estate), vineyards (Zena Crown, Maple Grove - unplanted), buildings and land acquired from Evergreen International Aviation in McMinnville and the historic Taylor Hardware building in downtown McMinnville. Jackson Family Wines now owns 1,525 acres of land in the Willamette Valley with more than 450 acres planted. Both the company's La Crema and Siduri brands based in California source grapes from its Oregon properties.
La Crema Vinera, meaning "best of the vine," was the original name of this winery established in 1979. It has been a training ground for several of California's North Coast most notable winemakers and is currently under the direction of Elizabeth Grant-Douglas. The La Crema Willamette Valley Pinot Noir is available widely at fine wine retailers and restaurants. Visit www.LaCrema.com.

2014 La Crema Willamette Valley Oregon Pinot Noir
14.5% alc., 24,511 cases, pH 3.66, TA 0.60, $30. 98% estate fruit from eight vineyards. 100% de-stemmed, 3-day cold soak, fermented in opentop tanks, aged 9 months in French oak barrels, 23% new. · Moderate reddish purple color in the glass. Fruit aromas of black cherry and black raspberry are complimented by aromas of savory herbs and toasty oak, with the oak showing up more over time in the glass. Middleweight flavors of black cherry, black raspberry and blackberry are underlain with subtle smoky oak. Good intensity of flavor, integrated ripe tannins, and a juicy finish driven by bracing acidity. Score: 90
Lumos Wine Company, McMinnville
Dai Crisp and his spouse produce two Pinot Noirs from the home Wren Vineyard in Philomath, Rudolfo Vineyard and the Temperance Hill Vineyard in the Eola-Amity Hills. Dai has been managing the Temperance Hill Vineyard since 1999, a source of grapes for many of Oregon's most notable wineries. The LUMOS tasting room is located on the Crisp family farm in Wren, Oregon, 16 miles west of Corvallis. These two wines consistently represent two of the most outstanding values in Oregon Pinot Noir today. Visit www.lumoswine.com.

2014 LUMOS Five Blocks Willamette Valley Oregon Pinot Noir
590 cases, $25. · Moderate reddish purple color in the glass. The nose reveals itself slowly over time in the glass, eventually offering very pleasant aromas of dark red fruits with cherry standing out. Black cherry flavor is at the core of this mid weight styled wine, but added accents of spice, herbs and oak add interest. The tannins are mild, making for easy approach ability, and the velvety texture is immensely satisfying. Along with the textural interest, the finish attracts interest with its intensity. Score: 91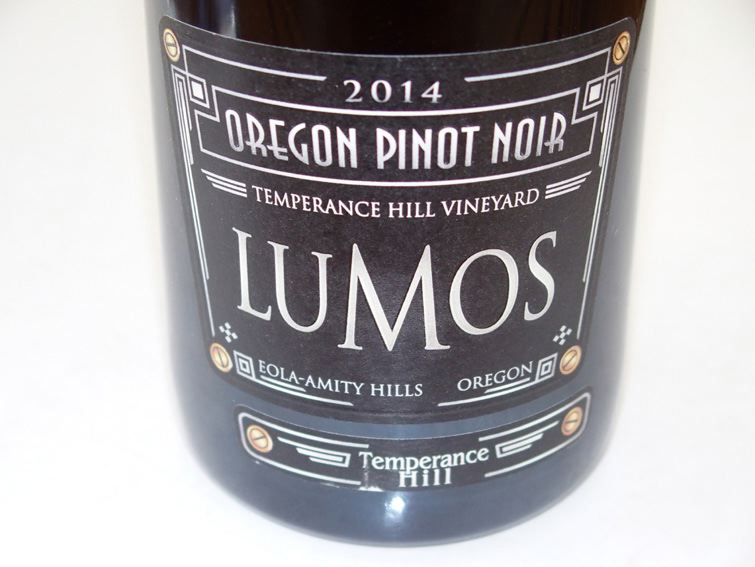 2014 LUMOS Temperance Hill Vineyard Eola-Amity Hills Oregon Pinot Noir
190 cases, $45 · Moderate reddish purple color in the glass. An exceptional wine with very expressive aromas of muddled black cherries and spicy oak. Sleek and refined on the palate, with powerful black cherry and black raspberry fruit flavors that saturate the mid palate and persist through a very long finish. A wine of pedigree, with courageous balance and an aim to please. Score: 94
Temperance Hill Vineyard
This vineyard was first established in 1981 in the Eola-Amity Hills AVA. 97 acres are planted to Pinot Noir (89%), Pinot Gris (4%), Gewürztraminer (4%) and Chardonnay (3%). The site is certified organic and is farmed to Oregon Tilth organic standards, and is Food Alliance and Salmon Safe certified.
Temperance Hill Vineyard, at 650-890 feet elevation, is the highest vineyard producing fruit in the Eola- Amity Hills and is a very cool site. It is bordered on two sides by Bethel Heights and Cristom. The vineyard has been managed by highly respected grape grower Dai Crisp since 1999.
80% of the wineries that source grapes from Temperance Hill Vineyard make vineyard designates. Notable sourcing wineries include Adelsheim, Bergstrom, Brooks, Chapter 24, Elizabeth Chambers, Elk Cove, Evesham Wood, Lange, Lumos, Raptor Ridge, St. Innocent and Walter Scott. Mark Vlossak of St. Innocent Winery considers Temperance Hill Vineyard to be at the top of Oregon vineyard hierarchy.
Saffron Fields Vineyard, Yamhill-Carlton
Chemical engineers, Dr. Angela Summers and Sanjeev Lahoti, hail from Houston, Texas. As they became wine enthusiasts, they visited the Willamette Valley in 2003, met with a realtor and found a grass seed farm on Laughlin Road in Yamhill near WillaKenzie Estate, Lénne Estate and Deux Verts Vineyard in the Yamhill- Carlton AVA. They developed the property, traveling to the site several times a year, staying in a small shack on the vineyard. They planted the first 12 acres of Pommard clone Pinot Noir in 2007, and added 12 more acres in 2009.
Today there are 32 acres of Pinot Noir (clones are Pommard, Wädenswil, 115, 667, 777, and "828") and 3 acres of Chardonnay (clones 76 and 548). The vineyard is dry farmed using sustainable practices (LIVE certified). Their initial grapes were bought by winemaker Tony Rynders who became their winemaker. The barn on the property was disassembled and the wood salvaged to be used in a tasting room constructed on site. The architecturally alluring and serene tasting room opened in 2013 and contains the owners' personal collection of contemporary art and houses art exhibits as well. A Japanese-styled garden, orchard, vegetable garden and sculpture garden were added. The tasting room is open daily. Visit www.saffronfields.com.
2014 Saffron Fields Vineyard Willamette Valley Oregon Pinot Noir
14.1% alc., 300 cases, $40. Release November 1, 2016. Estate fruit plus sourced fruit to reflect the region including five of the six sub AVAs of the Willamette Valley. Aged in French oak barrels, 30% new. · Moderate reddish purple color in the glass. The nose is rather exuberant with aromas of blackberry, black raspberry and toast. Silky in the mouth, with flavors of darker berries and cake spices. Forward and easy to drink in a light to mid weight style, with soft tannins and a pleasing finish. Score: 90
2014 Saffron Fields Vineyard Yamhill-Carlton Oregon Pinot Noir
13.8% alc., 700 cases, $55. Release November 1, 2016. 100% sustainably farmed Saffron Fields Vineyard. Clones are Pommard, Wädenswil, 115 and 777. Aged in French oak barrels, 39% new. · Moderately dark reddish purple color in the glass. Appealing melange of dark fruit aromas emerge slowly over time in the glass. Attention-grabbing black fruit presence and length with inviting contributions of earth, iron and oak notes. The velvety mouthfeel is particularly engaging, the fine grain tannins are bold yet compatible, and the wine doesn't hold back on the finish. Score: 92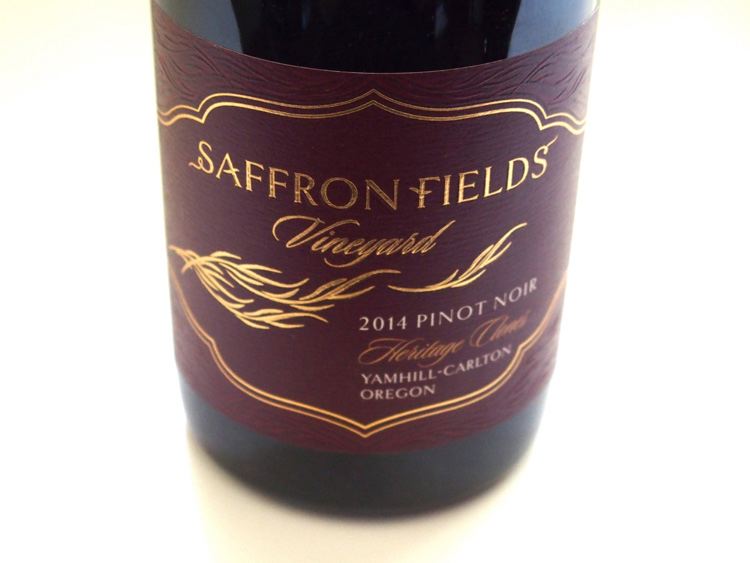 2014 Saffron Fields Vineyard Heritage Clones Yamhill-Carlton Oregon Pinot Noir
14.1% alc., 500 cases, $45. Release November 1, 2016. 100% estate grown Pommard and Wädenswil clones. Aged in French oak barrels, 33% new. · Moderately dark reddish purple color in the glass. Leading off are aromas of blackberry jam, earthy flora and a hint of vanilla. A glorious mid weight plus core of dark fruits arrive on the attack with luscious richness and follow through with a well-sustained mid palate, finishing long and generous. Despite the generous sap, the wine is light on its feet with submerged tannins and exquisite balance. Still highly pleasurable the following day from a previously opened and re-corked bottle. Score: 93
WillaKenzie Estate, Yamhill-Carlton
Jackson Family Wines acquired WillaKenzie Estate in the Yamhill-Carlton District of the Willamette Valley this year so the wines below were crafted by the winemaking team headed by Thibaud Mandet. The winery was founded by Bernard and Ronni Lacroute who released their first wines in 1995, produced at their modern gravity flow winery. The name WillaKenzie was derived from the name of the sedimentary soils common to the Yamhill-Carlton region. Total production, 100% estate grown, is about 20,000 cases annually. The winery's nicely-appointed tasting room is open daily. Visit www.willakenzie.com.
2014 WillaKenzie Estate Gisèle
14.2% alc., pH 3.70, TA 0.48, 7,500 cases, $30. Released September 2016. A blend of clones grown on the WillaKenzie estate and is intended to be approachable early. This wine is named after Bernard Lacroute's sister. · Moderate reddish purple color in the glass. Aromas of cherry, exotic spices, crumb cake and earthy flora. Cherry-driven in a feminine style that is vibrantly flavored with crisp acidity, and a lip-smacking finish with some persistent cherry goodness. Score: 91
2014 WillaKenzie Estate Pierre Léon Yamhill-Carlton Willamette Valley Pinot Noir
14.2% alc., 3,500 cases, $55. The 25-acre Pierre Léon Vineyard was planted in 1996 to clones 113, 114, 115 and 777. The wine is named after founder Bernard Lacroute's father, it is a more masculine and structured expression of this estate vineyard. · Moderate reddish purple color in the glass. The nose is somewhat primary, offering only scents of savory herbs. Much more expressive on the palate, with a mid weight plus core of black cherry fruit. Structured, yet suave, with exquisite balance and a giving, but not exceptional finish. This wine has a strong physique and is keeping back some of its charm at present and needs more time in bottle. I think this wine will be more glorious in another 2-3 years. Score: 92