Pinot Briefs —Newsletter 10.40
Bronco to Launch America's First Wine with Helix Stopper Bronco Wine company will begin closing wines under its Red Truck® brand using the innovative Helix packaging, the world's first cork stopper and glass bottle with easy-to-open and re-close technology. Helix was developed by Amorim and Owens-Illinois, the world leaders in cork and glass packaging. Bronco's Red Truck® will be the first US wine to employ this innovation. The ergonomically designed stopper made from cork and a glass bottle with an internal thread in the neck allow for twist opening without the need of a corkscrew and re-sealable convenience.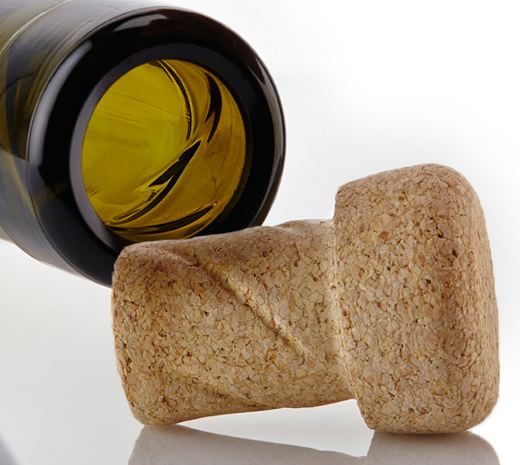 Purple Hands New Dundee Winery Purple Hands Winery has opened a 5,000-square-foot tasting room and winery as part of the town of Dundee's revitalization. Owner Cody Wright, whose father is Pinot Noir icon Ken Wright and the stepdad of winemaker Rollin Soles (Argyle, ROCO), considers himself born with grape-stained fingers, hence the name of his wine label. The structure is painted a shade of red reflecting the red Jory soils in the Dundee Hills region. The Dundee City Council has formulated an urban renewal plan to improve the town's main street with revamped storefronts and a promenade that will be wine tourist, bicyclist and pedestrian friendly. The improvements are coinciding with the Highway 99 bypass project that will hopefully reduce the traffic bottleneck in downtown Dundee. Purple Hands produces about 5,700 cases a year, primarily single-vineyard Pinot Noirs. Read more at www.oregonwinepress.com/purple-hands-new-face-of-dundee.
WillaKenzie Estate Joins Jackson Family Wines Portfolio This month it was announced that Jackson Family Wines acquired WillaKenzie Estate, a top Willamette Valley producer of Pinot Noir and Pinot Gris.The winery was named after the predominant sedimentary soil type on the Estate. 13 different Pinot Noir clones are planted in the estate vineyards as well as plantings of Pinot Gris, Pinot Blanc, Gamay Noir, Pinot Meunier and Dijon clones of Chardonnay. The transaction includes the WillaKenzie Estate brand, a gravity-flow winery, an hillside hospitality center with expansive views, 100 planted acres at the Estate in the Yamhill-Carlton AVA, and 25 planted acres of Pinot Noir at the Jory Hills Vineyard in the Dundee Hills.
Anderson Valley Winegrowers Association Announces 2017 Schedule Four events will be offered in 2017: Two Holiday Passport Weekends the first two Saturdays and Sundays in December; 12th Annual International Alsace Varietals Festival, February 25-26, 2017; 20th Annual Anderson Valley Pinot Noir Festival, May 19-21, 2017; 5th Annual Anderson Valley Barrel Tasting Weekend, July 22-23, 2017. Additional information and tickets for all these events can be found at www.avwines.com.
Resveratrol Pill on the Horizon As reported in the Wall Street Journal (August 2, 2016) and other news publications, scientists are trying to put the polyphenol, resveratrol, into a pill form that would duplicate the observed health effects found in laboratories on yeast worms, fruit flies and mice. Studies to date have found that to get a beneficial effect from resveratrol, a very large daily dose equivalent to about 1,000 bottles of red wine are required and this dose produces side effects such as nausea, vomiting, diarrhea and kidney problems in human subjects. Researchers in Australia are looking at increasing the potency of resveratrol at a moderate dose level by combining it with other compounds normally found in wine to duplicate the health- enhancing natural synergy between resveratrol and other wine compounds. Stateside, Jupiter Orphan Therapeutics is developing a formulation of resveratrol that prevents it from being broke down in the liver, increasing its bioavailability. There is no current evidence that available dietary supplements of resveratrol have any health benefit.
Preference for White Wine Linked to a Specific Gene An interesting post by The Academic Wino at www.academicwino.com reviewed and analyzed a study published last year in the European Journal of Human Genetics. The study of genotypes of 3885 individuals suggested that a preference for white wine may at least in part be controlled by the HLA-DOA gene and this preference may be stronger in women than in men (two times greater in this study). No associations were found for red wine preference. The authors of the study speculated that the preference may occur through olfactory recognition since it is known that there are associations between HLA and preference for certain odors.
Differences in Oak Sensitivity Can Influence Winemaker Styles of Pinot Noir Tim Hanni, Master of Wine, the author of Why You Like the Wines You Like, maintains that winemakers who understand their own sensitivities to oak as well as differences in their consumers' sensitivities are more prepared when buying barrels and blending wines. For some people, oak is a problem because it contains high levels of tannins that are astringent. Supertasters or hypertasters make up 25% of the population and are hypersensitive to basic tastes and do not like strong tannins. Nontasters are more forgiving of oak tannins.
Pali Wine Co. New Tasting Room in San Diego Pali Wine Co. is opening a tasting room on October 19 in San Diego's Little Italy district located at 2130 India Street. Grand opening festivities will be on the weekend of November 5, 2016. To accompany the wines, a creative small-plate menu will be offered. Pali Wine Co. also has tasting rooms in Lompoc at the winery and in Santa Barbara's Funk Zone. Established in 2005, Pali Wine Co. produces vineyard designate and appellation specific Pinot Noir and Chardonnay sourced from vineyards in California and Oregon. Winemakers are Aaron Walker and consultant Kenneth Juhasz. Visit www.paliwineco.com.
Hyde de Villaine Acquires Property HdV bought the 33.5-acre site in southern Napa Valley that hosts its winery. The purchase includes 24 acres of surrounding vineyards. HdV is a partnership between grower Larry Hyde and Domaine de la Romanée-Conti's Aubert de Villaine. The winery will also continue producing wines from the Hyde Vineyard located in Napa Carneros.
Very Cool Wine Opener The vintner's standing wine opener available at www.potterybarn.com is an extravagant ($299) device for opening wine but its industrial gear design is very appealing.
Evening Land Vineyards Now Evening Land With the 2014 vintage, Evening Land, formerly Evening Land Vineyards began exclusively producing Pinot Noir and Chardonnay from the 82-acre Seven Springs Vineyard in the Eola-Amity Hills AVA. The 2014 vintage was the 30th anniversary vintage from Seven Springs Vineyard and marks the first vintage with Rajat Parr and Sashi Moorman as the sole stewards of the vineyard. New labels were designed by Michael Kirts.
In 2014 an Anden Pinot Noir was produced in small amounts from old phylloxera affected vines and is available only as part of a 12-bottle case including the winery's other 3 top bottlings: La Source Pinot Noir, La Source Chardonnay and Summum Chardonnay. The Estate series of wines included Seven Springs Pinot Noir, Seven Springs Chardonnay and Seven Springs Gamay Noir. Visit www.elvvines.com.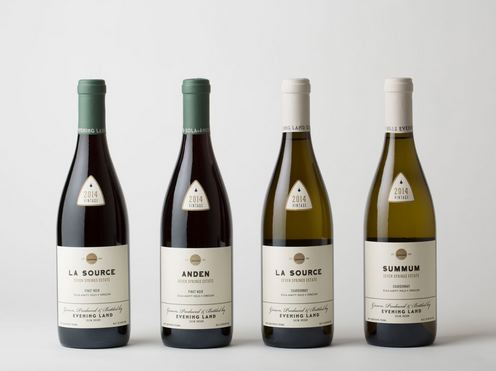 Wine Tasting Olympics The 43rd Annual Professional and Amateur Wine Tasting Olympics will be held once again this year at Chicago's oldest wine bar, Geja's Café. This is the oldest event of its kind in the nation. Both experts and amateurs are invited on Sunday, November 6, 2016, at 1:00 p.m. for a chance to win an engraved crystal decanter. Contestants are challenged to identify the grape, place of origin and vintage. Entrance fee is $30. RSVP to Geja's Café at 773-281-9101. Geja's Café was recently voted the nation's Best Romantic Restaurant by USA Today readers.