Special Feature: Gypsy Canyon Winery
Deborah Hall has respect for tradition and history and I thoroughly enjoyed spending a morning with her at Gypsy Canyon walking the vineyards and sampling her wines. She pointed out to me that over 120 years ago, around 1880 to be more precise, the first woman winegrower in California, Dona Marcelina Felix Dominguez, grew Mission vines on her property in Gypsy Canyon. The vines survived neglect over these many years, and when Deborah and her late husband, William, bought the property as a retirement getaway in 1994, they discovered the vines under a cover of sagebrush.
The vines were dormant and invisible when the Halls began clearing the property for a vineyard and were shocked to discover the gnarled trunks of aged vines planted in rows on a sloping hillside. At first, several locals recommended pulling out the vines. Deborah's inclination was to preserve the old vines and she invited a winemaker to inspect the vineyard. He thought the vines were Zinfandel and contracted for the grapes for two years. She sent some samples for DNA testing to the University of California Davis, and the results came back Mission grape. She was stumped as to what to do with Mission grapes since no one had any interest in them. Even the local deer saunter down from the hills and walk past the Mission grapes to get to her Pinot Noir that is planted on the property.
So, Deborah did some sleuthing, using the resources of the archives portion of the Santa Barbara Library. She discovered that the Spanish padres considered the dry wines made from Mission grapes mediocre at best (good enough for sacramental wine only), but they made a dessert wine from the Mission grapes for their own enjoyment. It was called Angelica. Using a recipe written in 1891 by Emile Vache, Deborah decided to follow her winemaking forefathers, and in 2001 crafted the first vintage of Angelica, a slightly sweet wine containing 17% alcohol and 9% residual sugar.
The Mission vines are extremely low yielding and a challenge to ripen, but enough was obtained to make one barrel (50 cases). The grapes are red at harvest and rose color in the barrel. To be historically correct, she bottled the wine in hand blown bottles with a seal on the neck. These seals were used by the padres instead of a label and allowed identification of the owners. This type of bottling was also carried over to the Pinot Noir crafted at the winery. Photos of the Mission grape vineyard follow.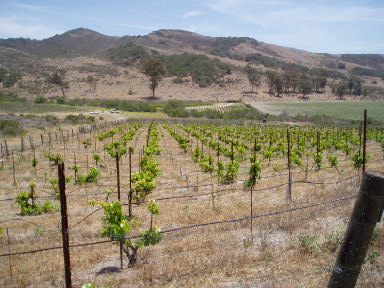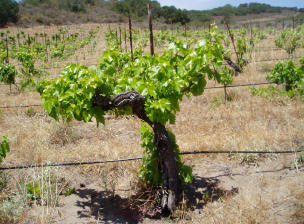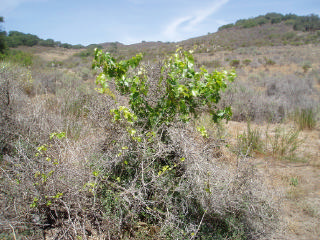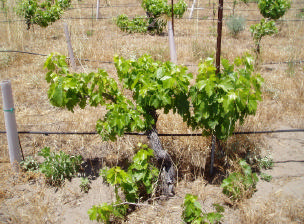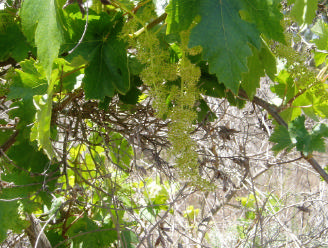 Deborah now farms 4 acres of Pinot Noir (Santa Rita Creek Vineyard), 2 acres of Pinot Gris (she coferments Pinot Gris with the Pinot Noir), and 3 acres of ancient Mission. The Mission vineyard is part of only 10 acres still growing in California and is named the Dona Marcelina's Vineyard. Today, it is the oldest producing vineyard in Santa Barbara County.
Deborah's original intent upon acquiring the property was to grow Pinot Noir and sell it to others. The initial Pinot Noir plantings were clones 115 and 777. She tried her hand at winemaking in 2003 after considerable study and now plans to utilize all of her estate grapes in her own Pinot Noir.
The site has an exceptionally cool microclimate compared to other vineyard sites in the Sta. Rita Hills Appellation. Farming is largely by hand and both organic and biodynamic. Deborah finds that the vineyard is very balanced at Gypsy Canyon. Grapes are typically picked at 23°-24° Brix. In 2006, no nutrients were needed to stimulate fermentation (a common practice is to add nutrients) because testing revealed impeccable balance in the developing wine.
Deborah is also something of an innovator. She plans to plant an additional 3 to 5 acres of Pinot Noir on a south-facing hillside on the property. It is frequent practice to rip the soil prior to planting, but she feels this destroys the microbial and fungal activity in the soil which assists vines in taking up nutrients. She plants to plant Pinot Noir on its own rootstock, believing that rootstocks influence flavor. Planting will be French style, with 3 ft x 3 ft spacing and vines trained close to the soil. She is currently researching clonal selection. She has planted about 1/2 acre of new Mission vines and experimented with making brandy from these grapes. Deborah has even grafted some Pinot Noir onto Mission vines!
The first commercial release of Pinot Noir was in 2004. She has had two bottlings, a Fall release of Santa Rita Creek Vineyard Estate Sta. Rita Hills Pinot Noir and a Spring release of Lot 2 Santa Rita Creek Vineyard Estate Sta. Rita Hills Pinot Noir. The wines are aged typically for 15 months in 50% new French oak. The Angelica is aged for 2 years in neutral oak. The wine packaging is quite traditional and striking. Deborah uses a hand blown glass bottle of historically correct shape with an embossed glass seal, a handmade paper label, and a beeswax seal. Each bottle is numbered and signed by Deborah Hall. All of this historical esthetic adds to the appeal of the wine inside. The photo below shows the Gypsy Canyon magnum bottle (center) and the Angelica bottle (second from right) amongst historical bottles from Deborah's collection.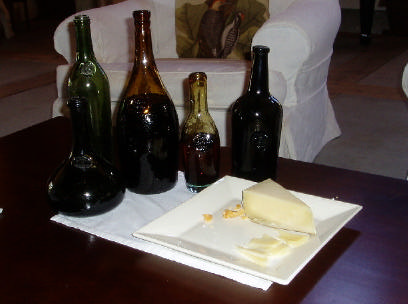 2006 Gypsy Canyon Winery Santa Rita Creek Vineyard Sta. Rita Hills Pinot Barrel Sample
$75. · A shy nose leads to a nicely crafted and elegant Pinot Noir. The dusty red cherry fruit is enrobed in tasty baking spices. The wine delivers plenty of flavor but is light on its feet. An engaging Pinot Noir the has admirable finesse, refined acidity and powdery tannins. This one will only get more expressive with time in the bottle.
Gypsy Canyon Winery wines are sold primarily through a mailing list at www.gypsycanyon.com. Tasting of both of these wines with cheese is available by appointment ($25). Stunning hand-blown glass magnums of Pinot Noir are also available ($190). 805-737-0204.
Deborah has donated Mission vine cuttings to missions in California that are revitalizing their vineyards. She noted that two hours north of the Santa Rita Hills is Mission San Antonio where the original gravity flow bodega has been restored. An adobe vat has openings in the bottom which lead to another room below and finally a cellar at the bottom.