Recently Tasted Pinot Noir
FEL, Sonoma
2014 FEL Savoy Estate Vineyard Anderson Valley Pinot Noir
14.3% alc., $70. Planted by Richard Savoy in 1991, the 44-acre vineyard is located just west of the town of Philo. Dijon and heritage clones of Pinot Noir. · Moderate reddish purple color in the glass. Aromas of cherry pie, blackberry preserves and spice are attention getting. Luscious and saucy, with mid weight flavors of black cherry and blackberry complimented by oak seasoning in the background. Silk and satin in the mouth, with admirable vibrancy, slightly astringent tannins, and a charge of fruit on the lengthy finish. Score: 92
Frank Family Vineyards, Calistoga

2014 Frank Family Vineyards Carneros Pinot Noir
14.5% alc., pH 3.63, TA 0.59, 5,000 cases, $35. Aged 10 months in French oak barrels, 33% new and 67% once and twice-filled. · Moderate reddish purple color in the glass. Lovely aromas of black cherry liquor, spice and potpourri. Silky in the mouth with immersed tannins, offering highly enjoyable flavors of black cherry, ripe strawberry and boysenberry. Forward drinking with intense cherry goodness on the back end. When tasted later in the day from a previously opened and re-corked bottle, the allure of vivid cherry and spice flavors sent me for a second glass. I prefer this wine over the Reserve. Score: 93
2014 Frank Family Vineyards Lewis Vineyard Reserve Napa Carneros Pinot Noir
14.5% alc., pH 3.55, TA 0.60, 1,000 cases, $65. Lewis Vineyard is located near the shores of San Pablo Bay. Bought by Rich Frank in 2000 and named for Paul Frank's son, Lewis, this 68-acre vineyard has 10 acres planted to Pinot Noir. Soils are primarily shallow, dense clay loam and rainfall is limited to 20 inches annually resulting in very low yields. Aged 10 months in French oak barrels, 50% new and 50% once-filled. · Moderately dark reddish purple color in the glass. A big boy, hedonistic wine with a plethora of blackberry, cassis and oak vanillin aromas and flavors. The tannins and acidity keep the fruit corralled, such that the wine is relatively light on its feet. Totally different from the regular bottling and well done in this generously oaked reserve style Pinot Noir. Score: 91
Kingston Family Vineyards
This is a boutique winery located on the ranch in Casablanca, Chile, that has been in the same family for a century. Kingston Family Vineyards is one of only a handful of Chilean vineyards leveraging artisan winemaking and sustainable viticultural techniques to produce cool climate Pinot Noir, Syrah, Sauvignon Blanc and Chardonnay from estate vineyards. The Kingston vineyards now consist of about 350 acres in a valley that is similar to California's Central Coast, but somewhat colder. The vineyards lie about 12 miles from the Pacific Ocean surrounded by rolling forested hills. The climate is mild and the growing season is long. All vines are planted on their own roots with the 80 acres of Pinot Noir planted in the hills where sun exposure and drainage is more favorable and the soil contains considerable decomposed granite. Dijon clone 777 is planted along with two field selections known as Valdivieso, a shot berry clone similar to Swan that makes the top Alazan blend, and Conca y Toro, a small-clustered clone.
The Chilean winemaker is Amael Orrego and the North American consulting winemaker is Byron Kosuge. Kosuge has specialized in Pinot Noir for over 25 years. Pinot Noir vinification is traditional and includes a 5+ day cold soak, mostly native yeast ferments in 1-ton and 3-to-5-ton open top tanks, with pump overs and punch downs as needed. Press wine is separated, and the wines undergo malolactic fermentation in barrel using indigenous bacteria. The wines are aged only in French oak barrels with roughly 15% to 30% new barrels for 10 months. The wines are not racked until the blends are assembled just before bottling right before the next harvest.
2015 was an unusually warm vintage for Kingston. The wines are available for shipment to US markets and consumers. As an added bonus, the wines represent excellent value. Visit www.kingstonvineyards.com.

2015 Kingston Family Vineyards Tobiano Casablanca Chile Pinot Noir
14.0% alc., 275 cases, $22. A blend of barrels that don't make the top tier. This is not a lesser wine, but one that is lighter in body and a touch less complexity. · Moderate reddish purple color in the glass. A fruit-forward wine with aromas of black cherry, strawberry and oak. Silky and highly approachable, driven by cherry and red berry flavors overlaid with savory oak. The lightest and most elegant of the three 201 Kingston Pinot Noirs tasted, yet the wine delivers plenty of personality and a pleasing cherry-fueled finish. Score: 91

2015 Kingston Family Vineyards Alazan Casablanca Chile Pinot Noir
14.0% alc., 150 cases, $36. Released October 2016. Named after Peter Kingston's burgundy-colored horse in the 1950s. A limited, reserve bottling. Less new French oak and some larger barrels were used in this vintage. · Moderate reddish purple color in the glass. A very young wine with oak expression exceeding the fruit initially. Over time, aromas of dark fruits and tobacco emerge. The gloriously sappy core envelopes the palate with an array of sweet purple and black fruit flavors with indulgent earth and oak flavors as well. Full-bodied, with balanced tannins and a fruit-filled finish. When tasted the following day from a previously opened and re-corked bottle, the showy oak had receded and the wine was more appealing. Best to give this wine more time in bottle. Score: 92-93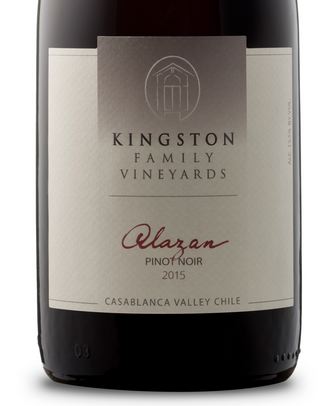 2015 Kingston Family Vineyards CJ's Barrel Casablanca Chile Pinot Noir
14.0% alc., 75 cases, $44. A very limited production wine that was aged in 100% neutral oak. · Moderate reddish purple color in the glass. Aromas of boysenberry, blackberry, spice and tobacco lead to a mid weight plus styled wine with a copious charge of dark purple and black fruits. Refined and uplifting with good tannic bones and admirable balance. The oak is surprisingly expressive considering that neutral oak barrels were used. This wine should benefit from more time in bottle. Score: 90-91
LaRue Wines, Sonoma
Since 2009, winemaker Katy Wilson has offered excellent small lot bottlings of Pinot Noir from the Sonoma Coast. Her talent is exemplified by her consulting position for several wineries including Anaba Wines, Banshee Wines, Claypool Cellars, Reeve Wines and Smith Story Wine cellars. LaRue Pinot Noir and Chardonnay is sold through an allocated mailing list at www.laruewines.com. Production is 500 cases maximum.
2014 La Rue Sonoma Coast Pinot Noir
13.0% alc., 180 cases, $60. Aged 20 months in French oak barrels, 30% new. · Moderate reddish purple color in the glass. Crisp and refreshing, with bright aromas of black cherry and exotic spices replicated on the palate with added nuances of earth, mushroom and umami. Exquisitely balanced, this wine speaks of nobility and finishes with an infusion of vibrancy. Still engaging the following day from a previously opened and re-corked bottle. You won't find a better Sonoma Coast AVA bottling in the marketplace. Score: 92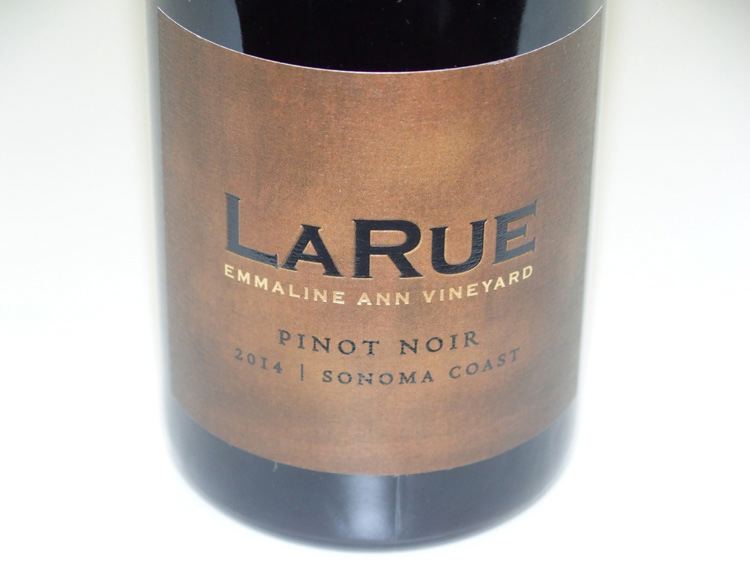 2014 LaRue Emmaline Ann Vineyard Sonoma Coast Pinot Noir
12.5% alc., 70 cases, $70. Aged 20 months in French oak barrels, 33% new. · Moderate reddish purple color in the glass. Intriguing aromas of darker fruits, almond paste and spices. Plenty of black cherry sap is buffered by savory herbs and spice. The wine has a sexy vibe and a positive message with a welcome lift on the finish. Oak chimes in currently with a little too much voice as a dried leaf flavor, but this should ameliorate with more time in bottle and will appeal to those who relish savory input in Pinot Noir. Score: 93
Loring Wine Company, Lompoc
The appellation Pinot Noirs, and vineyard designated Pinot Noirs from Santa Lucia Highlands and Green Valley of Russian River Valley were released in September 2016. The remainder of the vineyard designated Pinot Noirs will be released in February of 2017. These are very young wines with the aromatics of several wines in hiding at present and undoubtedly will be more accessible and deserve higher scores after another year in bottle. I did re-taste several bottles 24 hours later from a previously opened and re-corked bottle, but there were not any significant changes. There is not much to distinguish the appellation wines from each other. Most of the single vineyard wines are clearly the most classy offerings.
Peake Ranch, Buellton
The first time I have tasted wines from this producer located in the Sta. Rita Hills. The owner is John Wagner, who owns John Sebastiano Vineyard and a part of Sierra Madre Vineyard. Doug Circle owns Sierra Madre Vineyard and trademark. Winemaker Paul Lato crafts the wines. www.peakeranch.com.
2014 Peake Ranch Sta. Rita Hills Pinot Noir
14.3% alc., 273 cases, $40. · Moderate reddish purple color in the glass. The nose is replete with black cherry fruit aroma accented with earthy mushroom and petrol notes. Easy to drink, with a slinky texture, and mid weight flavors of dark red and purple fruits highlighted with spice. Nicely balanced with some charm and a dry finish of modest length. Score: 88
2014 Peake Ranch John Sebastiano Vineyard Sta. Rita Hills Pinot Noir
14.3% alc., 245 cases, $65. · Moderate reddish purple color in the glass. Boysenberry fruit aromas are joined by scents of oak spice and woody stem. The middleweight core of juicy boysenberry and blackberry fruit is enticing and nicely spiced but a savory woody thread shadows the fruit. Silky and refined, with commendable balance and a juicy, quenching finish. Score: 89
Siduri, Santa Rosa
Three Sticks Winery, Santa Rosa
Bob Cabral, formerly the winemaker at Williams Selyem, has been leading the team at Three Sticks for the past 18 months. He is a fourth-generation farmer and grower from the San Joaquin Valley, he grew up pruning vines and harvesting grapes on his family's 70-acre ranch near Escalon. He then spent 17 vintages as head winemaker at Williams Selyem. Currently, he works with associate winemakers Ryan Prichard and Ashley Holland.
Tours and tastings of Three Sticks wines are available by reservation Monday through Saturday at Sonoma's Adobe, a historic villa constructed in 1842 and now the longest occupied home in Sonoma. Both focused tastings and food and wine experiences are offered. 707-996-3328. The website is www.threestickswines.com.
These two Pinot Noirs are single vineyard designates from the winery's two "home" vineyards.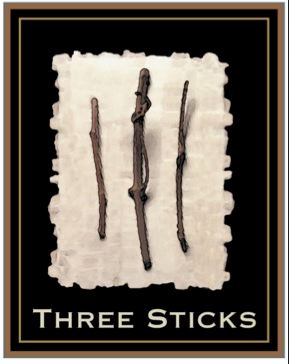 2014 Three Sticks Durell Vineyard Sonoma Coast Pinot Noir
14.1% alc., pH 3.50, TA 0.62, 352 cases, $65. 30% whole cluster. Aged 15 months in French oak barrels, 60% new. · Moderately dark reddish purple color in the glass. The nose is highly engaging with aromas of cherry, raspberry, earthy mushroom, cinnamon spice and slightly charred oak picking up intensity over time in the glass. The middleweight flavors of black cherry, dark raspberry and blueberry are expansive and nicely accented with spice and oak. Plenty of charm and elegance with a silky mouthfeel, good vibrancy and welcome finishing power. This wine really blossomed later in the day when re-tasted from an opened and recorked bottle. Score: 94
2014 Three Sticks Gap's Crown Vineyard Sonoma Coast Pinot Noir
14.5% alc., pH 3.50, TA 0.59, 354 cases, $65. This vineyard is an Estate property of Three Sticks located in the Petaluma Gap. 13% whole cluster, aged 15 months in French oak barrels, 60% new. · Moderate reddish purple color in the glass. Demonstrative aromas of cherry pie, baking spices and toasty oak combine for an inviting experience. Highly appealing black cherry fruited core is framed by juicy acidity and modest tannins. A dancing, stylish wine with good finesse, plenty of sap, and a persistent finish. Score: 93
Wonderment Wines, Napa
2014 Wonderment Dutton-Campbell Vineyard Green Valley of Russian River Valley Pinot Noir
14.1% alc., 264 cases, $40. · Light cherry color in the glass. This wine is currently sporting some oak swagger which should integrate further with time in bottle. Aromas of cherry, cranberry, cola and baking spices are heady. Elegantly composed and easy to like with mid weight flavors of cherry, raspberry, and oak spice. The tannins are buried, the spry acidity invigorates the wine and the raspberry coulis finish satisfies. Score: 91
2014 Wonderment Dr. Stan's Vineyard Sonoma Carneros Pinot Noir
14.4% alc., 74 cases, $50. Dijon clone 115. · Moderately light reddish purple color in the glass. Immensely charming nose with hi-tone aromas of cherry, red berry, red hard candy and sandalwood. Stylistically similar to the Dutton-Campbell bottling with a sleek and elegant demeanor but with better oak integration. The flavors of red cherry and berry are framed by delicate tannins and sound acidity. A red-fruited joy. Score: 92