Etude Sources Far and Wide for Marvelous Pinot Noir
I last wrote about Etude in the PinotFile in 2013: www.princeofpinot.com/article/1363/. Etude is a pioneering winery in the Napa Carneros region of California started by noted winemaker Tony Soter in 1980. The winery was initially an underfunded proprietary side project focusing on Carneros Pinot Noir, Napa Valley Pinot Blanc, Napa Valley Merlot, Carneros Pinot Gris, Vin Gris of Pinot Noir and Brut Rosé sparkling wine. At the time, Soter was a busy winemaking consultant for high profile wineries including Araujo Estate, Shafer, Spottswood and Viader. Soter owned no vineyards, but bought grapes by the acre with vineyard blocks farmed to his own specifications, a unique proposition at the time.
The name Etude is derived from the French word "étude," meaning "study." Soter chose this name because he felt Pinot Noir was the most transparent wine vehicle with which to "study" the craft and pursue the wisdom of ancestors he never had.
Soter's wines attracted considerable praise from the wine press and by 1999, he was able to concentrate full time on Etude and develop estate vineyards. Etude was sold to Fosters Wine Estates in 2001, and Soter returned to his native Oregon to establish a second Pinot Noir project at Mineral Springs Ranch after making his last wines at Etude in 2002. Soter has continued as a consulting winemaker at Etude. The new corporate owners infused new cash into the winery, building a new winemaking facility, refurbishing estate vineyards, and expanding production.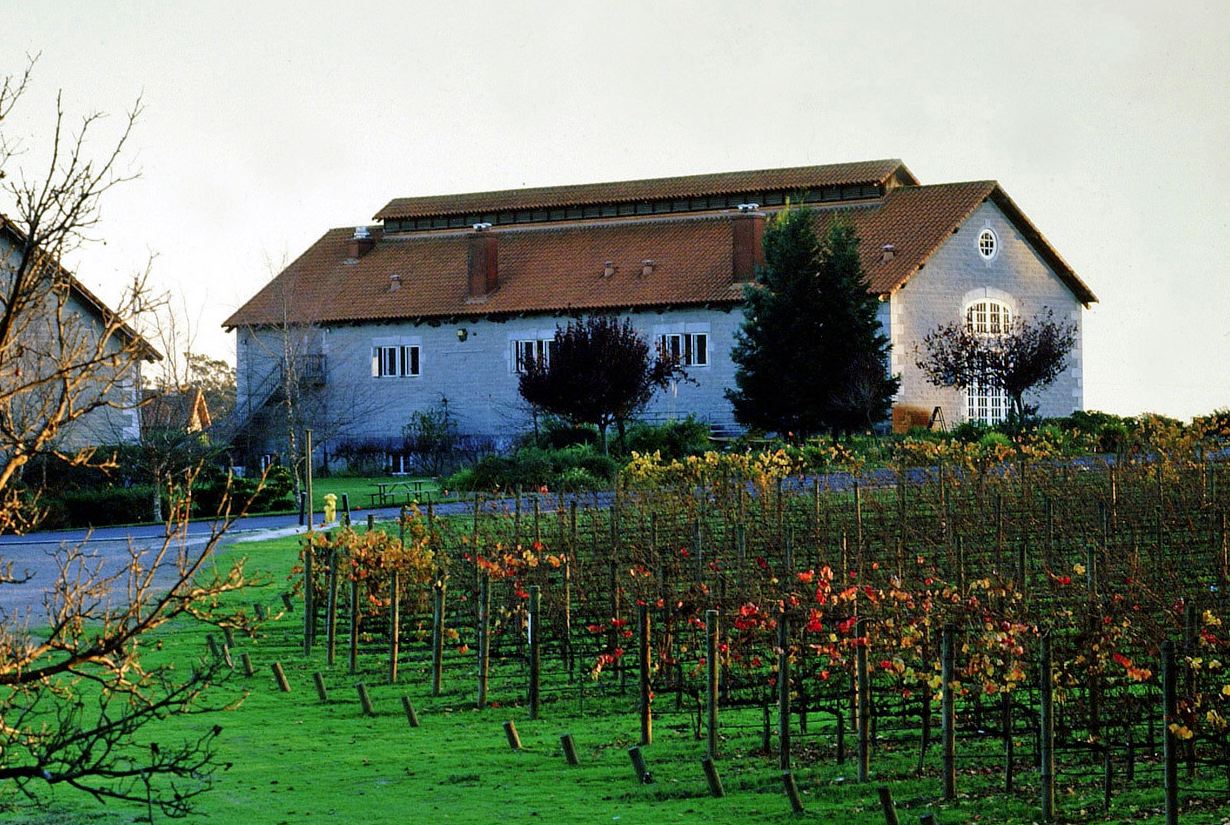 Jon Priest joined Etude as winemaker in 2005. Until that time, Pinot Noir was primarily sourced from Carneros sites that drew its character from clay-heavy soils that created more extracted and tannic wines. More recently the centerpiece of Etude Pinot Noir has been the Grace Benoist Ranch Estate Vineyard located in the northwestern corner of the Carneros appellation in the Sonoma Carneros region, a site featuring rocky, well-drained, volcanic soil.
Jon is a California native who established a reputation for crafting memorable estate red wines while working at Wild Horse Winery and Adelaida Cellars for more than twelve years, and at TAZ Vineyards in the Central Coast. Beyond his winemaking expertise, Jon (pictured below) is also an acclaimed equestrian who competes in racing events over legendary trails once crossed by earlier pioneers.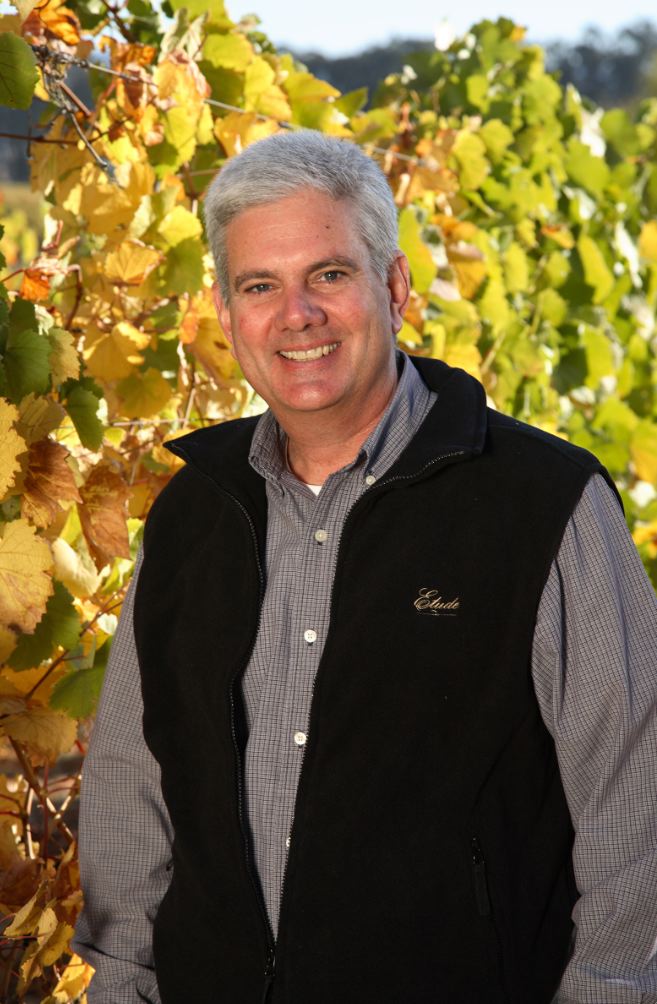 The wines reviewed here represent a unique tasting that examines six distinct expressions of Pinot Noir from six different growing regions as part of the winery's Appellation Series. I found all the wines to be distinctive and reflective of unique terroirs, but the wines from California were especially glorious examples of domestic Pinot Noir, all of them exhibiting superior craftsmanship. These were simply some of the best, if not the best, California Pinot Noirs I have tasted from the 2014 vintage. The wines can be enjoyed now but will age beautifully because of their impeccable balance.
The Etude Pinot Noirs undergo cold maceration and small lot open-top fermentation with extended time on the skins, and are then aged for 10-13 months in French oak barrels (25%-33% new). The wines undergo a rigorous selection process to insure only the best barrels are chosen for the final blend.
Etude Wines welcomes visitors from 10:00 a.m. to 4:30 p.m. at 1250 Cuttings Wharf Road in Napa, just off Highway 121. Several special tasting options are available by reservation and are described on the website at www.etudewines.com (reservations can be booked online). Most of the wines reviewed here are currently available on the website. Along with the 2014 vintage wines reviewed here, Etude offers a Carneros Pinot Noir ($45), a Heirloom Grace Benoist Ranch Pinot Noir ($95), a Temblor Carneros Pinot Noir ($75), a Carneros Deer Camp Pinot Noir ($75), and a Forte Sta. Rita Hills Pinot Noir ($60) from the 2014 vintage.

2014 Etude Grace Benoist Ranch Estate Grown Carneros Pinot Noir
14.3% alc., $45. This is a blend of the best grapes from individual parcels on the Ranch located in southern Sonoma in the northwestern corner of the Carneros AVA. 13 different soil types, all variations of volcanic origin. Dijon 667, 777, 113, 114, 459, Pommard, Martini and various heirloom selections. · Moderate reddish purple color in the glass. Intoxicating aromas of black raspberry, spice, and earthy potpourri. A terrific wine that instantly perks up your attention with ingratiating mid weight flavors of black raspberry, blackberry, spice, white pepper and mushroom with a deft touch of oak seasoning. Sensual on the palate, with sinewy tannins and enough power to seduce. Still terrific the following day from a previously opened and recorked bottle indicating long-term age ability. Quintessential Carneros and one of the best Pinots I have tasted from this region in my recent memory. Score: 96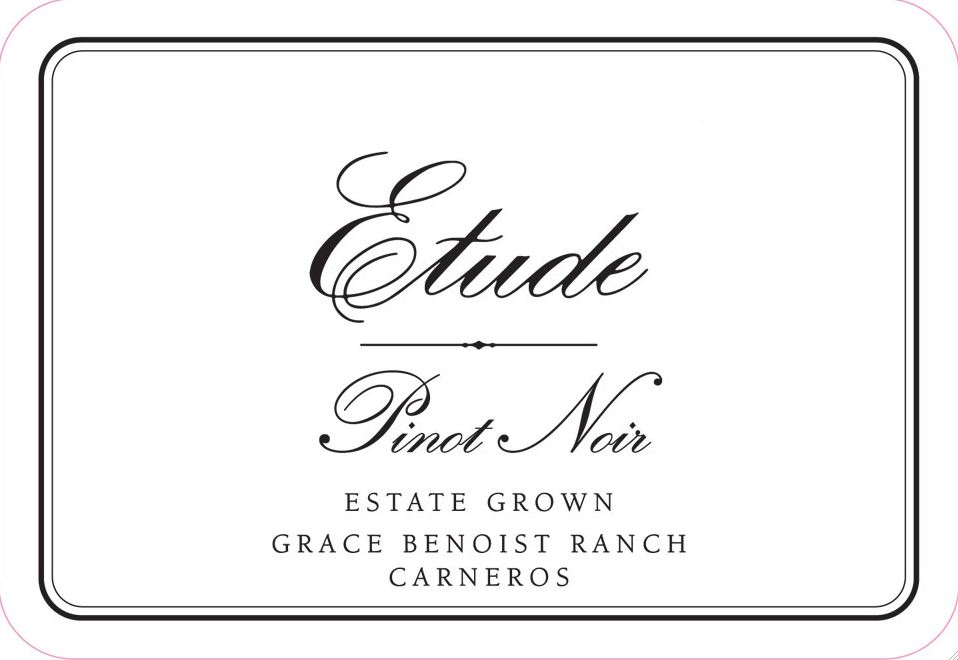 2014 Etude Ellenbach Vineyard Sonoma Coast Pinot Noir
14.8% alc., $60. Vineyard is 4 miles from Pacific Ocean in Annapolis in the northernmost West Sonoma Coast. It is positioned just above the fog line at 800 feet elevation on a steep hillside. A variety of clones are planted in Goldridge soil, unique among the region's volcanic soils. Dijon "828," and 115. · Moderate reddish purple color in the glass. A mysterious nose that releases its charms slowly over time in the glass, climaxing with a gorgeous array of dark purple fruit, cardamom spice and sous-bois aromas that overwhelm. A delicious core of dark fruits is perfectly accented with spice and a schmear of oak. This wine has a polished demeanor, with refined tannins and a very impressive and high-spirited finish that is both juicy and persistent. You need this beauty in your cellar. Score: 95
2014 Etude North Canyon Vineyard Santa Maria Valley Pinot Noir
14.4% alc., $45. This vineyard sits along the Santa Maria River bench in a secluded canyon. A variety of clones and rootstocks are planted in calcareous clay sandstone, differing from the valley's defining marine mixture of ancient sea bed, clay loam and sand. This wine is made from a select block located on a bluff in the southern, cooler end of the canyon. Dijon 115, 667, 777 and 113. · Moderately light reddish purple color in the glass. Love the nose that brings an array of aromas including dark fruits, brier, baking spices, tobacco and turned earth. Beautifully composed and easy going, with very tasty purple and black fruits and an earthen underbelly. The tannins are well integrated and there is recognizable length on the pleasing finish. Primarily a fruit-driven wine, but so harmonious that it will grab your attention. Score: 93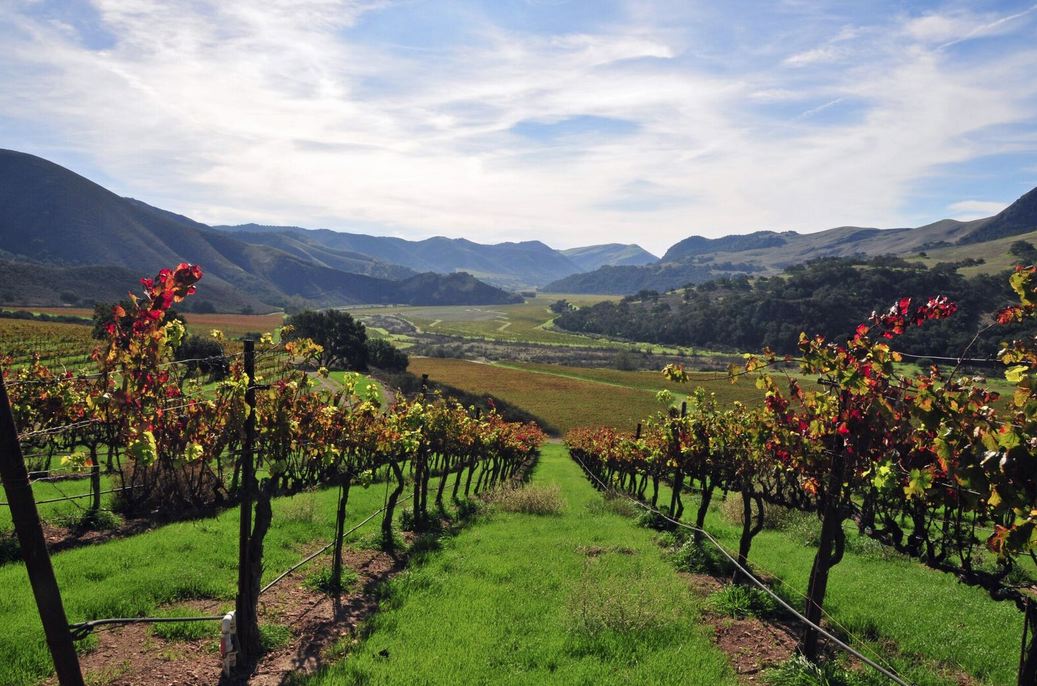 North Canyon Vineyard

2014 Etude Fiddlestix Vineyard Sta. Rita Hills Pinot Noir
$45. Vineyard is located about 10 miles inland from the Pacific Ocean alongside the Santa Ynez River bench at the western end of the Santa Ynez Valley. 35 small blocks with a variety of rootstocks and clones planted in well-draining clay loam and calcareous marine shale.Clones 667, 777, 113, Pommard 4 and 5. · Light cherry red color in the glass. Engaging perfume of fresh crushed cherries, savory spices and rose petal. Very silky and elegant, with sportive mid weight flavors of ripe strawberry and black cherry fruits with a welcome touch of spice. The tannins are noticeably refined, something of note since the tannins can be aggressive in wines from this vineyard. Just a touch of oak seasoning is complimentary. A brilliant offering, with a finish that goes on and on. The winemaker's extensive experience with the fruit from this vineyard shows in the excellence of this wine. A superb value to boot. Score: 94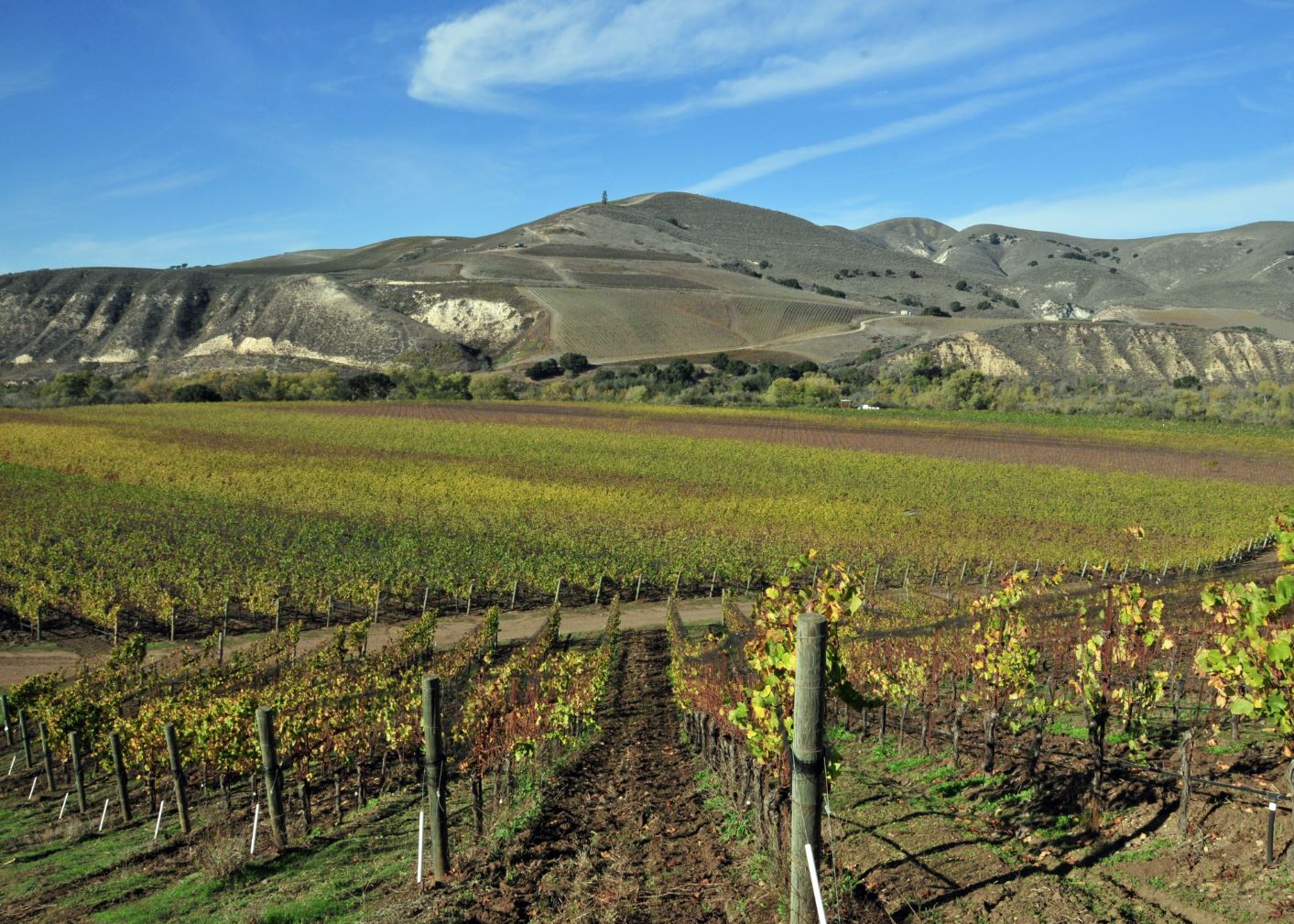 Fiddlestix Vineyard, Sta. Rita Hills
2014 Etude Yamhill Vista Vineyard Yamhill-Carlton Willamette Valley Oregon Pinot Noir
14.3% alc., $60. Vineyard is located at 600 feet elevation and is planted in sedimentary soil. Dijon 113 and Pommard clones. · Moderately light reddish purple color in the glass. Shy but pleasant aromas of black cherry pie and rose petal. Not as concentrated as many 2014 vintage Oregon Pinot Noirs, but this wine still has plenty of ripe fruit to satisfy, including flavors of black cherry and marionberry, along with an interesting iron and earthy undertone typical of sedimentary Willakenzie soils. Juicy and harmonious, with impressive grip and hold on the rocking finish. Score: 92
2014 Etude Bannockburn Central Otago New Zealand Pinot Noir
13.8% alc., $60. Bannockburn is slightly warmer and drier than the rest of the region. The climate is continental with low rainfall, low humidity and daily extremes of temperatures. The soils are schist gravel with varying amounts of silty loam, clay and sand. Dijon 777 and 117. Winemaker Jon Priest collaborated with colleagues in Central Otago on this wine and it was then sent to Etude Wines. · Moderate reddish purple color in the glass. This wine is a departure in style from the other Pinot Noirs in the 2014 Etude lineup. The nose offers aromas of very ripe dark fruits, prune and molasses. Full-bodied, with a plethora of dark purple and black fruit encased in soothing, cashmere tannins. Somewhat simple and fruit-driven, with an herbal thread in the background and a good cut of acidity on the finish. Score: 89