Ski Green Valley
In my second life, I want to come back as someone like Gerald Bybee. He and his wife Shaun, own a piece of paradise in the Green Valley appellation of Sonoma, near the town of Sebastopol. On their total habitat of 86 acres, they have a thriving Pinot Noir vineyard of 14 acres and a large lake with a professional water ski slalom course! To me, this is nirvana, since I grew up waterskiing from a very young age. Forwards, backward, barefoot, pyramid, jumps, you name it, I did it on water skis. I used to say, "Hit It!" in my sleep. When I recently visited the B Vineyards & Habitat, I wanted to get out on that pristine lake right there and then. (See aerial photo on page 2).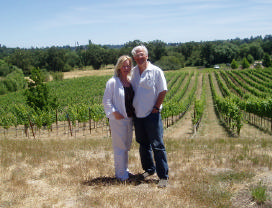 Gerald Bybee is an award-winning advertising photographer and fine-artist who has done a number of photoshoots for wineries. Shaun Bybee is a former model, CEO of Make-up Studio U.S.A. and President of the Board of Summerfield Waldorf School in Santa Rosa. About 12 years ago, Gerald and Shaun wanted to leave their home in San Francisco to acquire a wine country property. They came upon a neglected agricultural and open-space habitat that had originally been the home of Miller Dairy, the last certified raw milk producer in Sonoma County. The original dairy processing building still stands on the property and now serves as a place for equipment and barrel storage, but one day may be converted into the B Winery.
Although initially, they had no plans to grow grapes, it seemed only natural since their property sat adjacent to the 30-year-old Hartford Family Arrendell Vineyard. The area presented many challenges because it sat in the nutrient-rich and water-laden flood plain near Atascadero Creek. The usual vineyard pests, birds, gophers, and deer were plentiful. The microclimate did offer ideal conditions for Pinot Noir: morning fog, sandy-loam, and Goldridge soils, and one of the coolest climates in the Russian River Valley.
The aerial photo of the B Vineyards & Habitat shows Hartford Family Arrendell Vineyard in the foreground, the B lake, pond, and open space habitat as well as several blocks of B Pinot vines, with the estate residence in the distance.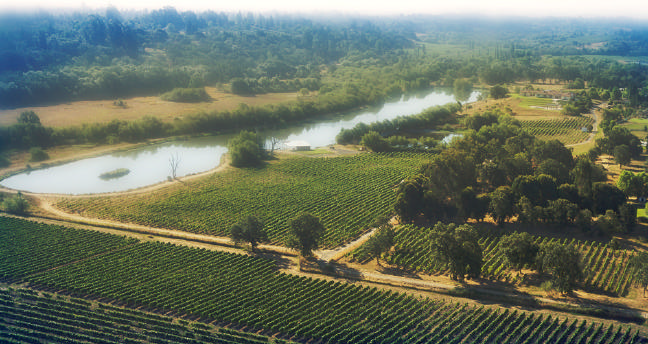 Gerald asked noted winegrower Warren Dutton to visit after they acquired the property in 1996. He advised Gerald to rehabilitate the ponds (there were originally five ponds that became a singular lake) and improve the drainage on the habitat. After this was undertaken, Dutton made a return visit and through his encouragement and assistance, a Pinot Noir vineyard was planted in 2000 and 2001. The clones are Pommard, 114, 115, 667, and 777. Shaun is a passionate supporter of organic farming and a clean environment and has directed the organic and biodynamic practices on the property (organic certification came in 2003). The B estate vineyard is the only organically certified Pinot Noir vineyard in the Green Valley district of the Russian River Valley.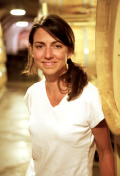 The first wine grapes were harvested and marketed to Patz & Hall, Lynmar Winery, and Lutea in 2004. In 2005, the Bybees began a collaboration with winemaker Suzanne Hagins (right) to produce a premium estate Pinot Noir. Hagins learned winemaking hands-on with experience at Domaine Comte Armand in Pommard, France, DeLoach Vineyards in the Russian River Valley, David Bruce in the Santa Cruz Mountains, and Goldeneye in the Anderson Valley. She also crafts fine wine under her own label, Lutea in Santa Rosa. She hails from South Carolina where she is a "Rock Star in the Wine World," and wine enthusiasts there gobble up over 150 cases of her Lutea Pinot Noir every vintage. In addition, her Lutea Pinot Noir is being poured by many Sonoma restaurants such as Cyrus, the Farmhouse Inn, the Starlight Wine Bar, and the Carneros Bistro and Wine Bar.
Each of the blocks in the B estate vineyard is picked and vinified separately. A fine rosé is made from a selected block. Winemaking is traditional with an emphasis on elegance and complexity. Shaun says that the B wines "are meant for those with not only a great understanding of Pinot Noir and all of its intricacies, but also an appreciation of the dedicated farming practices that ultimately determine what ends up in the glass."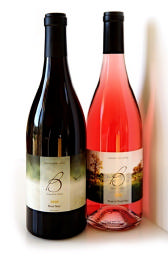 2006 B Vineyards & Habitat Rosé of Pinot Noir
13.0% alc., 120 cases, $24. · A dry rosé with an appealing light crimson color, this is a thoroughly satisfying aperitif or summer food wine. The flavors are driven by red fruits, primarily ripe strawberries, with a hint of spice and herbs. Strawberry Fields Forever.
2005 B Vineyards & Habitat Green Valley/Russian River Valley Estate Pinot Noir
13.9% alc., 210 cases, $55. Hand picked, carefully sorted grapes underwent de-stemming, cold-soak and gentle pressing using a small Italian basket press. The wine was aged 10 months in caves using lightly toasted new and used French oak barriques, and bottled-aged 6 months before release. · This is one great Pinot powered by wild strawberries, cherries and exotic oak highlights in the aromas and flavors. A hint of root beer adds interest. The texture is supple and there is plenty of bright acidity. This is one of those Pinots that you can sniff for 20 minutes after the glass is emptied and only a small dollop remains in the bottom. You simply can't take your nose out of the glass. Dreamy musk, crushed cherries, spice and freshly-sanded mahogany waft from the glass. It is enough to make a grown man smile from ear to ear.
B Vineyards & Habitat wines may be purchased from the website at www.bpinot.com or www.bybee.com. Sign up for the mailing list here, check out the blog, and be sure and view the beautiful photography of the property taken by Gerald. If you like wildlife and Pinot, make an appointment (707-823-9040) to visit and taste. You might see Shaun walking the vineyards row by row with Suzanne as she does every week or Gerald out on the lake catching a ride.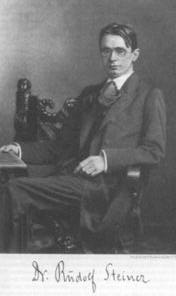 *A side note worth discussing. I had no idea the Austrian philosopher and educator, Rudolf Steiner, had such far-reaching influence in many areas of philosophy, education, and anthroposophical medicine. Among wine circles, he is most famous for his theories of biodynamic agriculture. The basic tenant of biodynamic farming is the so-called self-contained "farm organism." The farm is viewed as a self-nourishing organism and none or few outside materials need be brought onto the farm. The Bybees explained to me that Steiner was also the founder of the Waldorf education movement in which the arts and farming are emphasized along with the basic subjects of learning. Today, there are over 900 independent Waldorf schools worldwide, including one in Sebastopol, Sonoma County. To explore Steiner's works in more detail, go to the website,
www.rudolfsteinerweb.com
.