EMTU Estate Wines
John and Chris Mason produce a single estate Pinot Noir from a dry-farmed, 2 acre certified organic vineyard located in Forestville at the juncture of the Russian River Valley and Green Valley AVA's of Sonoma County. They live on their property, tend to their estate Labyrinth Vineyard just out the back door of their house, and control all of the winemaking. Nothing really unusual about this, but let me tell you about these extraordinary people and their dedication to humanitarian causes.
The Masons (both of them had the sir name Mason before marriage, but were unrelated and thus the name EMTU which is a phonetic spelling of M2) have been international relief workers since 1999 when they went to Kosovo to build homes and shelters in remote villages as part of relief efforts for homeless families. John is a retired paramedic and Chris a retired worker in the health care field with a master's degree in dietary science. Every year in the winter months, they close up the farm while the vines lay dormant and the wine is tucked away in barrels, and travel to a foreign country where they are needed. They have been in Gujarat, India helping in the aftermath of a disastrous earthquake, in Bamenda Highlands of Cameroon assisting AIDS educators, and in Chaman, Pakistan where they established medical clinics in two border refugee camps and provided medical services to over 30,000 refugees. In 2005, they founded the Labyrinth Foundation for Disaster Relief to allow them to operate independently or in cooperation with other aid organizations. All of the profits from EMTU wines go to their charitable foundation. (The Masons are pictured below in front of their small winery).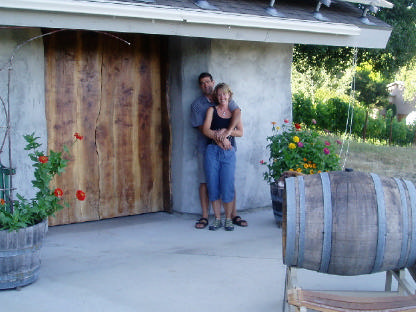 They planted their vineyard to clones 115 and Pommard 4 and 5 in 1999 and 2003. The vines are rooted in deep Goldridge soils and grafted onto 101-14 rootstock. Each vine is cane pruned individually and each year each vine is carefully assessed to determine the appropriate number of buds to be left as fruiting wood. This balances the vine, and adjustments can be made in fruit load from year to year. Early passes through the vineyard for shoot thinning and positioning ensure optimal canopy density, with the aim of achieving an even and dappled exposure to sunlight on each cluster of grapes. As the season progresses, additional passes are made to evaluate and adjust vine growth and fruit.
If during the growing season the vine seems out of balance, both shoots and fruit are removed to allow the vine to fully ripen the grapes. The grapes are harvested when the ideal balance of physiological ripeness, acids, tannins and sugar have been reached. This will be a different mix each year, based on climate, and the resulting wine will vary from year to year. It is the Mason's goal to avoid producing a homogenized product, but rather a consistently excellent wine that fully expresses the nuances of the site from which it originates and the conditions under which it matured.
A small labyrinth pattern of vines was planted in one corner of the vineyard leaving a small central space open that serves as a place of contemplation and serenity among the vines. The name, Labyrinth Vineyard, is derived from this unusual planting.
The Masons honed their winemaking talents and refined their style over 10 years, producing "garagiste" wine at their home. The first commercial release of estate Pinot Noir was 2004. The current release is the 2005 vintage. Production was small in 2005 (148 cases), but the eventual goal is 500 cases. They also make a small amount (25 cases) of dry rosé from a few rows of Merlot planted on the property.
2005 Emtu Estate Wines Labyrinth Vineyard Russian River Valley Pinot Noir
14.0% alc., 148 cases, $36. Grapes were picked in the early morning at 24.6° Brix and a pH of 3.36. A 3 day cold soak followed. Fermentation was started with inoculation of Assmanshaussen yeast, punched down by hand, and basket pressed into 3-year-old neutral French oak barrels without settling. Aged in barrel a total of 18 months and bottled unfiltered and unfined. · This wine is a classic Pinot lover's cup of tea. Alluring spiced red fruits in the nose lead to cherry-infused flavors that dance elegantly on the palate. The lively acid cleans up the finish. Basic, but basically quite good.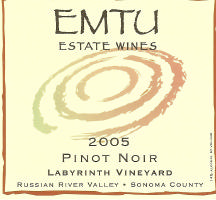 2004 Emtu Estate Wines Labyrinth Vineyard Russian River Valley Pinot Noir
14.6% alc.. The grapes for this wine were picked at 25.6° Brix. · This resulting Pinot Noir is fruit-driven and bold in style. The color is deep ruby and the rich wild berry flavors linger on the palate for some time. This is a good wine, but not the preferred style of the Masons.
EMTU Estate Wines welcomes visitors for a private tour and tasting (707-887-1239). Sit on the patio with the Masons, delight in the view, and enjoy these very interesting people. As the back label of their wines states, "They are dedicated to the principles of quality, process, and balance, infused with science." Ask to see the barn owls and red shouldered hawks they receive from the Bird Recovery Agency in Sonoma County. They raise the birds until they are able to function on their own and then release them into the local environment. There is no web site, but John welcomes inquires through his e-mail at jrm1023@hotmail.com. The wines may be purchased by calling directly or e-mailing John. Remember that when you purchase EMTU wines, you not only get to enjoy a bottle drink of Pinot, you are supporting the Mason's humanitarian efforts in third world countries.