Vertical Tasting of Pisoni Estate Pinot Noir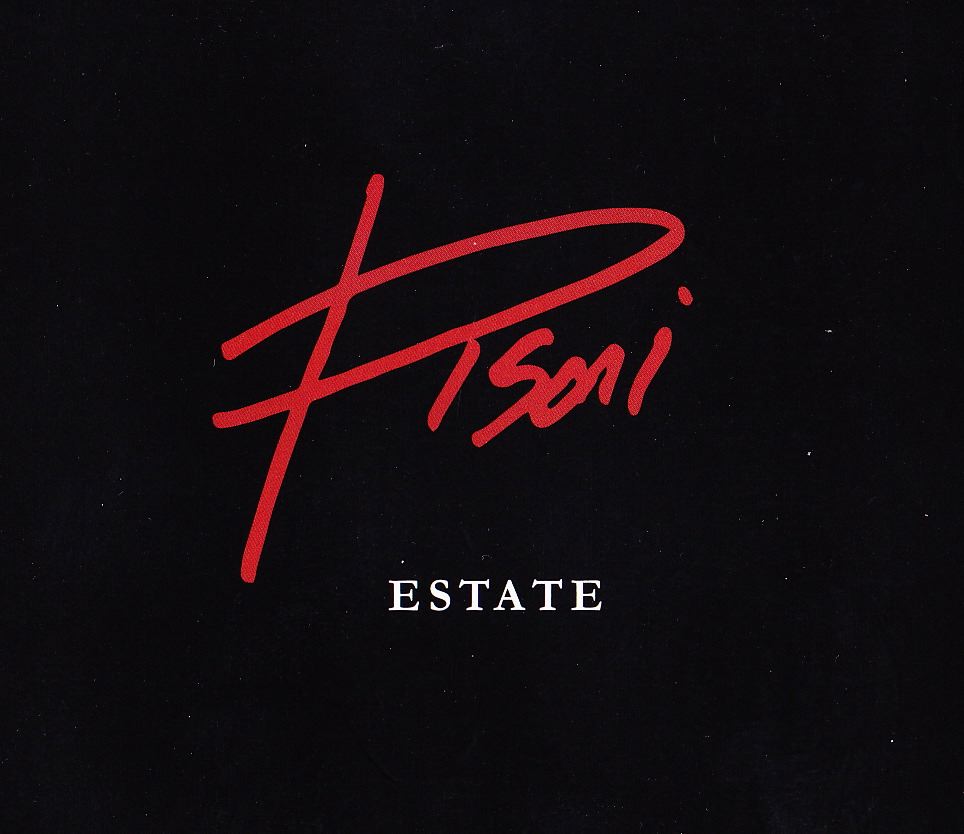 Several years ago, there was a unattributed quote on the back label of a bottle of Tantara Pisoni Vineyard Pinot Noir: "On some other planet encircling one of 200 billion stars in the Milky Way there may be intelligent life that has not heard of Pisoni Vineyard, but not on this planet." There cannot be any pinotphiles who have not heard of and sampled a Pinot Noir made from Pisoni Vineyard grapes.
In 1982, Gary Pisoni, who had come from generations of farmers who tended row crops long before he was born, realized that the Santa Lucia Highlands was a perfect setting for growing Pinot Noir and planted six acres of Pinot Noir and other assorted varieties on his father's 280-acre ranch. He was not the first to plant wine grapes in the Santa Lucia Highlands, but he was to bring the region notoriety unmatched by any of his winegrowing colleagues before or since.
Gary was a true visionary, planting Pinot Noir in a cool climate region that wine experts in the early 1980s considered only appropriate for grape varieties such as Riesling, Gamay Noir and Pinot Blanc. He had developed an interest in French wines in college and read any books he could find about Burgundy and Pinot Noir. After receiving his degree, he immediately headed for Europe, experiencing his wine epiphany over a Burgundy from Domaine de la Romanée-Conti. Legend has it that he surreptitiously brought back cuttings from that esteemed estate, rumored to be La Tache, and established what would become known as the "Pisoni clone" or more correctly, the "Pisoni selection," in the decomposed granite and sandy loam soil on the ranch that his parents, Jane and Eddie Pisoni, had purchased in 1979. The exact source of the Pinot Noir scion material remains subject to speculation.
The release of the 2012 Pisoni Estate Pinot Noir coincided with the thirty year anniversary of the original plantings, and the offering of that wine contained the following depiction by Susan Pisoni Tavernetti:
"With his heart set on growing the heartbreak grape, Gary planted finicky Pinot Noir in the virgin ground among a small assortment of varieties. The rest of the story is the stuff of legend. Daily treks with a water truck from the Salinas Valley floor to irrigate the tender vines. Eight years of water witches and the drilling of five dry wells. On the sixth attempt, the drill bit penetrated seven feet of soil before grinding through 490 feet of solid granite to the elusive water source. Soon Pisoni Vineyards was designated on the labels of artisan California winemakers, touted as one of America's '10 Great Vineyards,' and crowned the 'the grand cru site of the Santa Lucia Highlands' by Robert Parker."
The original plantings were situated at an elevation of 1,300 feet above the Salinas Valley (one of the highest elevation vineyards in the Santa Lucia Highlands) at the southern end of what is now the Santa Lucia Highlands AVA. Once a water source was located, an additional 40 acres of Pinot Noir were planted in several blocks ranging in size from .5 to 16.8 acres with different trellising and vine spacing, using both own-rooted and grafted vines. Eventually 30 individual different blocks were established among 36 acres, each with distinct soil compositions and microclimates, but all benefiting from the fog and afternoon breezes that flow in from nearby Monterey Bay contributing to the area's cool mornings and nights. The vineyard is 100% sustainably farmed.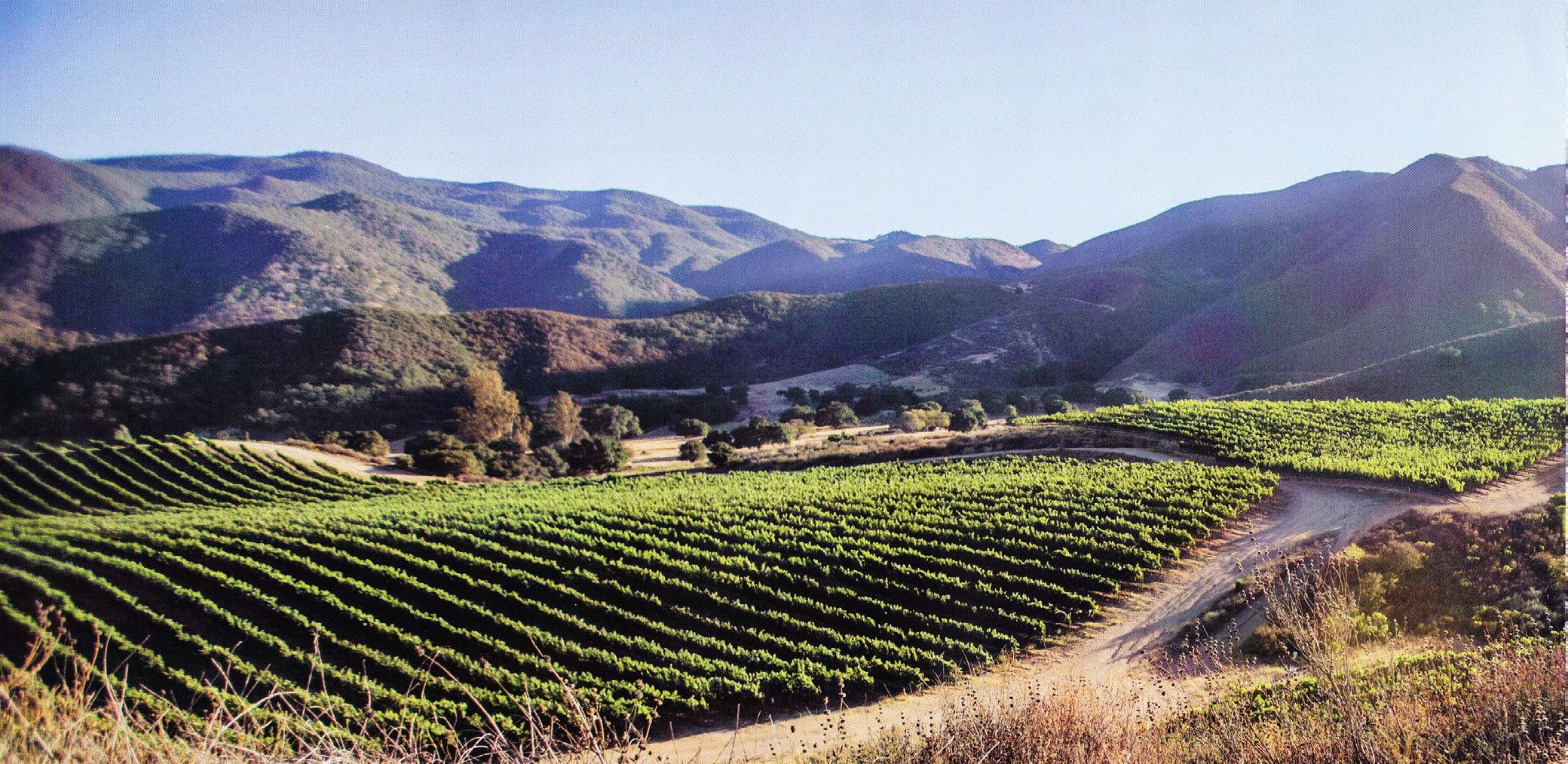 When Gary stepped into winegrowing in 1982, growers in Monterey County often reached for high tonnage and sold their wine in bulk to other counties. Gary chose the tack that predecessors at Chalone, Calera and Sanford had shown to be promising, that is, an emphasis on meticulous farming, focusing on quality rather than quantity. Gary's son, Mark, was to become the manager of Pisoni Vineyard. With a Bachelor of Science degree in Agricultural Economics from the University of California at Davis and a Master's Degree in Farm Business Management from Cornell University, he was able to bring out the best in the site and foster the development of premium fruit that is among the most highly prized in California.
Gary's other son, Jeff, a winemaker who is a graduate of the Enology program at California State University Fresno partnered with Mark to create the Pisoni Estate label. The first Pisoni Estate Pinot Noir debuted in 1998. Early vintages were crafted at off site wineries by Marc Aubert and Vanessa Wong. Jeff became the winemaker for the Pisoni label in 2002 and the wines have been produced at a winery in Santa Rosa. The photo below shows (L to R), Jeff, Gary and Mark.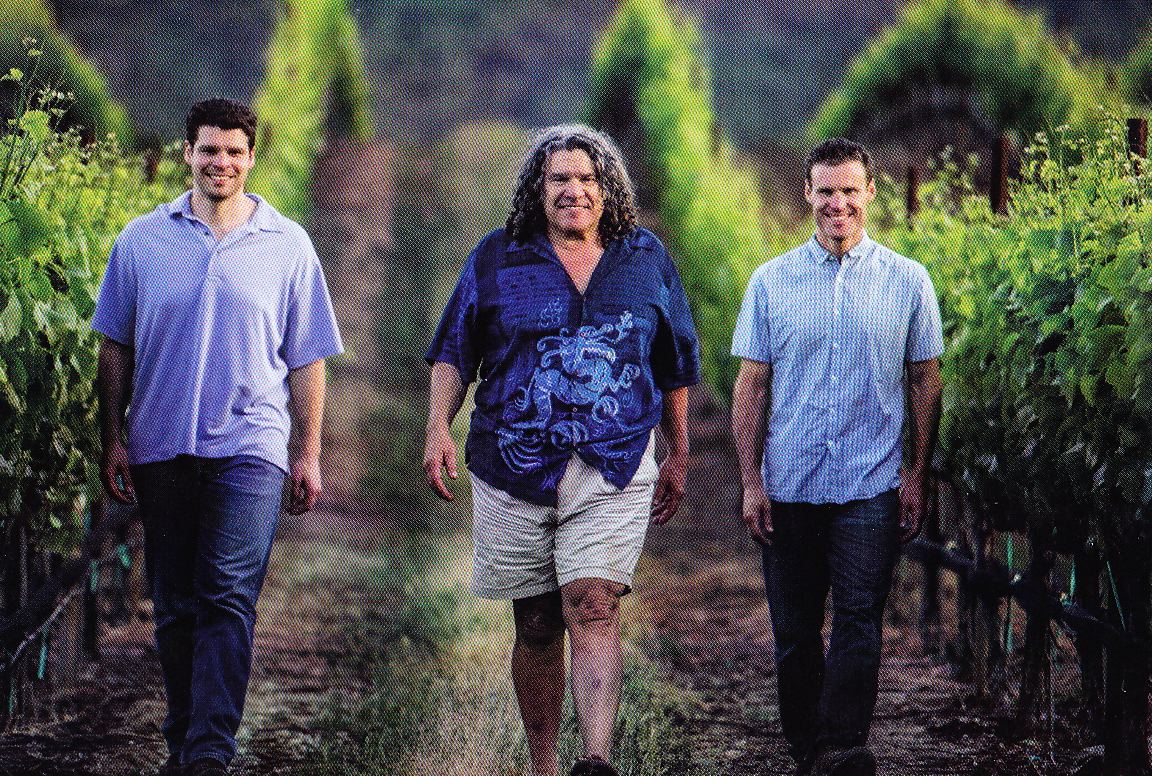 Jeff is also the winemaker for the family's second label, Lucia, meaning "light," that debuted in 2000. Some of the grapes for the Lucia wines are sourced from the Pisoni Vineyard, Gary's Vineyard and Soberanes Vineyard. The Santa Lucia Highlands bottling is made up of grapes from younger Pisoni Vineyard vines and blocks situated in valleys or lower lying areas along with some fruit from Garys' and Soberanes Vineyard. Pisoni fruit usually makes up about 50% of that blend. The valley blocks have more approachable tannins that is normally a great fit for the Santa Lucia Highlands appellation bottling.
The Pisoni Estate Pinot Noir is known to Pinot geeks as "Pisoni-Pisoni' to differentiate it from Pisoni Vineyard designated bottlings from other California Pinot Noir producers. The grapes for the Pisoni Estate Pinot Noir bottling are all "Pisoni clone," and are usually sourced from Big Block, Elias Block, and Lino Block. These blocks are primarily on ridges of the ranch, with vines planted in rockier, leaner soils that yield more structure and acid in the resulting wine.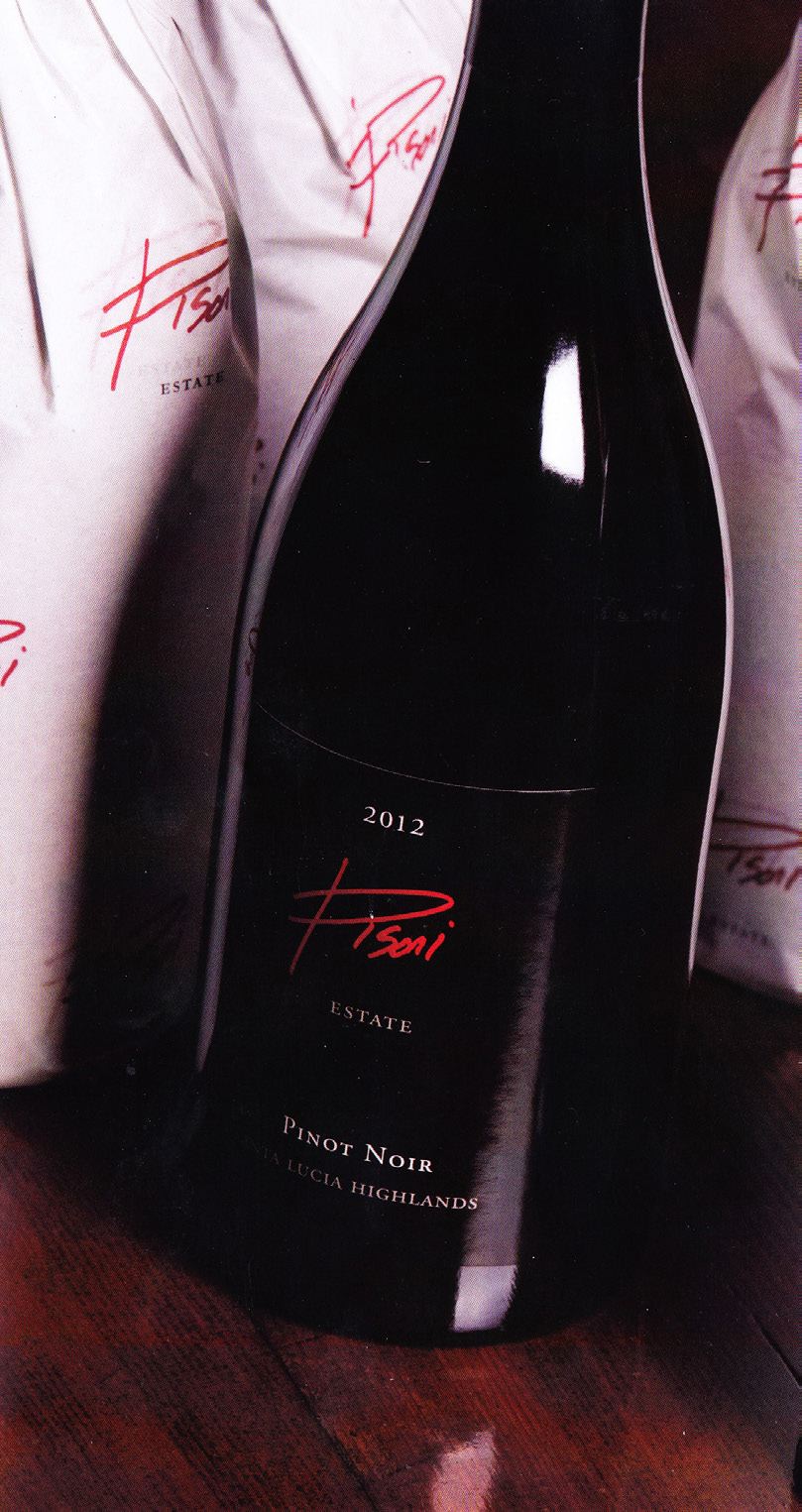 I asked Jeff to outline the winemaking regimen for Pisoni Estate Pinot Noir.
"Part of our philosophy is to always push ourselves for improvement. Most years we bottle several cases of trials and experiments that are in consideration for long term tasting evaluation. Wood tanks were incorporated as part of the fermentation regime a few years ago. A small amount of reduction is encouraged during aging, not enough to be a stylistic change, but to give the wine a greater aging trajectory. Malolactic fermentation is now allowed to go through at colder temperatures so it progresses more slowly. Medium toast has replaced a large portion of heavy toast in our barrels. Heavy toast is still important and works well with the uniquely high tannins that we have in the Pisoni Vineyard, but it is no longer a majority."
On the farming side, Mark has instituted a number of changes as well and the brothers are able to bounce ideas and make steady suggestions for improvements. Both Mark and Gary are vineyard managers.
"We re-select our 'clone' for newer blocks, alter irrigation, canopy management and vine spacing and change how we work the soil of the vineyard floor. We are currently developing an insectary with native plants to increase the number of beneficial insects on our range. We take sustainability very seriously and this benefits grape quality both directly and indirectly. We have always been one of the earlier ones to harvest at the ranch. This is still the case, but we now also pick over a wider range of days and and maturity levels, depending on the block. We do this to really fine-tune vineyard sections within a given block based on soil type and it also gives a bit more diversity in blending."
I have been allocated Pisoni Estate Pinot Noir for a number of years and decided to taste an 11-year vertical from 2004 to 2014. These wines have all been perfectly stored at 55ºF since release in my own wine locker. The wines were tasted upon opening, 6-8 hours later, and the following day from previously opened and recorked bottles because sampling the wine the following day tells you plenty about age ability of the wine. Tasting a vertical is very instructive for it allows one an opportunity to: (1) Observe the aging curve of the wines, (2) Appreciate vintage differences, (3) Understand a stylistic continuum, and (4) Realize subtle changes in the wines due to farming and vinification methods. Each review is accompanied by brief comments by Jeff about the vintage, admittedly quite general, but may provide some insight. I added reviews of a few aged Pisoni Vineyard designated Pinot Noirs from other producers as well.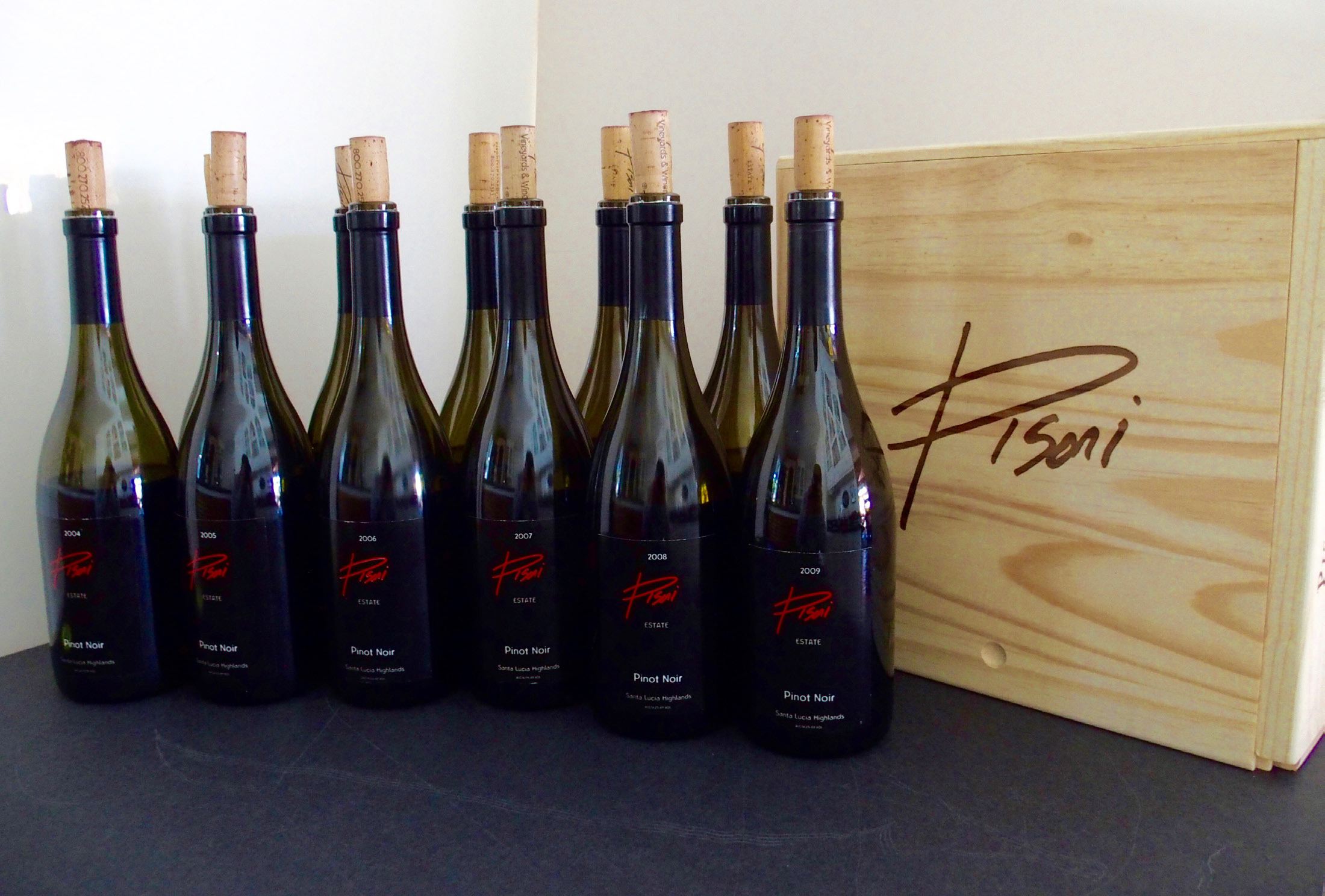 The mailing list to obtain Pisoni Estate Pinot Noir is filled and there is a wait list of several years. The winery is not open for tasting, but visits to the vineyard can be arranged by appointment. If not on the mailing list, look to auctions or the secondary market for the wine. Annual production ranges from 500 to 800 cases and the wine is currently priced at $80.
While not the Pisoni Estate bottling, there are a number of select California wineries offering Pisoni Vineyard designated Pinot Noir and these wines are more readily available. These are remarkable wines in and of themselves, and my experience over the years of tasting multiple bottlings is that these wines rarely disappoint and almost always score in the 93-95 point range. These producers include Bernardus (last vintage 2016), Capiaux, Kosta Browne, Miura, Patz & Hall, Paul Lato, Peter Michael (not vineyard designated but labeled "Le Moulin Rouge"), ROAR, and Testarossa. The reliable Lucia wines are widely distributed or obtainable through an open mailing list. A very limited amount of Pisoni Estate Chardonnay is also produced. For more information about Pisoni Vineyard, visit www.pisonivineyards.com.
I can offer some general impressions from my tasting. The Pisoni Estate Pinot Noirs are powerful, potent and tannic wines, offering soaring aromatics that elevate over time in the glass and bottle. The tannins tend to be more noticeable in years with lower pH. The fruit core is uncommonly concentrated and ripe and is able to balance the tannic load in most vintages. The grapes for this bottling are farmed for good acidity, meaning these wines have excellent food compatibility, and in fact, these wines need to be drunk with and compliment substantial food. Over the vintages tasted, there was a tendency to have less oak overlay, presumably due to the decreased use of heavily toasted barrels, and the tannins seemed to be more refined and less aggressive. There was considerable vintage variation in the wines, a credit to the winemaker in expressing the terroir without sacrificing the expression of the vagaries of each vintage. Pisoni Estate Pinot Noir is a true California treasure that is a singular wine unlike any other Pinot Noir currently produced in the state.
As far as age ability of Pisoni Estate Pinot Noir, this depends on the person doing the estimating. Jeff recommends that the wines be drunk between 10 and 20 years after the vintage, although he points out that this will depend on personal preferences. He suggests that if someone buys several bottles, open one early around five years and spread them out from there to following the aging curve. I found that all wines from 2004 to 2013 could be enjoyed now, with the 2004 and 2005 vintages expiring. The 2013 and 2014 vintages require at least another two years for adequate approach ability. My estimated drinking window for all the wines is included with the reviews.
The Pisoni family recommends serving Pisoni Estate Pinot Noir within a range of 55º-60º F. They also encourage decanting for 30 to 60 minutes. I did not encounter any sediment in the wines but this would be another advantage of decanting.