Big Basin Vineyards: Whole Cluster Goodness Again

Last year about this time I wrote about the compelling 2013 Big Basin Vineyards Pinot Noirs crafted by winemaker Bradley Brown. Bradley is one of a cadre of California Pinot Noir winemakers using significant amounts of whole cluster inclusion in their ferments. I am attracted to Pinot Noir crafted with whole cluster inclusion because I find the wines have more interesting aromatics, flavors and textural nuances. As Bradley told me, "Whole cluster changes the fermentation kinetics to slow things down and adds greater potential for intra-berry fermentation. The benefits are more beautiful aromatics and a layer of dense tannin that lends weight and structure to the wines."
The vineyards that Bradley works with are very close to the ocean and quite cool, yet he sees very good stem lignification. He has able to use up to 100% whole cluster without introducing astringent and green tannins into the wines. In the 2013 vintage reviewed last year at www.princeofpinot.com/article/1781/, Bradley pushed the use of whole cluster inclusion to 100% in some wines. In the 2014 vintage reviewed here, he was all in, with every Pinot Noir ferment 100% whole cluster.
Whole Cluster Fermentation: Adding an Extra Dimension
Whole cluster fermentation refers to the fermentation of intact clusters of grapes as they are picked from the vine with no intervention of de-stemming machines leaving all berries and stems intact. Stems are often removed in Pinot Noir winemaking before fermentation since the stems have a high tannin content and when unripe, they can give green or vegetal adjuncts to a wine.
The Burgundians practiced stem inclusion for centuries, as historically they had no de-stemmers. Today, many notable Burgundy Domaines continue to be advocates of whole cluster fermentation. The New World has largely gone to complete de-stemming or the inclusion of small amounts of whole clusters.
Chemically, when you include whole clusters in wine, you increase the pH and decrease the TA compared to a completely de-stemmed wine. The implication of this is that you may need to acidify the wine unless you are comfortable with high pH. Whole cluster also adds a dimension of carbonic maceration (intra-berry fermentation) leading to the characteristic rose petal aromatic.
Proponents of whole cluster fermentation point out a number of advantageous features in the resulting wines. Aromatics can be fresher, more complex and literally thrilling, with aromas ranging from vegetal to exotic spices, rose petal, pine sap and burnt tobacco layered over the fruit component. Aged Pinot Noir made with whole cluster inclusion tends to be more aromatically complex compared to the same wine that is 100% de-stemmed. Stems also add the same dramatic effects on flavors. The tannic impression of a wine on the palate is altered as well and often a desirable silky softness occur. This is in part due to the prevention of harsh seed tannin from being released since the grapes remain encapsulated longer.
Stem inclusion brings fragrance, intrigue, textural interest and even enhanced age ability. Winemaker Jeff Fink told me, "I am a big fan of the things that whole cluster fermentation can bring to the finished wine. The aromatics can be thrilling and literally spine tingling. Most Pinot Noir is lacking in the aromatics. It is the hardest component of Pinot Noir to capture."
Naysayers would add that stem inclusion produces a very stylized wine with the whole cluster character dominating any terroir character. On the other hand, it can be argued that Pinot Noir vinified with whole cluster represent more of the site and are more natural and minimalist. There will always be an argument of whether stylistic practices such as stem inclusion mask terroir.
Are you looking for other wineries using significant whole cluster inclusion in Pinot Noir? Consider some wines in California from Laetitia, Samsara, Brewer-Clifton, Domaine de la Côte, Sandhi, Calera, Kutch, Littorai, Rhys Vineyards, Windy Oaks Estate, and in Oregon from Cristom, Guillen and White Rose Estate.
Big Basin Vineyards was founded in 1998 on a historic site adjacent Big Basin Redwoods State Park. An Estate vineyard is CCOF Certified Organic and was planted in 2000 primarily to Rhone varieties. 2 acres of Pinot Noir, Swan and Mt. Eden selections, were budded over some of the Syrah and the first harvest will be 2016. A winery was completed on the site in 2003 where the original 1890s house and winery structure built by French immigrants burned down in the 1970s.
Harvest dates in 2014 were some of the earliest on record for Big Basin's vineyards, yet grapes were perfectly ripe even at very modest Brix levels. All wines are 100% whole cluster fermented, hand punched down and fermented with feral yeast. No additions, including acid, other than sulfur dioxide after secondary fermentation is completed.They were aged 15 months in French oak barrels and bottled unfined and unfiltered in January 2016. Because of the high amount of stem inclusion, Bradley notes that the wines tend to take longer to integrate and bounce back after bottling. I found that the wines were fine upon opening one year after bottling and continue to improve over the following two days when tasted from a previously opened and re-corked bottle. This is a sign of quality, balance and age ability. These wines are highly recommended if your Pinot Noir stylistic tastes include whole cluster fermentation. The whole cluster character that is prominent in young wines should continue to integrate over time in bottle.
2014 Big Basin Vineyards Coast Grade Vineyard Santa Cruz Mountains Pinot Noir
12.8% alc., 95 cases, allocated to mailing list. This vineyard, owned and farmed by multi-generation Santa Cruz Mountains farmer Jim Beuregard, is located in Bonny Doon, a few miles north of Santa Cruz, 3 miles inland from the Pacific Ocean at 1,300 feet elevation. A limestone quarry across the street hints at the geology below the vineyard surface (sandy loam over limestone base rock). Clone 115, six years of age. · Moderate reddish purple color in the glass. Intoxicating aromas of cherry, spice, pine sap, rose petal and burnt tobacco. Noticeable mid palate presence of middleweight cherry and red currant fruit flavors framed by modest tannins and a hint of oak. Juicy, with plenty of sweet red fruit tang, an overlay of stem and forest floor, intriguing textural interest, and a long finish. This wine shows the most whole cluster character of the 2014 Big Basin Pinot Noirs and may be overbearing unless you welcome this stylistic dimension. Score: 91
2014 Big Basin Vineyards Coastview Vineyard Monterey County Pinot Noir
13.6% alc., 100 cases, Allocated to mailing list. Vineyard is located in the Gabilan Mountains on the east side of the Salinas Valley, six miles south of Calera's Mount Harlan AVA. Decomposed quartz and limestone over base rock. The vines, perched at 2,200 to 2,400 feet elevation, are 17 years old. Dijon 113, 114, 115, 667, 777, Pisoni and Swan selection. Vines are farmed organically. Aged 15 months in 75% new French oak barrels. · Moderate reddish purple color in the glass. Seductive aromas of black cherry, cardamom spice, and a hint of stem. Light to mid weight in style, yet highly flavorful, with well ripened flavors of plum, cherry and black raspberry accented with spice and forest floor. Intense mid palate audacity, carrying over to a generous cherry-driven finish. While the juicy acidity is nicely integrated, the tannins are a bit unwieldy at present (but will moderate with more time in bottle). The intriguing texture is hard to adequately describe. While tasting, I wanted to swallow this one. Score: 93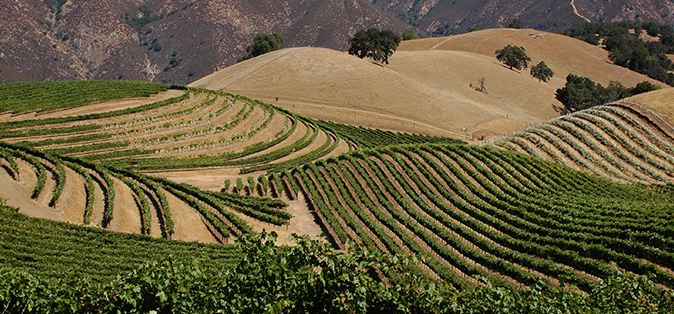 Coastview Vineyard
2014 Big Basin Vineyards Alfaro Family Vineyard Santa Cruz Mountains Pinot Noir
13.2% alc.,150 cases, $55. Vines are 15 years old. Clones 114, 115, 667 and 777 planted in sandy gravelly loam. · Moderately light cherry red color in the glass. Aromas of cherry, burnt tobacco, rose petal and spice pick up exuberance over time in the glass. Noticeable stem inclusion character which tended to integrate when tasted two days later from an opened bottle. Mid weight flavors of cherry and red berry with savory notes of burnt tobacco, spice and garden herbs. Silky in the mouth, with invisible tannins, admirable balance and some finishing intensity. A classy example of whole cluster goodness. Score: 93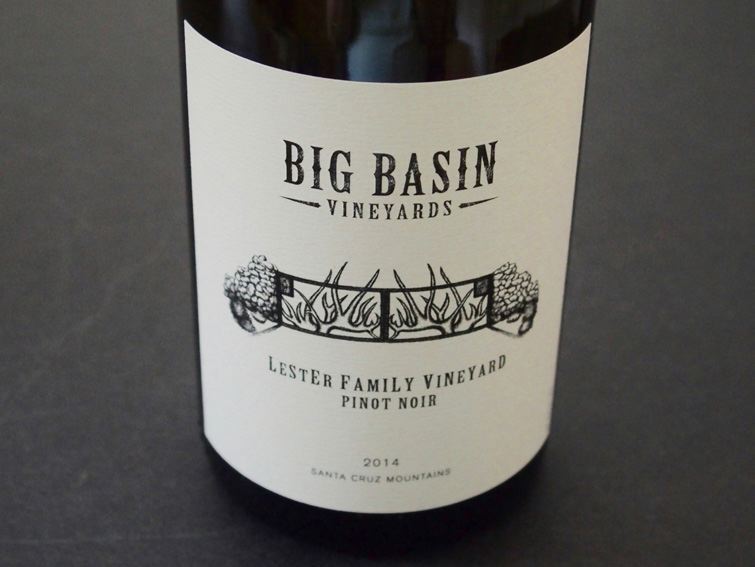 2014 Big Basin Vineyards Lester Family Vineyard Santa Cruz Mountains Pinot Noir
13.0% alc., 326 cases, $48. Very good stem lignification allowed 100% whole clusters. Tremendous color and flavor at low sugar levels. 16-year-old vines planted to Mt. Eden, 115 and 667. Soils are sandy loam over sedimentary base rock. · Moderate reddish purple color in the glass. This is a glorious wine in all respects. The whole cluster dimension is perfectly complimentary in this wine. Soaring aromas of cherry, rose petal and spice are harmonious. Silky in the mouth, with a deep spice-enhanced cherry and raspberry fruit flavor. Vibrant and refreshing, this wine soothes rather than attacks the palate. Very comforting with impeccable balance and a bombastic cherry finish. Even better when tasted two days later from a previously opened and recorked bottle. In one word, Wow! This wine really emotes. Score: 97
Big Basin Vineyards has two tasting rooms in the Santa Cruz Mountains: Saratoga Tasting Room at 14598 Big Basin Way in Saratoga (open Thursday-Monday) and at the Boulder Creek Winery at 830 Memory Lane in Boulder Creek (open Saturdays June-August and by appointment). The wines can be obtained through a mailing list, the winery's wine club, and the website at www.bigbasinvineyards.com. The winery offers a full range of wines including Rosé, Pinot Noir, Rhone Red, Syrah and Chardonnay. Bradley is now producing more Pinot Noir than Syrah, becoming a major focus for him. Chardonnay is also an important varietal for Big Basin.
One feature of the presentation worth noting is that the back label is very informative and succinctly contains all the important information about the wine in the bottle. This is an art that many producers fail to incorporate properly, preferring to use a lot of flowery praise about the wine without saying much.