Another Winner from J. Lynne
Last year I wrote about and recommended the 2004 J. Lynne Russian River Valley Pinot Noir. The 2005 version is even better and recently won a medal at the 16th Annual New Orleans Wine and Food Experience Fleur De Lys Wine Competition (only 5 Pinot Noirs were awarded medals out of a total of 62 medals).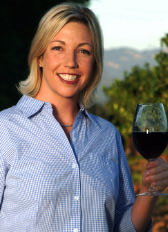 Jennifer (Jen) Lynne Wall is well known as the winemaker for Barefoot Wine Cellars. Barefoot wines have a dedicated following among millennials and they proudly call themselves "Barefooters." The label's tagline says it all, "Get Barefoot and have a good time!" Barefoot Wine Cellars (owned by Gallo) participates in 1,000 charitable events annually. In my younger days it was Lancers and Mateus that got me started in wine, today it is Barefoot wines that are introducing a new generation to wine. Over two million cases of eight different California-sourced varietals ($6), seven different reserve wines (including a reserve Pinot Noir - all $14) and two California Champagnes ($9) are produced annually. Interestingly, Davis Bynum's father developed the name in 1965, calling his wine "Barefoot Bynum. Burgundy" and sold it in jugs. In pursuit of more higher end Pinot Noir, Bynum dropped the popular label in 1972. In 1986 the Barefoot Cellar brand was revived by Michael Houlihan and Bonnie Harvey who bought the brand from Davis Bynum. Barefoot Wine Cellars really took off in 1995 when Jen was hired to become the winemaker. In 2005, Gallo purchased the brand and with Gallo's financial backing and marketing expertise, the label has continued to prosper.
I haven't met Jen yet, but from what I read about her I should. The recent Quarterly Review of Wines said, "All the clichés emerge amidst her gusto: she could talk a dog off a meat truck, sell refrigerators to Eskimos, and so on." Like a number of winemakers I know, she began college with the intention of going into medicine. After graduating from University of Santa Cruz, she headed instead to Sonoma County and became hooked on becoming a vintner. She learned her winemaking craft under the distinguished winemaker, Erin Green, now winemaker at Pahlmeyer (see article in this issue). Since 1995, Jen has accumulated over 2000 medals for Barefoot Wine Cellars. Like most accomplished winemakers, however, she yearned to have her own label. With the assistance of husband Mike, she debuted a Pinot Noir and Chardonnay in 2003 and accolades have quickly followed.
The J. Lynne Pinot Noir is sourced from the Cameron Ranch in the Russian River Valley. The original ranch was purchased in 1905 by the Reverend Donald Cameron. 120 acres was used to raise chickens and 58 acres to grow hops. Later, apple, peach and prune trees were farmed. In 1922, Donald's sons Cameron and Bruce became the owners and carried on the farming tradition. In 1952, the hops were removed and later the apples as well. The first grapevines, 3½ acres of French Colombard, were planted in 1960. Wes (Charles' son) took over the ranch in 1961 and in 1964, the ranch was split and 35 acres became known as the Wes Cameron Ranch. More and more grapes were planted in the following years and today the ranch is owned by Wes's widow, Dorothy, and operated and managed by her son Butch Cameron and son-in-law David Cornelssen. Cameron Ranch is located just east of the Martinelli Winery. The ranch has a large year-round creek (Mark West Creek) on the northern border which is used to irrigate in the late winter and early spring months to protect against frost. Wes Cameron was a pioneer in the use of irrigation for frost protection.
The ranch is currently planted to 5.5 acres of French Colombard, 16.5 acres of Pinot Noir and 11 acres of Chardonnay. The entire ranch is set up on a trellis system. Wes Cameron was one of the first grape growers in Sonoma County to train a vineyard to grow on a trellis system.

2005 J. Lynne Russian River Valley Pinot Noir
13.5% alc., 415 cases, $25. The grapes from the Cameron Ranch were picked at 25.9° degrees Brix on October 8, 2005. The fruit was presorted, de-stemmed and cold soaked for 3 days. The wine was aged for 6 months in a combination of 1, 2 and 3 year-old French oak barrels mostly from the Vosges forest. · This wine is seamless from start to finish. Aromas of oak-spiced crushed cherries lead to flavors of demure red Pinot fruits perfectly spiced. The texture is velvety. This fine Pinot exemplifies the holy trinity of Pinot Noir: elegance, balance and purity of fruit. Color me Pinot.
J. Lynne Pinot Noir can be found in fine wine retail stores mostly in California, Louisiana, Minnesota, and Wisconsin (distributor is Republic National Beverage Company). The 2006 vintage will be released later this summer and production will be almost doubled. The website is www.jlynnewines.com. Jen sent me some photos of her grapes at harvest and her winery operation at harvest which you may find interesting (below and pages 8 and 9). I would encourage you to travel to a wine region during harvest and breath in the heady aromas of freshly-crushed Pinot Noir. It is an exciting and celebratory time of the year in the vineyards and many wineries will be happy to let you hang out and observe the harvest.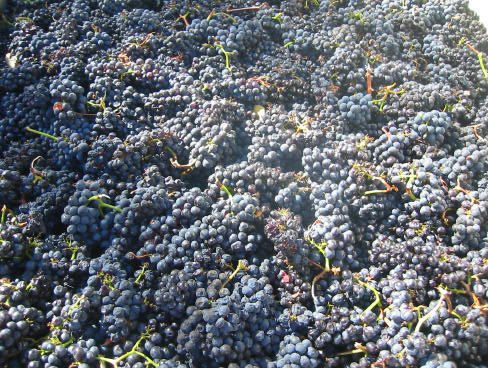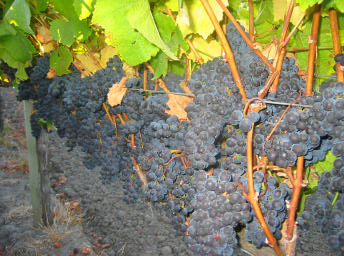 mature clusters of Pinot Noir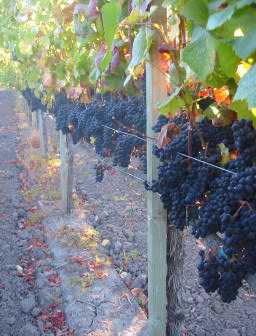 cone-shaped clusters showing where name Pinot ("cone") Noir ("black") is derived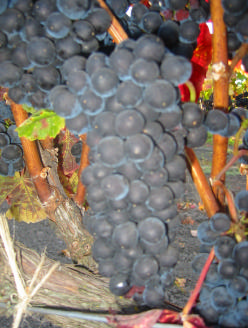 close-up of cluster; view down row with workers harvesting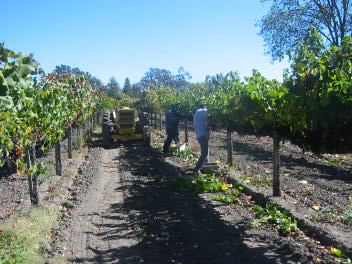 grapes in 1/2 ton bins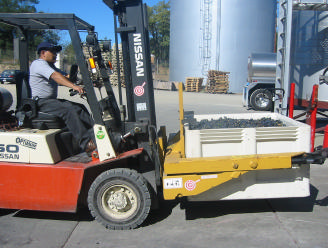 picker harvests grapes into 40 lb bins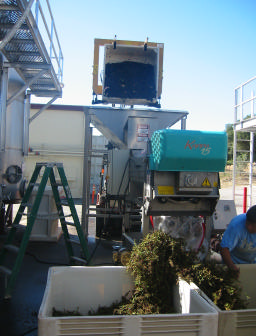 de-stemmercrusher (note bin being dumped in to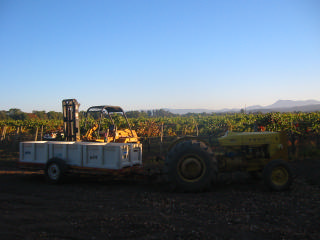 grapes brought to de-stemmer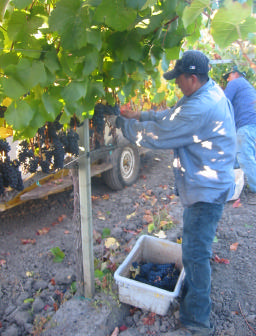 picker