Square Peg Winery: Promising Newcomer
Square Peg Winery offers Pinot Noir from the estate and dry farmed SP-SL Vineyard located in the Russian River Valley adjacent Jim Riddle's Riddle Ranch. This newer winery was not on my radar until my brother had a bottle of Square Peg Pinot Noir at a Christmas dinner and raved about it. I asked winegrower and winery owner Brad Alper about the story behind his winery and it turned out to be of great interest. The SP-SL (Square Peg-Stoetz Lane) Vineyard is pictured below.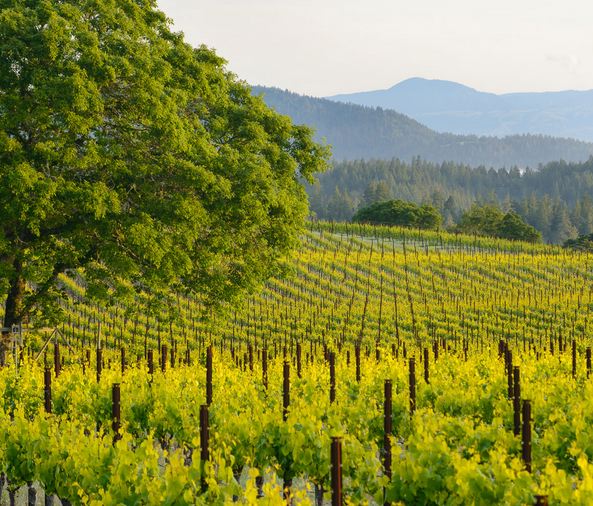 Along with his spouse, Alanna, Brad moved to the Russian River Valley in 1987 from Los Angeles where he had tired of city life. He was a pilot for American Airlines so it was convenient to drive to San Francisco Airport twice a week to fly his domestic trips.
In 1994, he planted a 1-acre plot of Zinfandel. At the time, the only other wine grapes in the area were old vine Zinfandel at Dutton Ranch-Morelli Lane Vineyard and a small planting of Chardonnay nearby. In 1999, he bought a 12-acre apple orchard adjacent to his property, removed the decrepit trees, leased 5 acres to Dutton Ranch and planted the rest to Zinfandel.
In 1999, Brad created the brand Ottimino devoted to Zinfandel and named in honor of his neighbor and local legend Ottimino Cristiani. Although relatively uninformed about the wine business, a series of fortuitous events led him to partner and build the brand with Jean Arnold Sessions, former CEO of Jackson Family Farms and President of Hanzell, and current President of Sonoma County Vintners, and Bill Knuttel, former winemaker at Saintsbury from 1983 to 1996, Chalk Hill from 1996 to 2003 and Dry Creek from 2003 to 2011.
Jean was well connected in the wine business, so prior to launching Ottimino, she referred a number of people of some notoriety to discuss business possibilities. Brad was fortunate to meet and walk his site with Gary Farrell and Gil Nickel of Nickel & Nickel. At the time, he had know idea how well-known these two were, or even who Joseph Phelps who showed up with his son Bill and his winemaker Craig Williams early one morning to look at the site and discuss plans for a new brand.
In 2011, Brad was preoccupied with his job, commuting to Los Angeles to fly 777s to London, Tokyo and Shanghai. The schedule was brutal and physically demanding. His vineyard and business coasted along, but he never put the effort in that was required to take them to the next level because financially he didn't need to.
One day, while flying back from London he had an epiphany. With eight hours left before the scheduled landing in Los Angeles, he was monitoring the airplane systems when he realized that this was how he was going to spend a majority of his life for the next thirteen years. He was making enough money, but it seemed he was wasting time and ultimately his life. Although he loved his job, it thought it was time for a change. At age 52, with over 28 years of flying with American Airlines, he decided to throw caution to the wind, retire early, and put all of his time and energy in to his vineyard and wine brands.
He told me, "I would be lying to you, Rusty, if I said that I never once looked back or regretted my decision. It has been pretty scary at times, but there has been a lot of magic (like your brother trying our wine), and I am challenged every day. My life is much richer and I am a better person for sure."
How did he come to plant Pinot Noir? In 2010, Brad wanted to try to dry farm Pinot Noir, even though he was discouraged by all but Lynmar's vineyard manager, Jason Saling. With his encouragement, Brad grafted a small section of his vineyard over to clone "828." The quality of the fruit in the ensuing two years was very good but not of the caliber needed for a higher end Pinot Noir, so he sold the fruit. Realizing that he could dry farm Pinot Noir on his site, he budded over another section to Calera selection.
The name of the winery, Square Peg, came to Alanna as the couple were bantering ideas back and forth, trying to come up with an easily remembered name but one that was not "overly mellifluous or trite." It turns out, Square Peg is easy to recollect, people often think they have heard it before, and the name resonates with many because they have "always felt different like a Square Peg."
The inaugural Square Peg Pinot Noir in 2013 was produced from the first section of the vineyard that had been budded over to Pinot Noir (Block 8). In 2014, he harvested the Calera selection from Block 1 and "828" from Block 8. The 2014 Pinot Noir from Block 1 is 100% Calera and the 2014 Pinot Noir from Block 8 is about 80% "828" and 20% Calera. Oak regimen consists of 40% new Francois Frères barrels and the balance 2 and 3- year Francois Frères barrels, all with medium to medium plus toast. The wines are crafted by Bill Knuttel at his winery in Sonoma, a fortuitous relationship since Bill has been making wine for nearly 35 years and Brad considers his creativity and skill to be second to none.
The potential for success of Square Peg is clear: uniquely dry farmed Pinot Noir grapes from a premier site in an ideal location put into the hands of an experienced and gifted winemaker. The area where SP-SL Vineyard is located is now highly regarded, among notable neighboring vineyards including Chenoweth Ranch, Riddle Ranch, CIRQ's Treehouse, Aubert's UV-SL, Dutton Ranch's Morelli Lane, Fox Den, and Bill Price's new vineyard at the top of Stoetz Lane. This area, just outside the town of Occidental, is under the radar but well known to Pinot Noir cognoscenti.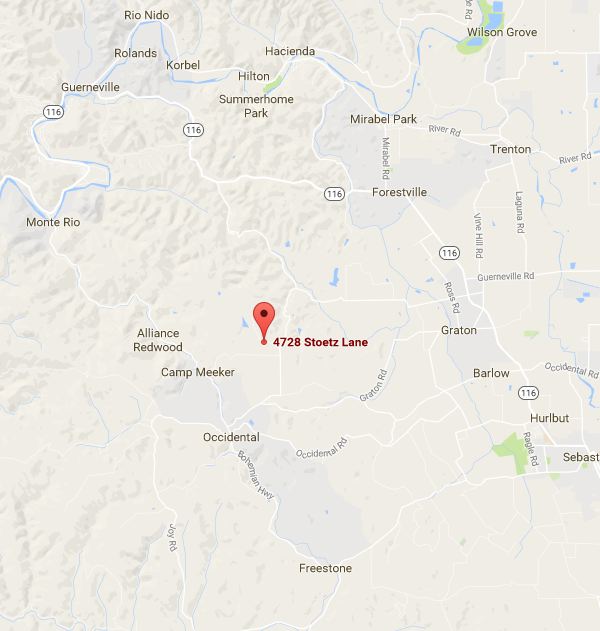 The wine has been placed in a few Northern California highly-regarded restaurants and the Alpers have opened a tasting room located in their vineyard in Sebastopol. Here they offer visitors a rich personal experience, an opportunity to picnic in the property's serene Redwood Grove. In addition to pouring wine, the tasting room is also a fine art and sculpture gallery displaying Alanna's work. The tasting room is open by appointment only. Zinfandel from the Ottimino brand as well as Chardonnay, Malbec and Cabernet from winemaker William, Knuttel are also featured in the tasting room.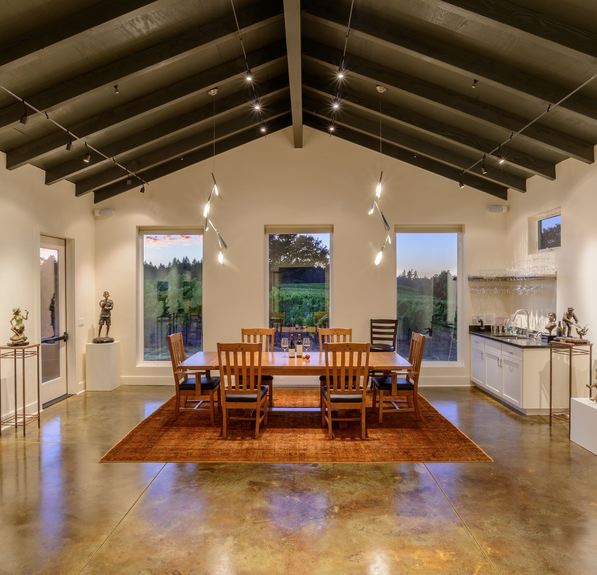 The small production Square Peg Russian River Valley Pinot Noir is allocated through a mailing list at www.squarepegwinery.com. The three wines reviewed here show the promise of this special property, and as additional experience is gained with the site and adaptive winemaking instituted, the Pinot Noir should reach a level of renown that will most probably make the Alpers gamble pay off.
I have featured this winery not because of really high wine scores, but the realization that these wines will appeal to many consumers based on my experience. They are a a touch oaky for my personal taste, but still okey-dokey, because the fruit is of sterling quality.
The wines reviewed here under went a 3-day cold soak after de-stemming. Following the completion of fermentation and extended maceration, the wines were aged in French oak barrels and bottled unfined and unfiltered.
2013 Square Peg SP-SL Vineyard Block 8 Russian River Valley Pinot Noir
14.5% alc., pH 3.70, TA 0.59, 224 cases, $55. Harvest Brix 24.8º. · Moderately light reddish purple color in the glass. The nose offers a nice blend of cherry fruit and savory notes of toast, spice, and wilted rose. Elegantly crafted, with a bright core of mid weight Bing cherry fruit framed by toasty oak and backed by silky tannins. Gorgeous essence of cherry fruit, but I wish the wine had slightly less oak influence. When tasted the following day from a previously opened and re-corked bottle, the nose was still captivating and the oak character had lessened. Score: 89
2014 Square Peg SP-SL Vineyard Block 1 Russian River Valley Pinot Noir
14.5% alc., pH 3.67, TA 0.56, 190 cases, $55. Harvest Brix 25.3º. 100% Calera selection. · Moderate reddish purple color in the glass. Aromas of toasty oak with demure notes of black cherry. Welcome charge of black cherry and black raspberry fruit mid weight flavors presented in a polished style with added accents of oak char, tea leaf, cola and spice. The oak is better integrated on the palate, the texture is quite silky, and the juicy finish attracts attention. Score: 90
2014 Square Peg SP-SL Vineyard Block 8 Russian River Valley Pinot Noir
14.5% alc., pH 3.60, TA 0.56, 170 cases, $55. Harvest Brix 24.2º. · Light reddish purple color in the glass. Opens with a heavy dose of cardamom, clove and toast aromas, transitioning over time in the glass to Bing cherry, tobacco leaf and spice. Mid weight in style, with a tasty core of fresh, even crunchy, black cherry fruit infused with a riff of smoke, toast and savory herbs. The wine sports easygoing fine-grain tannins, and noticeable length on the satisfying finish. When tasted the following day from a previously opened and re-corked bottle, the nose was still demurely perfumed with fruit and noticeably oak inspired, and the cherry and blueberry fruit flavors offered excellent vigor. Tasted twice. Score: 89