Aged California Pinot Noir: Proceed at Your Own Risk
Most California Pinot Noir is ready to drink upon release, but may improve after a few years in bottle. It is the rare bottling that takes on an ingratiating personality over the long term. Sommelier Lauriann Green-Solin believes in the "20% Rule." She says, "Only 20% of wines have aging potential past one or two years. Why? Because they are not created with aging in mind. The winemaking techniques used for these wines favor fruitiness and freshness, not extraction of the dry matter and tannins needed for a wine to age well (polyphenols such as various tannins are natural preservatives that give wine the potential for a long life). They may also lack the quality to stand up to aging. Only quality wines evolve into something more interesting than they were in their youth." Wines that are of poor quality when young will not be expected to improve simply by cellaring them. A wine cellar is not a wine hospital.
Most California Pinot Noir is ready to drink upon release, and some will improve after a few years in bottle, but most are not made for long term aging. "Improvement" depends on the preferences of the drinker and will only be realized by those who like the effects of aging on Pinot Noir. Over time, the tannins become softer and tertiary characters develop. The fruit loses freshness and becomes more dried in character. Vegetal aromas often develop and floral, earthy and undergrowth characters may dominate. Poorly balanced Pinot Noirs may show exaggeration of elements that were not harmonious on release, such as oak and alcohol as the fruit fades. Faults in wine may also exaggerate over time.
Characters in Wine
Primary: Characters that are intrinsic to the grape are also known as grape variety characters. These aromas and flavors often defy proper description in Pinot Noir which can display a blend of fruits ranging from red to black. Primary characters should always prevail over secondary characters.
Secondary: Aromas and flavors due to alcoholic fermentation and maturing in oak barrels. Yeasts break down sugar in grape juice producing alcohol and carbon dioxide gas, as well as minute amounts of other substances known as the secondary products of fermentation. Secondary aroma depends on the level of sugar in the grapes. The greater the quantity of sugar involved, the more intense the secondary aromas of alcoholic fermentation. Examples are aldehydes (yeast, sourdough, bruised apple), esters (banana, nail varnish), fatty acids (soap, candle wax) from primary fermentation and diacetyl (dairy, butter) from malolactic fermentation. A large number of secondary characters may arise from oak barrel aging including toast, coffee, mushroom, truffles, etc.
Tertiary: Also known as "bottle bouquet," tertiary characters develop from aging through recombination of esters and alcohols after alcoholic and malolactic fermentation are complete. Tertiary aromas are properly called "bouquet," whereas primary and secondary smells are best referred to as "aromas." Typically, the aged character consists of a bouquet and flavor profile of old wine cellar, undergrowth, tea, rose, tobacco leaf, mulch, leather and dried fruit. Tertiary characters are the hallmark of aged Pinot Noir and are an acquired taste that comes from experience. Few consumers age California Pinot Noir, so they don't know what exceptional aged Pinot Noir really tastes like, and whether it will turn out to suit their taste.
The title of this article, "Proceed at Your Own Risk," refers to what wine writer Tim Patterson has pointed out: "You can estimate how long a wine will live, but you cannot tell what the wine will smell or taste like." It is challenging to predict the future sensory profile, and even more challenging to predict whether you will like the wine when it does age.
The unpredictability of the transformation of California Pinot Noir is complicated by a number of factors that influence the eventual result: balance, acidity, tannins, whole cluster inclusion, type of cooperage and length of oak barrel aging, typicality of region, cellar conditions, ABV, size of bottle and vintage.
My last extensive look at aged domestic Pinot Noir was in October 2016 when I reviewed 178 wines: www.princeofpinot.com/article/1735/. I concluded that most domestic Pinot Noirs that are aged five or more years are frequently drinkable, even enjoyable, but not as tantalizing as those wines less than five years of age. I pointed out that the taster's palate will confirm or dispute this generalization as some domestic Pinot Noir drinkers will undoubtedly prefer the nuances and tertiary characters that accompany well-aged Pinot Noir. My advice was, "Far better to drink a domestic Pinot Noir too soon than too late."
For this review of 42 aged California Pinot Noirs, I choose wines from four producers that I had acquired wines from and cellared through the years. All wines have been perfectly cellared in my wine locker at least 6 years, with little or no movement over the time of storage. All wines were closed with cork. I have kept the reviews succinct and scoreless. I should point out that I have a bias for younger California Pinot Noir over aged versions, but when you discover a truly great aged California Pinot Noir, it can be a near epiphanic experience.
Littorai, Sebastopol, CA
Littorai wines are known for balance and quality,, making them ideal candidates for aging. All wines produced are also offered in magnum format that further enhances age ability. The B.A. Thieriot Vineyard Pinot Noir is my favorite among the many excellent wines in the Littorai lineup. Cameron and Bridgit Thieriot bought the property in the Western Sonoma Coast in 1988 and the first part of the vineyard was planted by the late Warren Dutton. Subsequent plantings in 1994 and 1996 brought the total size to 8.5 acres of Pinot Noir (114, 667, 777 and Pommard) and Chardonnay (Old Wente, Robert Young). The site is located near the town of Occidental across the street from Summa Vineyard. It is widely known as one of the premier vineyards in the Sonoma Coast appellation. A divorce in the mid 2000s prompted the change in name of the vineyard from Thieriot to B.A. Thieriot. Cameron now farms Cabernet Sauvignon and Chardonnay in the Santa Ynez Valley and produces wines under the Thieriot Wines label.
Ted Lemon vinifies his Pinot Noir with a varying amount of whole cluster from none up to 60 per cent. After a cold soak, the wines are fermented in traditional open-top vats and punch downs are by hand. All the wines undergo native yeast fermentation and complete malolactic fermentation, as long as nature does not dictate otherwise. Aging is carried out in 30%-50% new French oak barrels for 16-18 months.The wines have enough flesh to be appealing when young, but show best after a few years in the cellar. Since Ted does not strive for consistency, every vintage is unique and therein lies the charm. They are among the most age worthy examples of California Pinot Noir.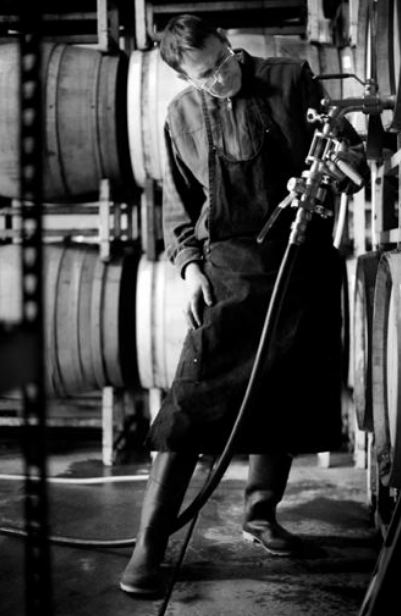 Note: I did not focus on aged California Chardonnay in this review but did sample two older Littorai Chardonnays. My experience over the years tasting many examples of aged Littorai Chardonnay and the delight with these two 2005 examples, indicates that Littorai Chardonnay ages extremely well, and can be exceptional if the minds of drinkers that prefer the tertiary characters that come with aging. Chardonnay lacks the polyphenols that are critical for aging red wines, but higher acidity in Chardonnay can function as a preservative.
2005 Littorai Thieriot Vineyard Sonoma Coast Chardonnay
14.2% alc.. · Moderately light copper color. Bouquet of dried apricot, roasted macadamia nut, bruised apple, agave syrup and yeast. Nicely balanced, with flavors of grilled pineapple, roasted nuts, caramel, and even botryitized white wine. Fantastic in a California style. Drink up.
2005 Littorai Mays Canyon Vineyard Russian River Valley Chardonnay
13.9% alc.. · Moderate golden yellow color in the glass. Bouquet of grilled lemon, smoky toast, old book and woodshed. Delicious flavors of lemon curd, well-ripened pineapple, dried apricot, apple and Nutella. Slightly creamy in the mouth with impeccable balance and some finishing length. Also fantastic in more of an Old World style. Drink now to 2020.
Paul Lato, Santa Maria, CA
Since 2002, Paul Lato, a former sommelier, has been crafting stellar Pinot Noir, Syrah and Chardonnay from Santa Barbara County vineyards at Central Coast Wine Services in Santa Maria. He is a fan of the late Henri Jayer of Burgundy, and the older styled wines of Williams Selyem, and in step, he de-stems all of his fruit (except in Syrahs). The alcohols are relatively high, not always due to high Brix at harvest, but in part due to the level of humidity in the winemaking facility that concentrates the wines. That said, the fruit tends to the ripe side. Cold soaks are often up to 8 days, fermentations are somewhat warm, and the wines are gently fined with egg whites and bottled unfiltered. His goal is always balance and elegance.
Based on this tasting and previous samplings, the wines hold up best in the 8 year post vintage time window.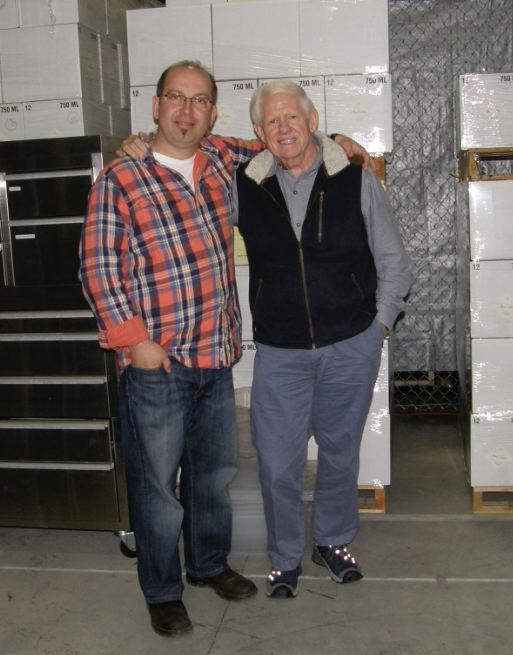 WesMar Winery, Sebastopol, CA
The Pinot Noirs from WesMar ("Wes-Mare") are fashioned in a style reminiscent of the original Williams Selyem wines. This not surprising since proprietors and winemakers Kirk Hubbard and Denise Selyem both learned winemaking at Williams Selyem when Burt Williams and Ed Selyem were at the helm. They still use retired rectangular open-top milk storage tanks that go back to the early days of Williams Selyem. The winery is a garagiste operation, working out of a small warehouse in a former apple processing plant on Gravenstein Highway in Sebastopol. Kirk and Denise do all the work themselves as there are no employees. Their operation harkens back to a simpler time in the wine industry when consumers visited wineries by appointment, got personal attention and learned to bond with owners, and bought the wines directly from the source.
Fermentation in the open-top stainless steel milk storage tanks (pictured below) allows good access for hand punch downs and better skin to juice extraction due to the generous horizontal rather than vertical dimensions of the tanks. Whole cluster ranges from 20%-40%. depending on the vintage and a number of other factors. This allows for enhanced aroma and flavor nuances as well as age ability, yet preserves early drink ability that many consumers prefer. Fermentations typically last 7-10 days after which pressing is done with a vintage bladder press once used for apples. Pinot Noirs are aged in 50% to 70% new Francois Frères oak barrels for 11 months. The entire winemaking process is gravity flow as WesMar owns no pumps. The wines are usually bottled unfined and unfiltered.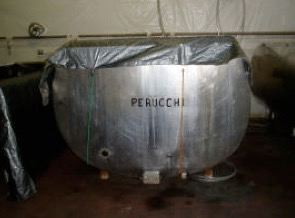 I sampled a number of Pinot Noirs from the 2005 and 2006 vintages in 2010: www.princeofpinot.com/article/ 970/, and the wines performed well overall. This tasting offers some wines with additional age and the results would lead me to drink the wines at younger ages, although the magnums held up better.
Windy Oaks Estate, Corralitos, Santa Cruz Mountains, CA
Proprietor and winemaker Jim Schultze announces his wines with, "All estate, all gravity, all the time." The Schultze Family vineyard is 15 acres of Pinot Noir and Chardonnay situated at 900 feet above Monterey Bay in Corralitos, at the southern end of the Santa Cruz Mountains AVA. He tries to do the most he can in the vineyard and the least he can in the winery. Most fermentations employ 50% wild yeast and are lengthy, lasting 30 to 45 days. 25%-30% whole cluster inclusion is the rule since the stems from his site are often ripe. Jim is obsessive about his cooperage, and travels to Burgundy each year to meet with coopers. He uses 3-year-old air-dried, tight-grained, French oak barrels exclusively. Typically, he ages Pinot Noir for 17-27 months in 35% new oak barrels, with larger percentages used in certain bottlings. His winery has all the accoutrements for Pinot Noir production including a basket press and a modern bottling line. His approach to vinification of Pinot Noir lends itself to age ability, and the results of this tasting confirm this.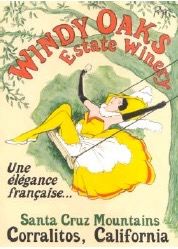 Final impressions after this retrospective tasting of aged California Pinot Noirs:
1. Vintage differences become more apparent as Pinot Noir ages.
2. Although alcohol is a preservative, it can intrude on an aged wine as fruit fades. In the case of the wines tasted in this review, the wines were in balance and alcohol never reared its head with aging.
3. There are more disappointments than epiphanies in aged California Pinot Noir generally.
4. Well-aged Pinot Noir can surprise when first opened, but tend to fade over time and may not provide a special drinking experience over the course of a meal.
5. Oak creep can be evident in Pinot Noir over time, tending to be more apparent as fruit fades in proportion.
6. Faults or defects can be more apparent in wines over time.
7. 47% of the Pinot Noirs tasted that were ten years or less out were still drinking well and should last through the near or mid term.
8. 19% of the Pinot Noirs tasted that were ten years or less out were still enjoyable but should be drunk in the short term.
9. 24% of the Pinot Noirs tasted that were ten years or less out were drinkable or even enjoyable now but should be consumed now.
10. 10% of the Pinot Noirs suffered decrepitude or were defective. There were no instances of cork taint but a few wines had oxidized characters.
11. Most Pinot Noirs that were tasted beyond ten years of age were at or near the precipice.
12. Speaking in general terms with few exceptions, I would not cellar most California Pinot Noir beyond 5 to 7 years and certainly not beyond 10 years unless you like to gamble or find interest in well-aged characters.
13. No one can accurately predict a Pinot Noir's apogee. As winemaker Zelma Long noted, "The truth of wine aging is that it is unknown, unstudied, poorly understood and poorly predicted." Do not be encumbered by worrisome thoughts about how long to cellar a domestic Pinot Noir. Just pop the cork when you feel like drinking a wine. It is the gospel truth that it is better to drink a domestic Pinot Noir too early than too late. Better to revel in the joy of youthfulness than the decrepitude of old age.