Unprecedented Tasting of Well-Aged California Pinot Noirs: Blake Brown Reports
Blake Brown is a Pinot Noir enthusiast with an excellent palate and an eye for aged Pinot Noir. Recently, a friend of his had a number of well-aged Pinot Noirs to open, and along with his winemaker partner, hosted an evening in their home for this special happening. Fourteen attendees enjoyed food catered from the local Hitching Post Restaurant by Frank Ostini, who also participated in the tasting. Burt Williams attended along with six other prominent winemakers from the Santa Barbara County area.
The dinner featured 12 Williams Selyem Pinot Noirs from 1987-1997, and 9 Pinot Noirs from 1954-1973 by Inglenook, BV, Charles Krug, Hanzell and Martini. The tasting notes to follow are by Blake Brown who kindly agreed to share his experience.
First Flight
1987 Williams Selyem Sonoma County Pinot Noir "This blend contained fruit from the little known Barnes Road Vineyard (? exact name) that was never vineyard designated. The color was still free from an effects of aging. The nose had a really inviting spice red fruit character that continued over to the taste profile along with some burnt toast, smoke and cola notes. As opposed to a quick hit and out, this wine kept getting better and better in the glass. The lovely texture was soft and the wine had enough stuff to stay on at the end. Burt said he was quite surprised at how well this entry level Pinot Noir showed. It was one of my favorite wines of the night as well as the favorite of others."
1988 Williams Selyem Sonoma Coast Pinot Noir "50% Russian River Valley and 50% Sonoma Coast grapes. The aromatics had some leather, cedar and earthy notes almost suggestive of Brett that gave way to wonderful, slightly sweet and lightly spiced red cherry. The wine was light and easy on the palate and on its own, a pleasant drink and not flawed."
1990 Williams Selyem Rochioli Vineyard Russian River Valley Pinot Noir "Burt mentioned that this was a strange vintage that followed a few seasons of drought even though there had been some rain in late 1989. He felt this wine did not have has much going for it in comparison to all of the consistently great Pinot Noirs from this vineyard first planted in 1969. Burt commented that this was his best vineyard. This was a very good wine showing little signs of aging in the color or taste. It gave up wonderful clove-enriched cranberry and cherry fruit that was a bit briery. This bottle also got better with time, and raspberry and red cherry came in late to embellish the experience. This wine was light and easy, silky smooth, and preferred by some attendees as wine of the night.
1991 Williams Selyem Olivet Lane Vineyard Russian River Valley Pinot Noir "Corked."
1992 Williams Selyem Allen Vineyard Russian River Valley Pinot Noir "Amazingly youthful from its dark red purple color on. The wine was lively, energetic and beautifully balanced. It had delicious spicy red and black fruit notes with black raspberry being most prominent. Round and seamless, with a fantastic mouthfeel and length contributing to the greatness of this wine. My #1 wine of the night as I vacillated between this and the 1987 when it came time to declare. A winner among many winners."
1993 Williams Selyem Russian River Valley Pinot Noir "This was a strange bottle for me. After noticing the brown rim around the edge, the nose had a really offensive veggie character. The taste, however, would have nothing of it, and only gave pure pleasure. The wine was full-bodied and full of tasty mature red fruit that just kept unfolding. Past mid palate, there was more coming in and hanging on for a grand climax. I kept going back to check if the nose would blow off, and it never did even a smidgen. I forgot about the nose and drank it."
Second Flight
"The color was a light to medium red, and the nose offered very pleasant spicy red and black cherry fruit. The Williams Selyem wines are all hallmarked by a wonderful mouthfeel and this one followed suit. A very mellow and graceful wine with enough goodness to please."

1994 Williams Selyem Sonoma Coast Pinot Noir "This wine was composed of fruit from the south Sonoma Coast vineyards, Hirsch Vineyard and Summa Vineyard. Dark red in color, this wine still had a youthful vitality and started off in a big way with a serious dollop of spice and then bright red fruit. More spice built on more spice, more than I can ever remember in any of the past Williams Selyem Pinot Noirs I have tasted although a spicy characteristic is certainly one of the common threads. Fresh red fruit stood out as well as the silky soft texture. I loved this bottle and am happy to have some in my cellar."

1995 Williams Selyem Sonoma Coast Pinot Noir "Still youthful medium red color. The aromatics were simply magnificent. There was an abundance of cola and spice to support the red raspberry, red cherry and blueberry fruit. It had lovely balance, feel and length. A great bottle."

1996 Williams Selyem Hirsch Vineyard Sonoma Coast Pinot Noir "Another still youthful wine with so much going on. It was just perfect in weight, fruit and spice compliments, feel and finish. There was a perfect blend of strawberry, red raspberry and red cherry all easily identified and hanging in there all the way to the back end. The soft and smooth texture added to the enjoyment of the tastiness. Definitely one of my favorite wines of the night."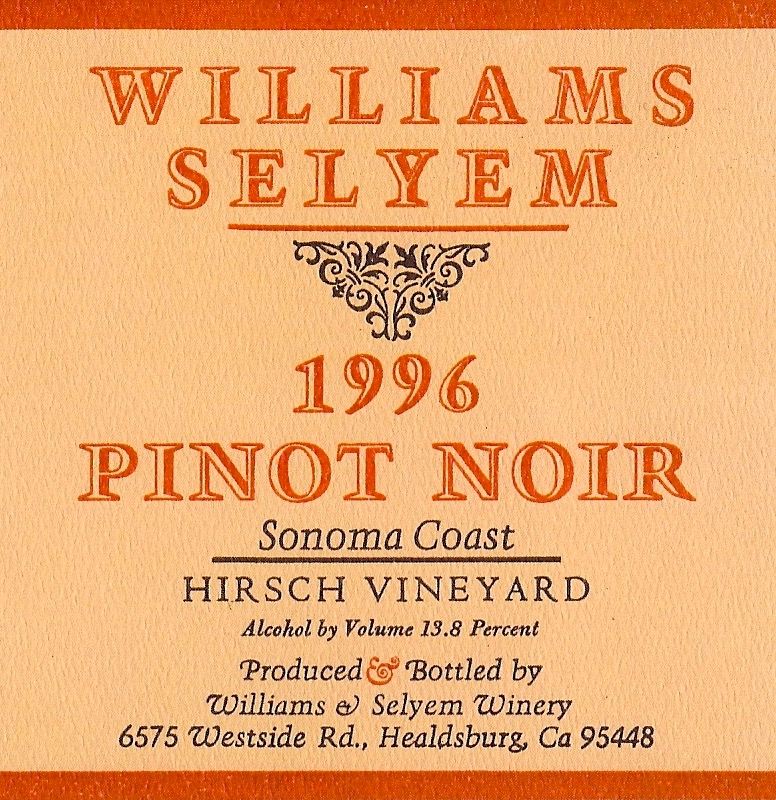 1997 Williams Selyem Hirsch Vineyard Sonoma Coast Pinot Noir "Medium dark red color. Talc and baking spices accent the red and black cherry with a strong hint of maraschino as well. There was a distinct difference between this and the 1996 Hirsch Vineyard Pinot Noir. Both were super good yet different. This bottle was in beautiful balance and had a classic silky texture as well as a sustained finish."

1997 Williams Selyem Sonoma County Pinot Noir "This was was composed of a healthy percentage of fruit from the Summa Vineyard. The nose had an uncharacteristic mustiness that did not dissipate over time. Fortunately, there was none of this in the taste profile that was redolent of fresh and ripe red and black fruits with black cherry being most prevalent. My first thought about the mustiness was sulfur but Burt mentioned several times he used very little sulfur dioxide in his wines, so I avoided the question and enjoyed the wine's tastiness."



Third Flight
Blake noted, "As with all of the older wines that followed, there is something to be said about the magnificence of these wines in their own right. One must have a greater appreciation for what that translates to and not expect the wines to be what we are so accustomed to in wines that are much younger."

1954 Inglenook Napa Valley Pinot Noir "This vintage marked the 75th anniversary of the winery and was made during the years of John Daniel who during the celebration announced the motto, 'Pride, not Profit.' This bottle showed its maturity with an aged brown purple color as well as almost beyond tertiary dried red and dark fruit accented with coffee and dark chocolate notes. I was proud to have a sip of this wine."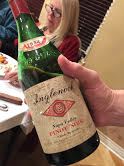 1965 Beaulieu Vineyard "Beaumont" Napa Valley Pinot Noir "I assumed this was made by the iconic André Tchelistcheff as he did not retire until 1973. The wine was almost maple in color, had a considerable amount of earthiness along with tertiary flavors of dried prunes and figs."

1965 Charles Krug Peter Mondavi Family Napa Valley Pinot Noir "I did not notice the label to see if this came from their vineyards in Carneros, but I suspect it was since that was their primary if not solo source of Pinot Noir and Chardonnay in those days. This bottle was quite aged from the color and taste profile that reminded me of a dry version of Welch's grape juice commonly used for communion when I was a child."

1965 Hanzell Vineyards Sonoma Pinot Noir "This was the year that the Zellerback family sold their winery to the Day family, so I presume it was made by the original owner's winemaker, Brad Webb. The vines were first planted in 1954 using a Martin Ray selection, with the fruit first vinified in 1957. The wine had an impressive nose that suggested anything other than over the hill and out. The fruit was more dried cranberry and cherry with a bit of sweetness. By mid palate, the fruit started to dissipate and with a few minutes, it just disappeared and some funky stuff took over. At least I got an early nice dose."

1966 Louis M. Martini Special Selection California Mountain Pinot Noir "The nose was mindful of Dry Creek Valley Zinfandel, with spice and pepper notes and a touch of blueberry. It would have been a major stretch to call it Pinot Noir in a blind tasting."



Fourth Flight
1968 Beaulieu Vineyards "Beaumont" Napa Valley Pinot Noir "This wine had some briery and metallic characters that stood out in the aroma and taste. The fruit was more on the wild side with dried blackberry and black raspberry. The wine finished with more of the metallic notes."

1969 Beaulieu Vineyards "Beaumont" Napa Valley Pinot Noir "More of the metallic, steely notes were apparent like in the 1968 bottling. Also noted, were chocolate and coffee-laden and dried dark fruit."

1969 Louis M. Martini Special Selection California Mountain Pinot Noir "A better offering than the previously tasted 1966 vintage. More expansive with an immense amount of aromatics and taste. Decent tertiary plum, black cherry and blackberry fruit stood out.

1973 Charles Krug Peter Mondavi Family Napa Valley Pinot Noir "The youngster of the last nine wines and it had more going for it than most of the others. The wine still showed its age in the color and taste, but gave up smoke-inundated and dried black currant, black cherry and cranberry fruit holding on for a longer finish."




Blake's final comments. "There were at least 6 of the 12 bottles of Williams Selyem Pinot Noir that shined ever so brightly and 3 more that on their own would have stood up and been counted in any setting. To have Burt at the table was an added treat and for some of us, it provided a invaluable dialogue for education and edification.