Pahlmeyer Pinot Noir
Pahlmeyer is among the top echelon of Napa wineries and the label is synonymous with consistently superb Chardonnay, Merlot and Bordeaux-styled wines. Like other luminous Napa wineries such as Joseph Phelps and Del Dotto, Pahlmeyer has ventured to the far western reaches of Sonoma County to farm Pinot Noir on the edge. In 1998, Pahlmeyer found Wayfarer Farm, a small organic fruit and vegetable farming operation owned by Dorothy and David Davis who sold organic produce to San Francisco Bay Area restaurants such as Chez Panisse and Greens. The ranch extended over 70 acres and according to Pahlmeyer President Ed Hogan, was a "fairytale landscape of slopes, with not a single flat stretch in sight." Like other notable vineyards in this region such as Flowers and Hirsch (Hirsch can be seen looking south from Wayfarer Farm), the property is situated two ridges in from the Pacific Ocean. The elevation is 1,125 feet. The vineyard is a 45 minute drive along twisting narrow two lane roads from Jenner, where the Russian River Valley empties into the Pacific Ocean. I can vouch for its isolated but scenic location as I visited Wayfarer Farm recently with winemaker Erin Green.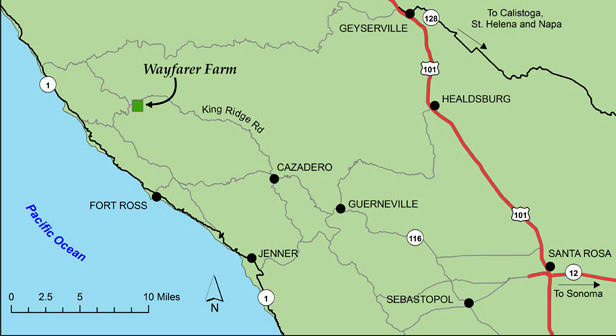 After purchasing Wayfarer Farm from the Davises, Jayson Pahlmeyer set out to re-create "La Tache" in California's Sonoma Coast. It was immediately apparent that the daily fog which rolls in each evening and burns off each morning cools the area and recharges the vines each evening. The vineyard planting began in 2000. Winemaker Erin Green chose 12 different clones of Pinot Noir, (including 115, 667, 777, 828, Wente, Mt Eden, Swan and Calera selections, and Pommard) which were field grafted onto four different types of rootstock. Close spacing at 3 x 6 feet was employed, and the vineyard was laid out to mesh seamlessly with the topography. The vineyard is homogenous from a soil standpoint with sand, loam and deeper maritime fossils. Planting has been done in stages, and a total of 30 acres is now under vine. The first harvest was in 2005, but production is still very low, with some parts of the vineyard not yet established. The first two harvests have produced very small berries with intense flavors. Erin told me that her only regret is that "she won't be around in 40 years to see how the mature fruit turns out!" Photos of the vineyard are included on the following pages.
Farming in an isolated region like this is no picnic. Fortunately there are enough vineyards in the area now that vineyard management companies have crews in the area. Ulises Valdez is the vineyard manager. Pahlmeyer's viticulturalists (headed by Amy Warnock) check on the vineyard weekly . Erin lives in Santa Rosa and must travel from home 1½ hours to the vineyard and 1½ hours to Pahlmeyer's winery on Atlas Peak in Napa. So much for the romance of winemaking.
The photos below show the rolling hillside terrain of the Wayfarer Farm vineyard. There is very little flat land on which to plant a vineyard along the Sonoma Coast. The air is pristine and one can see for miles in all directions.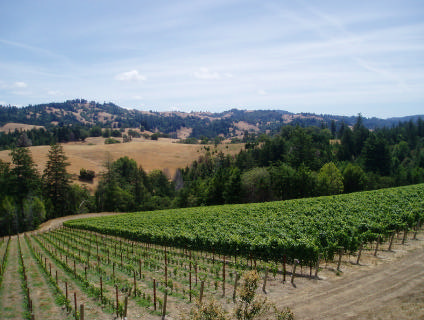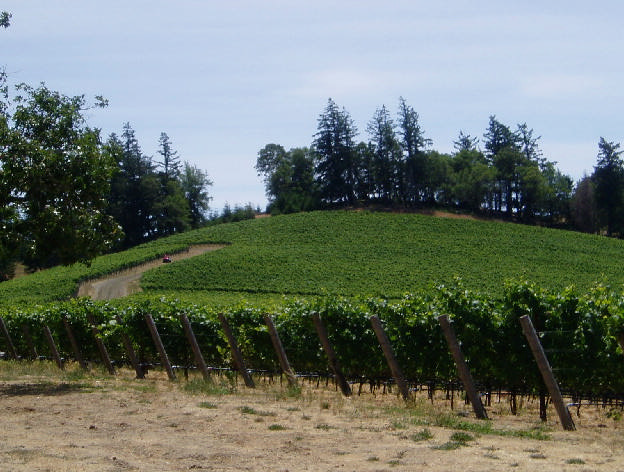 The day before I traveled to Wayfarer Farm with Erin Green, I had the unique experience of flying over vineyards in Sonoma and Mendocino counties. Chris London, who along with his wife Karen, farms Spring Hill Vineyard in the hills west of the town of Petaluma, is a Captain for United Airlines. He was kind enough to take winemaker Jamie Kutch and his new wife Kristen along with myself on a flight over the Petaluma Gap, the Sonoma Coast, the Anderson Valley, and the Russian River Valley. From the air, one can acquire a unique perspective of the topography of these wine growing regions. In addition to the Wayfarer Farm Vineyard, several other notable vineyards were identified.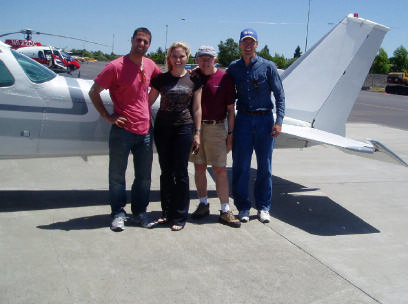 Jamie and Kristen left, Chris far right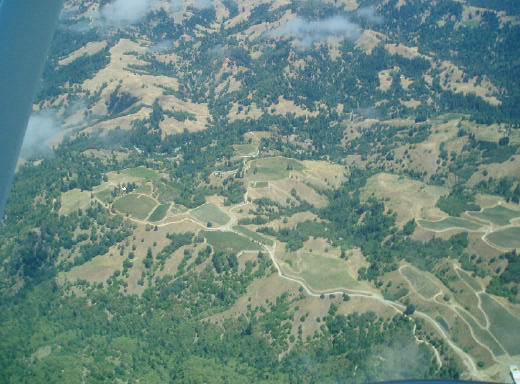 Hirsch Vineyards, Sonoma Coast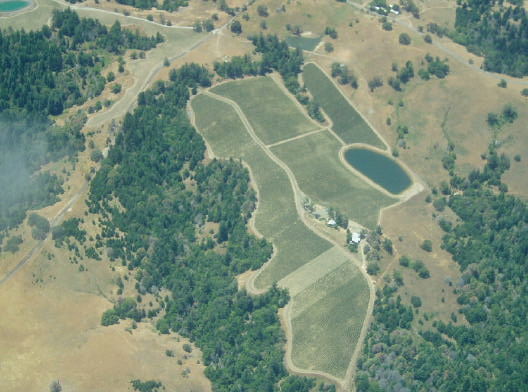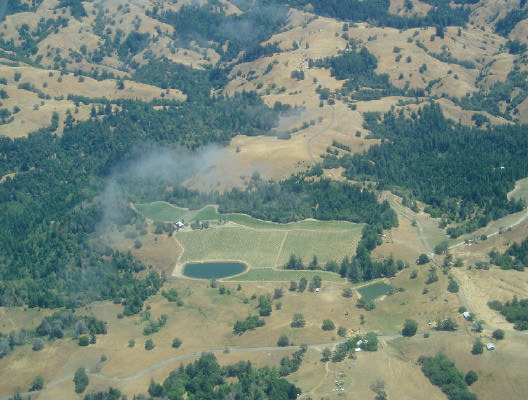 Wayfarer Vineyard, Sonoma Coast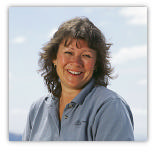 Pahlmeyer has had distinguished winemakers beginning with Randy Dunn, followed by Helen Turley, and now Erin Green. Erin worked for Helen Turley from 1993-1999 and became the Director of Winemaking in 2000. She has a degree in Fermentation Science from University of California Davis. I found her to be a smart cookie who has my admiration for her ability to craft several different varietals at Pahlmeyer. She has a winning smile and laugh and an engaging modesty. In 2003, Pahlmeyer added consultant Michel Rolland to the winemaking team. Three times a year he journeys to the United States to work with Erin to develop the blends.
Pahlmeyer will be releasing two Pinot Noirs this year. The 2005 Jayson Pinot Noir was released in April, and the 2005 Pahlmeyer Pinot Noir will be available in September. The wines as yet are not truly estate in that other vineyards supplied some of the fruit. As the vineyard matures, other sources will gradually be phased out. I tasted both Pinot Noirs with Erin Green at Wayfarer Farm and also sampled the Jayson Pinot Noir in my usual fashion at home.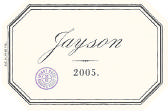 14.9% alc., 3,330 cases, $65. The grapes were crushed whole berry and de-stemmed. A cold soak was followed by fermentation with native yeast, gentle pressing, 9 months of barrel aging in 67% new French oak, and bottled unfiltered. The Jayson Pinot Noir is considered a "declassification" of the Pahlmeyer Pinot Noir, but the quality of the lots that remain after assembling the final blend of the Pahlmeyer Pinot Noir is still stellar. · The sexy nose of dark cherries, blackberries, mushrooms and earth stands out. The flavors mimic the aromas with an added spice and woodsy influence in the background. After four hours, a little spice comes forth in the nose and a hint of root beer enlivens the flavors. Everything is nicely balanced with the tannins well-concealed and the alcohol well-integrated. No question this is a broad-shouldered middleweight Pinot Noir with a rich core of fruit, but it dances softly on the palate.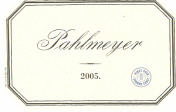 14.9% alc., 14.9% alc., 1,400 cases. The grapes were sourced from Goldridge, Pellegrini and Dutton vineyards as well as Wayfarer. Winemaking is the same as for the Jayson except barrel aging was 15 months. · The color is deeper than the Jayson. This wine has a massive concentration of dark wild berry and plummy fruit. The nose is shy but hints of earth, meat and crushed blackberries. This Pinot is brooding at this stage and the oak tannins are noticeable on the finish. This will need some cellar time to fully emerge (drink the Jayson now while the Pahlmeyer ages). A muscular heavyweight that is built for the long haul and will thoroughly please fans of the hedonistic style of Pinot Noir.
Pahlmeyer Pinot Noirs may be ordered directly from the winery (www.pahlmeyer.com, 707-255- 2321) or through the network of restaurant partners and retail merchants around the world. A special website has been set up for further information: www.pahlmeyerpinotnoir.com.