FEL Wines Always On Point
Since 2014, when Cliff Lede, proprietor of Lede Family Wines in Napa Valley, expanded into Pinot Noir, Pinot Gris and Chardonnay production in the Anderson Valley, the wines have been consistently on point. Winemaker Ryan Hodgins is a very talented graduate of University of California at Davis with a Master's Degree in Viticulture & Enology. He was profiled at the World of Pinot Noir in 2015: www.princeofpinot.com/ article/1671/.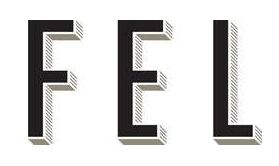 Vineyard sources are superb including Savoy Vineyard, now owned by Lede, Ferrington Vineyard and Donnelly Creek Vineyard, all located in the Anderson Valley, and Hirsch Vineyard in The Sonoma Coast. The vineyarddesignated wines reviewed here are available directly from the winery and for wine club members. Visit www.felwines.com. Tasting is available inside the Cliff Lede Vineyards 1913 Craftsman-style tasting room in Yountville that is open daily. Various tasting options are offered.
The 2014 vintage in the Anderson Valley and Sonoma Coast featured a warm spring and an early bud break in March, ultimately leading to an early harvest. September weather was moderate, allowing grapes to be picked as flavors developed in sync with balanced acidity. The condensed harvest led to long days in the winery, but the resulting wines show a pedigree only found in great vintages.
The three wines reviewed here have the same divine score but are distinctively different.
2014 FEL Donnelly Creek Vineyard Anderson Valley Pinot Noir
14.8% alc., 191 cases, $65. Released February 1, 2017. Harvest Brix average 24.6º. Pommard and Stang clones. 7-day cold soak, 9-day uninoculated primary fermentation, and a 4 to 6-day extended maceration. Aged 16 months in French oak barrels, 50% new. · Moderately dark reddish purple color in the glass. Well perfumed with deep aromas of red cherry, ripe strawberry and yeasty dough. Lush and seductive on the palate, with a mid weight plus charge of enticing flavors of black cherry, blueberry, pomegranate and dark chocolate. Very hedonistic like a busty girl with big lips that you just can't take your eyes off of. Relatively high in alcohol, but nicely balanced with an amazing finish that won't quit. Score: 93
2014 FEL Ferrington Vineyard Anderson Valley Pinot Noir
14.3% alc., 241 cases, $65. Release December 1, 2016. Harvest Brix average 24.2º. Wädenswil and dijon 777 and 115.7-day cold soak, 9-day uninoculated primary fermentation, and a 5-day extended maceration. Aged 15 months in French oak barrels, 52% new. · Moderately light reddish purple color in the glass. An earthy, grounded wine featuring aromas of dark grape jam, dark red cherries and toasty oak. A bit tight and burly at present, but relinquishes delicious Bing cherry flavor accented with cola, sarsaparilla and toasty oak. Silk and satin in the mouth, with agreeable tannins and a dark cherry filled finish. Score: 93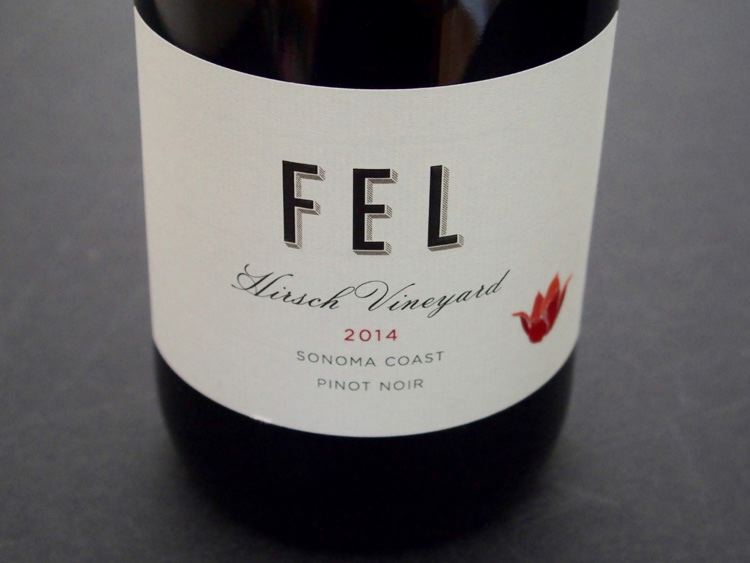 2014 FEL Hirsch Vineyard Sonoma Coast Pinot Noir
14.3% alc., 291 cases, $65. Released February 1, 2017. Average harvest Brix 24.1º. A blend of Dijon 777 and Pommard clones from two blocks of Hirsch Vineyard. 5-day cold soak, 8-day uninoculated primary fermentation, and a 3 to 8-day extended maceration. Aged 16 months in French oak barrels, 38% new. · Light cherry red color in the glass. Interesting aromas of black cherry, strawberry, clove and nori. Light to mid weight in style, with a tempting cherry core embellished with cardamom, clove and other spices. A spirited wine with a very appealing velvety texture, integrated tannins, and a lip-smacking finish filled with spiced cherry goodness. Score: 93