More Good Stuff
Joseph Jewell Wines, Cloverdale, CA
Micah Joseph Wirth and Adrian Jewell Manspeaker craft small quantities of Pinot Noir sourced from vineyards in the Russian River Valley and Humboldt County. Visit www.josephjewell.com.
Lichen Estate, Anderson Valley, CA
The Lichen Estate Vineyard was planted in 2008 when the owners were operating Breggo Cellars that was founded on a former sheep ranch in 2005. The brand was sold in 2009, but the land was retained. At the end of 2014, the Breggo lease ended and Lichen's first estate grown wines were produced.
The name, Lichen, reflects the widespread Lichen covered hillsides in the Anderson Valley. Winegrowers Douglas and Ana Lucia Stewart farm their high density planted vineyard organically. It is planted to four clones of Pinot Noir (Martini, Wädenswil, Pommard and Dijon 667) on three rootstocks. There is a smaller planting of Pinot Gris. The winery's tasting room is open Thursday-Monday in Boonville. Visit www.lichenestate.com.

2015 Lichen Estate Moonglow Anderson Valley Pinot Noir
13.1% alc., pH 3.51, TA 0.56, 324 cases, $35. Released October 2016. 100% Lichen Estate fruit, all four clones, harvest Brix 22.0º-24.0º. 3 to 4-day cold soak, fermented 14-17 days in closed-top stainless fermenters followed by a 2 to 3-day extended maceration. Aged 11 months in French oak barrels, extra tight grain, medium toast, about 20% new. · Moderately light cherry red color in the glass. Readily accessible aromas of red cherry, raspberry coulis, red licorice, rose petal and rose stem. Relatively light in weight in a very pleasant, easy-drinking style, featuring red cherry and berry flavors, sleek tannins, and a juicy finish highlighted with raspberry fruit. Score: 89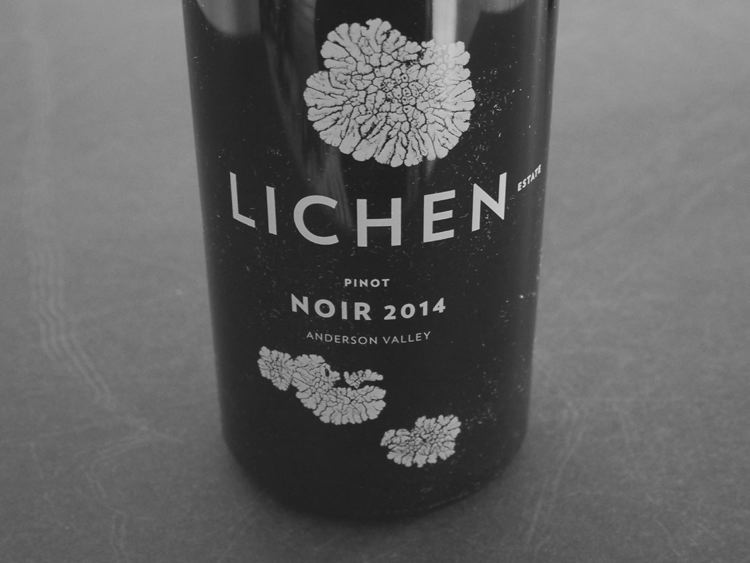 2014 Lichen Estate Anderson Valley Pinot Noir
13.9% alc., pH 3.48, TA 0.56, 182 cases, $65. Released October 2016. Harvest Brix 22.4º-24.6º. 5 to 6-day cold soak, 14 to 17-day fermentation and 2 to 3- day extended maceration. Aged 17 months on the lees with stirring the first 9 months in French oak barrels, extra tight grain wood, medium plus toast Francoise Frères. · Moderately light reddish purple color in the glass. Perfumed and sensuous, with deep aromas of cherry, spice, brier and earthy flora. Lush and satisfying on the mid weight palate, with robust cherry flavor accented with a subtle thread of cola and spicy oak. Beautifully balanced, with silky tannins and a bright, juicy finish. Very classy juice. Score: 93
ROAR Wines, San Francisco, CA
ROAR Wines is owned by Gary and Rosella Franscioni, who also own the nearby Garys' Vineyard (50 acres planted in 1997) and Soberanes Vineyard (35 acres planted in 2008) in partnership with the Pisoni family, and are the sole owners of Sierra Mar Vineyard (38 acres planted in 2007) and Rosella's Vineyard (50 acres planted in 1996).
The name, "ROAR," is derived from the sound of the ocean winds that whip through the Santa Lucia Highlands. The winemakers are Gary Franscioni and his son Adam together with Scott Shapley and are made at an urban winery in San Francisco.
ROAR produces Pinot Noir, Syrah, Chardonnay and Viognier from grapes grown at Rosella's, Garys', Sierra Mar, Soberanes, and Pisoni vineyards in the Santa Lucia Highlands. The wines are sold primarily through a mailing list at www.roarwines.com. The Franscioni family is pictured below (including their dog "Tiger").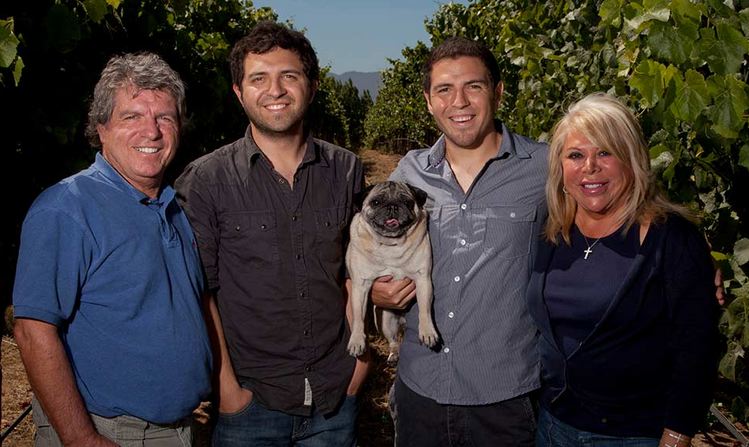 The wines reviewed here are the February 2017 releases. The grapes for these wines were clearly picked very ripe, but the fruit does not taste of compote or jam, and admirable balance makes the wines very agreeable. The high percentage of new oak makes an impression, but is not overbearing. Silky elegance is a common thread. The wines are still very young and the scores may be a conservative underestimate compared to a sampling after another year in bottle.
Senses Wines, Calistoga, CA
Three childhood friends, Chris Strieter, Max Thieriot and Myles Lawrence-Briggs, partnered with noted winemaker Thomas Rivers Brown to produce Pinot Noir and Chardonnay from West Sonoma Coast vineyard sites. The wines are offered directly to a mailing list twice a year. Visit www.senseswines.com.
The 2014 growing season on the West Sonoma Coast offered mild and steady warmth and dry conditions making for an ideal harvest.
2014 Senses Sonoma Coast Pinot Noir
13.8% alc., $45. Aged 10 months in French oak barrels, 20% new. · Moderately light reddish purple color in the glass. The nose is filled with aromas of cherry, strawberry, blueberry and spice. Light to mid weight in a laid-back style, with flavors of plum and dark red strawberry with a subtle oak spice compliment. Very giving and elegantly composed, with a comforting texture and a carefree finish. Score: 90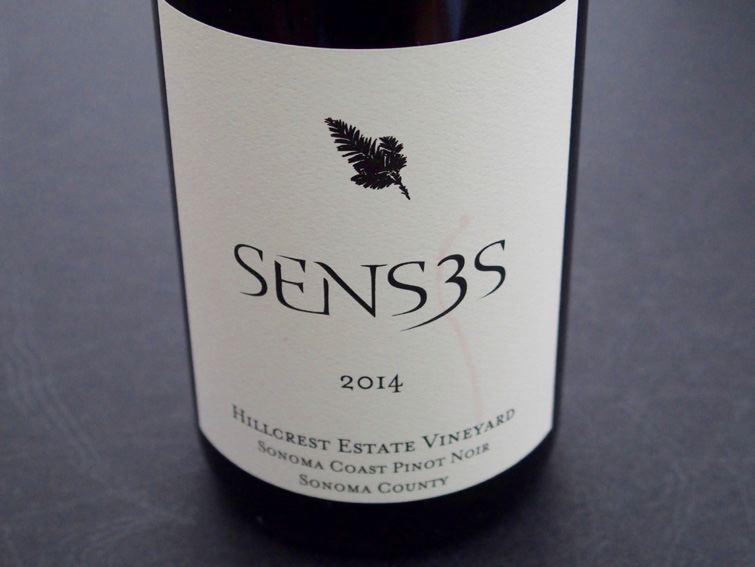 2014 Senses Hillcrest Estate Vineyard Sonoma Coast Pinot Noir
13.6% alc., $65. Myles Lawrence-Briggs' parents, Carl Biggs and Lisa Lawrence, bought this site in 1988, located just outside the town of Occidental. The vineyard neighbors the Charles Heintz Vineyard to the west and is home to the original Chardonnay planting in the West Sonoma Coast (since replanted to Pinot Noir. 2 acres of clones 115 and "828," and Calera and Swan selections planted in 2005 in Goldridge sandy loam soils. Aged 10 months in French oak barrels, 35% new. Well-perfumed with aromas of red berries, spice and a hint of smoke. · Well-perfumed with aromas of red berries, spice and a hint of smoke. Delightful mid weight flavors of dark red cherry and black raspberry with a sprinkling of woodland spice and smoke. Nothing out of place, with a mellow texture and a finish that grabs the heart with a soaring black cherry note. Score: 92