Sips of Recently Tasted Wines
Longboard Vineyards, Healdsburg, CA
Owner, winegrower, winemaker and surfer, Oded Shakked, offers Pinot Noir from purchased grapes in the Russian River Valley. He is an Israel native who and lived, worked and surfed on four continents, but fell in love with northern Sonoma County in the late 1980s. The label was established in 1998, but the first Pinot Noir was released in 2006. That said, he has made Pinot Noir in California every year but once since 1986 (he was in Bordeaux in 1987). Multiple other varietals are offered, including Sauvignon Blanc, Chardonnay, sparkling, and Merlot, Malbec, Cabernet Sauvignon and several Syrahs.
The winery's tasting room, named the Surflounge, is a two minute walk from Healdsburg Plaza, and is open daily. Visit www.longboardvineyards.com.
2014 Longboard Vineyards Russian River Valley Pinot Noir
13.9% alc., pH 3.61, TA 0.64, 581 cases, $39. Clones 115, 667, 777 and Pommard. 3-day cold soak, open-top fermentation, aged 12 months in French oak barrels, 30% new. · Moderate reddish purple color in the glass. Elevating aromas of Bing cherry, blueberry and oak spice lead to a mid weight styled wine with a core of fresh red cherry and berry fruits offering good vibrancy. The silky tannins make for forward drinking. A thread of citrus plies the background and shows up on the slightly tart finish. Score: 89
2015 Longboard Vineyards Russian River Valley Pinot Noir
13.8% alc., pH 3.62, TA 0.61, 714 cases, $39. Clones 115, 667, 777 and Pommard. 3-day cold soak, open-top fermentation, aged 12 months in French oak barrels, 30% new. · Dark reddish purple color in the glass. Aromas of blackberry, cassis, vanilla and root beer lead off. Rather lush and intensely fruity, featuring flavors of very ripe dark raspberry, boysenberry and blackberry complimented with oak-driven notes of vanilla and nuts. Energetic, but supportive tannins, with a consuming, fruit-driven finish. Quite a contrast from the 2014 vintage of this wine that has considerably more ripeness, sap and grip and less Russian River Valley in character. Score: 88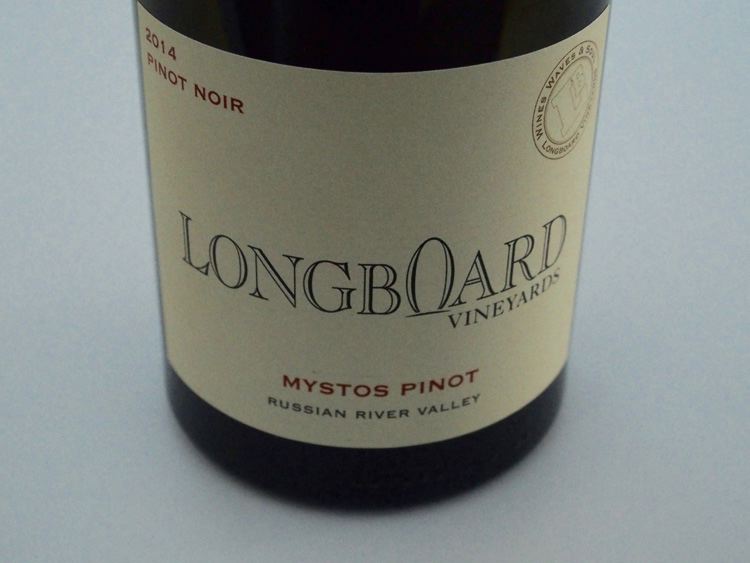 2014 Longboard Vineyards Mystos Russian River Valley Pinot Noir
13.9% alc., pH 3.65, TA 0.62, 108 cases, $55. The owners of the vineyard do not want their name on the bottle but the grapes are from a Russian River Valley hillside vineyard. Mystos is the name of a popular surf spot on the Sonoma Coast known only to locals. Rochioli selection. 3-day cold soak, open-top fermentation, aged 12 months in French oak barrels, 33% new. · Moderate reddish purple color in the glass. Enticing marriage of Bing cherry and blackberry fruit aromas with barrel input. Eye-opening, mid weight core of earth-kissed boysenberry and blackberry flavors. The silky and polished mouthfeel is tres Pinot, the tannins are integrated, and the juicy and lengthy purple berry driven finish is glorious. When tasted the following day from a previously opened and re-corked bottle, the fruit seemed noticeably more ripe, but otherwise this wine was a stellar offering. Score: 92
Sante Arcangeli Family Wines, Aromas, CA
Owner and winemaker John Beneditti has been turning out notable wines over the past few years. John learned winemaking from Ryan Beauregard, the Brassfield family and James MacPhail. He says, "It started out as a hobby and soon became a hobby gone haywire." The name derives from the person, Sante Arcangeli, John's great grandfather
Sante Arcangeli Pinot Noir and Chardonnay wines are produced primarily from vineyards located in the Corralitos region of the Santa Cruz Mountains. A tasting room is located in historic Pescadero, CA, on Highway 1, in a 130-year-old building . Visit the very informative website at www.santewinery.com.
Looking back - review of an older release of "Selezione Susie" Pinot Noir
2012 Santa Arcangeli "Selezione Susie" Family Reserve Split Rail Vineyard Santa Cruz Mountains Pinot Noir
14.1% alc., pH 3.65, 50 cases. David Bruce selection and Roederer clone 32. Harvest Brix 23.5º. 20% whole cluster. Aged 10 months on lees in French oak barrels, 60% new. · Moderate reddish purple color with slight rim bricking in the glass. A full flight of aromas build in intensity over time in the glass showing off black cherry, dried rose petal, raspberry, spice, burnt tobacco and nutty oak. The cherry fruit is still showy without dryness, and the earthy, underground tone gives the wine character. The tannins are nicely integrated. A bit of oak intercedes on the slightly tart but refreshing finish. Drink now to 2000. (Reviewed October 2013, score 90). Score: 91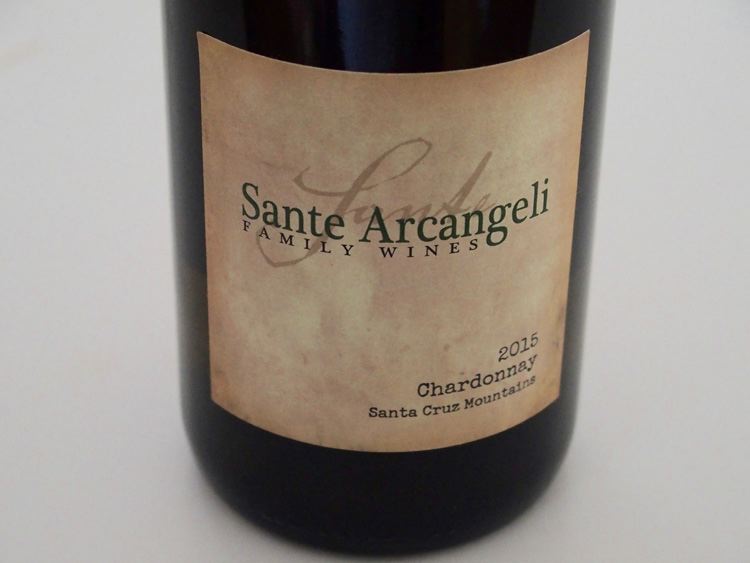 2015 Sante Arcangeli Santa Cruz Mountains Chardonnay
13.2% alc., pH 3.31, TA 0.72, 175 cases, $30. 60% Bald Mountain Vineyard (Bonny Doon) and 40% Split Rail Vineyard (Corralitos). Harvest Brix 21.5º-24.0º. Native and proprietary yeast fermented. Aged in French oak barrels, 14% new. · Light golden yellow color and clear in the glass. Enticing aromas of lemon, hazelnut, bread dough and yeast. Sleek and mouthwatering on the palate, with flavors of citrus, honey, poached pear, caramel and brioche. Beautifully composed in a bright and lip-smacking style, that finishes with good cut and plenty of citrus goodness. This wine confirms my conviction that the Santa Cruz Mountains is one of the best wine regions in California for Chardonnay. Score: 93
Sarah's Vineyard, Gilroy, CA
Before the Santa Clara Valley became known as "Silicon Valley," it boasted a 175-year history of winegrowing and wine production. Sarah's Vineyard is located in the foothills of Mount Madonna in the Santa Clara Valley and carries on that tradition. Here the Hecker Pass gives the cool site a perfect balance between warm and sunny days and cooling winds and fog from the Pacific Ocean. The 28-acre property (17.5 planted acres) is a labor of love for winegrower Tim Slater, a former DJ, musician and successful engineer with many patents to his name. At Sarah's Vineyard, he channels both his inner "mad scientist" and artistic side to grow and produce Pinot Noir and Chardonnay as well as Rhone varietals. The Sarah's Vineyard home estate is made up of three vineyards: the original plantings and the newer Timcat and Dwarf Oak blocks. He also partners with top growers for limited Sarah's Vineyard releases from neighboring Santa Cruz Mountains and Santa Lucia Highlands appellations.
The Sarah's Vineyard Tasting room is open daily on Hecker Pass Road, just outside Gilroy. Sarah's Vineyard online home is www.SarahsVineyard.com.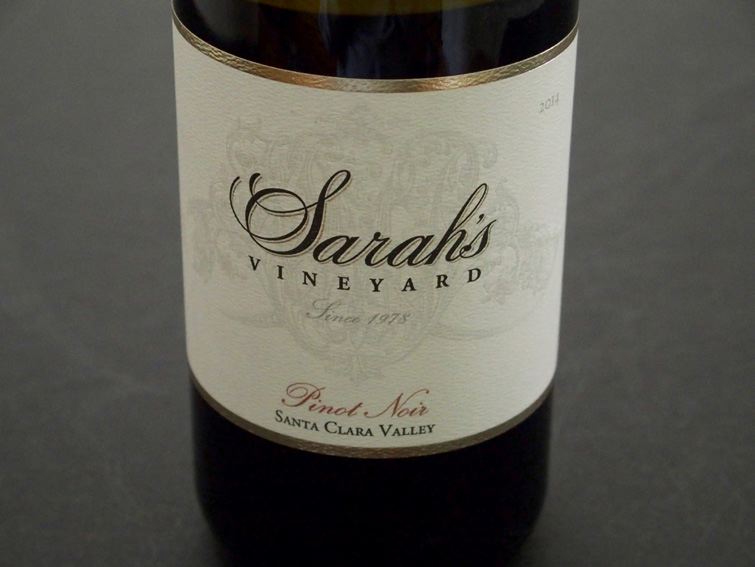 2014 Sarah's Vineyard Santa Clara Valley Pinot Noir
14.2% alc., 1,211 cases, $25. Sourced from the Dwarf Oak Block of Sarah's Vineyard, clones 667, 777, 115 and a "DRC" selection. 100% de-stemmed, native and inoculated yeast whole berry fermentation, aged 11 months in French oak barrels, 10% new. Formerly the winery's "Central Coast Series" Pinot Noir. · Moderately light reddish purple color in the glass. Lovely aromas of cherry, rose petal, hazelnut, sandalwood and earthy flora lead to a very charming mid palate display of unctuous cherry and baking spice flavors. The wine's elegant tannins and a polished mouthfeel attract attention in this forward drinking offering with plenty of Pinot talking. Like cherry pie day at baking school: cherries, spices, and very interesting results. Still charming when tasted the following day from a previously opened and re-corked bottle. Score: 92
More Wines