Pinot Briefs —Newsletter 10.50
New Website for Calera Wine Company Calera has launched a new website at www.calerawine.com that incorporates an interactive map of the winery's Mt. Harlan vineyards, clearer navigation, photo montage, and a new "Events" section. The winery's tasting room is open daily at 11300 Cienaga Road outside Hollister, CA.
2017 Willamette Valley's Second Annual Barrel Auction Willamette: The Pinot Noir Barrel Auction returns for its second year on March 31 and April 1, 2017. This is a wine trade affair, orchestrated by the Willamette Valley Wineries Association (WVWA). Unique Pinot Noir wines from 69 producers will be available to trade buyers in five, ten and twenty case lots. Bidders must be licensed members of the wine trade, so the only way for a consumer to acquire one of these rare wines is through the retailer or restaurant with the highest bid. All wines in the 2017 auction are from the highly-touted 2015 vintage. On Friday, March 31, Adelsheim Vineyard, Alexana Estate and Penner-Ash Wine Cellars will host welcome events featuring wine from auction wineries paired with favorite local cuisine. The following day, the main event will take place at The Allison Inn in Newberg. The event raised over $600,000 in total in 2016, with the proceeds benefiting the marketing and branding efforts of the 220-member Willamette Valley Wineries Association. Vor more information, visit www.willametewines.com.
Guy Fieri's Russian River Valley Pinot Noir Virginie Boone recently penned an article on noted chef and television personality Guy Fieri's Sonoma wine venture: http://www.winemag.com/2017/02/28/guyfieri- wine-connoisseur/. I previously wrote about the project in the PinotFile in November, 2015. Fieri released his first wines under the Hunt & Ryde label in 2016 made in conjunction with Davis Family Vineyards. He chose not to use his name as he wanted the wine to stand on its own and instead named it after sons Hunter and Ryder Fieri. The wines are made from grapes sourced from North Sonoma Coast vineyards including Fieri's own organically-farmed, estate Hunt & Ryde Vineyard located in the Russian River Valley. The 2013 and 2014 estate grown Pinot Noirs are currently available on the website at www.huntrydewinery.com.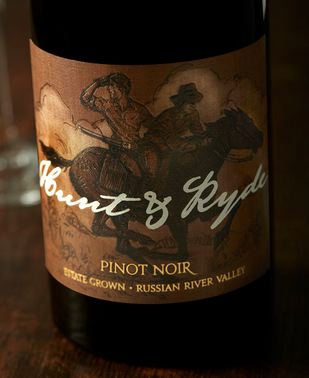 Costco Reveals Purchasing Decisions Costco is notoriously secretive about how their twelve buyers select brands for their stores. Some information was forthcoming at a recent Wine Conversations event in Santa Rosa, CA. Costco did $116 billion in sales in fiscal year 2016 and sold $3.9 billion in wine, beer and spirits during the same period. The typical Costco store carries 235 labels with an emphasis on locally produced brands and little emphasis on wines scoring 90-plus. Sales of sparkling wines including Prosecco, 3- liter boxes of premium wine, and still Rosé are the leading sellers. Costco's private brand, Kirkland Signature, offers wines with savings of about 20%, and the wines are considered dependable by consumers. I find the Pinot Noir selection at my local Costco very limited with no premium choices that pique my interest.
Garagiste Wine Festival: Southern Exposure The fifth Garagiste Wine Festival: Southern Exposure features a tasting of California's best micro production wines. Over 40 artisan "garagiste wineries, from Santa Barbara County and California will be pouring hard-to-find wines in Solvang on April 1, 2017. The event kicks off on Friday night, March 31, with a "Rare & Reserve Kick-Off Party" with tastings of limited club only, verticals, library and pre-release bottles. Seminars on Saturday April 1 include "An Exploration of Grenache: Not Just for Blending Anymore" and "What's Wrong with this Picture? Most Common Wine Flaws." The Grand Tasting will be held in the afternoon on April 1, following the morning seminars. You may recognize these participating wineries whose wines have been reviewed in the PinotFile: Ryan Cochrane Wines, Seagrape Wine Co., and Weatherborne. Tickets are very limited and the event always sells out. For tickets and information, visit www.garagistefestival.com.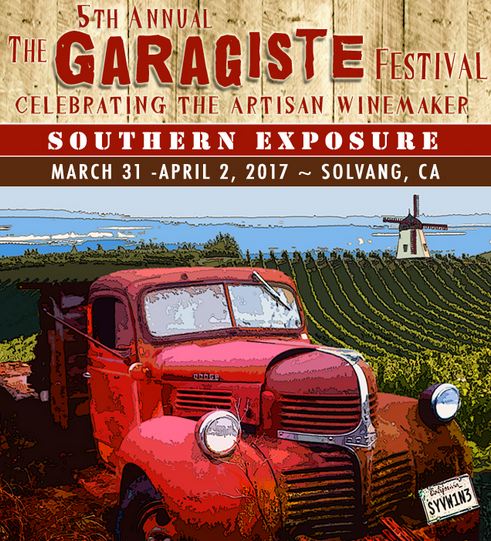 Wine Closures: The Facts If you are least bit curious about the different wine closures, this article is recommended for its thorough review of the subject: https://www.thedrinksbusiness.com/2017/02/wineclosures- the-facts/2/.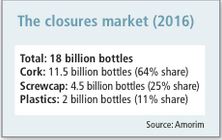 Serving Pinot Noir for Optimum Enjoyment The most enjoyable temperature for Pinot Noir is in the low 60s although lighter Pinot Noir and Pinot Noir Rosé show nicely at temperatures in the mid to high 50s. When drinking a young Pinot Noir, particularly one that is unfined and unfiltered, it is best to stand the bottles up for a day or two before drinking. Decant the wine for 2-6 hours prior to serving. Some winemakers believe that every hour in the decanter hypothetically equals a half a year of bottle aging.
Gauging Variety Popularity by Winegrape Vines Sold Allied Grape Growers indicated that 71% of winegrape vines sold in 2016 were red and 29% white. Cabernet Sauvignon was the most popular with about a third of the vines sold, with Pinot Noir and Chardonnay in second place.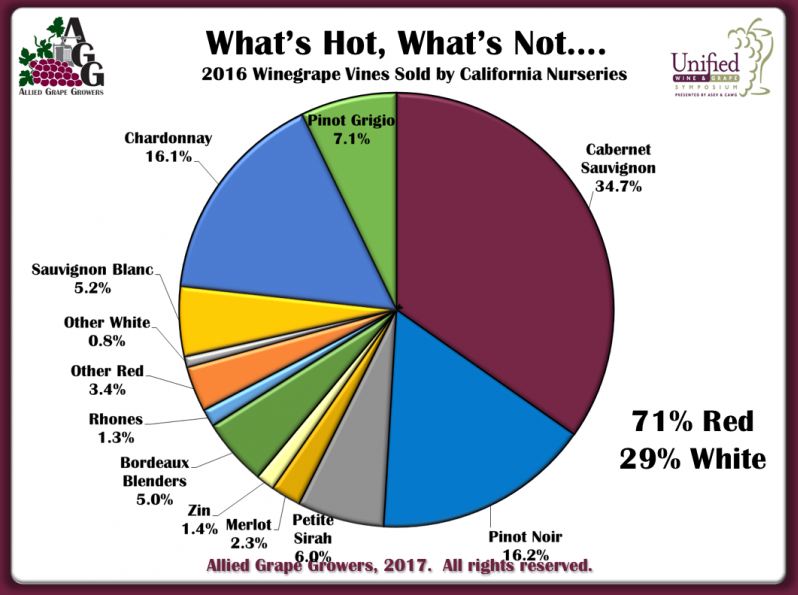 U.S. Wine Exports Continue to Increase