Chardonnay Smack Down
Through the years I have probably tasted more Pinot Noir and Chardonnay from Australia than many American wine writers. I owe this to my long time friendship with David Lloyd, owner and winemaker of Eldridge Estate in the Mornington Peninsula, Victoria, Australia. We met years ago at the International Pinot Noir Celebration and have gotten together several times since both in California wine regions and in Victoria, Australia. Some months ago, we decided to organize a Chardonnay smack down to coincide with David's March trip to the U.S. to attend the World of Pinot Noir. He brought eight special Chardonnays from Australia, New Zealand and Burgundy, and I contributed eight carefully chosen Chardonnays from California and Oregon.
The smack down was held at my house recently. David and I tasted blind (we knew the wines that were in the tasting but were masked) and the other attendees tasted double blind (they did not know the wines in the tasting). I then re-tasted the wines the following morning from previously opened bottles and this was revealing.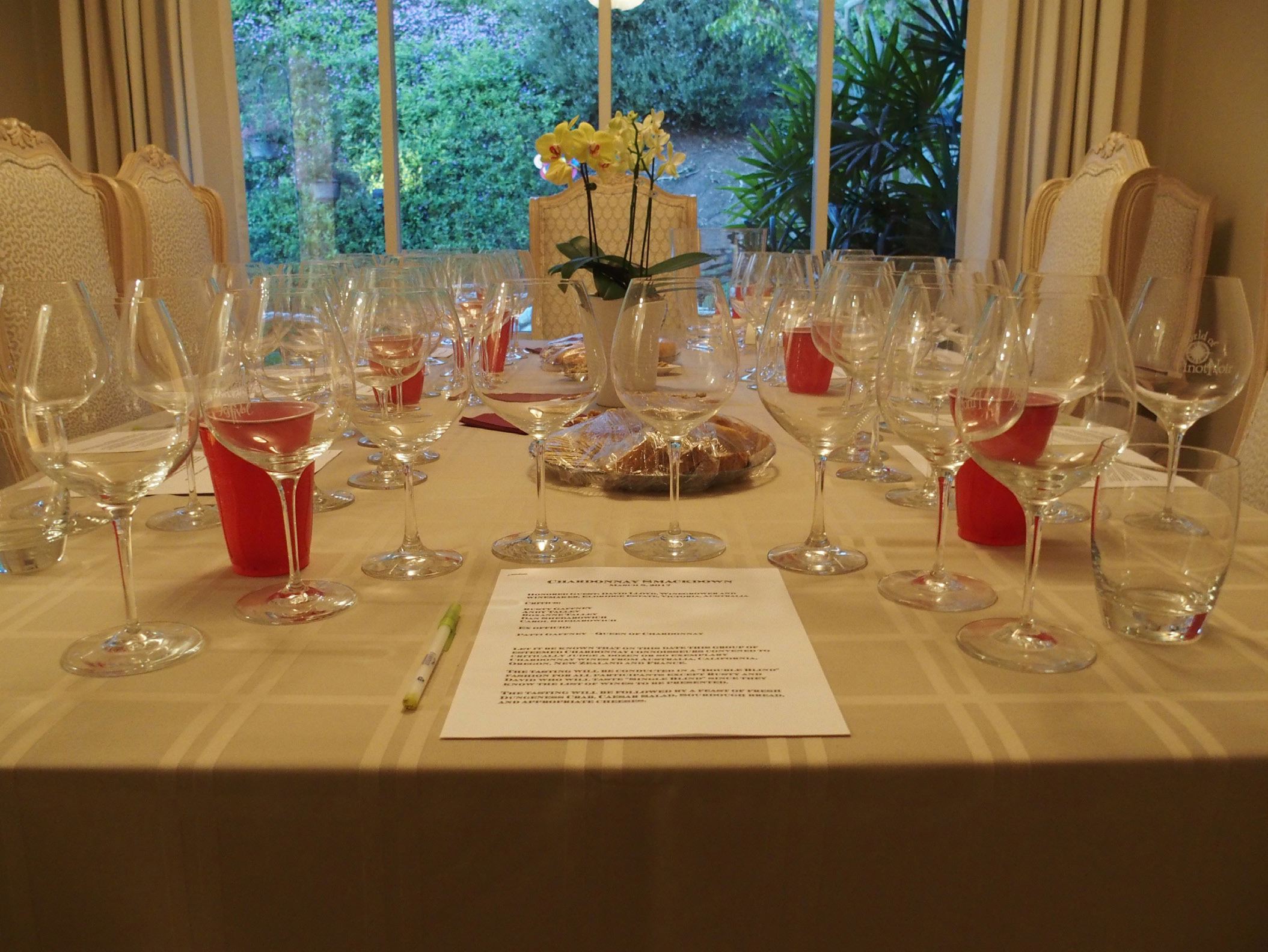 Six of the eight wines outside the U.S. came from Australia. All the popular Australian Chardonnay clones were imported from 1957 to 2007 as shown by the following timeline (Nick Dry, Yalumba Nursery). The Gingin clone was first imported by Houghton Winery in Margaret River in 1957 and is also referred to as the Mendoza clone as its origins are unclear. Nurseries in Australia report the highest sales from 2012 to 2016 were clone 95, 76 and 548. For the Australian perspective on the various Chardonnay clones: http://www.awri.com.au/wp-content/ uploads/2016/06/4-Chardonnay-Clones-NDry.pdf.
American Chardonnay drinkers will be most familiar with the Dijon clones 75, 76, 78, 95 and 96, that were brought into the U.S. in 1984 and 1988 through Oregon, and certified by FPS between 1997 and 2002. There are now 34 Chardonnay clones officially certified by ENTAV-INRA™, with the most popular being 96, 76, 95, 277 and 548. Clone 809 is a popular French clone of the musqué type.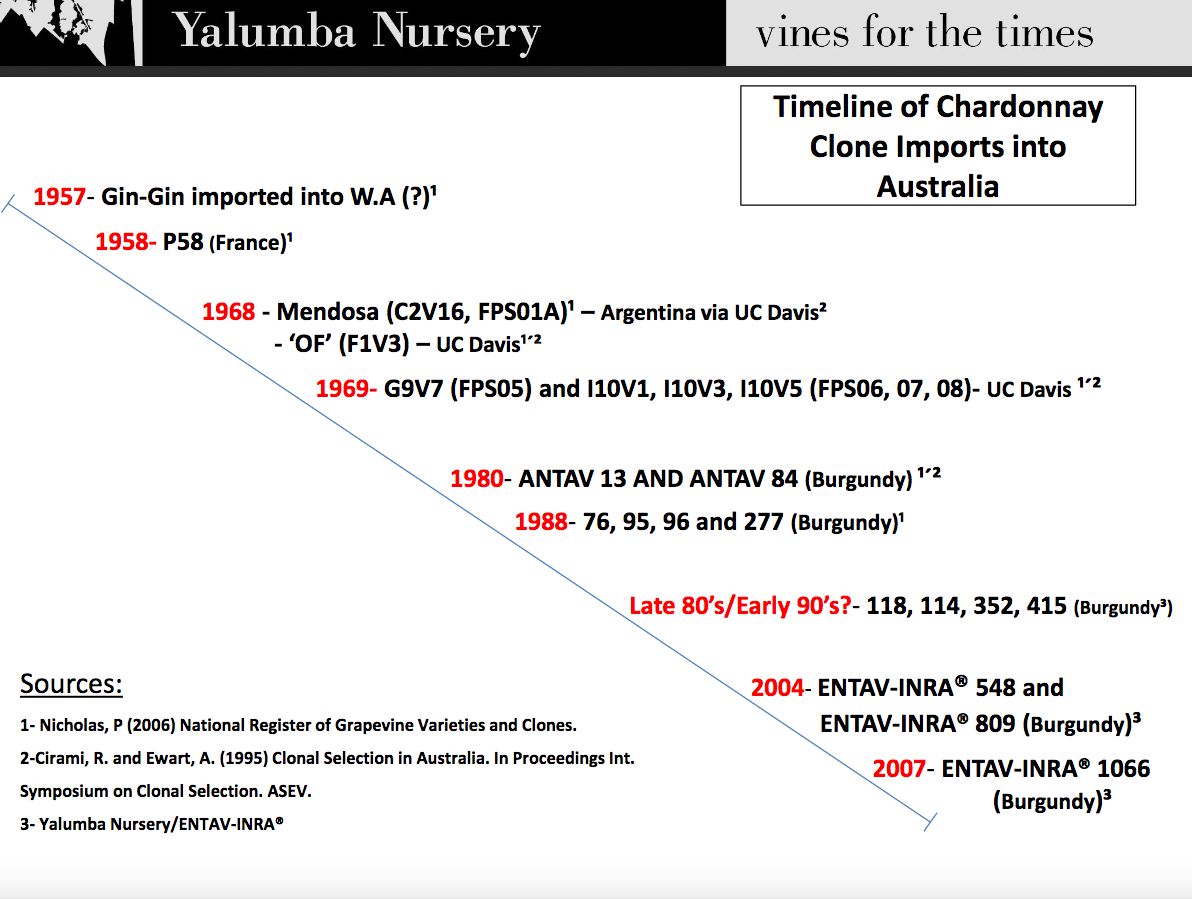 The Wente clone (FPS 4) and Old Wente clone (originally FPS 2A, but now after heat treatment designated FPS 72) that are most popular in California, have not gained traction in Australia. Today, over 80 percent of the Chardonnay produced in California comes from some version of the Wente clone. In New Zealand, most of the Chardonnay is planted to clones 15 and Mendoza with lesser amounts of California clones, Dijon clones, and the new French clones 548, 121 and 1066. Dijon clone 96 has become the most frequently propagated Chardonnay clone in Oregon.
David made his selection of Chardonnays over the course of four months by looking for wines of balance that he and his friends like to sit down at the end of a day and enjoy while watching the sun go down. His choices were all highly acclaimed wines. The highest rated wines were the Hollyman (97), Tarraford (96), Kevin John Cullen (96) and Eldridge Estate Wendy (95/96). The Neudorf from New Zealand was given a score of 98 by New Zealand writer Bob Campbell (95/96 by many Australian writers). David's wines, except the Chablis, range in price from $55-$95 (Australia).
I chose domestic wines based on either recent exceptional reviews by myself or others, or the reputation of the producer. Wines I had scored include Wayfarer (93-95), Peirson-Meyer (95), and Chappellet (94).
My notes on the wines are a combination of impressions at the evening tasting and the following morning when the wines were re-tasted from opened and not re-corked bottles. Drinkers may not think about decanting premium Chardonnay wines or even re-visiting them a day or two later, but I found that many of the wines were noticeably better the following day when allowed to breath at room temperature. My comments designated RG.
I have also included David's impressions to give an Australian perspective and designated DL.
Decanting Not Just for Red Wine
Decanting can be considered foreplay, exposing a wine to oxygen to allow it to come to life. Historically decanting was also done to trap the accumulated sediment in the bottle of aged red wines, but almost all young red and white wines today offer no such concern.
An additional reason to decant wine is to remove "bottle stink," the odor of sulfur trapped in the wine at bottling. Even wines bottled with screwcaps can benefit from decanting since there is often sulfur dioxide on the top of the wine.
In truth, you can decant any wine if you feel like it, except for the most fragile or very old wines, but even these wines may be decanted to remove sediment with caution to not keep them in the decanter for any extended time.
Any glass pitcher or container will work for decanting so no need to spend an outrageous sum of money for a fancy decanter unless you are putting on a show for others.
Flight 1
1 2014 Chanin Bien Nacido Vineyard Santa Maria Valley Chardonnay 13.1% alc., cork. RG: Clean aromas of lemon and apple with hints of nutty oak and terra cotta. Bright on the palate with invigorating acidity, featuring flavors of citrus fruits and green apple and a subtle compliment of oak. Very slightly creamy in texture with a lemon rind finish. This wine held up and improved overnight. 93. DL: Tight palate that I like and overall great balance and length.
2 2015 Holyman Tasmania Chardonnay 13.5% alc., screwcap. Produced by Stony Rise Wine Company in Gravelly Beach. Partial malolactic fermentation. RG: Very pale yellow color in the glass. Striking wax aroma upon opening, disappearing over time, revealing scents of green apple, clay and wet rock. Acid-driven, with flavors of lemon, grapefruit, green apple and a hint of nutty oak, finishing on a soprano note. This wine held up nicely over night. Needs food. 90. DL: Grapefruit as well as citrus that to me usually suggests a wine that hasn't undergone malolactic fermentation. The acid seemed a little high and the oak a little strong and toasty. I had not noticed the oak on previous bottles tasted.
According to James Halliday, Australia's foremost wine critic, the nigh natural acidity of the grapes means total or partial malolactic fermentation is par for the course, coupled with barrel fermentation, the result is wines with an admirable combination of elegance and complexity, subtlety and intensity.
3 2015 Eldridge Estate of Red Hill Wendy Mornington Peninsula Victoria Australia Chardonnay 13.0% alc., screwcap. Clones 95 and 96. Vineyard first planted in 1984. The best expression of the vineyard's soil and climate. The winery's finest Chardonnay made as a tribute to Wendy Lloyd (1954-2014). 100% malolactic fermentation. RG: Delicate aromas of lemon creme, pear and nutty oak arrive slowly over time in the glass. Sleek in the mouth and restrained in style, with agreeable flavors of citrus fruits, melon and a touch of vanilla. The cleansing finish is particularly appealing. An excellent oyster wine that held up nicely over night. 92. DL: I described this wine as maybe the Tyrells because I got some grapefruit as well as citrus, suggesting no malolactic fermentation. Loved the palate and length. Very surprised when it was revealed to be my wine.
According to Australia's main wine critic, James Halliday, "Chardonnay is the Mornington Peninsula's most distinctive wine, which - if made in the style favored by most producers - is distinctively different from any other Chardonnay produced in Australia. The background fruit flavor is quite delicate, with flavors in the melon/citrus/fig spectrum, and is sensitive to the influence of winemaking technique, and in particular to the effect of malolactic fermentation - it overlays a strong nutty/cashew character.
4 2014 Neudorf Moutere New Zealand Chardonnay 14.0% alc., 690 cases, screwcap. Old hill vines. Native yeast fermentation, 100% malolactic fermentation, aged 12 months in French oak barrels, minimal fining and filtered. RG: Clean aromas of salt air, lemon oil, vanilla and a hint of petrol. Slightly viscous in the mouth, even satiny, with the flavor of green apple, lemon and melon and full integration of oak. Very enjoyable with a lipsmacking finish. Clearly better when tasted the following day. 93. DL: Lovely richness and a little butteriness with citrus flavors. A malolactic style but had a little bagginess suggesting it had some TCA that damaged the finish. I was stunned when it was revealed as from a screwtop bottle.
5 2013 Cullen Kevin John Margaret River Australia Chardonnay 14.0% alc., screwcap. Imported by Old Bridge Cellars, Napa, CA. Certified biodynamic, 35-year-old vines. Native yeast fermentation in an egg-shaped fermenter. 100% malolactic fermentation. Aged 7 months in French oak barrels, 30% new. RG: A ripe fruited wine with spirited aromas of lemon pie and pineapple leading to a rich palate with a stunning charge of lemon, apple, pear, clarified butter and spice flavors lingering on the finish. Much more expressive when tasted the following day. 95. DL: I was put off by the nose that was unusual with charcuterie. Tight palate and good finish. Showed much more citrus when tasted last week in Australia.
According to James Halliday, Chardonnay seems to acquire an extra dimension unique to the Margaret River. It is more concentrated, more complex, more viscous, more tangy, yet does not cloy or become heavy. The voluptuous fruit lends itself to the full range of winemaking techniques
6 2012 Bannockburn Vineyards S.R.H. Geelong Victoria Australia Chardonnay. 12.5% alc., cork. Winery established in 1974. Produced from a select 12 rows of vines grown on the winery's oldest Chardonnay vineyard planted in 1976 at Olive Tree Hill. Aged 3 years on the lees in a large French oak cask. 100% malolactic fermentation. RG: Aromas of flint, dirty lees and petrol lead off. Intense mid palate attack of candied lemon flavor with a hint of oak vanillin. The finish is replete with heightened lemon aroma and persistent, and is the wine's best feature. Considerably more appealing when tasted the following day. 91. DL: A classic and more of the old style. Rich, oaky and easy to chug.
According to James Halliday, Chardonnay in the Geelong region can produce a wine of exceptional strength and complexity, developing pronounced Burgundian overtones with age, but can also be made in a more simple and easily accessible form.
7 2014 Peirson-Meyer Charles Heintz Vineyard Sonoma Coast Chardonnay 14.2% alc., cork. RG: A ripe, gloriously fruited, California styled wine with aromas and flavors of lemon, applesauce, butterscotch, poached pear, butter, spice and nutty oak all fused together in a satisfying regimen. Viscous in the mouth, with a sleek finish. More aromatic when tasted the following day. 94. DL: A wine that was very drinkable and nice, a wine style I would be happy to drink. It had a creamy texture that with a little vanilla oak suggesting it had a good lick of oak and full malolactic fermentation.
8 2014 Paul Lato Sierra Madre Vineyard Santa Maria Valley Chardonnay 14.1% alc., cork. RG: The nose is highly appealing, offering aromas of pear, but apple, vanilla and petrichor. Impeccably balanced and pleasingly creamy on the palate, with flavors of yellow apple, pear, spice and brioche that echo on the gracious finish. More giving and enjoyable when tasted the following day. 95. DL: Came across as BIG, Dolly Parton style with citrus fruit, richness, higher alcohol and a good lick of oak and full malo. Very good, but maybe a bit BIG for me.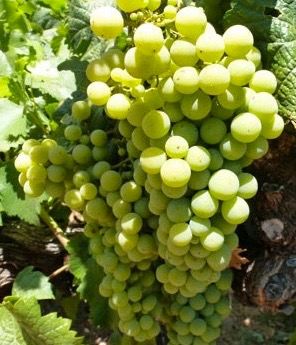 Flight 2
1 2013 Failla Chuy Vineyard Sonoma Valley Chardonnay 13.7% alc., $60, cork. RG: This wine offers plenty of California fruit richness with full-on aromas and flavors of lemon, butter and oak. Outrageous mid palate lemon exuberance with noticeable but not intrusive oak input, and impressive citrus intensity and length on the finish. Much better when tasted the following day. 92. DL: This was the first wine that seemed to have an excess of dissolved carbon dioxide giving it a pleasant spritz that helped show its fine citrus fruits.
2 2013 Evening Land Vineyards Summum Eola-Amity Hills Willamette Valley Chardonnay 13.4% alc., cork. Evening Land recently released individual bottles of this wine that was originally released as part of the Reserve Case Allocation. Sourced from a minuscule parcel of 14 rock-strewn vine rows. The producer claims "the finest white wine in Seven Springs' history. RG: A complex wine that is beautifully composed. Aromas of peeled apple, toasted brioche, butter and spice lead off. A bit of flint blows off over time. Discreetly rich flavors of lemon, Asian pear and Fiji apple with a compliment of nutty oak. The lemon-scented finish offered good length. A very agreeable wine that walks the line between the richness of many California Chardonnays and the more austere style of some of the Australian wines in this tasting. Noticeably more aromatic and expressive on the palate with tightly drawn acidity when tasted the following day. 93. DL: Lovely citrus fruit but I found the oak a little over done as it showed high vanilla that overwhelmed the citrus fruit.
3 2013 Hyde & Sons Carneros Chardonnay 14.4% alc., $55, cork. RG: Unfortunately, this bottle had oxidized (acetone) aromas dominating the nose that persisted the following day. More enjoyable on the palate, with rich, ripe flavors of nectarine, apple, spice, caramel and seared marshmallow, but the fruit tasted slightly oxidized. Unchanged when tasted the following day. Not scored. DL: High acid with lovely citrus and what I suspect was spice from oak. I wondered whether it was a non-malo style made from over ripe grapes.
4 2014 Chappellet Napa Valley Chardonnay 14.5% alc., $24, cork. RG: Highly enticing nose with clean, fresh aromas of lemon, salt air and metal. Slightly viscous in the mouth and strikingly flavorful with tastes of lemon, apple and pear. Well composed, with enough energetic acidity to please. Unchanged when tasted the following day. 93. DL: Big but with balance and charm. I was shocked to find it had 14.5% alcohol, yet on my notes I used words like balance and hitting the sweet spot of flavors balanced with alcohol.
5 2014 Domaine Christian Moreau Valmur Grand Cru Chablis France 11%-14% (13%), Diam cork. Imported by Kirkcrest Imports, Danville, CA. RG: Restrained aromas of lemon, apple, pine, smoke and flint. A bit tight and unflattering at this stage, with a core of juicy lemon flavor. Sleek and rounded with good cut and persistence on the finish. This wine was better when tasted the following day and will undoubtedly benefit from several years in the cellar. 93. DL: I thought this wine was the Hollyman because it had lovely grapefruit with purity and great length. When it was revealed as the Chablis, I wasn't surprised.
6 2015 Tyrell's Wines HVD Vineyard Old Vine Hunter Valley New South Wales Australia Chardonnay 12.5% alc., 500 cases, screwcap. Sandy, free-draining soils. Extended lees contact, fined. Oldest producing Chardonnay vines in the world dating to 1908. RG: On initial examination, this wine had a shallow nose and was very austere. When tasted the following day, it had blossomed into a gorgeous wine of great complexity. This wine was highly distinctive and unlike any other wine in the tasting. The combination of aromas of earth, minerals, mushroom, saline and lemon-lime was intriguing. The citrus-driven fruit was lifted by a complimentary thread of citric acidity that brought the wine to life and enthused the finish. The wine's mouthfeel was not only slightly creamy but the wine had a hint of cream flavor. I am not certain that this wine would appeal to the American palate, but I found it to be of great interest. 94. DL: A similar spice character on both nose and palate that I saw in the Hyde & Sons. Lovely balance but the vanilla kick suggests a little too much oak.
According to James Halliday, Chardonnay started its Australia-wide reign when the late Murray Tyrell produced the 1971 Vat 47 Pinot Chardonnay. Tyrrell's was established in 1858 and now directed by son Bruce. Most Lower Hunter wineries today produce a Chardonnay, some are richer, more oaky than others, but all with a peaches-with-cream cast to their make up. By and large, they develop quickly.
7 2013 Wayfarer Sonoma Coast Chardonnay 14.5% alc., cork. RG: Well-endowed with aromas of lemon cream pie, Asian pear, and brioche. Highly flavorful, with a remarkably vivid lemon core augmented by a touch of spice and nectarine. Noticeably fullness on the palate with a purposeful finish that has the right amount of cut to leave behind an impression. I have reviewed this wine previously and found it to be striking. Significantly more appealing when tasted the following day. 96. DL: Another Dolly Parton wine with 4+ oak. It was much better when tasted with cheese.
8 2015 Giant Steps Tarraford Vineyard Yarra Valley Australia Chardonnay 13.5% alc., 450 cases, screwcap. Vines planted in 1988 in sandy clay loam. No malolactic fermentation. RG: Delicate but pleasing aromas of lemon, grapefruit, iron and brioche set the stage. In the mouth, the flavors of pear, green apple and melon reach out for attention. Very charming mouthfeel with impeccable balance. Chardonnay unplugged with no oak amplification. More expressive on the nose and palate when tasted the following day. 95. DL: This wine had a spritz kick in a style similar to the Failla. Love its elegant clean fruit and balance. The oak and fruit were in harmony and it was very chuggable.
According to James Halliday the quality and range of style of Yarra Valley Chardonnay has increased dramatically since the 1990s, while there is a distinctive regional melon/fig/white peach flavo r substrate to all Yarra Valley Chardonnays. There is tremendous diversity in weight, texture and richness, partly reflecting vintage variation and partly the different winemaking philosophies and techniques. What is undoubted is the capacity of the Yarra Valley to produce long-lived Chardonnay of the highest quality .
RG: I believe I prefer more unctuous, somewhat oaked, stone fruit driven, full malo Chardonnays, at least if I am tasting or drinking the wines alone. With food, it would be a different story. David, on the other hand, like many Aussies, prefers more acid-driven, leaner styles of Chardonnay, yet ones with enough fruit to balance the acid. There is no remarkable takeaway from this smack down other than to say that great Chardonnay is currently being produced all over the world in a number of different styles and we should revel in our good fortune.
DL: If I was pushed to give my top three, I would say Giant Steps Tarraford, Chablis, and Peirson-Meyer, closely followed by Wendy, Evening Land, Failla and Hyde. My least enjoyed were the Neudorf and Wayfarer. A ripper of an evening and thanks so much to Rusty and Patti for going to such a huge effort to get it all together, especially the washing and drying of 56 glasses. There is one unavoidable conclusion: great Chardonnay does not have to be French for it can come in a range of styles and can be great whether from California, Oregon, Chablis, New Zealand or Australia. I left my favorite white Cote d'Or Burgundy out of the tasting because at the silly price points and high frequency of white Burgundy wine suffering cork related issues the risk was to high to justify buying much of it. The photo below, taken in June 2015 in Chablis, shows David (blue vest) standing next to Christian Moreau on one side and David's companion Carol, an Australian veterinarian on the other side. Next to Christian is Cyndi Henderson, an anesthesiologist from Vancouver.