2015 Kutch Pinot Noir
I have written extensively about the journey of Jamie Kutch from a novice winemaker to a current producer of ultra premium Pinot Noir of the highest regard.
In his 2017 Spring Release Letter, Jamie noted that the quality of the 2015 Pinot Noirs "was astonishing even with the diminished yields." He reported the earliest and shortest harvest on record. Yields ended up down 40% overall versus the winery's historic averages and at McDougall Ranch, yields were down over 60%. Jamie claimed, "2015 is truly distinct in character and will hold its own among the so called 'great' vintages we have experienced."
After making a number of inquiries for several years, Jamie was able to acquire some coveted Pinot Noir fruit from Signal Ridge Vineyard in the Mendocino Ridge AVA. This vineyard is planted at the highest elevation of all Sonoma and Mendocino County vineyards at 2,800 feet. There are just 17 acres planted (see photo below).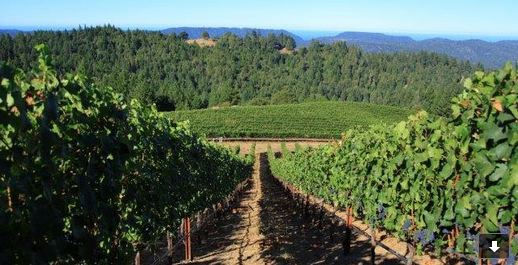 The superb Pinot Noirs in this vintage exhibited true vintage character. The wines were less extracted than the same wines in 2014, and although fermented 100% whole cluster, the whole cluster character was well integrated, adding nuance and texture without being the dominant feature of the wines. I asked Jame to comment on my observations.
"The low yields had a big influence on the chemistry, intensity, character and quality of the wines. Because yields were down so much and because there were so few grapes on each cluster, we chose to perform extra gentle extraction so as to not over extract what I believed was an ultra intense vintage. We did not cold soak and punched down far less than in previous vintages. We also got the juice off the skins as early as we could. The implications were that the wines had less whole cluster character even though they were vinified with 100% whole cluster inclusion. In very intense vintages where there is very little juice in the berries and in relation large amounts of skin, logic would say to under extract as the fruit and juice is already so intense. This is what we set out to accomplish. It was the correct decision in striving to make the most balanced expression of Pinot Noir we can from the sites we work so closely with."
The wines all showed gorgeous color, enviable vibrancy and admirable balance. They are enjoyable now, but still need more time in the cellar to fully integrate tannins and reach ideal harmony. The wines were better and better over several days after opening. The tannins add textural interest rather than astringency. One of the best things you can say about the wines is that the fruit is not over ripe.
The wines are sold through a mailing list. Tastings are available by appointment: email tastings@kutchwines.com.