Paradise Ridge Has the View
A number of people had told me about Paradise Ridge Byck Family Estate, but until recently I had never visited. As you head east from Hwy 101 on Fountaingrove Parkway, you encounter multiple apartment and condominium developments, but no hint or expectation that a winery sits in the neighborhood. A small sign directs a left turn on Thomas Lake Harris Drive and the road winds up a hillside away from the populous below. An entry drive takes you past Paradise Meadows, where three large sculptures come into view done by Bay Area artist, Gale Wagner. As you travel further along the road, you encounter a number of unusual sculptures hidden amongst the trees and part of an annual exhibition of outdoor sculpture. The sculpture garden is really more of a outdoor museum and is reason enough to visit this scenic property. As you arrive at the hospitality and event center at the top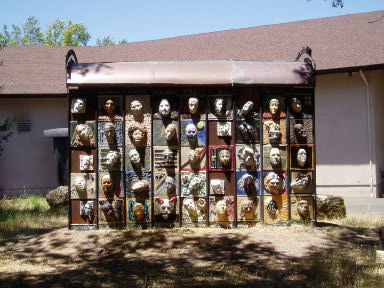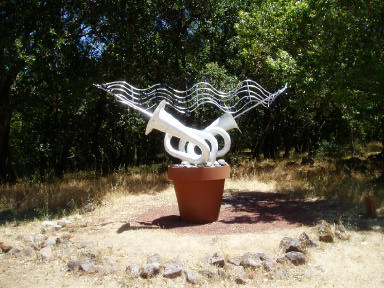 of the road, there are magnificent vistas of the Russian River Valley from expansive decks built toenhance the viewing. The sculptures and the views provide a special place to come and relax. The tasting room is housed in a large event center ideal for conferences and weddings (photo below).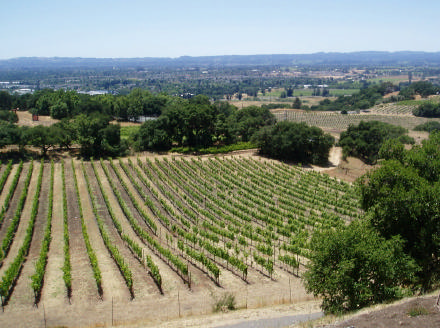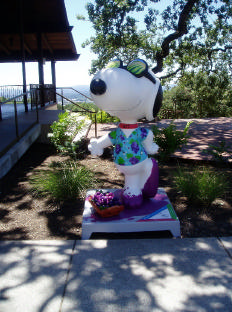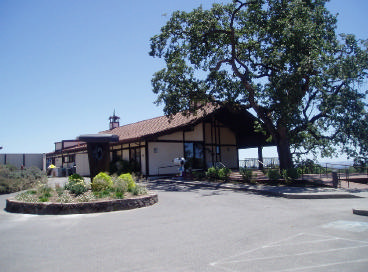 Walter Byck and Marijke Hoenselaars (tragically she succumbed in a traffic accident last year) came to Santa Rosa from Holland in 1965. In 1978, after searching for a ranch for several years, Walter found a 156-acre property overlooking the Russian River Valley in Sonoma County and proclaimed it Paradise Ranch. Paradise Ridge Winery was opened in 1994. The surrounding vineyards are planted to Sauvignon Blanc, Chardonnay, Zinfandel, Syrah and Petite Sirah. In 2003 a new state-of-the-art winery was completed. The current winemaker is Dan Barwick.
The nearby Fountaingrove Winery was part of a 700-acre ranch initially owned by Thomas Lake Harris. At the turn of the century, Fountaingrove produced 90% of the wine in Sonoma County. The winemaker, Kanaye Nagasawa, was known as "The Grape King," and became one of the most respected leaders of California's burgeoning wine industry. According to Charles L. Sullivan, writing in A Companion to California Wine, Nagasawa eventually took control of the winery and after his death, his heirs sold it in 1937 to Errol MacBoyle who restored the Fountaingrove label. Hanns Kornell made sparkling wine for the label and the winery's still wines under the direction of Kurt Opper were legendary. Joseph Swan said the 1937 Zinfandel was the finest Sonoma wine he had ever tasted. John W. Haeger (North American Pinot Noir) states that Fountain Grove grew Pinot Noir (or something close to it) back in the 1930s and a 1939 Pinot Noir was served at a Wine and Food Society tasting at New York's Pierre Hotel in 1845. Steve Heimoff notes in A Wine Journey Along the Russian River that a 1935 Fountaingrove wine was labeled Sonoma Pinot Noir. In 1953, all 400 acres of vineyard were pulled out and developers have taken over the ranch in recent years. When you travel along Fountaingrove Parkway, you can see the large red Fountaingrove barn. The label is now owned by Martini & Pratti Winery.
2004 Paradise Ridge Elizabeth & Henry's Vineyard Russian River Valley Pinot Noir
14.4% alc., 350 cases, $24. Elizabeth & Henry's Vineyard lies at the southeastern corner of the Russian River Valley close to Paradise Ridge. Planted in 1995, the vines are meticulously cared for by Henry Siebert and produce small, flavorful berries. · Dark ruby in color. Enticing aromatics of blackberry pie and oak spice. The flavors are a mélange of red and blue fruits. The whole package is nicely crafted with a soft mouth feel and a pleasing persistence and length on a clean finish.
Paradise Ridge wines (they produce a number of other excellent wines other than Pinot Noir) may be purchased on the winery's website at www.paradiseridgewinery.com. A number of special events are hosted at the winery including "Wines & Sunsets in Paradise," on Wednesday evenings April thru October. Locals are encouraged to bring a picnic and enjoy Paradise Ridge wines while watching spectacular sunsets from the winery's decks and terrace. I have included a map if you wish to visit, for finding Paradise is a bit tricky. 4545 Thomas Lake Harris Drive, Santa Rosa, CA 95403. 707-528-9463.