In Memoriam
Et Fille's Howard Mozeico Dies in Tractor Accident
Howard was one of the first Oregon winemakers I got to know when I started thePinotFile 15 years ago. He was a software engineer who had started making wine in his garage in 1984. His wines were so desirable that friends and relatives encouraged him to become a winemaker. His daughter, Jessica, agreed to assist him, and a commercial endeavor, Et Fille ,was launched in 2003. The French name, meaning "and daughter," was chosen Howard said because "Mozeico Et Fille" just wouldn't work. The unique pairing of father and daughter allowed them to bring two perspectives and two palates to the wines. The resultant single vineyard Pinot Noirs with the distinctive pink labels were always superb. I tasted barrel samples with Howard several times at August Cellars where he crafted his wines and we developed an enduring mutual respect. The last Et Fille newsletter had noted that a new tasting room had opened, allowing Howard and Jessica to host intimate seated tastings. Jessica told friends of Et Fille that Howard died April 13 at age 70 while working on the land that he loved where he built his home and established a small vineyard and garden. He is survived by his wife of 49 years, Mona, daughter Jessica, and a recently-born granddaughter Gabriella. Here is a photo from 2007 I have in my archives: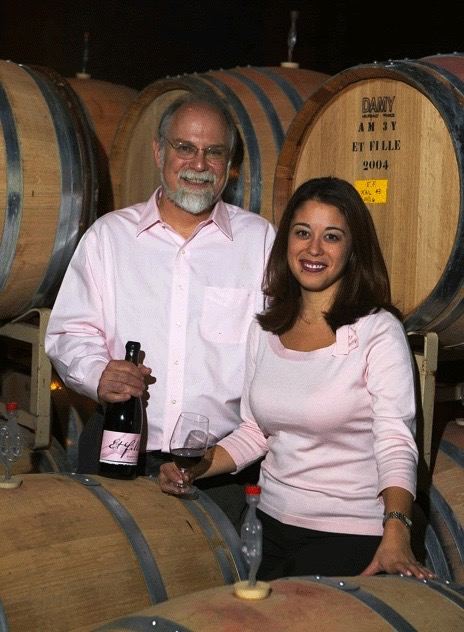 Famed Maître Sommelier, René Chazottes, Succumbs to Cancer
I was recently saddened by the passing at age 74 of my good friend and mentor, René Chazottes. Born in French Madagascar, René came to the United States in 1967, He was the owner and chef of a French restaurant in Sherman Oaks, California, for several years when he developed a serious interest in wine and wine and food pairing. He passed the difficult exam to become a Maître Sommelier of The French Sommelier Society. In 1988, he held the title of Best Sommelier in America, and in 1990 represented the United States in the International Sommelier Competition held in Paris. At this competition, he won first place in the Harmony of Food and Wine contest competing with sommeliers from sixteen other countries. He became a respected wine judge as the only one with a background as both a chef and Master Sommelier and tasted at least 5,000 wines a year. René served as the Chief of the Tasting Panel for The Underground Wine Journal as well. He joined The Pacific Club in Newport Beach, California over 30 years ago as the Director of Food and Wine and was revered by the members of this prestigious club. He led members of The Pacific Club on trips to wine regions throughout the world and these trips became legendary due to his many friends worldwide in the wine business that welcomed him.
I got to know René when I asked him to conduct a wine-themed dinner at The Pacific Club for members of my wine club, Le Grand Crew. Over the years, we organized numerous wine dinners together including Superbowls of Pinot Noir, Williams Selyem Pinot Noir vertical, Burgundy tastings, a Spanish wine tasting featuring old vintages of Vega Sicilia and Marques De Murrieta, a Beaucastle vertical, and a Zind Humbrecht dinner. His knowledge inspired me and I found planning the wine dinners and spending time with him was often more rewarding than the dinner itself. When I began my newsletter, The PinotFile, he offered salient advice and direction. Through the years he read the newsletter faithfully and frequently offered praise and encouragement. He taught me integrity and the appropriate use of criticism.
His perspective on wine-related issues was insightful. Regarding wine service in restaurants he said, "Restaurants don't have knowledgeable staff that match food and wine. Wine lists are trendy, the wines are more drinkable upon release now, and restaurants do not need to cellar older vintages. People do not take the time to properly dine. Wines by the glass have become popular because diners do not have to commit to one or two bottles and restaurants encourage this program because they are making a killing." René told me the most frustrating part of being a sommelier was that people want to lecture you. "They have a little bit of knowledge about wine and want to pontificate. If you go to see your doctor, you don't tell him what to do. You listen to what he tells you. Make it clear you want the sommelier's help, give him an honest price range, describe a wine you have enjoyed previously, and leave it at that."
When asked about the major factors in choosing a wine with a meal, René said, "I always pay attention to the season of the year in choosing a style of wine that is an appropriate match for the seasonal cuisine. Hardier red wines in winter, lighter wines in summer for example. You match the wine selection with the freshest ingredients that are in season and the spirit of the time of year."
René's favorite food wine was Pinot Noir because of its high acidity and red fruits. Wines high in acid cleanse the palate and increase the desire for more food. He complained that domestic Pinot Noirs often had too much extraction, too much alcohol and were overpriced, and he decried winemaker's efforts to darken Pinot Noir, saying, "Purple Pinot Noir is like a blond African girl - unnatural." French Burgundy was a favorite of his because it had less alcohol and impeccable balance. "The result is that after dinner you do not feel drunk or tired. The Burgundians know how to eat. They take time to eat and they match their wines with the appropriate food." ,p> There were a number of points René made that are highly quotable and I call "The Gospel According to René." Here are a few examples. Of course, the words sounded much better when René said them in his French accent.
Wine was made for drinking with food and when you have the perfect match,
that is, the very best style of wine with perfectly prepared food,
that is it, the experience will bring you to your knees.
The best wine is the wine you have in your glass if it gives you pleasure.
It doesn't matter where it came from or what it cost.
Serving ice water at dinner makes me cringe. Ice in water kills the taste of wine.
Only serve plain water without ice at dinner.
Do not be intimidated by wine and all the hype surrounding it.
Wine is only fermented grape juice. Do not be overwhelmed by names and prices.
The wine press should not be able to tell you what to drink."
French food is most of the time overrated.
But when it is good, it is damn good.
Noted Littorai winemaker, Ted Lemon, knew René, and he told me the following. "I wish I had known René better. he was a lovely man and had a deep understanding of wine, far beyond his 'fame' in the wine world. He practiced his craft with conviction, devotion and humility, the latter a quality rare indeed in the modern wine world or society in general. All the young somms in California should have been beating a path to his door. He was a connection to a different time in the world of wine. We need to carry on his spirit."